If you already have a list of registrants for your events, it may be easier for you to upload a CSV file to import them in our system. Additionally, you may way want to use this feature to upload your Speakers and Moderators.
Important: Everyone added to your event in this way will count towards your total registration count whether they attend your event or not.
Note: You can only upload registrants using a free ticket and not paid tickets. Paid tickets registrations cannot be bulk uploaded.
You can do this by heading to your Event Dashboard > Registrants page and clicking Upload registrants.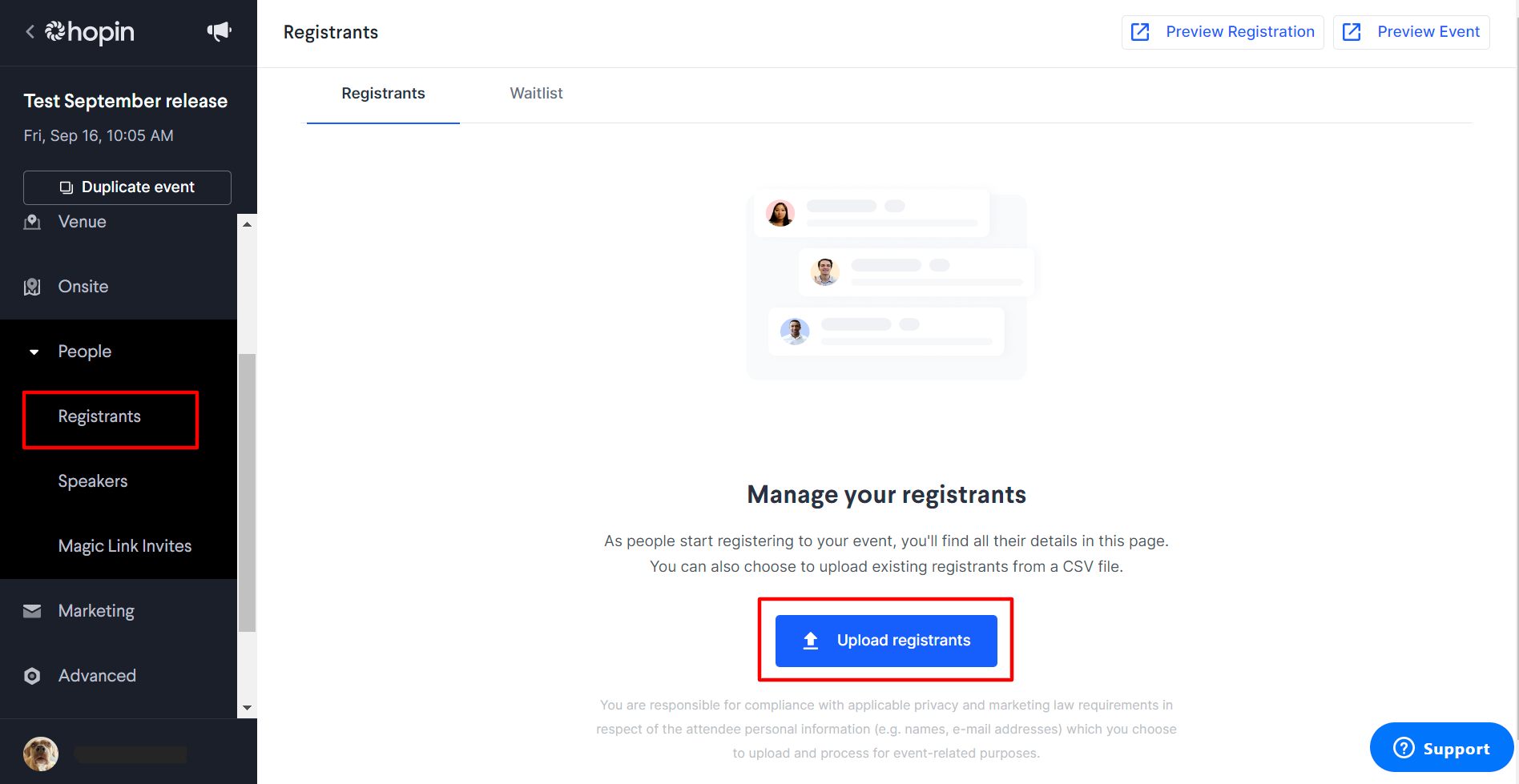 If some people have already registered to your event, you will instead see a list of current registrants and an Upload button in the top right corner.

This will open a new panel where you can Download CSV template or Choose CSV file to upload.
We recommend clicking Download CSV template to see how is best to layout the data.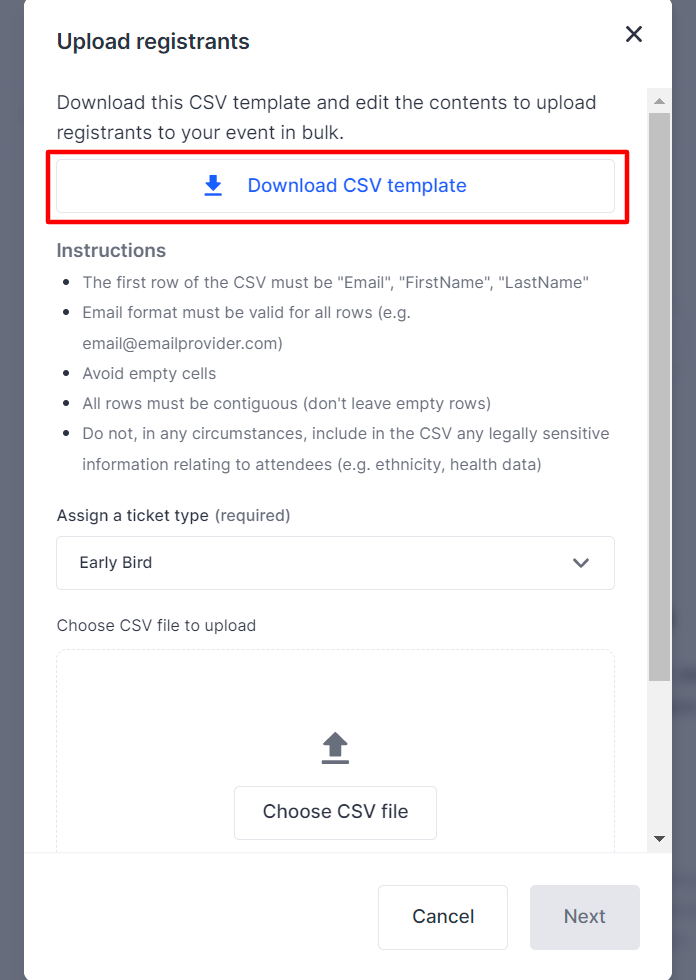 The template will have just 3 columns:
Once filled in, it should look something like this:

Back within your Hopin event, make sure you select which ticket type you would like to apply to the registrants you are uploading. Any Free ticket types that you have created can be selected from the drop down list under "Assign a ticket type."
You can then upload your CSV file to your Hopin event via the same pop-up by clicking Choose CSV file.
If you have found that you have made an error, you can delete the uploaded CSV file using the trash can icon in the corner of the upload panel.
If you are happy with your file, click Next to upload.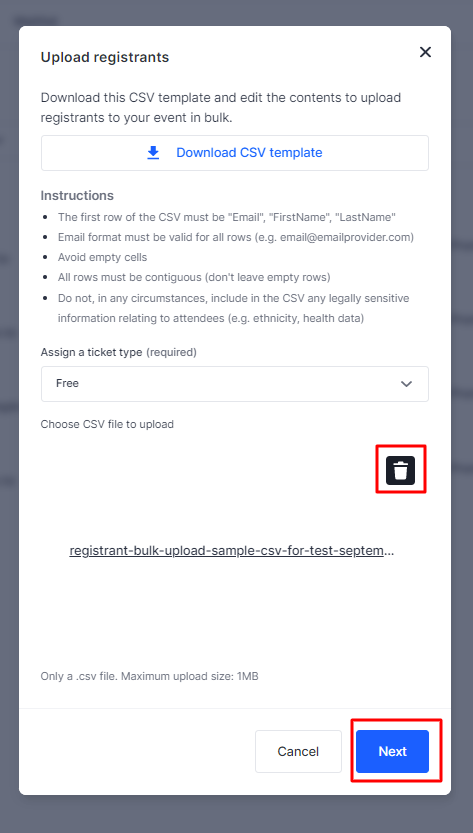 Next, you will see one of two different pop-ups alerting you to the emails that the registrants will receive.
Emails Received
If you have got all emails enabled for your event, all of the emails on the list will receive an "Order Confirmation" email. If you have disabled this email, then your registrants will only receive an email to say that a Hopin account has been made for them.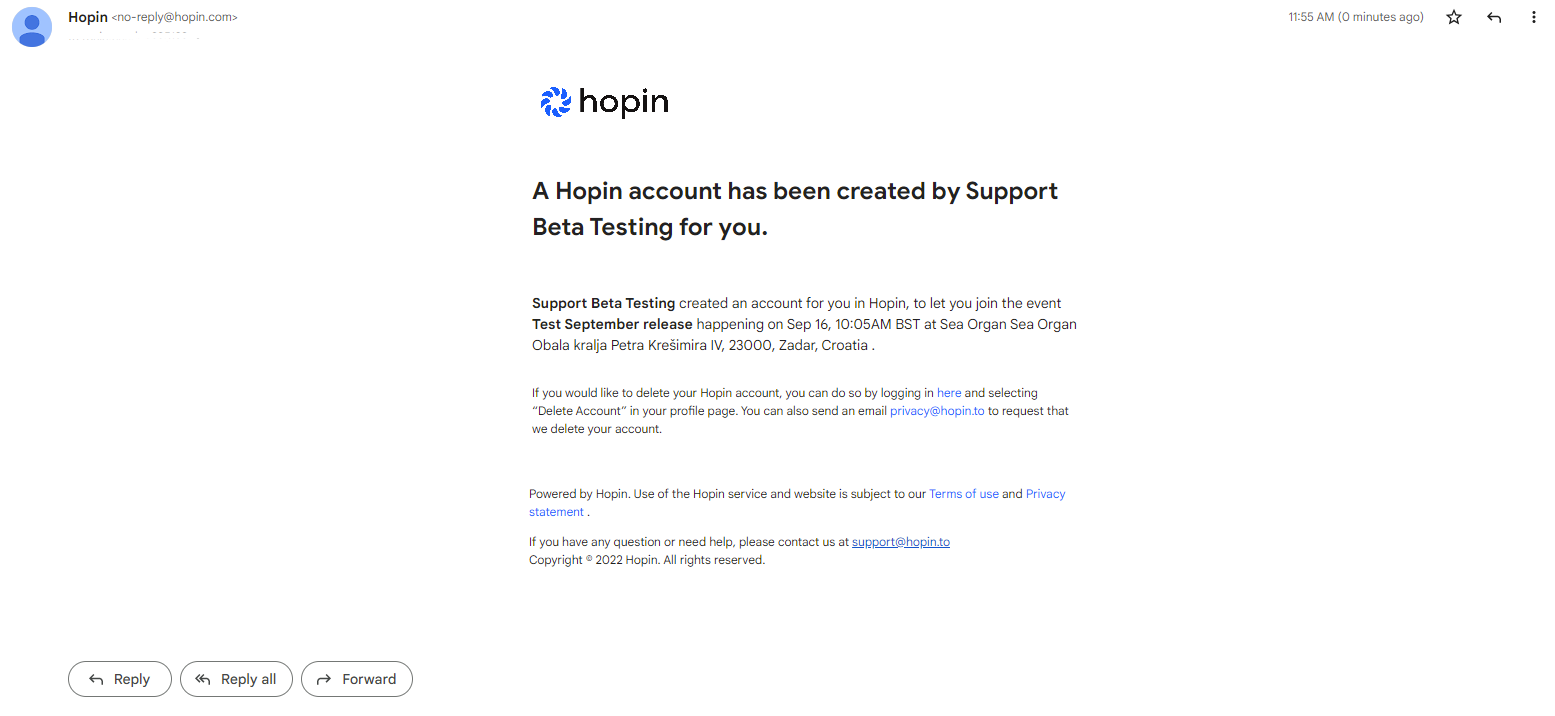 Important: You cannot disable or edit the "an account has been created for you" email. This email is mandatory under different privacy laws and cannot be stopped. This email will only be sent to those who do not have a Hopin account.
To review:
| | | |
| --- | --- | --- |
| | "Order Confirmation" | "An account has been created for you" |
| Emails enabled | ✅ | ✅ |
| Emails disabled | ❌ | ✅ |
For more information in the automatic event emails, check out this article.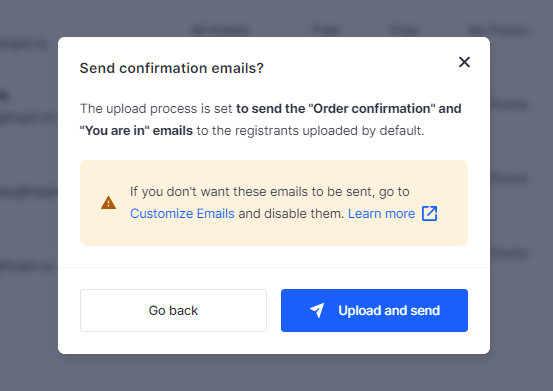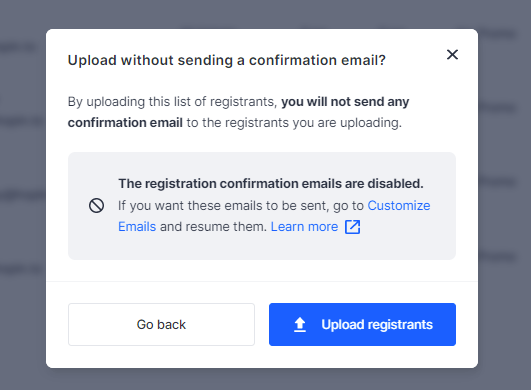 If you would like to change your email settings, you will need to click on the Customize emails link in the pop-up.
Once you are happy with your settings, follow the same steps as above, and then click Upload Registrants.
Depending on how many registrants you are uploading, this may take some time. You will receive an email as soon as the upload is complete. The email will let you know how many registrants have been successfully uploaded, as well as any errors it has incurred.
Here is an example of the email you will receive, as well as some common errors.