Hosting an onsite event is great for encouraging in-person connections. Make the most of features such as lead retrieval and specific onsite reports to gain valuable insights into your event's success.
Creating onsite events is available for our attendee-based RingCentral Event plans as well as for our legacy Growth and Business plans. If you need help upgrading, schedule a call with our sales team through the contact form on our website.   
Creating your Onsite event
To get started, head over to your Organization Dashboard and click Create.

You will be shown a screen where you can select whether you would like your event to be Virtual, Hybrid, or Onsite. 
Click Start under the Onsite panel. 
Note:  If your plan doesn't support creating onsite events, the buttons for Onsite and Hybrid will say Upgrade plan instead. 

Next, enter your Event's name and the dates and times that you would like your event to run, as well whether you would like your event to be private, hidden or public.
Now, you will need to input the location of your Onsite event before you can continue. Click Save and Continue.
Note: You can change the location of your event at any time from your Event Dashboard > Setup > Basics page.
On the next page, you will be shown some options to choose from based on what you are trying to achieve from your event. You can choose to Skip this step, or you can select from the options and click Save and continue.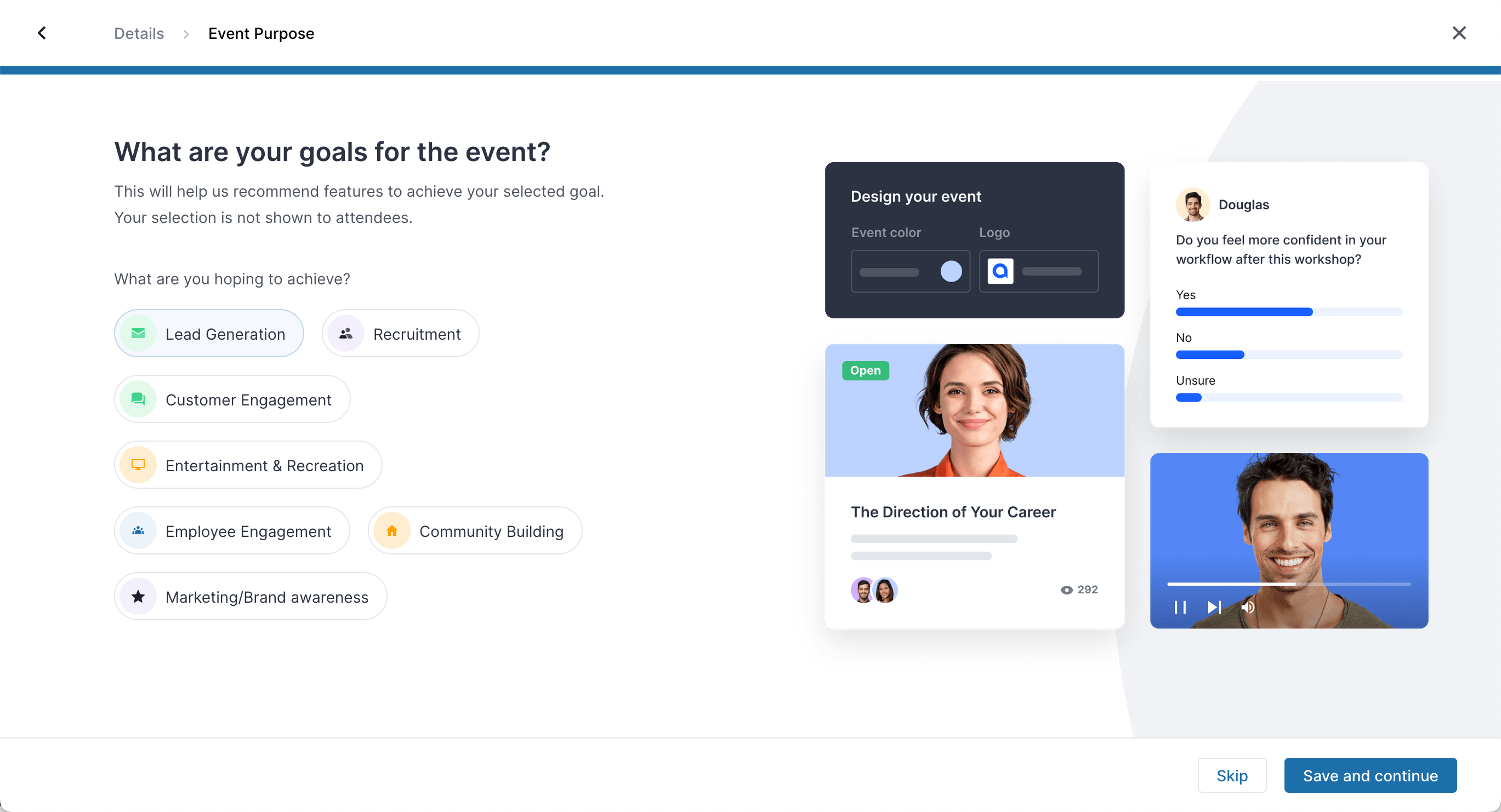 Manage your Onsite event
Select an option below to learn more about how to build your Onsite event.
Once you have created your event, you can start creating tickets. Head to your Event Dashboard > Registration > Tickets to add tickets to your event. Click Create a new ticket or edit the free ticket that is automatically created for you.

As an Onsite event, any tickets you create will be restricted to onsite access and there will be no option to create "virtual" tickets. 

When an attendee registers for an Onsite ticket, they will receive a QR code that looks something like this: 

When creating your schedule, click Add to schedule and a new panel will open where you can submit the details of your schedule segment. All segments will be created as onsite by default. 

Make sure you fill in the "Onsite space" as well as the "Onsite capacity" settings according to the availability at your event. You will need to tick the box for "Add onsite capacity" to display the additional field. If you want to add a new room, simply click Edit rooms. Once you have added the name of the new room, come back to the segment and select it as an onsite space. 

When you create each segment, you will be able to see at a glance where they will be located, by the location tags that are added to each one. 

 

Add Floorplans so that Attendees can easily find their way around your Onsite event. 

Simply go to your Event Dashboard > Onsite Features > Floor Plans, and click on Add Floor Plan to get started.

A new panel will open on the right hand side where you can enter the name of your floorplan, as well as upload an image (PNG, JPG or PDF).

Click Save to create the floor plan.

Once created, you can click Preview Floor Plan which will open the image you uploaded in a new tab. 

Alternatively, hover over the entry to display two additional icons. Click the pencil icon to edit the Floor Plan (including changing the name and the image), or the trash can icon to delete the Floor Plan.
You may also need to go through the following guide to learn how to use kiosk modes, badge printing, and the badge designer.