The Segment Registrations report will allow you to see who reserved a seat to an onsite segment within your Onsite or Hybrid event, as well as how they attended and how long they spent there. This can allow you to track interest in different segments before and after your event. 
Note: As only attendees with Hybrid tickets can attend onsite segments, this report will not include anyone that has purchased a Virtual ticket to the event. 
To download the report, go to Event Dashboard > Analytics > Reports, find the Segment Registrations report and click Generate.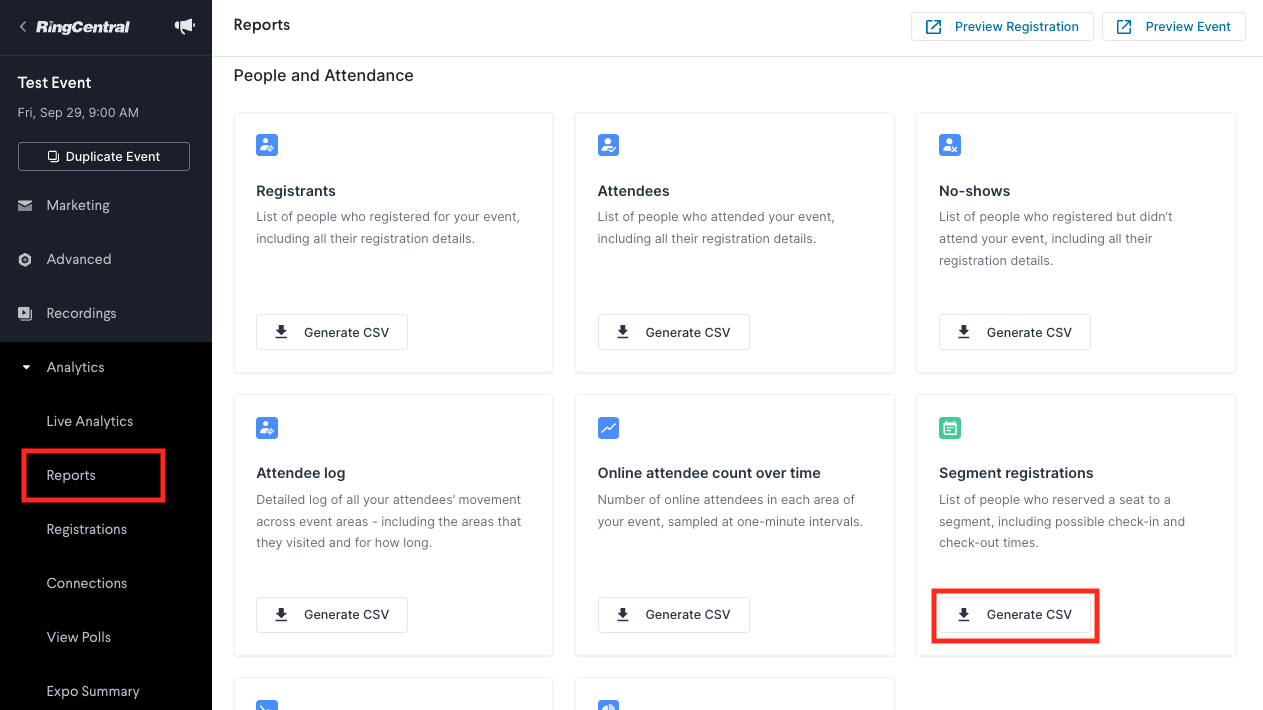 Once you have generated the report, you will see the Download CSV button. Clicking on this will download the report in the CSV format to your computer. 

Alternatively, go to Downloads and you should see your report at the top of the list. Hover over the report and the Download button will appear.

The Segment Registrations report should look something like this:

Email:

 

the email of the attendee
First Name:

 

the first name of the attendee
Last Name: the surname of the attendee
Headline: the headline as inputted on the attendee's profile
Country/Region:

 

the country of the attendee (generated using their IP, therefore this may be inaccurate)
Ticket Type: the name of the ticket purchased
Segment title: The title of the segment the attendee registered to
Segment type: Type of segment the attendee registered to (Stage, Session, Expo)
Segment format: Virtual, Hybrid, or Onsite segment
Virtual space: If hybrid, this will show the name of the virtual space the segment was held in
Segment registration status: Whether the attendee attended the segment - "registered" if they booked a seat, or "attended" if they were checked-in to the segment
Segment registration time: The time they first registered for the segment
Event first check-in:

 

The type of check-in the attendee first performed at a segment
Event checked-in time:

 

First time when the attendee checked-in in person at a segment
Event check-out time (approximated*):

 

Last time when the attendee checked-out from a segment. In case the final check-out time has not been tracked, this value corresponds to a segment end time*.
Event minutes spent (approximated**):

 

Minutes spent by the attendee at a segment in person, calculated by the time from the first check-in to the last check-out**. In case the last check-out time has not been tracked, the segment end time is used as the last check-out.