You can adjust your team's permissions per Organization as well as on an event level. This can make it easier to track who has access to each event and, therefore, who is working on what. 
What are Admins and Team Members?
When you create a new Organization account, you automatically become the Organization admin. This is the only person who can delete the Organization account or transfer ownership to another Organizer. Plus, the Organization admin can add or remove any other team members on the Organization account. The Organization admin is also responsible for creating and managing events.
When you add a new team member, you will be asked whether they are a "Member" or an "Admin." 
Admins will have access to all of the events within the Organization, and can create events, edit them, and duplicate them. 
Members will have access to specific events only. You will need to add them manually to the events that you would like them to manage. When added to an event, they will have the same controls as an Admin. They cannot edit the team members for each event,

cannot create events

, and cannot delete events. 
How to edit permissions per Organization
Go to your Organization and click on your icon in the top right hand corner then select Manage Organization from the menu that appears.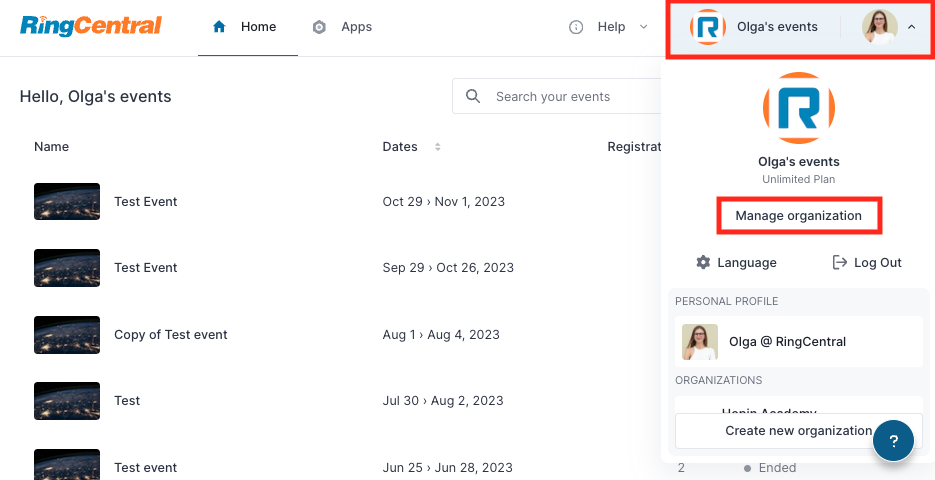 Next, select the Team tab from the left hand side and you will see all of the members and admins currently added to your Organization. 
Use the search function to find specific members, or you can add another team member.
From the drop down lists next to each member, you can select whether they are an "Admin" or "Member." See the definitions of each above.
As an Organization admin, you can also delete other team members, too - simply click on the trash can icon next to their entry.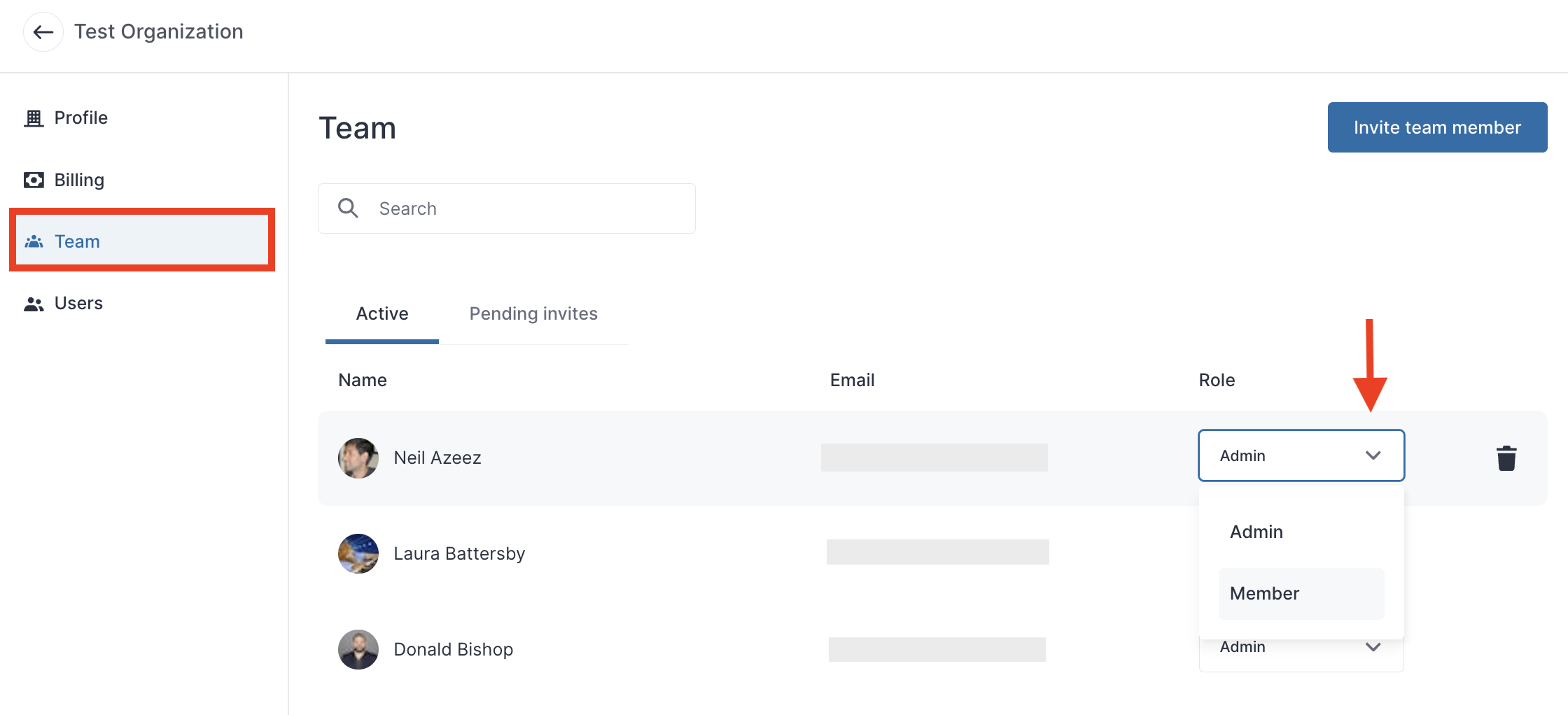 How to edit permissions per Event
If you choose someone to be a "Member," they will not have access to every event, and you will need to add them to each one manually. 
This makes it easier to allow certain team members to only see events that are relevant to them. 
Head to your Organization Dashboard where you can see all of your events. 
Hover over the event that you would like to manage. Click on the Team Access icon to see who has access to this event. 
Here, you can search for different users and toggle between those With access and those Without access using the tabs at the top. 
If you would like to adjust a member's permissions for this event, find the person you need and choose from the following options from the drop down menu:
Full Access: Can manage all aspects of an event.
No Access: Cannot manage any aspects of the event.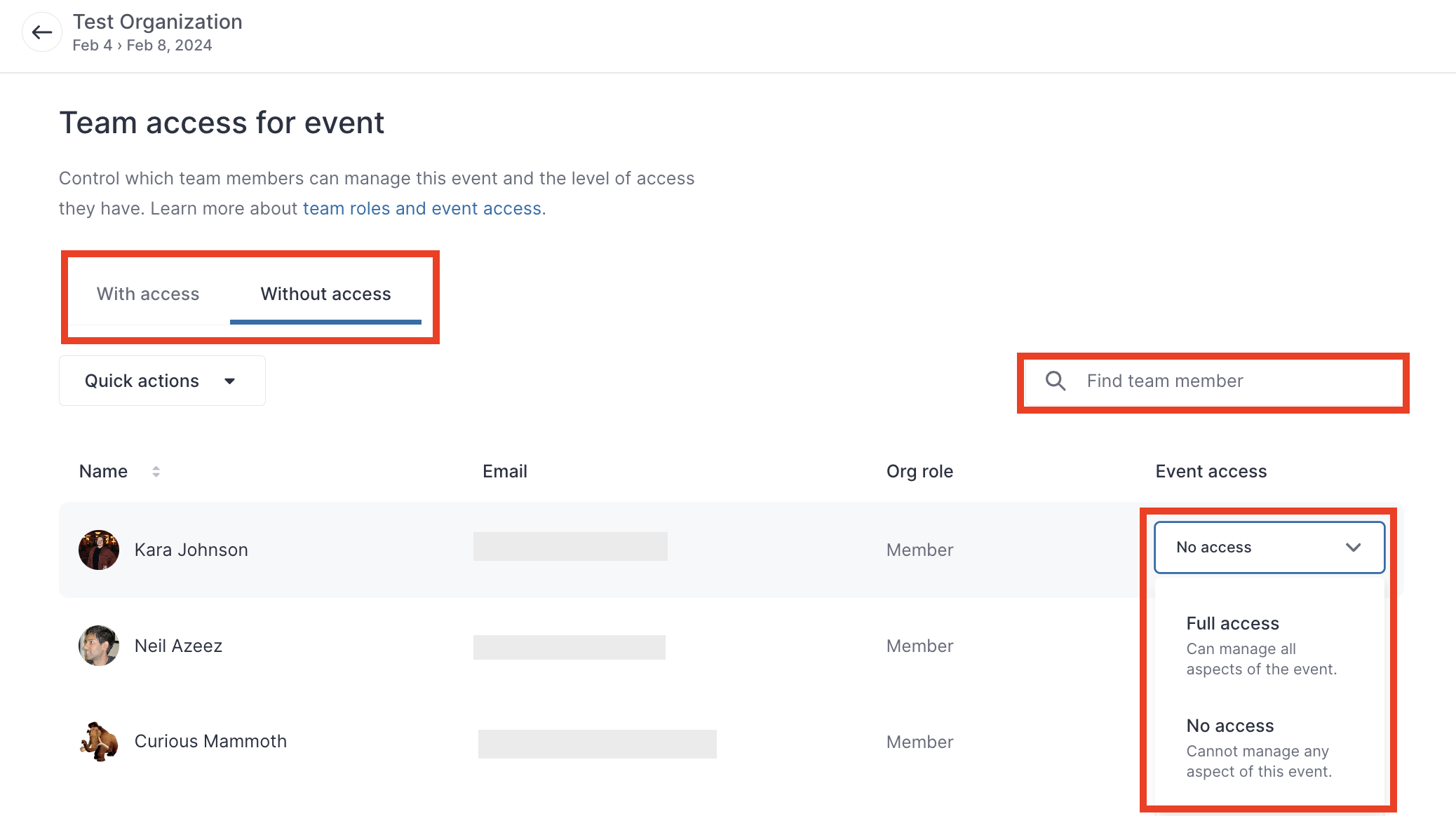 Tip: Use the Without access tab to quickly view anyone who doesn't have access.
Note:
Anyone given "Admin" permission will have access to every event, and this cannot be adjusted manually, per event. If you would like to remove access from someone, you will first to need to make them a "Member"
as in the steps above.
You can also use the Quick actions drop down menu to:
Give access to everyone, or
Restrict access to Admin only