Note: Kiosk Mode and other advanced Onsite features are included in the Enterprise plan, however, will need to be purchased separately on the Business plan. This feature is not available on any other plans.
Additionally, Kiosk Mode is only available to use on tablets and will not function on mobile phones.
If you are hosting a Hybrid or Onsite event and want to start setting up your Kiosks, then you are in the right place!
Here, you can personalize the welcome screen and final message as well as adjust the checking-in settings.
Creating a new Kiosk
To get started, you will need to create a Kiosk. To do this, head over to your Event Dashboard > Onsite > Kiosk Mode and click Add kiosk mode.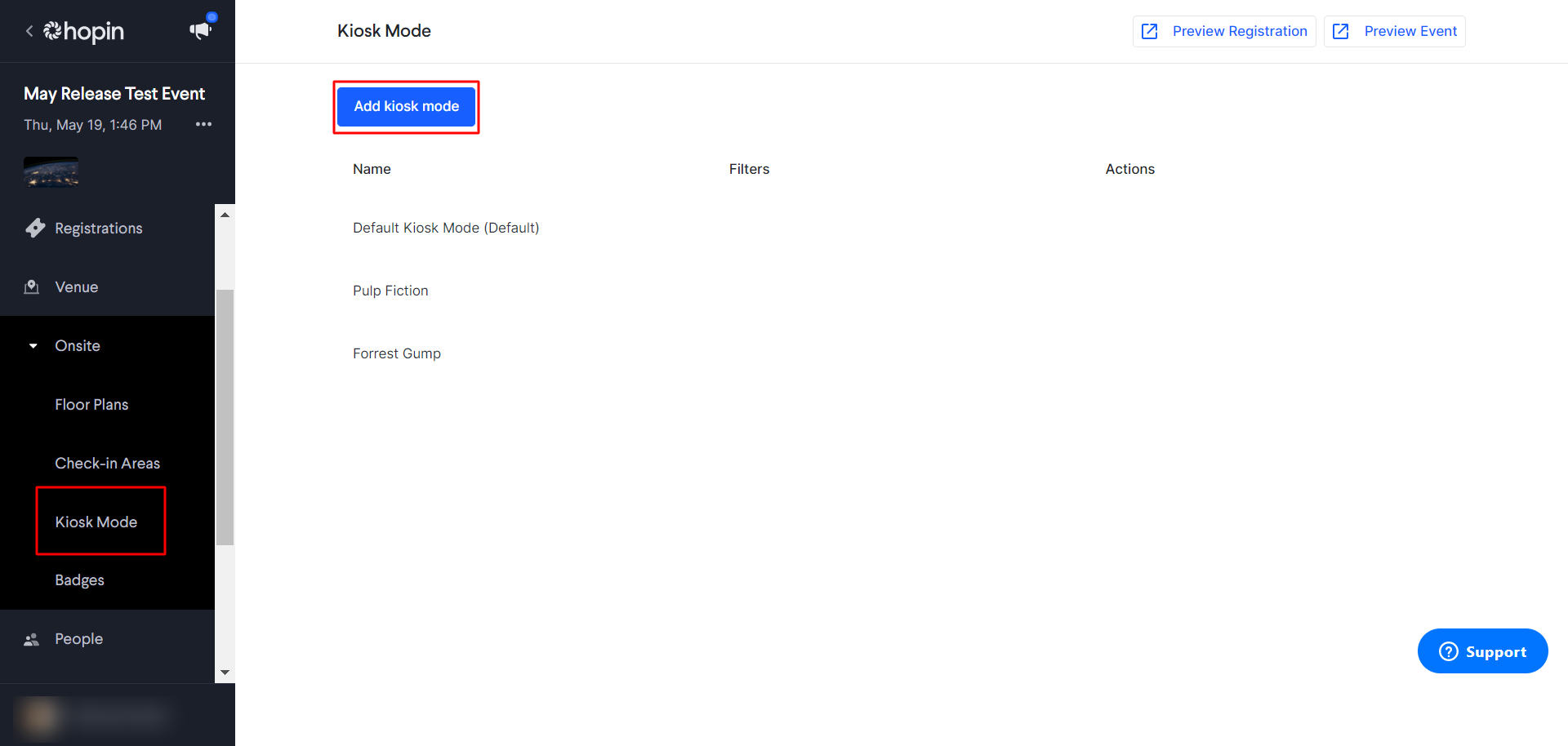 On the new panel that opens up, enter the name of your new kiosk and click Add new Kiosk.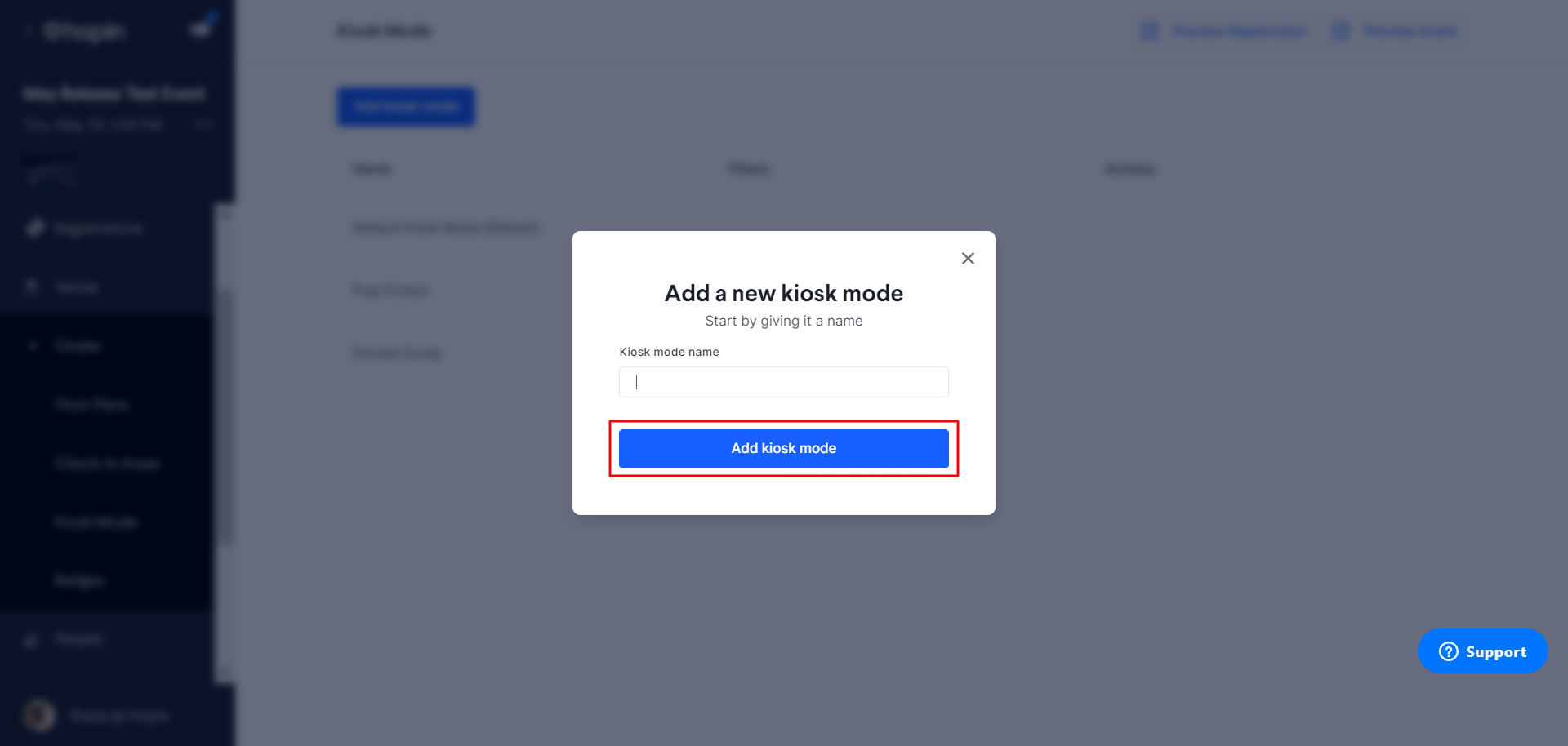 Now, you will see your new Kiosk within the list on the main page. Now you are ready to start editing!
To edit your Kiosk, make sure you are in the Onsite > Kiosk Mode page of your Event Dashboard as outlined previously.
Hover over one of the Kiosks within the list to display the icons for Edit and Delete. Click on the pencil icon to begin editing your Kiosk.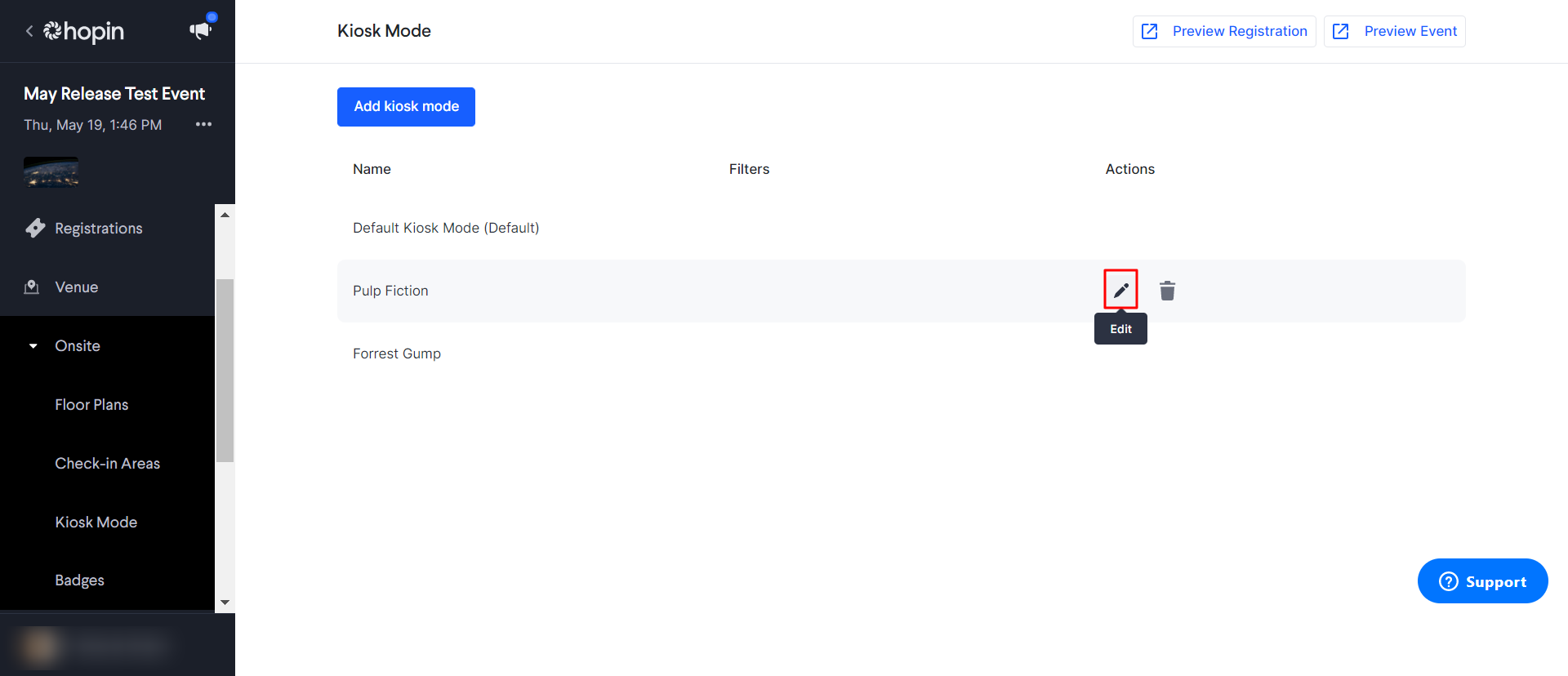 Setting up your Kiosk
The following tabs cover the different stages of setting up your Kiosk. Click on each one to go through the whole process.
"Start" Settings

Once you click on the pencil icon, it will take you to the Kiosk Designer! It should look something like this:

The panel on the left hand side is where you can edit your Kiosk design, whilst the right hand side serves as a preview and will update to show you exactly how your Kiosk screen will look on the day of your event!

Basic settings

Before you get started you should select which device you plan to use. On the right hand side, under "Select a Device", choose your device or click Custom size to input alternative dimensions. These settings will ensure that your design is optimally displayed on the device that you are using.

Additionally, choose the orientation of your device (landscape or portrait) using the respective buttons.

You can change the name of your Kiosk by clicking on the field under "Kiosk Name".

To edit your welcome message, highlight the text and use the panel at the top of the editor to format and resize the text. You can align, resize, format, and add pictures, using the respective buttons.

Customize Settings

Underneath the editor, you will see a toggle to "Customize". This option allows you to further customize your Kiosk. Toggle this to "on" to display some additional settings. Here, you can further brand your welcome screen by changing the background image, the background color, and the start button.

Changing the Background Image

To upload an image, click on one of the options below, depending on if you are using a portrait or landscape orientation. Choose an image from your computer to upload it to your Kiosk.

Once you have selected an image, a new screen will allow you to resize, rotate and centre your image. Click Done once you are finished.

Note: To remove this image, click the small "x" in the tp right hand corner of the upload preview.

Changing the Background Color

Simply click on the field under "Background Color" and enter a new HEX code.

Customize the Start Button

You can choose whether or not to display a start button by using the toggle next to "Display Start Button". If this is on, it will display the additional colour settings underneath.

Add in a new HEX code by typing in the field under "Start Button Color".

If you turn the Start Button toggle to "off" then Attendees can tap anywhere on the Welcome Screen to begin their experience. Alternatively, if you choose to display the Start Button, you can see it in the bottom of your preview, as shown below:

Additional Settings

Finally, underneath your options to customize the Kiosk, you will see a heading for Additional setitngs. Click on this heading to expand the options for a Kiosk Password.

Enter a password into the field provided to set a password for this Kiosk Mode. Whichever devices are set to this Kiosk Mode will require a password to use.

Tip: Leave it blank if you do not wish to set a password.

"Check-In" Settings

Filter Settings

Click the Check-in tab at the top of the screen to adjust your Filter and Identification settings.

Click on the field under "Ticket Type" to select which tickets you would like to be able to check in at this Kiosk Mode. You can select more than one by ticking the respective boxes.

Note: Only Hybrid tickets will be shown here.

If you do not select any tickets, all ticket types will be able to check in here.

Remove a ticket type by clicking the "x" next to the ticket name.

Identification Settings

Choose how you would like your Attendees to check-in by turning on/off the following toggles:

Allow Scan - allow attendees to scan their QR code to check-in
Allow Search - allow attendees to search for their names and/or email addresses to check-in

Note: You must have one of these options turned on to be able to Save your settings.

If you toggle "Allow Search" to "on", you will see some additional settings:

Search Auto Complete - when attendees are searching for their name or email address, the search function will make suggestions
Search By - you can allow attendees to search for themselves via their name, email address, or both, from a drop down menu
Custom Search Results Message - customize the message guests see when no results are found after searching by typing something in this field

"Final" Settings

Click on the Final tab to set up the Final Message that attendees will see once they have successfully checked-in to your event.

Write your custom message in the fields provided and set how long you would like the message to be displayed for.

This is how it will look at your event:

"Post Check-in" Settings

Click the tab named Post Check-in. Here, you can set whether or not your attendees can reprint their badge. Choose from one of the following options:

Locked - a password will be required to reprint a badge
Hidden - badge reprinting will not be available to attendees
Visible - enable badge reprinting without a password
Once you have it all set up, sign in to the Hopin Organizer app and select Kiosk Check-in from the menu on the left and select the kiosk mode you would like to use on this device.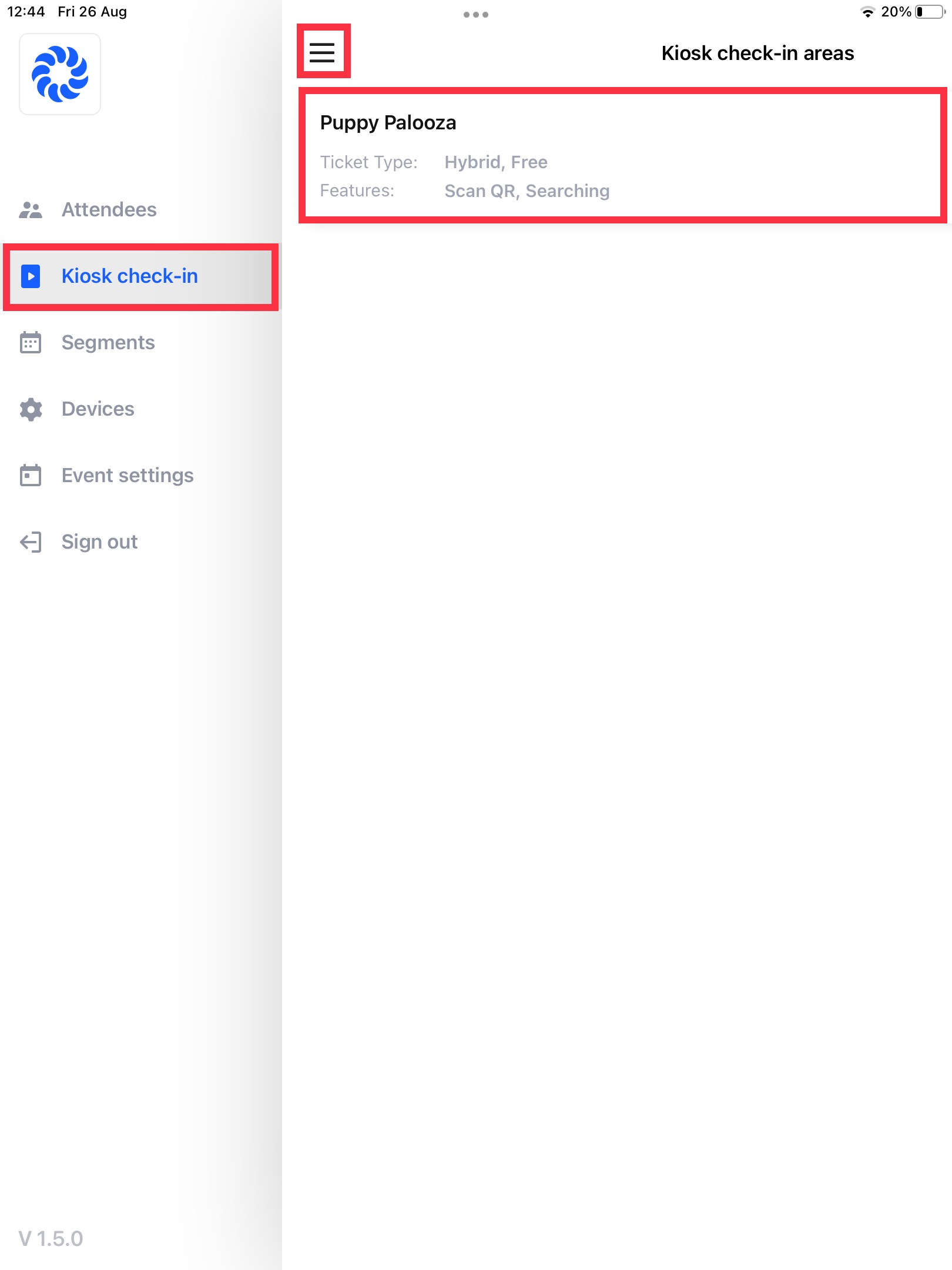 If you have not set a password during the Kiosk Mode set up then you will need to set a temporary password to be able to logout of Kiosk Mode again.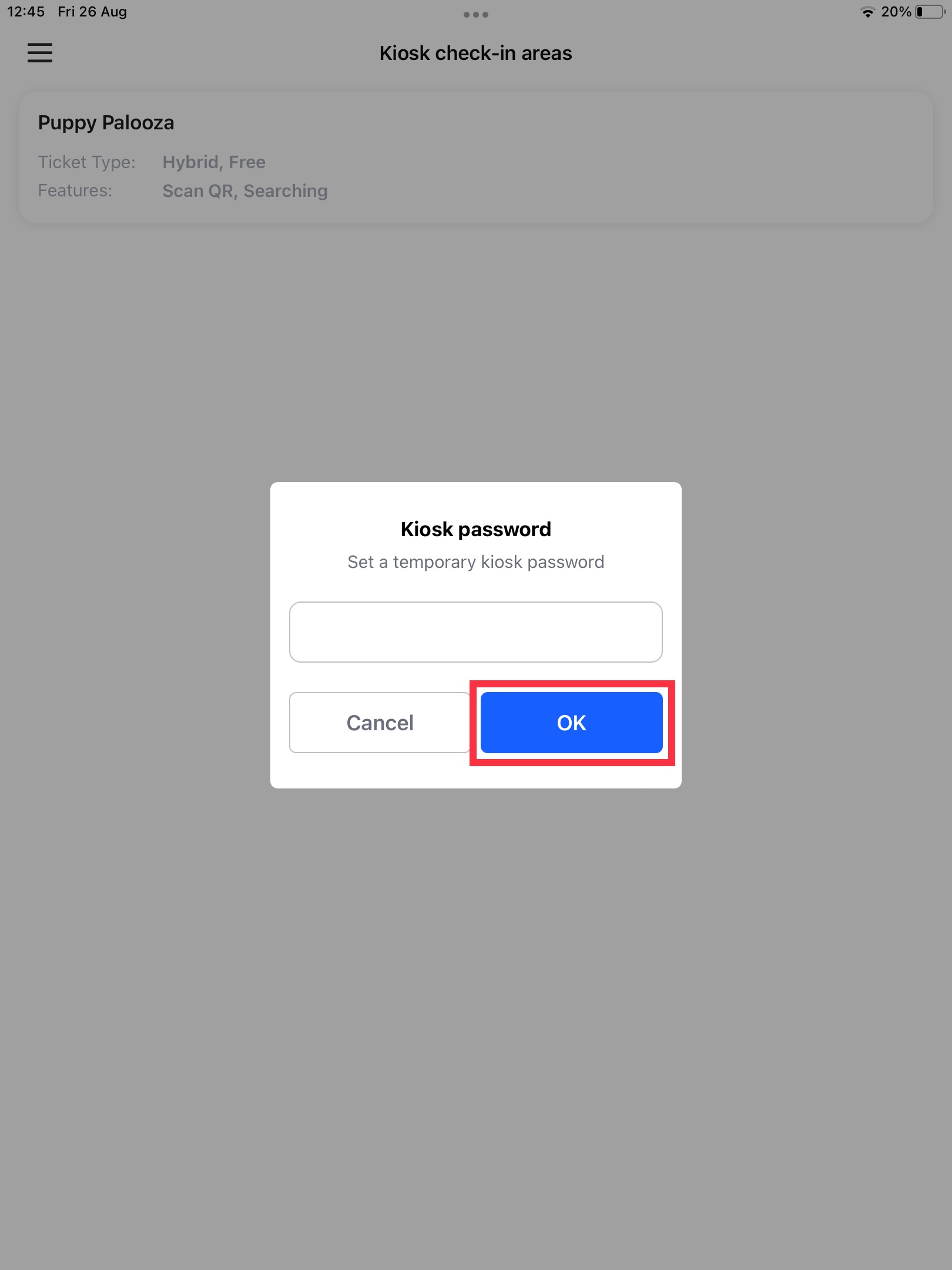 Now, people can start checking themselves in and you will see the "Check-in" screen.