The Hopin Organizer app is an open app that you can use to check Attendees into Check-in Areas at your onsite event.
Before you get started with the app, you will need to create a hybrid event and create Check-in Areas.
Logging in to the Organizer app
Once you have set up your Check-in Areas, you will need to assign different devices to check Attendees in and out of each area. We recommend having a separate iPad for each Check-in Area.
Once you have downloaded the Organizer app, it will ask you if you're sure that you need the Organizer app. Clicking on Use the Hopin Attendee app will take you to the App Store for your device to download the Attendee app.

Tap on Continue to assign this device to a Check-in Area.

On the next screen, you will be prompted to scan the QR code or manually enter the code that you can retrieve from your Check-in Areas.

If you choose to Scan check-in area code it will open your camera so you can place the QR in the field of view.

Alternatively, you can copy the numerical code and click Enter QR number instead, then paste the code into the field provided.

Where do I find these codes?

You can get these codes by going to your Event Dashboard > Onsite > Check-in areas page.

Hover over the Check-in Area you would like to assign the device to and click the pencil icon to edit the area.

Here, you can share the QR codes, generate a new code, and remove assigned devices. Check out this article for more information!

Click Copy or scan the QR code directly from the screen using the Organizer App to assign the device to the Check-in Area.
Managing Attendees within the Organizer App
Once you are inside the app you can check Attendees in and out, view their details, and use the search function to find people.
Search for an attendee

To easily find an attendee, use the search bar at the top to search for first name, last name, or email.

You can also use the filter function on the left hand side to filter Attendees based on ticket type or sort them based on their name and status (checked in or checked out).

Checking-in and checking-out Attendees

One of the main functions of the Organizer app is to check in and check out Attendees. Here are a few ways you can do this.

Manually

Once you have found the Attendee that you are looking for, simply click the green Check in button to check them in to the area.

Similarly, if the Attendee is checked in, you can tap the Check out button to check them out of the area.

With their QR code

Each Attendee that purchases a Hybrid ticket will also be sent a personal QR code. This QR code can be scanned to check them in and out.

Tap Scan QR to open up the device's camera so you can move the QR in to the field of view.

Once you have scanned the QR code, there are 3 possible screens you will see:

Green - successfully check-in
Orange - this person has already been scanned
Red - Invalid bar code

Add a new Attendee

You can also register a "walk-in" attendee by clicking the Add attendee button at the top of the page.

You will need to select a ticket type for them, as well as enter their name and email address to register them.

Note: To be able to do this, you must have Widget Authentication disabled on your Event Dashboard > Registrations > Details page. You must also have Stripe connected if they would like a paid ticket.

View attendee information

To view the information of any of your attendees, you can search for them using the search function and click directly on their entry.

This will open a new panel showing the first name, last name, email and headline. Here, you can also change their registration form responses.

If you click on Registration information on the left hand side you can also preview their badge and see which ticket they are registered with. Click Close to exit.
Using Kiosk Mode
If you would like to use the Kiosk mode, you will need to set this up, first.
Next, click on the burger menu and tap Kiosk check-in. Select your Check-In area from the list to get started! You can also see this article for more information.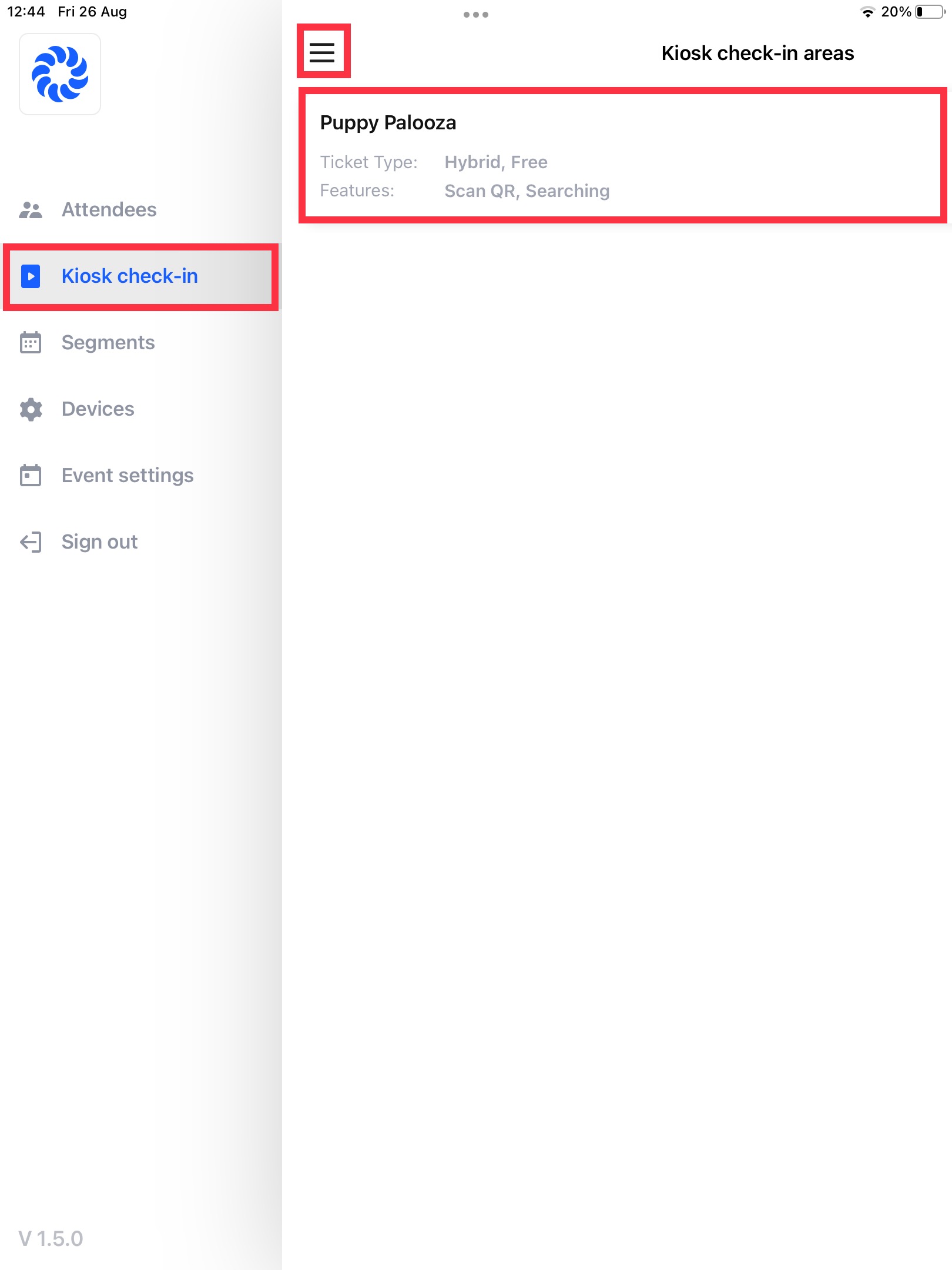 Checking Attendees into segments
You can also check Attendees directly into scheduled segments by using the Segment check-in in the burger menu.
Check out this article on how this feature works.