If you are creating a hybrid event then you may want to create various check-in points throughout the Onsite part of your event. This means that you can promote different content in different rooms and monitor the number of people in each one. 
To get started, head to your Event Dashboard > Onsite > Check-in Areas page. 
You will see a default check in area called "Main Check-in." Click Add check-in area to create a new area.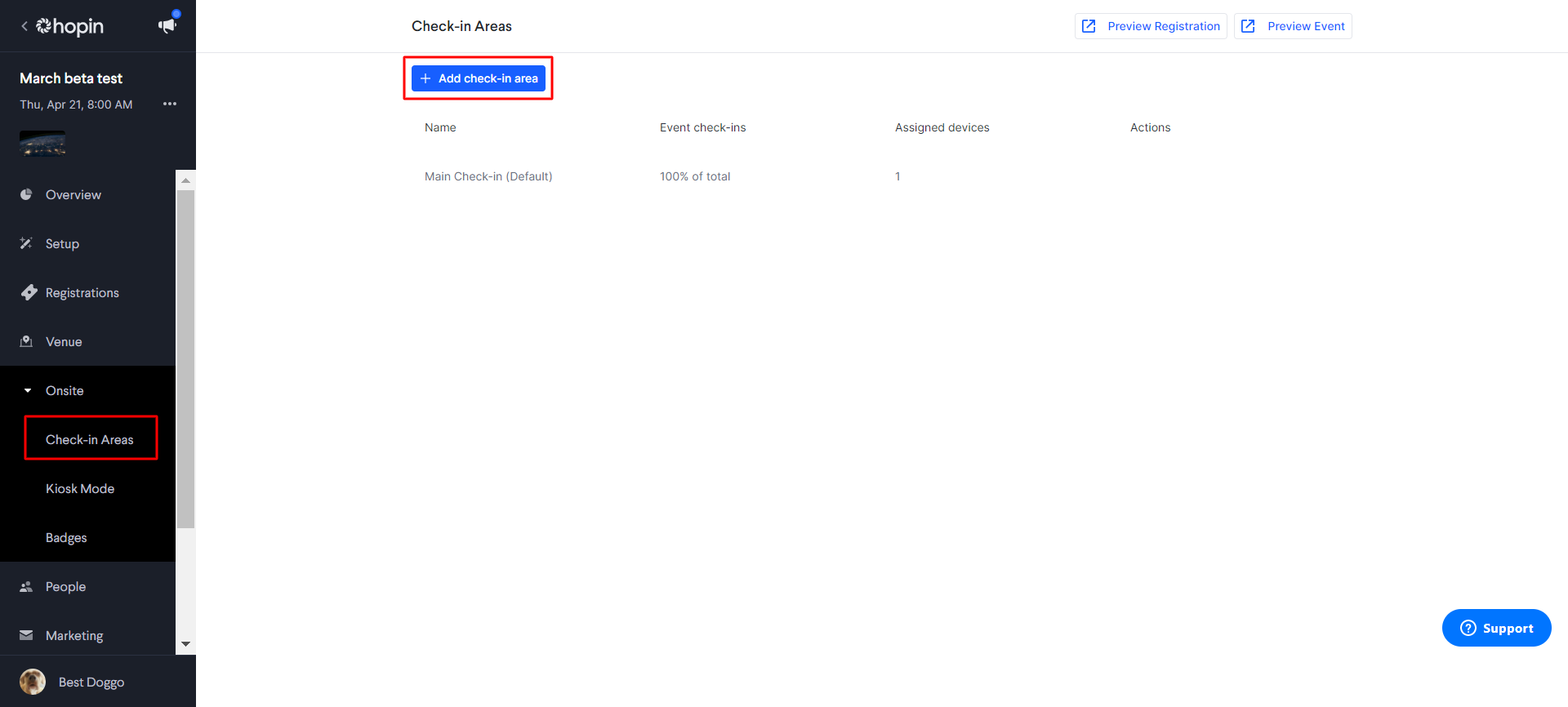 You'll see a small pop-up prompting you to input the name of the new check-in area. Don't worry, you can change this name at any time. Click Add check-in area to continue.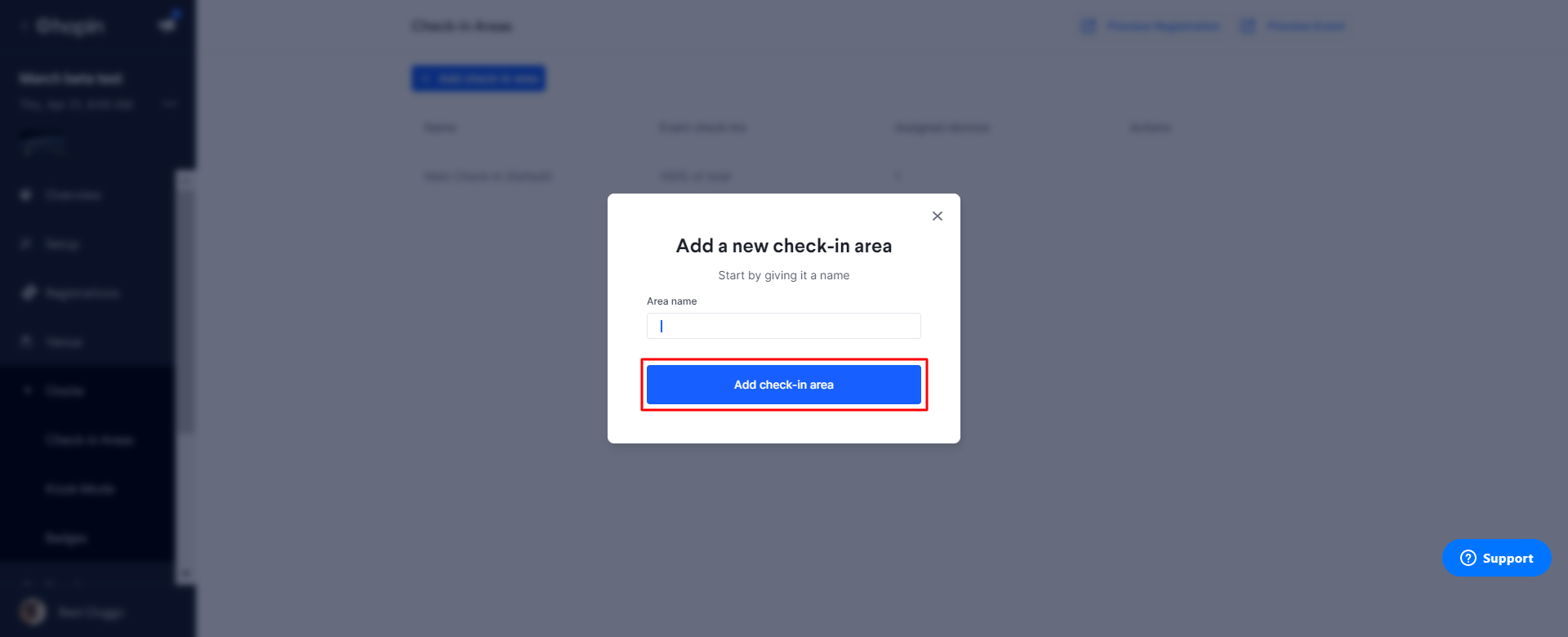 That's it, you've created a new check-in area! 
Now it has been created, you can disable, delete, or edit the check-in area at any time. Simply hover over the check-in area you would like to manage to display the edit, disable and delete icons.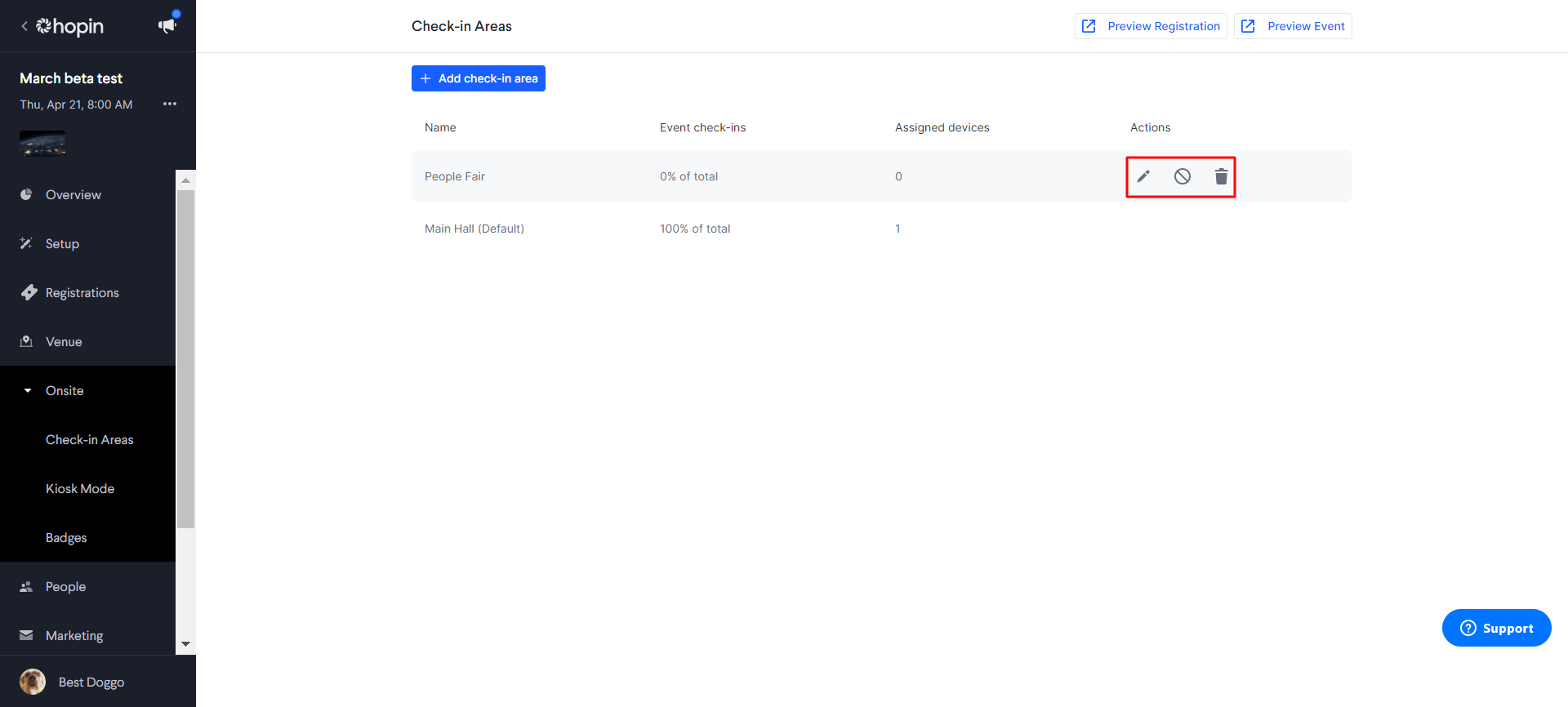 Note: You cannot delete the default check-in area, but you can edit and disable it. 
Edit a Check-in Area

To edit a Check-in Area or to see it's details, click the pencil icon.

A panel will open where you can change the name, as well as view and manage the QR code. 

Change the name of the Check-in area by typing in the field titled "Area name" and clicking Save.

Share a QR code

You will want to share the QR code to assign a device to the specific Check-in Area. Assigning a device will then allow that device to check-in and check-out attendees.

If you are at the event yourself, you can scan the QR directly from your monitor.

Alternatively you can share the QR code with other people to allow them to connect the devices themselves. 

There are three ways you can share the QR code:

Copy the QR code and send the code directly via direct messages or an alternate messaging platform. 
Send the QR code via email
Print the QR code

Click copy and it will be added to the clipboard of your device, so you can then paste it and send it elsewhere.

Alternatively, click Send QR code via email to send the QR code directly via email.

A pop-up will prompt you to enter the email-addresses you would like to send it to. If you would like to share the QR code with more than one email address, separate them using a comma. Click Send to send the code. 

Finally, clicking Print will open up a new panel to connect to your printer and prompt you to print out a physical copy of the QR code.

You should see a preview of your QR code printout beforehand, it should look something like this:

Create a new QR code

You may want to create a new QR code which will stop any previous QR codes for this Check-in Area from working when trying to scan them. 

To do this, click Create new QR code. 

This will open up a small pop-up asking if you're sure. Review the name of the Check-in Area and make sure you it for the right area then click Create new code. 

Remove devices

Once you have devices logged in to the Organizer App using the QR codes you have created, you can remove them at any time. 

You can see how many devices are assigned to a Check-in Area from the main page under the heading "Assigned devices"

Hover over the Check-in Area you would like to work on and click on the pencil icon to begin editing. 

Underneath the QR code settings, you will see a list of the devices assigned to this particular Check-in Area.

Note: If you do not have any devices assigned to the Check-in Area, you will only see the QR code settings.

To delete a device, hover over the entry and click on the trash can icon that appears. 

You will see a small pop-up asking you to confirm your decision. Click Remove to permanently remove the device. 

Tip

: If you would like to prevent devices from joining again, you can

create a new QR code

and remove assigned devices. 
If you would like to learn how to add a Hybrid Segment to your Event Schedule, check out this article.