The People Area is an area to promote connections between your attendees. Here you can find the Networking area and recommended connections and search for other attendees at the event. 
Setting up the People Area
To set up the People Area go to your Event Dashboard > Setup > Basics and find the heading for "Event areas." Make sure you tick the box for "People" and click Save.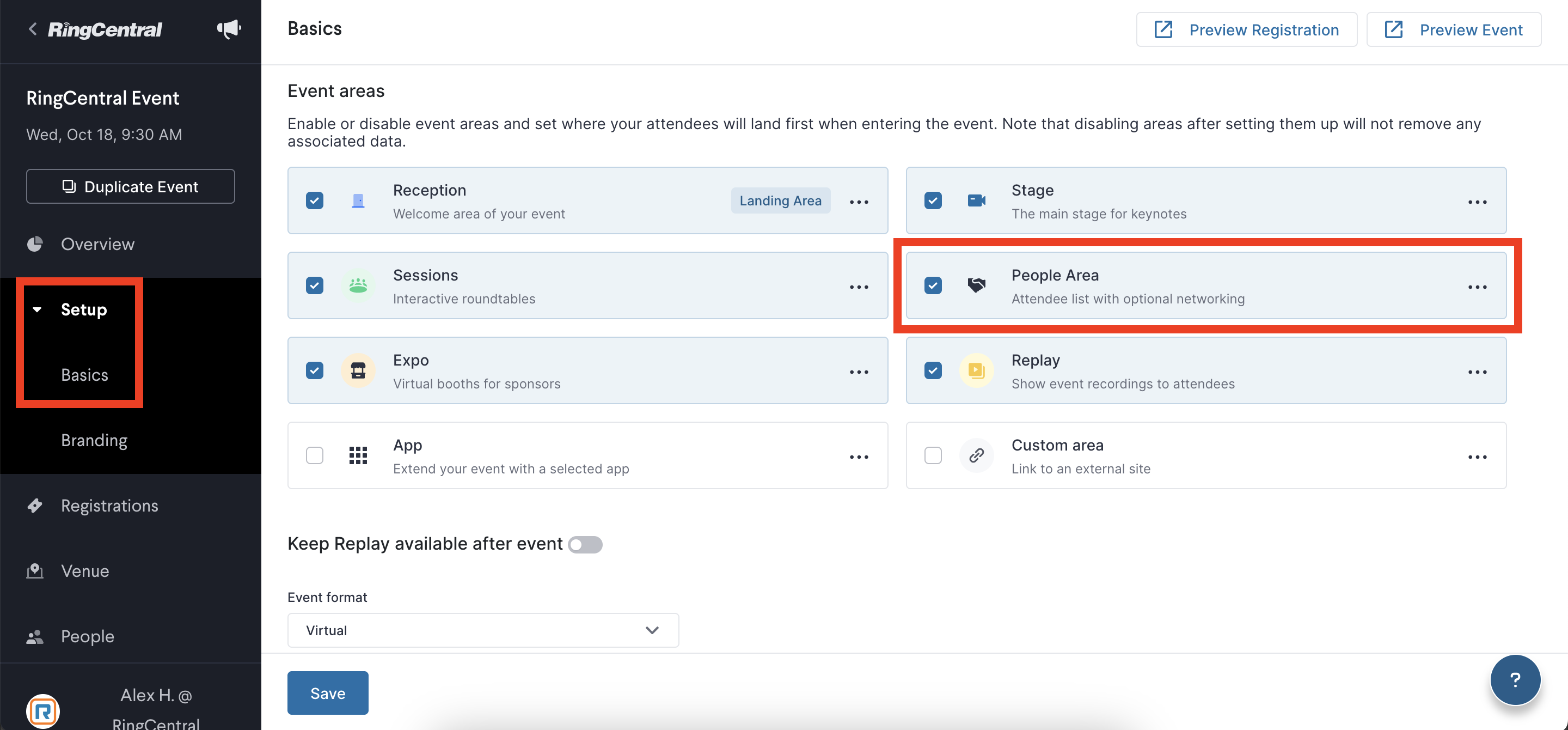 Once enabled, you head to your Event Dashboard > Venue > Networking to edit the settings.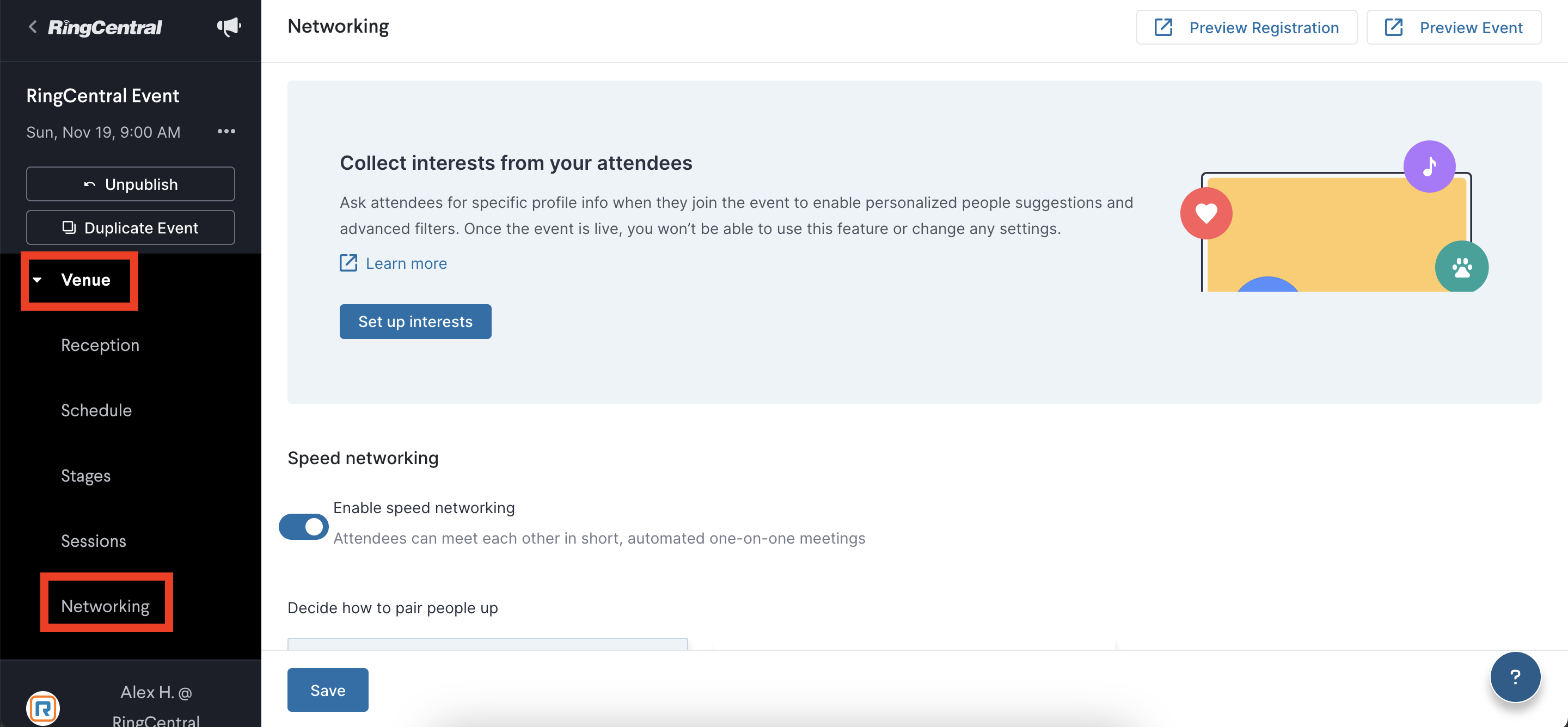 Here, you can set up different interests that attendees can add to their profiles to make it easier to search for other people. You can also set up your Networking settings. 
Set up interests
Before your event goes live, you should add interests so that Attendees can expand their profile and search for other attendees more easily. 
To get started, click Set up interests.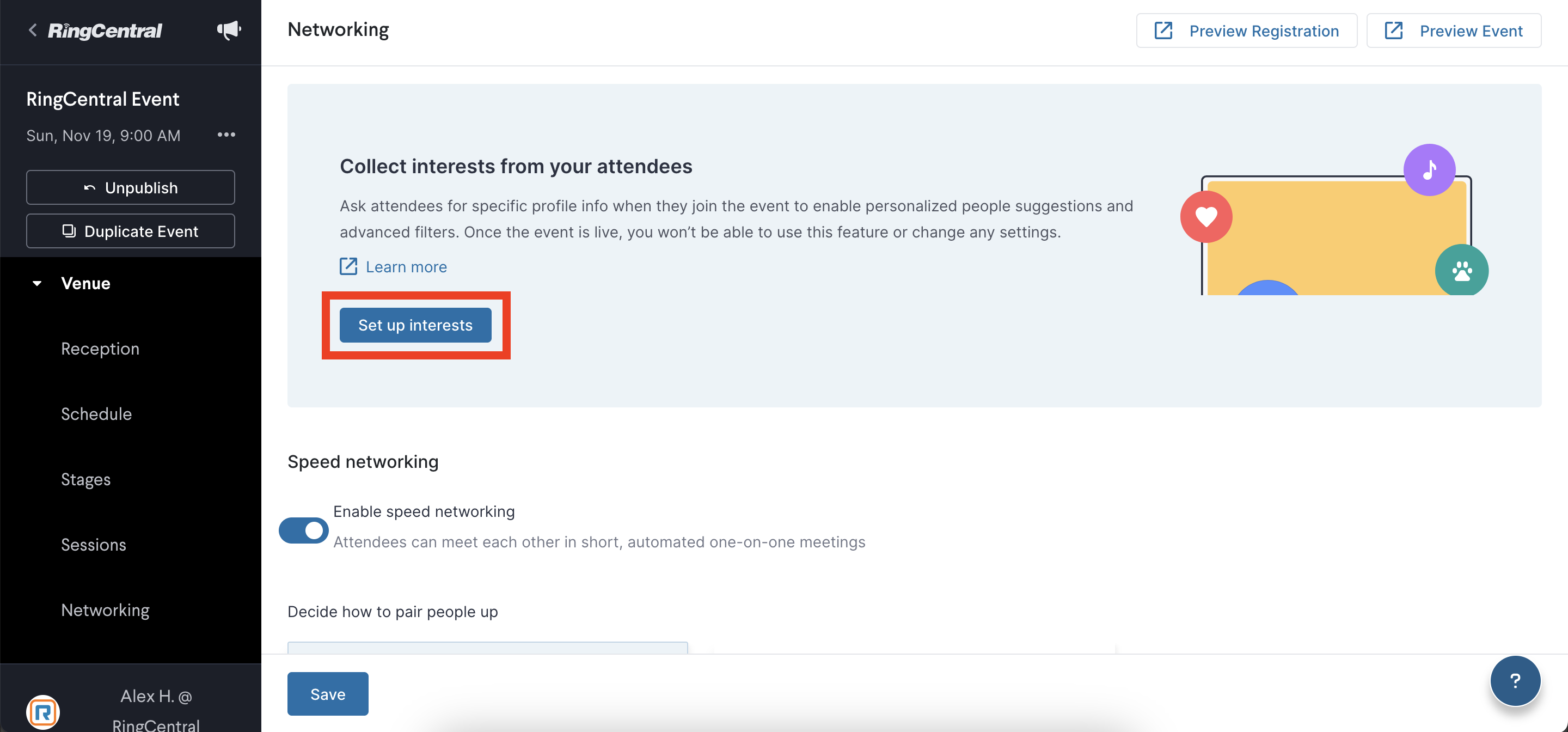 This will open up another panel where you can begin adding interests. Click Add category and choose whether you would like it to be:
Multi-select - Attendees can choose more than one option, this works great for "hobbies & interests" 
Single select - Attendees can only choose one from the options provided, you could use this for "field of work"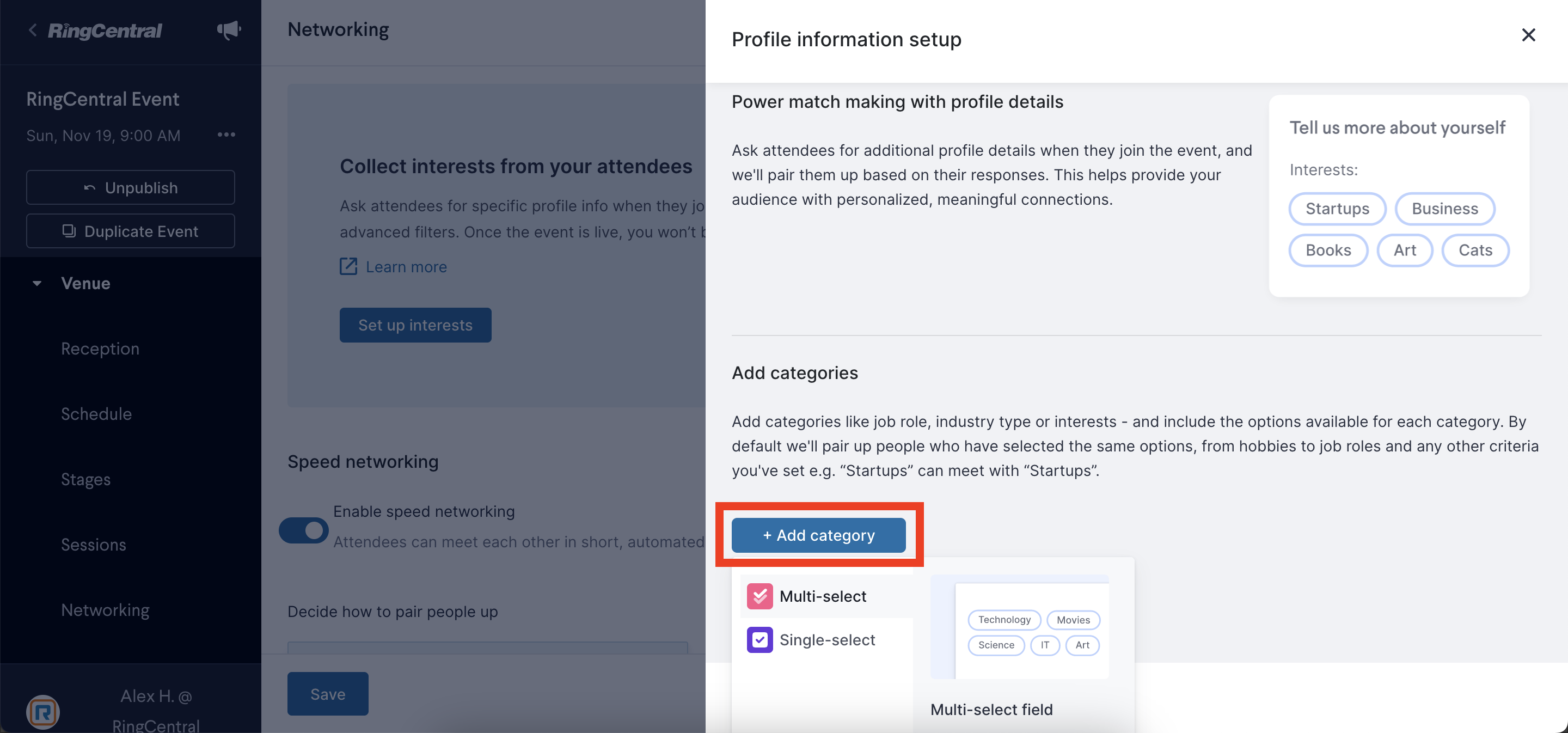 Add in the name of the category and then add different options for Attendees to choose from. You can click the large "X" on the right hand side to clear all of the options you have added, or you can delete them individually by clicking the smaller "x" next to each one. 
Once you have added all of the categories and possible options, hit Save.
Note: You can create a maximum of 4 categories, each with 20 options. Therefore, the maximum interests you can include is 80 per event.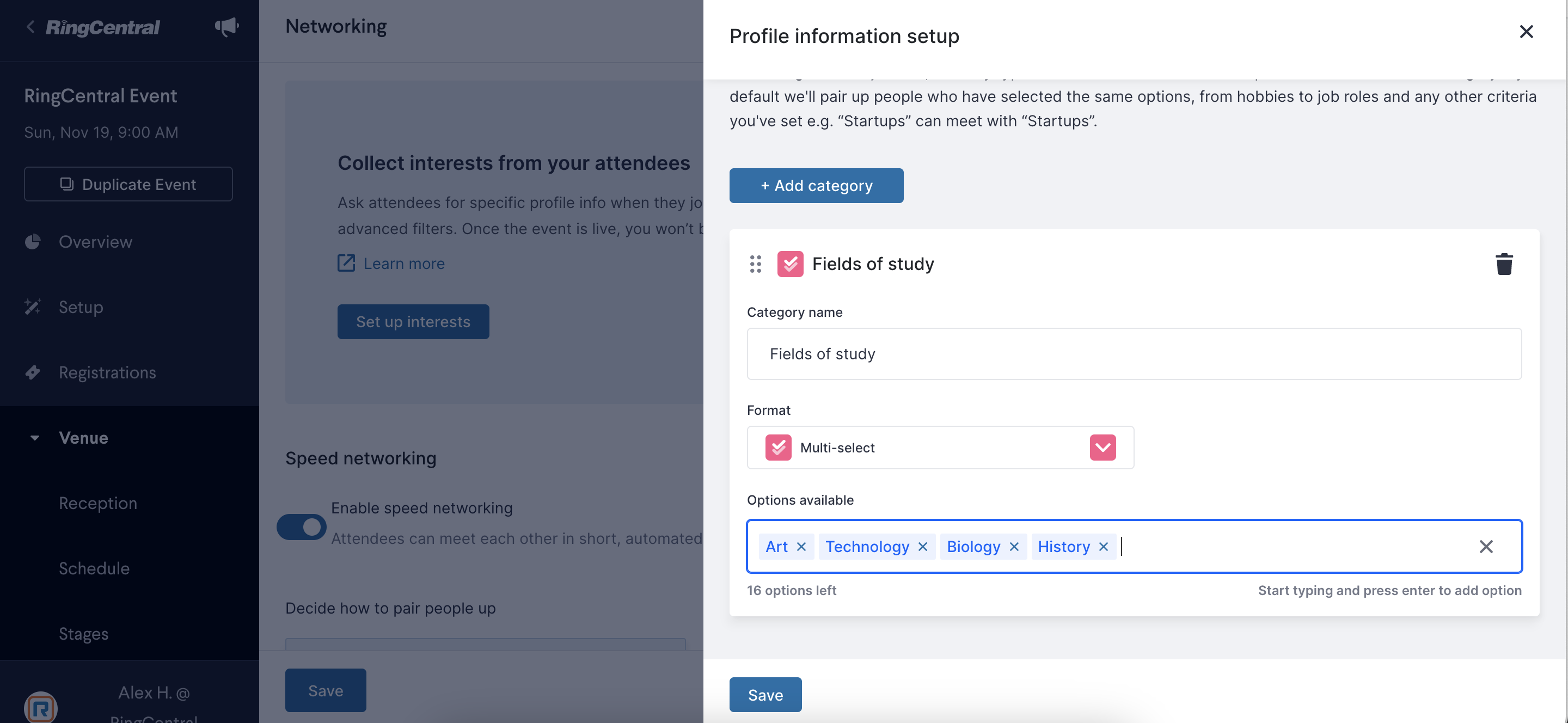 Tip:
Here are some other examples of interests you could use to connect your Attendees:


If you wanted to use your Networking segment for speed dating, you may want to include "hobbies & interests" to connect like-minded people.
Alternatively, if you are using Networking to connect people and job opportunities, you could set up the interests to include "skills" or "field of work."
These are just a few examples of ways you could use your Networking area!
You can go back and edit the interests at any time before the event goes live. Click and drag using the dots on the left hand side to rearrange their order, click the pencil icon to edit each one, and click the trash can icon to delete. Don't forget to always click Save! 
Enable Networking 
The networking area is an important part of RingCentral and can be enabled through the People page. For more information on Networking and how to set it up check out these articles:
To enable Networking, look for the heading called "Speed networking" and switch on the toggle for "Enable speed networking." This will open up additional fields for you to set how Attendees are matched, you can choose:
Random - everyone can match with everyone 
By ticket type (only with two or more ticket types) - you can set which ticket types each can match with
Click Save to apply your changes.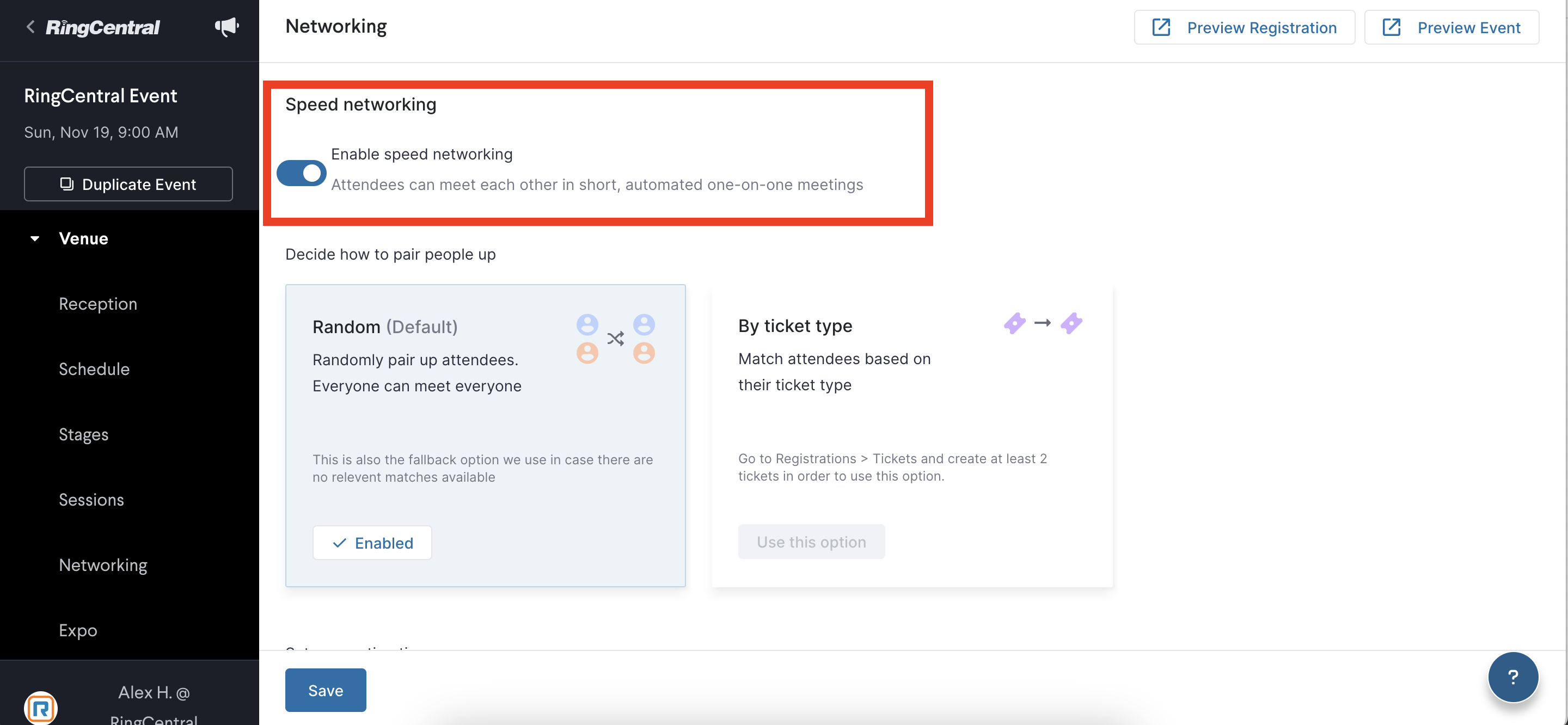 Attendee perspective
When Attendees join the your event and visit the People area via the tab on the left hand side, they will see recommended connections, be able to join Networking, and will be prompted to complete their profile.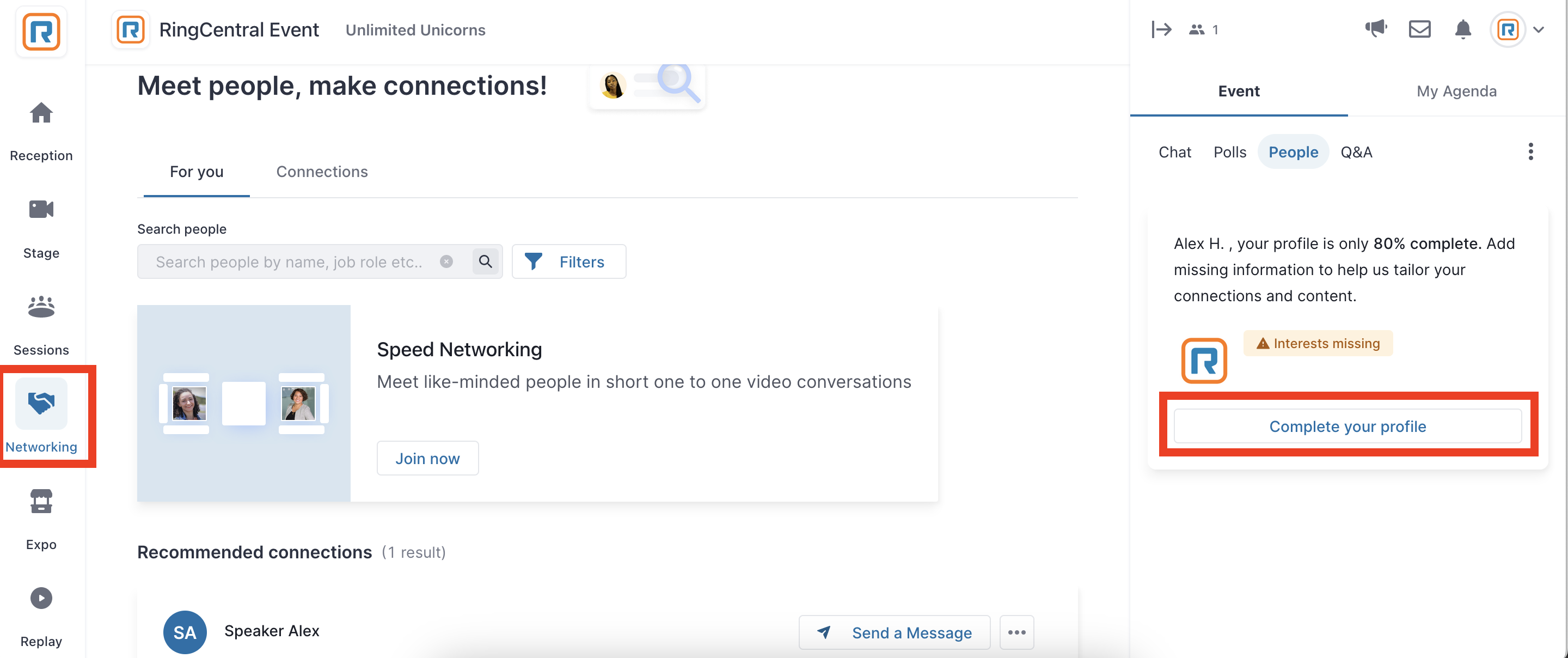 For more information on the Attendee perspective, check out Navigating the Networking Area.