What are the capabilities of the 3Play Media app?
Increase the accessibility & engagement of your virtual & hybrid events leveraging 3Play's live & on-demand captions, audio description & translation services.
Add live captioning to your event, provided by professional voice-writers to optimize accuracy & comprehensibility.
Upgrade your post-event content with 50+ language translations and human edited captions & audio descriptions. Here's what it could look like within your event.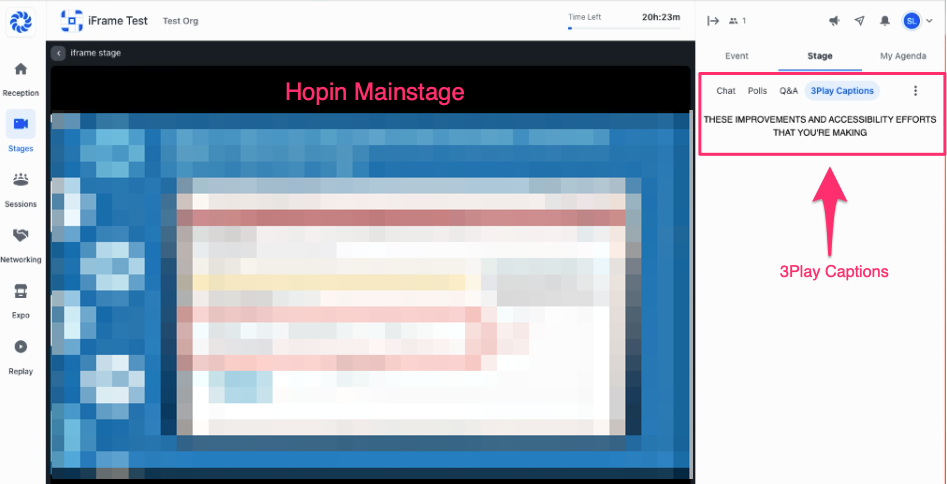 This is currently only available within the Stage area of Hopin. 
What plans is the 3Play app available on?
This app is available to all paid RingCentral plans. 
What attendee data is shared between the 3Play app and RingCentral?
RingCentral and the 3Play Media app do not share any attendee data between them.
How do I set up the 3Play app?
You'll need a 3Play Media account and will need to schedule the time at which you'd like captions delivered using 3Play's "Schedule Live Captions for an RTMP" workflow. Check out their article on how to do this.
To get started, you will need to install the 3Play Media app to your RingCentral Organization. You can access the app store by going to your Organization Dashboard and heading to the Apps tab. Then click on Discover More on App Store. 
You can find 3Play Media under the Translation category. Click Install app to add the 3Play app to your Organization.
Next, navigate to the Event Details page within 3Play, and on the right-hand side of the page, copy the "External Webpage with captions" URL and paste it into a text editor.
You will need to find the Public_ID and the Stream_startID within the URL, these fields are in bold in the example below. 
https://p3.3playmedia.com/live-asr-client/external_webpage_with_captions.html?key=[Public_ID]&stream_start=[Stream_startID]&caption_polling_latency=0&show_complete_transcript=true&container_height=0&use_uppercase=0 
Make a note of these two codes.
Next, head back to your RingCentral event and go to your Event Dashboard > Venue > Stage and choose the stage you would like to add the 3Play App to. 
Scroll down to the "Apps" section and fill in the fields using the information you saved from the 3Play app. Make sure you check the box under "Enabled."
Click Save and your attendees will see the 3Play tab within the specified Stage of your event.