The Time Spent Online report is available on the Advanced plans only. This report will show the time spent by attendees in different areas of the event, such as networking, a specific stage, or an expo booth, depending on which report you choose to generate from the dropdown menu. 
Important notes:
The report doesn't include your organization team members nor expo booth managers.
If you added custom registration fields, they'll be recorded here too.
The report doesn't include in person attendance. You can only see virtual attendees in it.
The rows are sorted by minutes spent online; note that the number of minutes spent only covers the duration of the event, so if an attendee joined earlier or left later than the event start/end time, that extra time won't be counted. However, the time of Early Access is counted.
Ad-blockers and corporate firewalls might limit data capturing, in which case the report might not be complete. If you're a corporate customer with attendees joining through a firewall,

 

here we provide guidance

 

on how to make sure attendance data is captured.
Time spent online is measured by online presence, so it doesn't take into account whether the attendee is active and interacting or not. For example, someone might join a stage segment but have their video paused the whole time. For more information on where an attendee moved throughout the event, you should look at the Attendee Log report.
If an attendee loses their network connection and it doesn't come back, it can take up to ten minutes to mark the attendee as offline.
To download the report go to the Event Dashboard > Analytics > Reports, find the Time Spent Online report. When you click Generate a dropdown with event areas will appear from which you can select the report you would like to generate.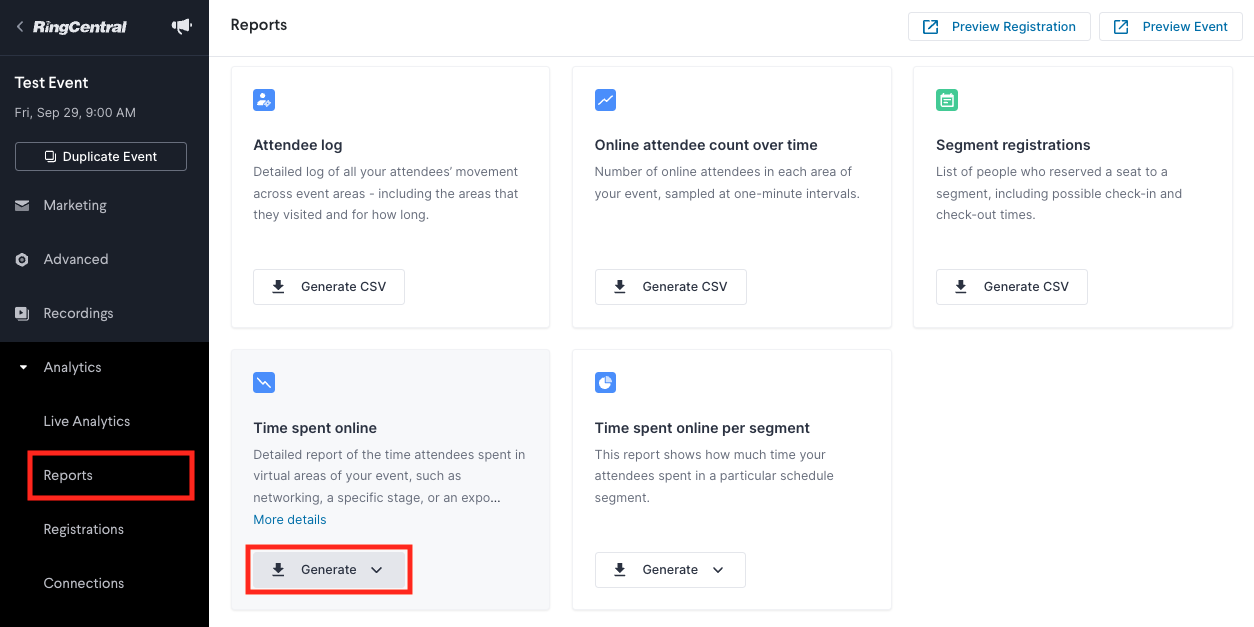 Once you have generated the report, you will see the Download CSV button. Clicking on this will download the report in the CSV format to your computer. 
Alternatively, go to Downloads and you should see your report at the top of the list. Hover over the report and the Download button will appear. 

Note:
Reports will be available for download for a week. You will need to generate a new report after a week.  
The Time Spent Online report will look something like this:

Email:

 

the email of the attendee
First Name:

 

the first name of the attendee
Last Name: the surname of the attendee
Headline: the headline as inputted on the attendee's profile
Country/Region:

 

the country of the attendee (generated using their IP, therefore this may be inaccurate)
Ticket Type: the name of the ticket purchased
Minutes Spent Online:

 

Number of minutes the attendee spent in the event area or virtual space
Registered At:

 

Time when the attendee registered to the event
Registration Source:

 

Type of registration, could be 'Registration Page' or 'Magic Link' for registrants who registered through a magic link invite.