Attendees will be sent two surveys when attending a Hopin event, an mid-event survey and a post-event survey. Both of these surveys can be customized by organizers so that both the questions and the timing of the surveys can be changed. It's also possible to disable the surveys before the event starts.
If enabled on the event dashboard, the Survey Feedback report will include mid-event survey and post-event survey results for your attendees. The questions and answers will appear after the predefined columns in this report. This report doesn't include responses from the organization team.
To download the report go to Event Dashboard > Analytics > Reports, find the Survey Feedback report and click Generate.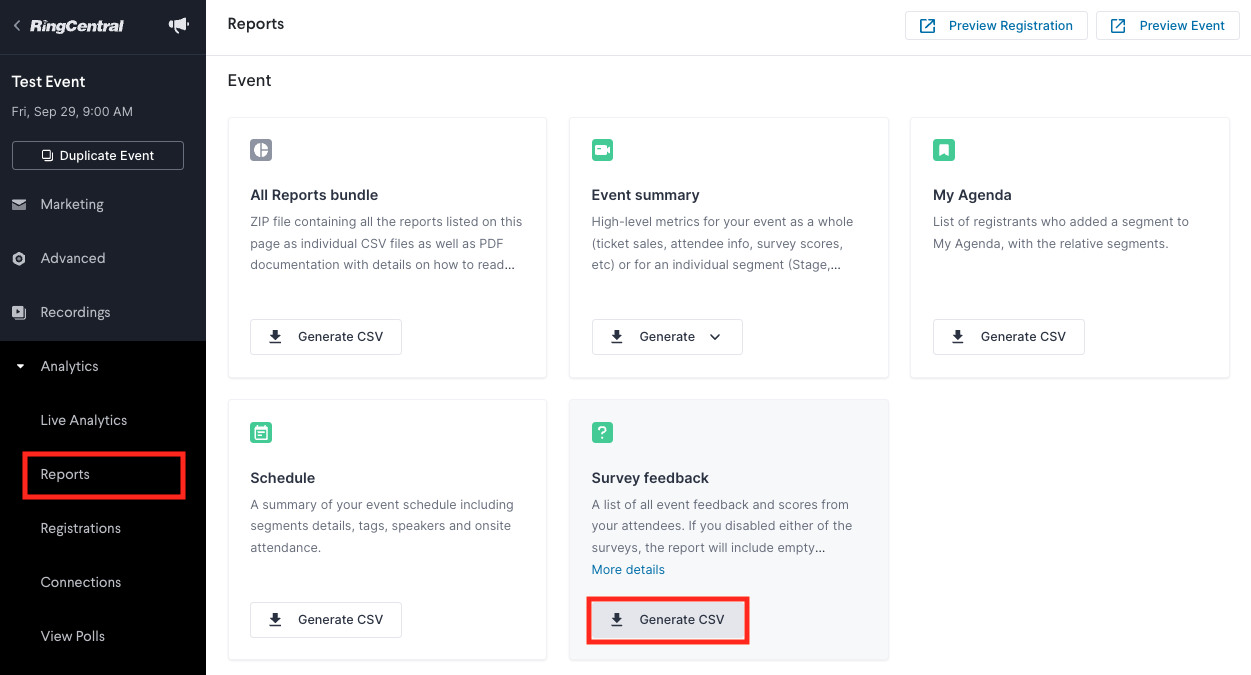 Once you have generated the report, you will see the Download CSV button. Clicking on this will download the report in the CSV format to your computer. 

Alternatively, go to Downloads and you should see your report at the top of the list. Hover over the report and the Download button will appear. 

Note:
Reports will be available for download for a week. You will need to generate a new report after a week.  
The Survey Feedback report will look something like this:

Email:

 

the email of the attendee
First Name:

 

the first name of the attendee
Last Name: the surname of the attendee
Headline: the headline as inputted on the attendee's profile
Country/Region:

 

the country of the attendee (generated using their IP, therefore this may be inaccurate)
Ticket Type: the name of the ticket purchased
How likely are you to recommend this event to a friend or colleague? (mid event) (this question is presented as a score from 1 to 10 and can be customized)
How likely are you to recommend this event to a friend or colleague? (post event) (this question is presented as a score from 1 to 10 and can be customized)
How likely are you to recommend to a friend or colleague that they attend an event hosted on Hopin? (post event) (this question is presented as a score from 1 to 10)
What did you like about the event? (post event) (this question can be customized)
What didn't you like about the event? (post event) (this question can be customized)