Pigeonhole allows organizers to engage with their attendees by providing live Q&As, chats, polls, quizzes, reactions, and surveys.
What plans is the Pigeonhole Live app available on?
Pigeonhole Live integration is available on all RingCentral Events plans.
What are the capabilities of the Pigeonhole Live app?
Pigeonhole Live is an audience engagement tool that boosts live interactivity in your virtual events, hybrid, and in-person events. Add Pigeonhole Live to your RingCentral Events to power vibrant conversations, crowdsource questions, get feedback, and keep your audience engaged!
How do I set up the Pigeonhole Live app?
To get started, you will need to install the Pigeonhole Live app to your RingCentral Events Organization. You can access the app store by going to your Organization Dashboard and heading to the Apps tab. Then click on Discover More on App Store. 
You can find Pigeonhole Live under the Polls & Surveys category, or you can follow this link to go directly to the page. Click Install app to add the Pigeonhole app to your Organization.
Once you have created your Pigeonhole session, you will need to make sure it is set up correctly to ensure it works within your RingCentral event.

Navigate to the More Settings > Attendees tab in your pigeonhole account and make sure that you have both Allow creating attendee profiles through embed and Enable registrant profile for this event checked. Don't forget to hit Save!

Once saved, scroll down to the bottom and click the small triangle next to Add registrants and click on Settings from the drop down menu.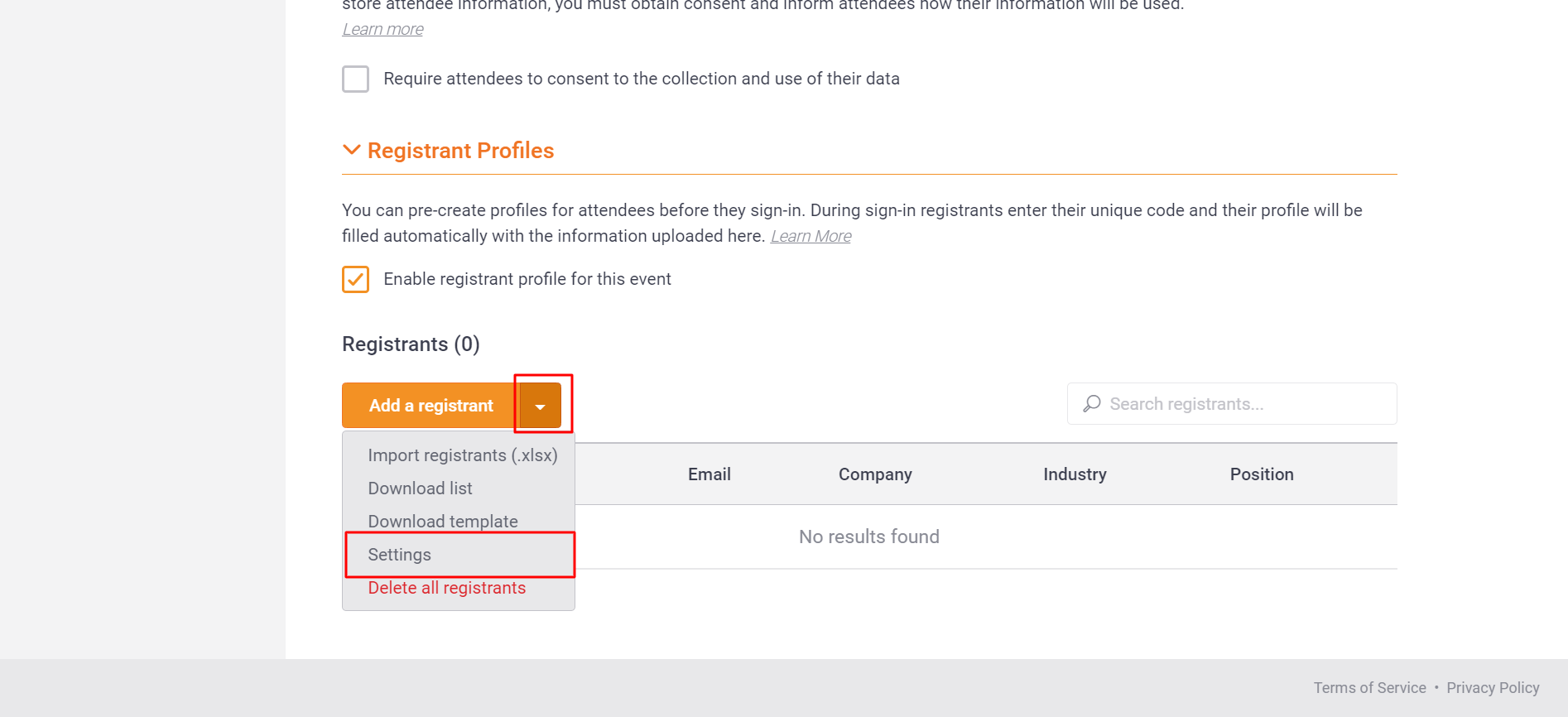 In the pop-up that appears, check the box for Allow adding new Registrant Profiles through embed and uncheck anything else. Click Save. 
Note: if you do not follow the above steps then this option will be greyed out and you will not be able to check it. 
Once you have set up your Session with the settings we outlined above, click on the Agenda tab within your Sessions page, where you can find the Pigeonhole Live Pass Code (1) and Session ID (2).

Navigate back to your Event Dashboard > Venue > Stage, Session or Expo and fill in the relevant details for your Pigeonhole integration.

You will need to check Pigeonhole Live Enabled as well as provide the Tab Name (ex. "Pigeonhole"), Pass Code, and the Session ID. 
After saving the Pigeonhole details in your Event Dashboard, you will be able to see the Pigeonhole Live app in the relevant event area:

Now your audience can experience Pigeonhole Live within RingCentral Events in the right-hand side panel by clicking on the relevant tab.