The Booth Interactions report includes a list of all the attendees who interacted with a particular Expo Booth by either clicking a link or registering their interest.
Note: Interactions by Organization Team Members and Expo Booth Exhibitors are included.
To download the report, go to Event Dashboard > Analytics > Reports page, find the Booth Interactions report. Clicking Generate will open a dropdown list where you can choose to download a report for each booth you had at your event.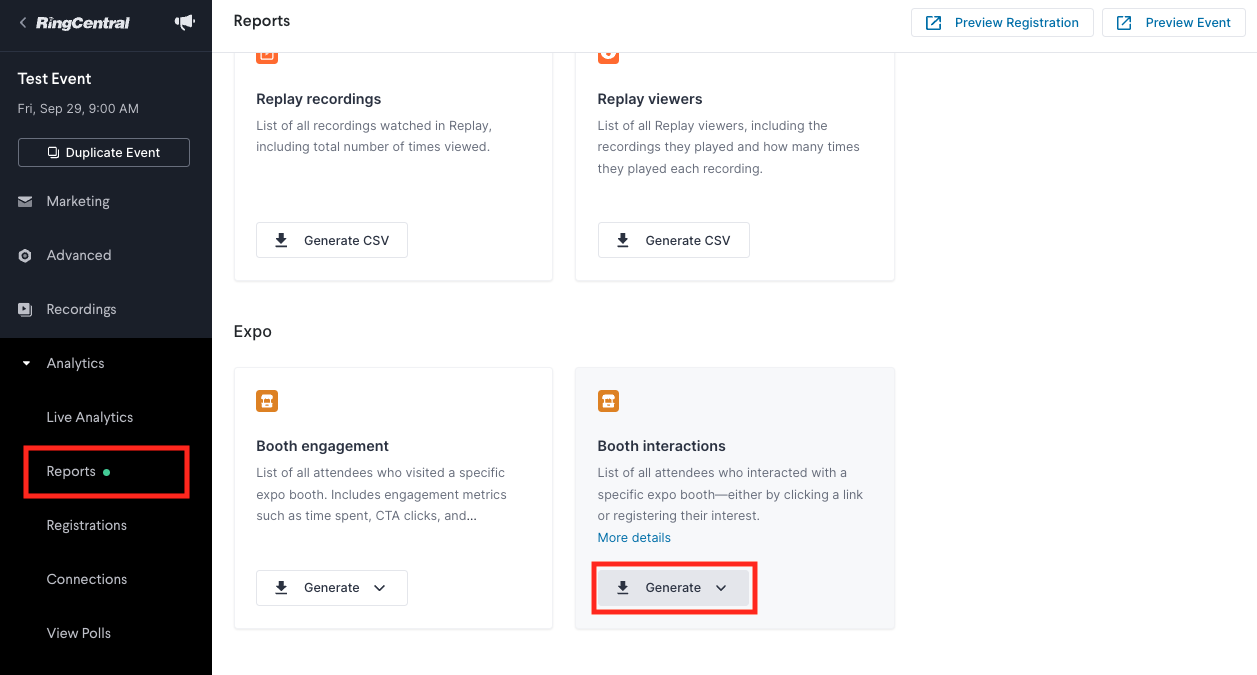 Once you have generated the report, you will see the Download CSV button. Clicking on this will download the report in the CSV format to your computer. 

At any time, you can also click the Downloads tab and you will see your report, where you can download or regenerate it by hovering over the report.

The Booth Interactions report will look something like this:

Created At: The time at which the interaction took place (when the attendee clicked on the link)
Email:

 

the email of the attendee
First Name:

 

the first name of the attendee
Last Name: the surname of the attendee
Headline: the headline as inputted on the attendee's profile
Country/Region:

 

the country of the attendee 
Ticket Type: the name of the ticket purchased
URL: The URL that the attendee clicked - this can be the Register Interest button or any of the links to social media that are displayed in the Booth. If the Register Interest button is set to "Link to webpage" this will show as the website URL
Note: Some analytics may be affected if Attendees or Organizers are using ad blockers.