The Export Orders report is focused on the user experience when purchasing a ticket from the Registration page. You can see how many people abandoned their order, how many tickets were purchased in bulk, and how many tickets have been registered. 
The Export Orders Report can be found in the Event Dashboard > Registrations > Tickets page. Click Export Orders .CSV to download the report. The file will be sent directly to your email.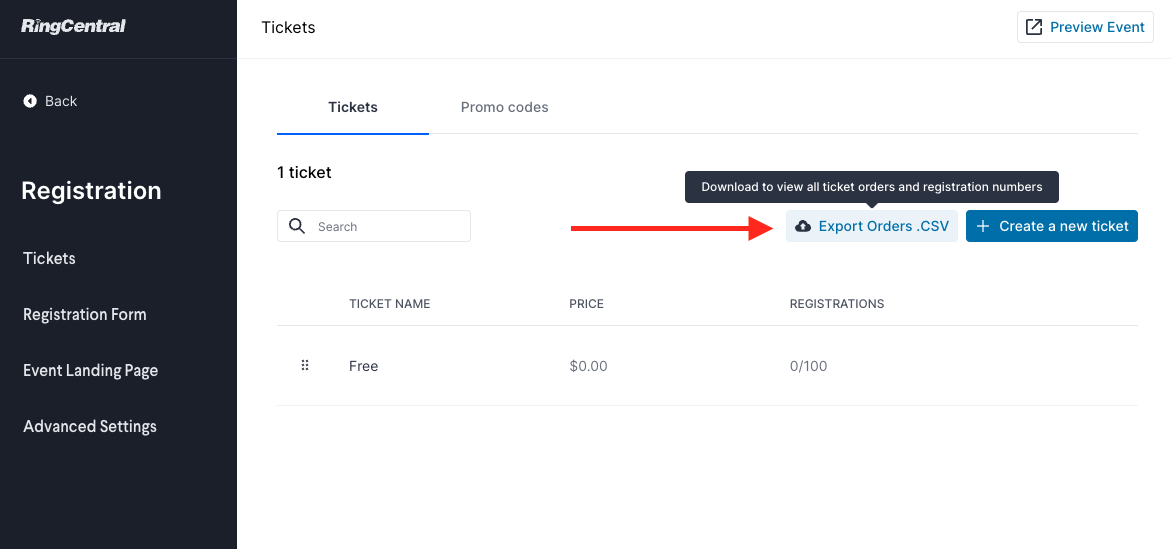 The report will look something like this:

Order status: whether or not the order was completed (see below for further information)
Order completed at: the time/date the order was completed
Order email: the email the purchase is associated with
Order total price: the total price of the order
Stripe ID: the stripe ID (if the ticket had a price associated with it)
Ticket: which ticket(s) that were purchased
Tickets sold: how many tickets were sold to the attendee
Tickets registered: how many tickets of those sold have been registered
If you have UTM codes set up, you will see some additional columns, with the information you have set:
UTM Source
UTM Campaign
UTM Medium
UTM Content
UTM Term

Note: If you use our UTM generator then you will only see data in the UTM Source and UTM Campaign columns. However, if you build your UTMs manually and you choose to use all 5 parameters, you will see data in the other columns, too. 
Please see our guide How to create UTM Codes for your event for complete details. 
What does "pending" mean?
There are two "Order Statuses" in this report: Completed and Pending.
Pending in this report is

not

the same as Pending Acceptance in other reports. 

Pending

in this report means that someone selects a ticket but does

not

click Complete Order. Therefore, it's an abandoned cart metric.



What's the difference between the Export Orders Report and the Registrants Report?
The Export Orders Report is focused on the user experience when purchasing a ticket from the Registration page. The report captures the order status Pending or Completed.
Pending

means the person did not go through the entire purchasing process and at some point abandoned the order.

Completed

means the person went through the entire process and purchased a ticket or tickets. 
The Registrants Report under Event Dashboard > People > Registrants captures who has completed the registration process and what emails are associated with each ticket type. Here, "Pending Acceptance" means that an attendee bulk ordered several tickets and the pending registrant hasn't accepted their invitation yet. Once they have verified their emails, the status will change to "Registered."
For additional information, check out Registrants Report.