Your profile details are what will be displayed to your fellow attendees when you attend an event. You can choose to share your full name, a small bio, and even links to your social media sites. You can also update your email address and change your password here, too. 
From your Attendee Dashboard
When you first log in to your RingCentral Events account, you will be brought to your account home page. Here, you can click on your profile icon in the top right corner. Next, click Manage Profile.

On the Profile page, you can update your picture, name, email, headline, bio and social links as well as change password.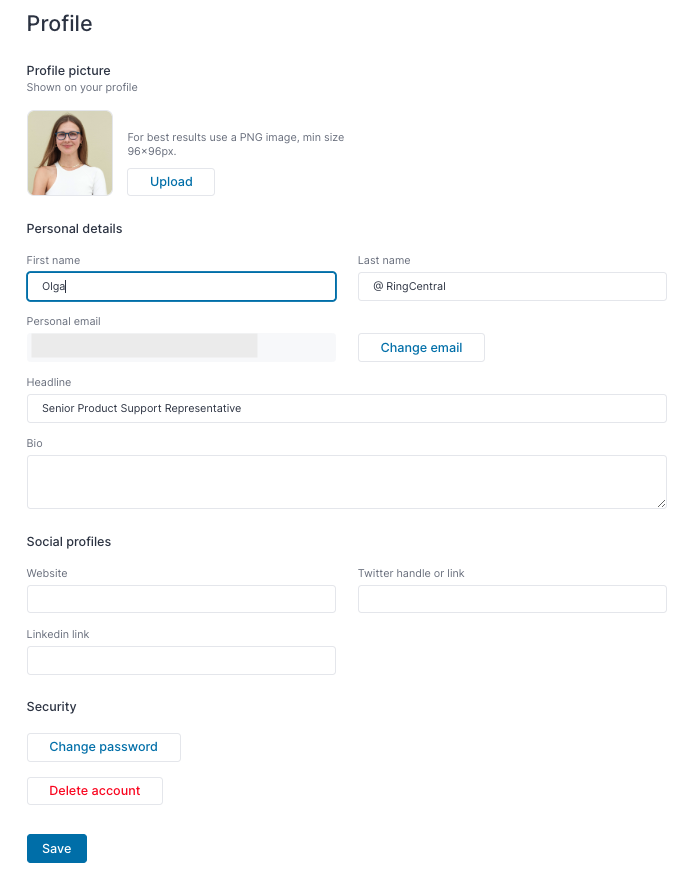 Profile picture:  Be sure to use the recommended settings of a 1:1 image at a minimum of 96x96 pixels under 2MB in size. PNGs are the preferred format.
First Name: Add your preferred name
Last Name: Add your surname
Email: You can edit/change your email address.
Note:
After you've saved the new email, we'll ask you to confirm this change by clicking on the verification link sent to your new address and sign in again.
Headline: Include a small headline about yourself so people know who you are. It could be your job title, your favorite quote, or anything else!
Bio: Here you can include a little more information about yourself 
Social Profiles: Add links to your LinkedIn, Twitter, and website. You can copy these straight out of the URL bar on your browser to ensure you don't make any typos. 
Change Password: Change and update your RingCentral Events account password
If you select Change password it will open additional fields that will prompt you to insert your current password and then to create and confirm a new password. The new passwords must match for you to be able to save your changes. Fore more details about changing your password, see our guide Forgot your password? How to reset your RingCentral Events password.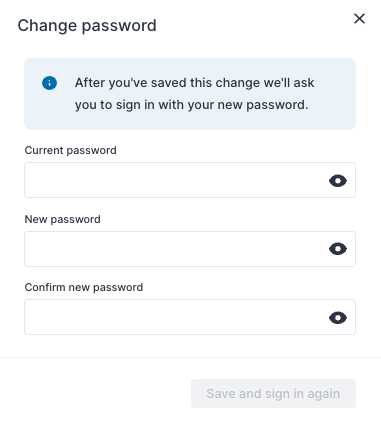 Delete Account: You can permanently delete your RingCentral Events account from here, too. You will need to type out the confirmation phrase that is provided and then select Delete account. For more information on what happens when you delete your account, see our guide How to delete your RingCentral Events (formerly Hopin Events) account.
How to update your profile details inside an event
When you enter an event, you will see the event tab on the right-hand side. There, you can select the People tab and choose to view someone's profile. Other attendees can view your profile in the same way, as long as the organizers have enabled this.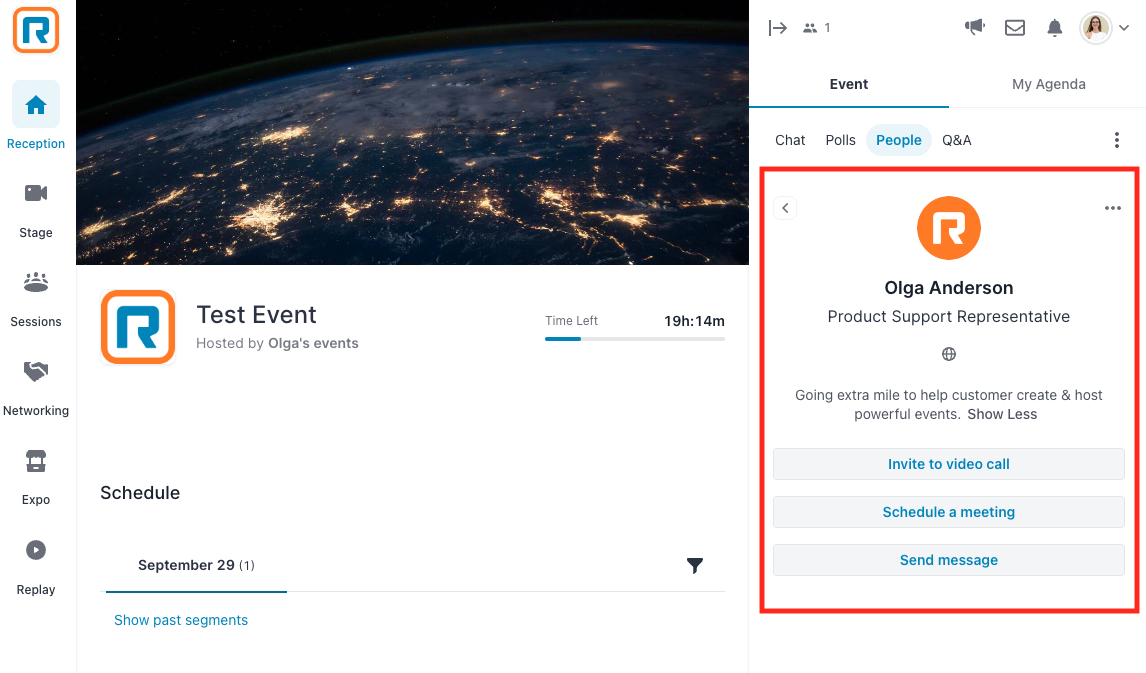 You can also edit your profile when you are in an event by clicking on your icon in the top right-hand corner and selecting Edit profile.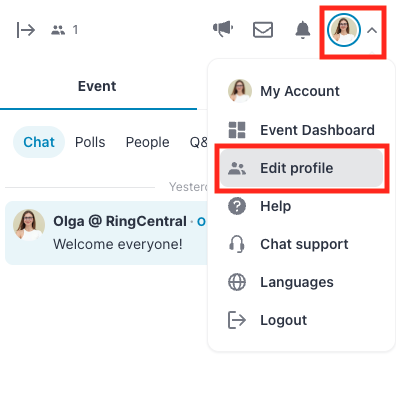 Note: This option will open a small pop-up over your event and you will not be able to edit all of your profile info and privacy settings in this way.