Looking for Session - our meetings and webinar tool? Head over to session.com


The best way to understand the Sessions area of RingCentral is to think of rooms or groups within your event, gathering around "virtual roundtables." In this article we will cover how to create a Session and how you can manage your Session during an event.  
Create a Session
To create a Session, first make sure you have Sessions enabled for your event in your Event Dashboard > Setup > Basics page.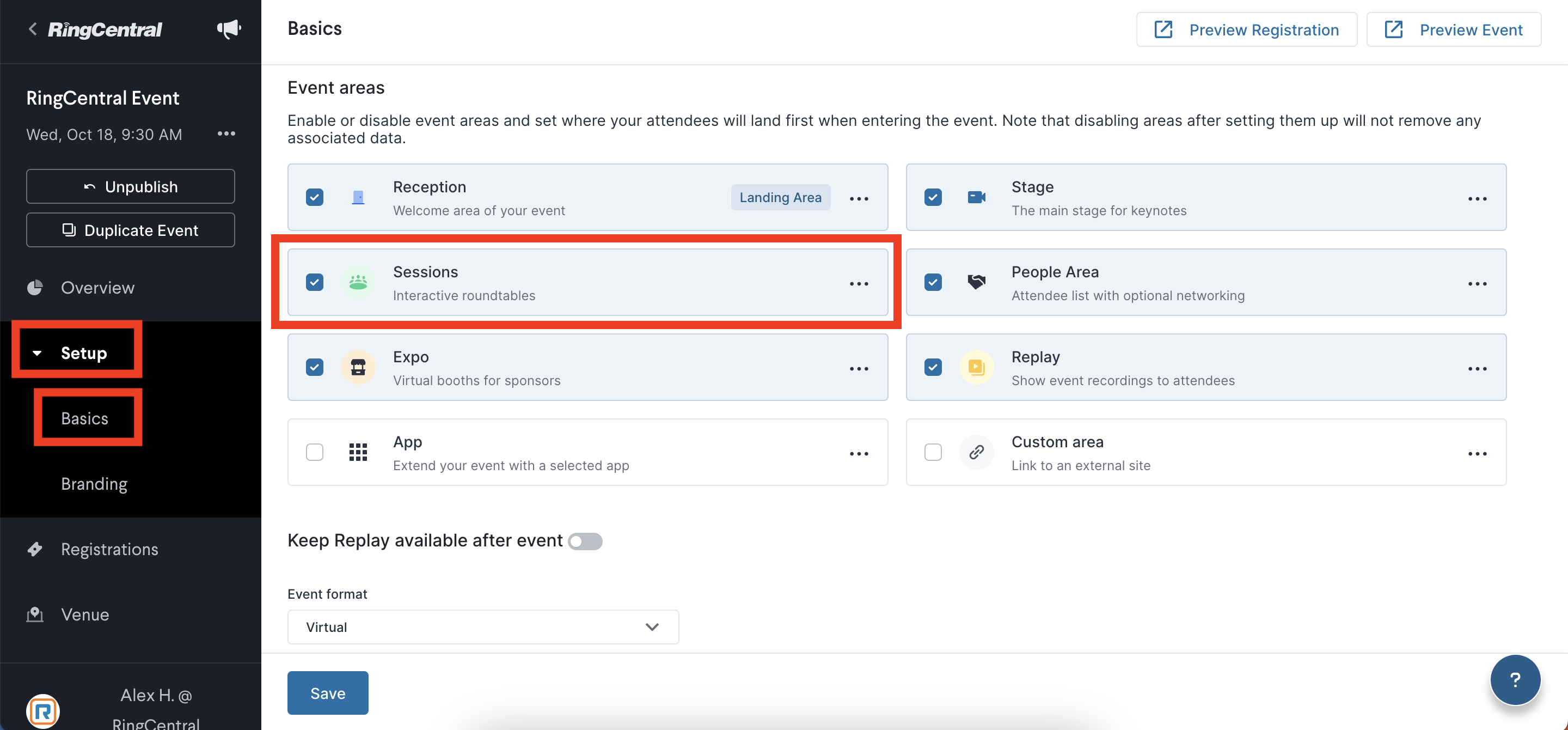 Next, navigate to your Venue > Sessions page and click Add Session.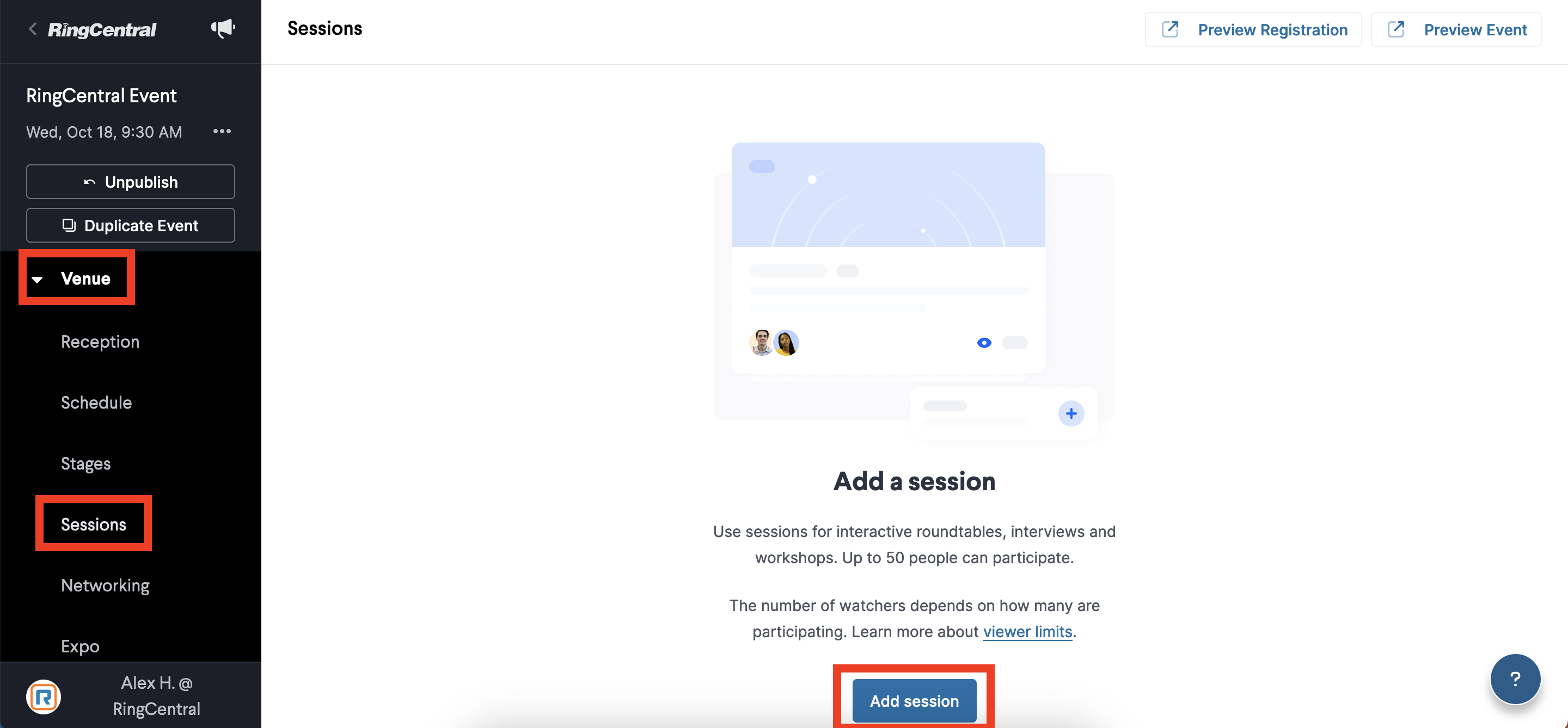 Set up a Session
Once you select Add Session, you will see the options for setting up your Session.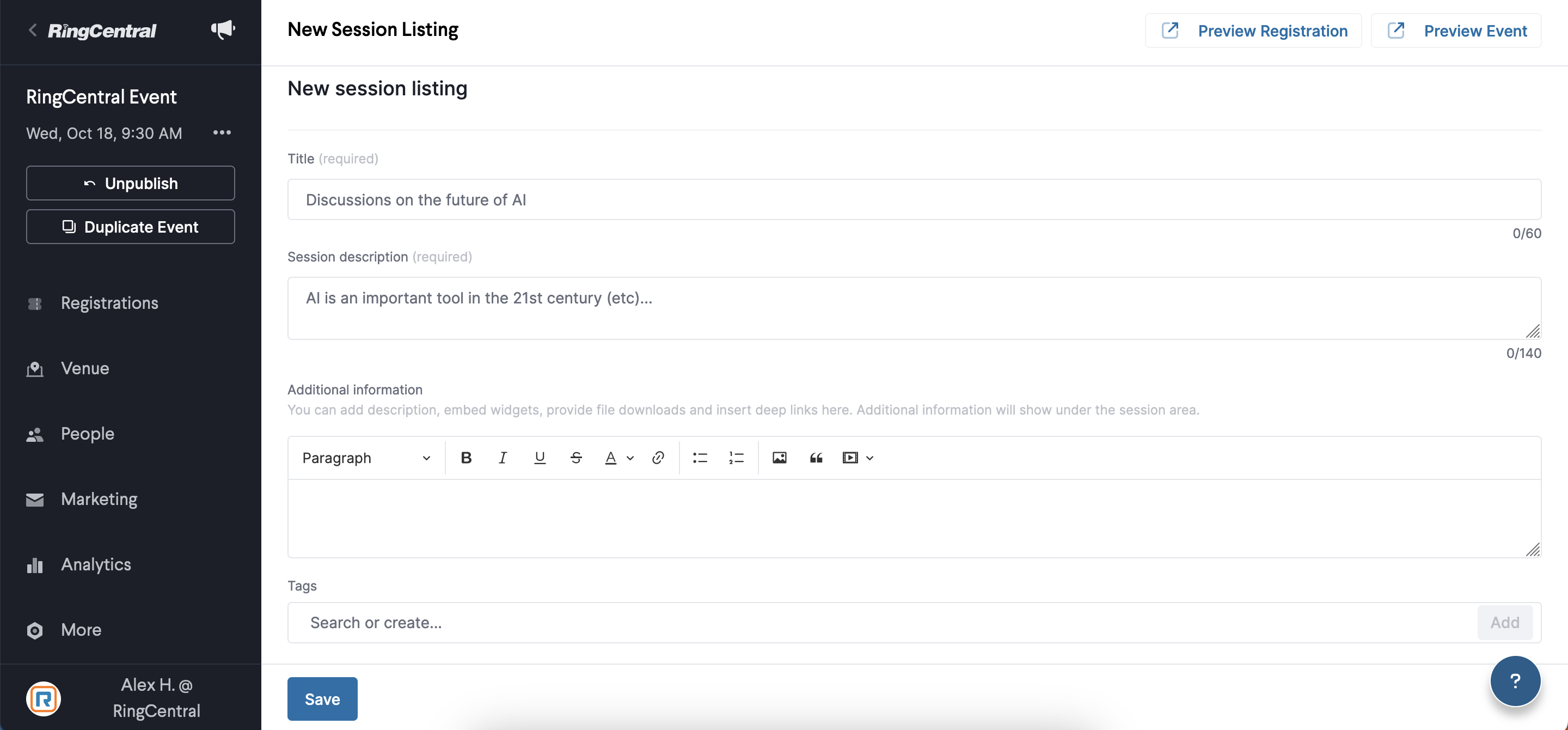 Title (required) - set the title of your Session (maximum 60 characters)
Session description (required) - information about what your attendees can expect from the Session (maximum 140 characters)
Additional information - add in links, images, videos, and more! Engage your audience with any extra information you think they may need. Follow our guide Understanding Customizable Content Area and Additional Information for more tips.
Tags - add different labels so attendees can filter and easily search for sessions. How to create Tags for Sessions has further information.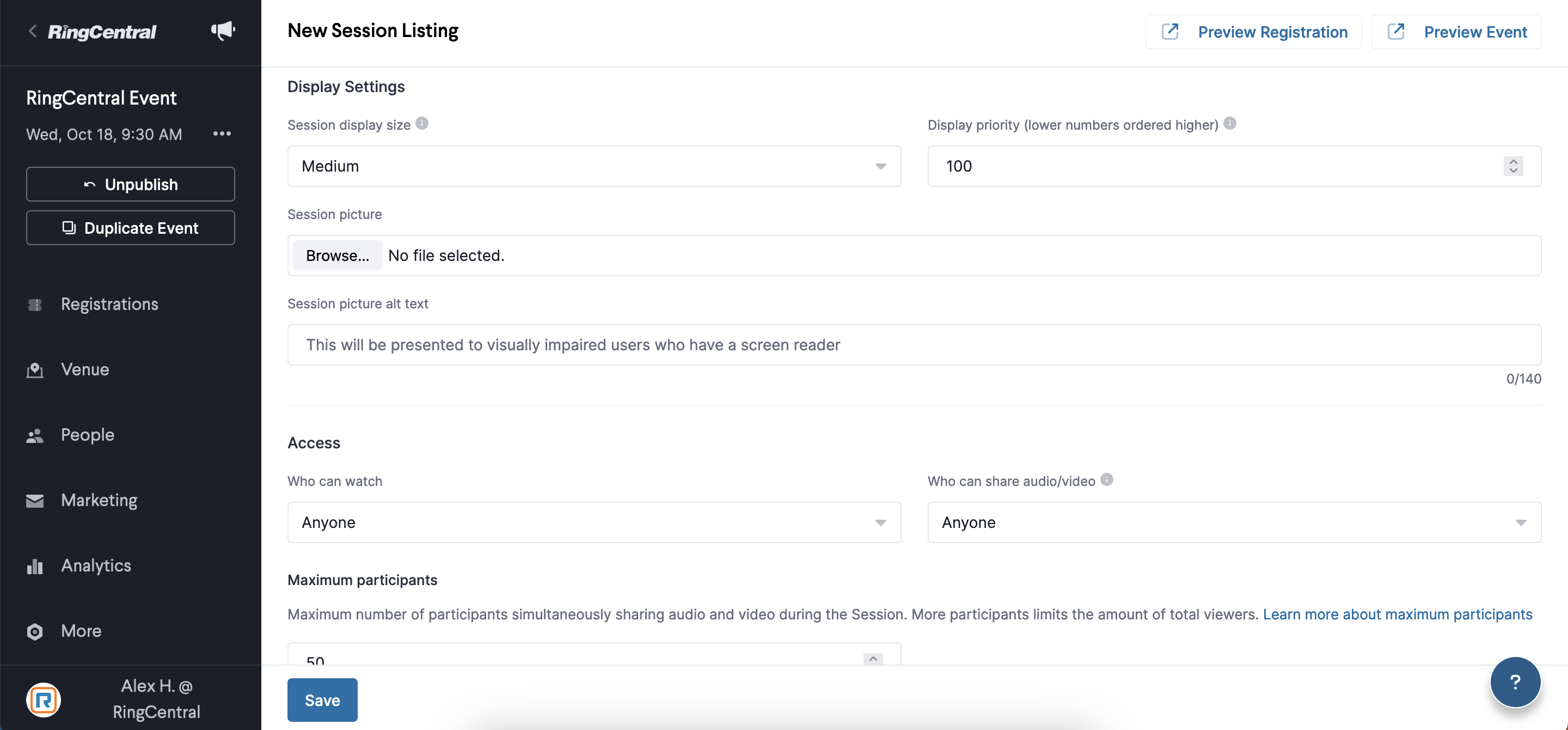 Display settings  

Session display size - select Medium or Large to differentiate the prominence of your Sessions in the event
Display priority - Sessions can be ordered by priority so that higher priority Sessions are more visible at the top of the page.

Session picture - the banner image for the Session. See Image sizes, dimensions, and specs for details.


For accessibility, be sure to add alt text so that screen readers can accurately interpret the image. 

Access


Who can watch - choose who can enter and watch this Session (anyone, specific ticket types, private, or unlisted)

"Anyone" allows all registered attendees to access and see the Session in the Schedule, if added, and within the Sessions area of the event.
If you choose "specific ticket types," you will have to choose which tickets can view these Sessions, and only those with the specified tickets will see them in the Schedule or in the Sessions page.
When selecting "private" Sessions, you will need to manually add the registered attendees you want to be able to see and access the Session. 
"Unlisted" Sessions don't have viewership restrictions, but can only be accessed by being given the direct Session URL by the Event Organizer.

Who can share audio/video - decide who can join the screen by sharing their audio/video during a Session (anyone, invite-only, or moderated). Find out more about attendee permissions in Sessions in our guide.


"Anyone" allows all attendees inside the Session to join the screen at any time.
"Invite-only" means that only registered attendees you've manually added here can join the screen.
"Moderated" Sessions have registered attendees designated as Moderators to manually approve requests to join the screen from viewers. If you would like to be able to remove participants from the Session screen, you must have a Moderated Session. Organizers are Moderators by default. See our guide How to add a moderator to a Session or Expo Booth for more instructions.

Note: In a moderated session, only the Organizers & Moderators can use the YouTube sharing feature, while in an un-Moderated Session, anyone sharing their audio and video can share a YouTube video.

Maximum participants - set a limit of how many people can share their audio/video on the screen. The default maximum is 50. This will also affect how many people will be able to watch the Session. See our guide Max On-Screen and Viewer Limits for more.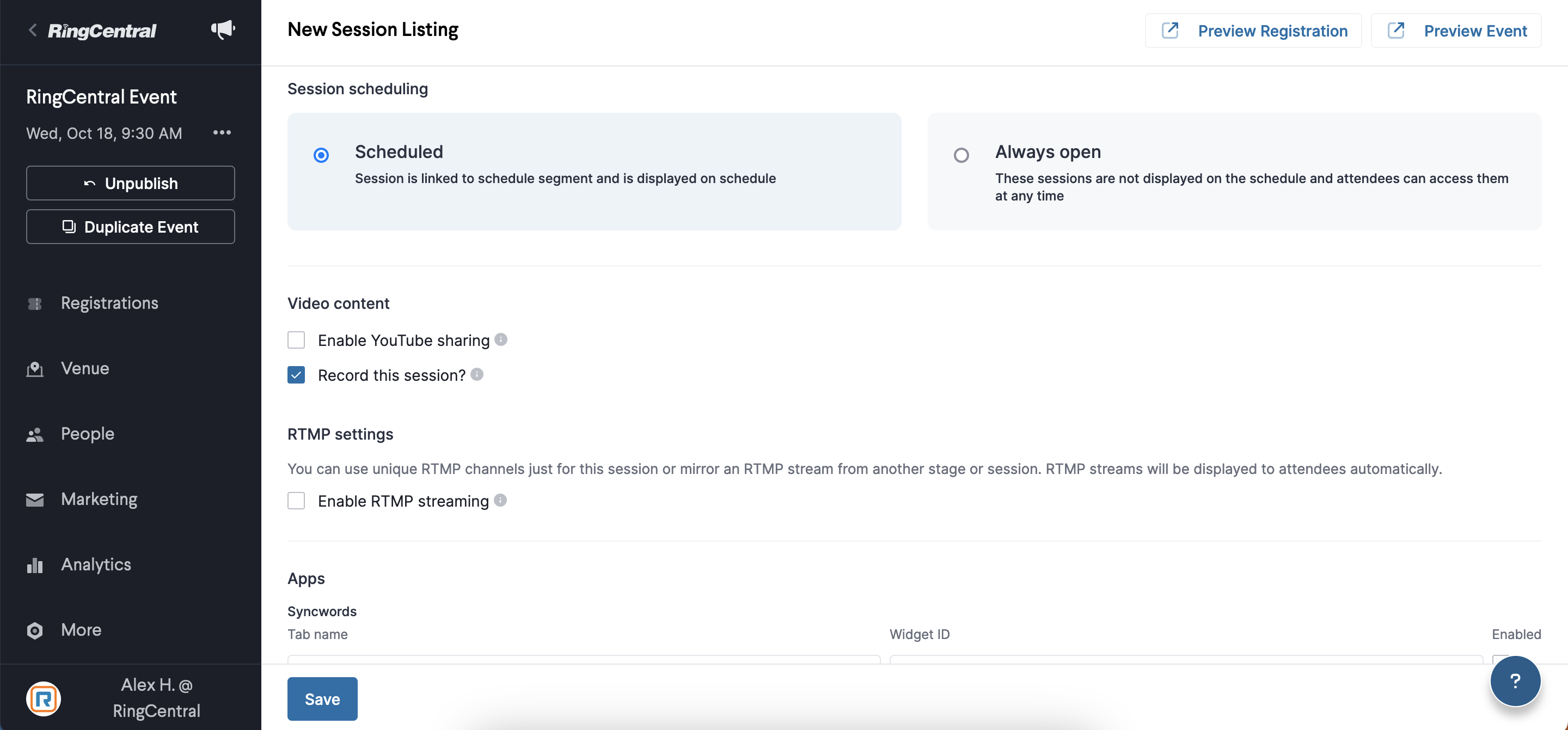 Session scheduling - choose whether you would like to connect your Session to the Schedule or have it accessible at all times during the event. 

Always open = Sessions are not displayed on the Schedule and attendees can see and access them at any time in the Sessions page of your event. 
Scheduled = Sessions can be linked to schedule segments and will be displayed on your Schedule. It will only appear in the Sessions area of the event at the scheduled time (or earlier, if set in your Setup > Basics page). Note that you 

must

link your Session to your Schedule segment in order for the Session to appear in the "what's happening now" area of your Reception page, allow you to click the segment and enter the Session directly.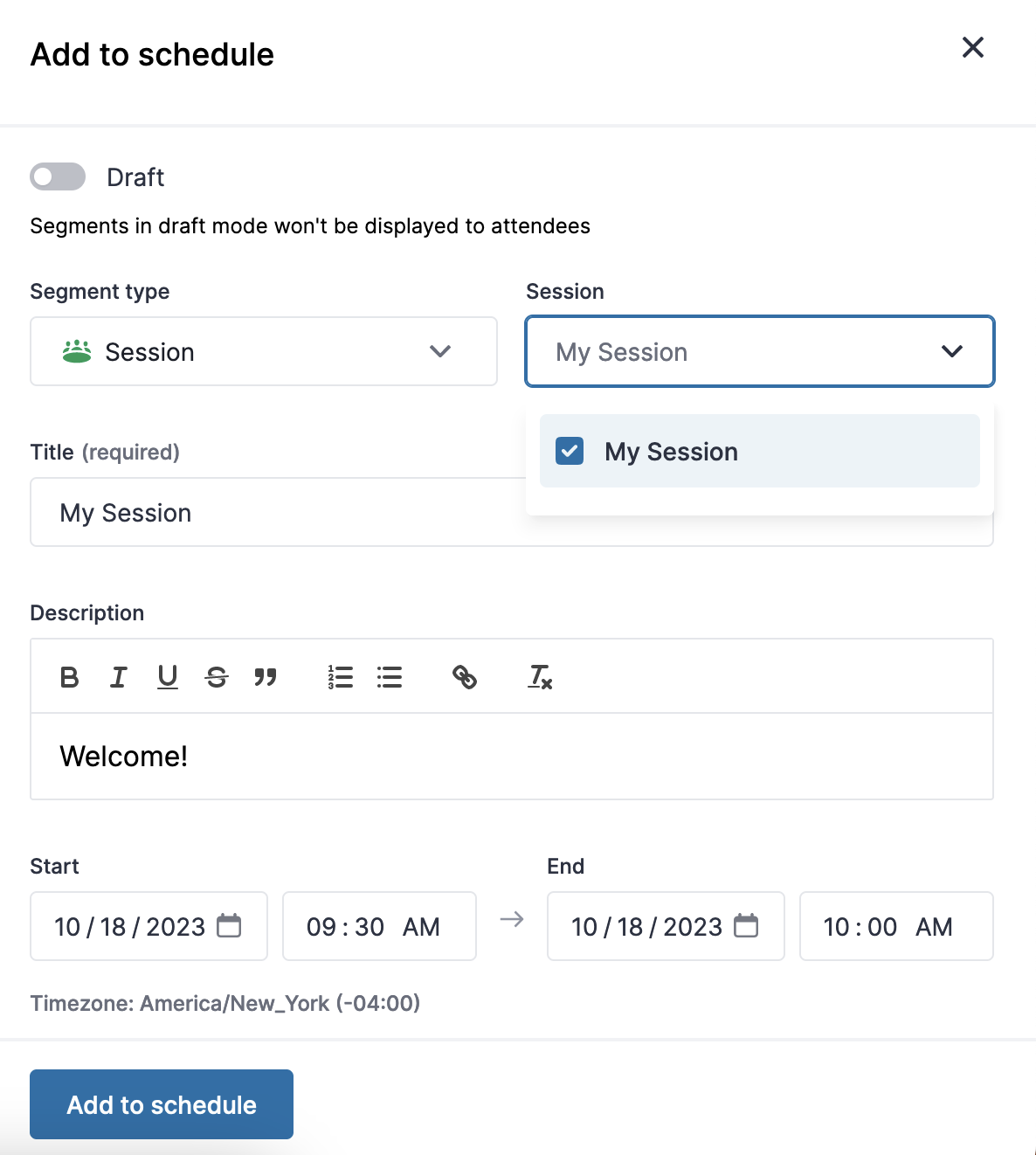 You must also link the Session in your Schedule in order to be able to see it in your event as an Organizer or Speaker at all times, even when it's not live according to the Schedule. Attendees will not see Test Run Sessions.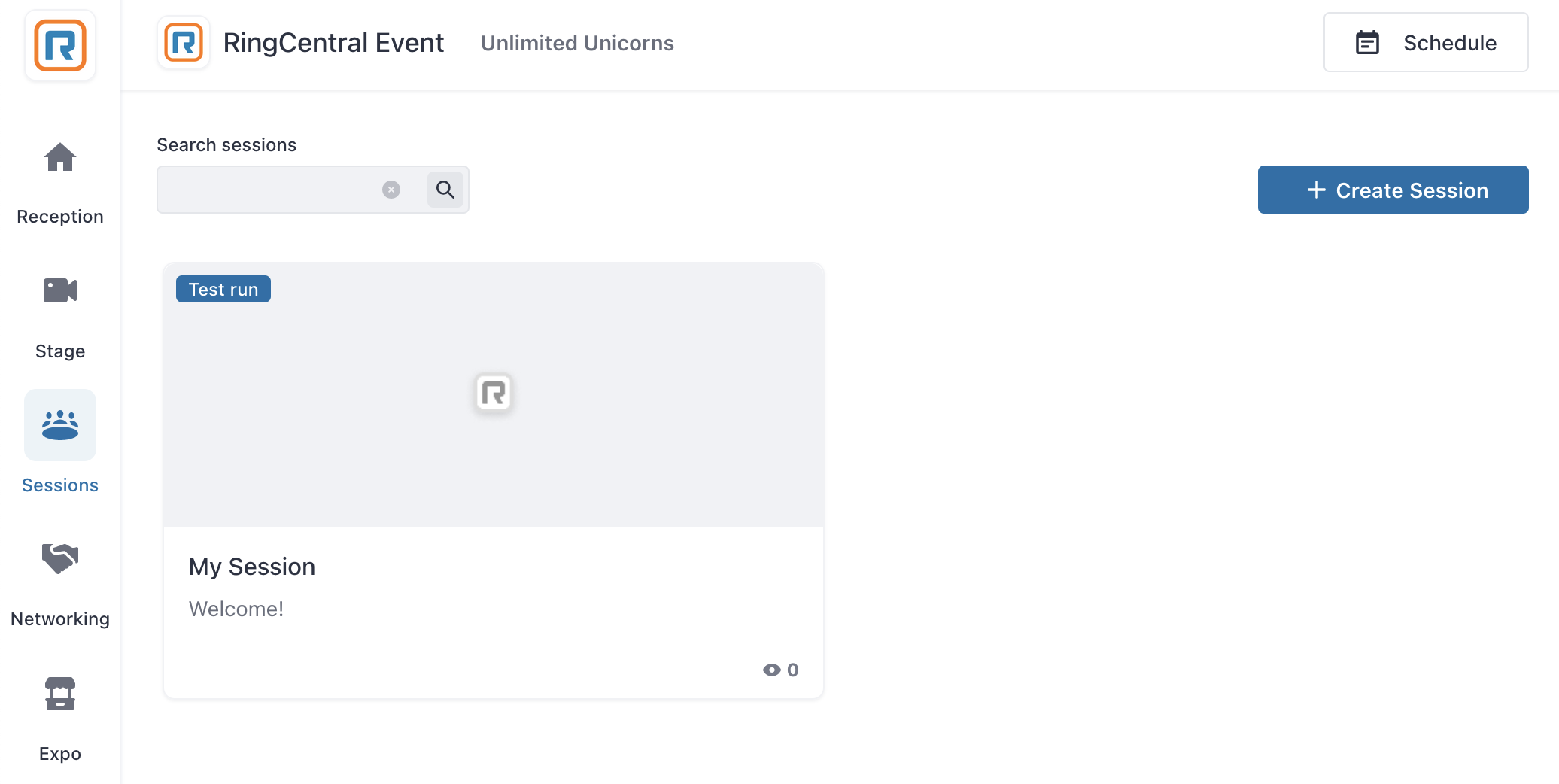 If you create a Scheduled Session and link it to a Schedule segment and then attempt to change it to an Always Open Session, you will see this message alerting you that the Session will no longer be linked on the Schedule, and you can either choose to unlink it but keep the segment on the Schedule or delete the entire Schedule segment.

See our guide How to create a Schedule for an event for more information.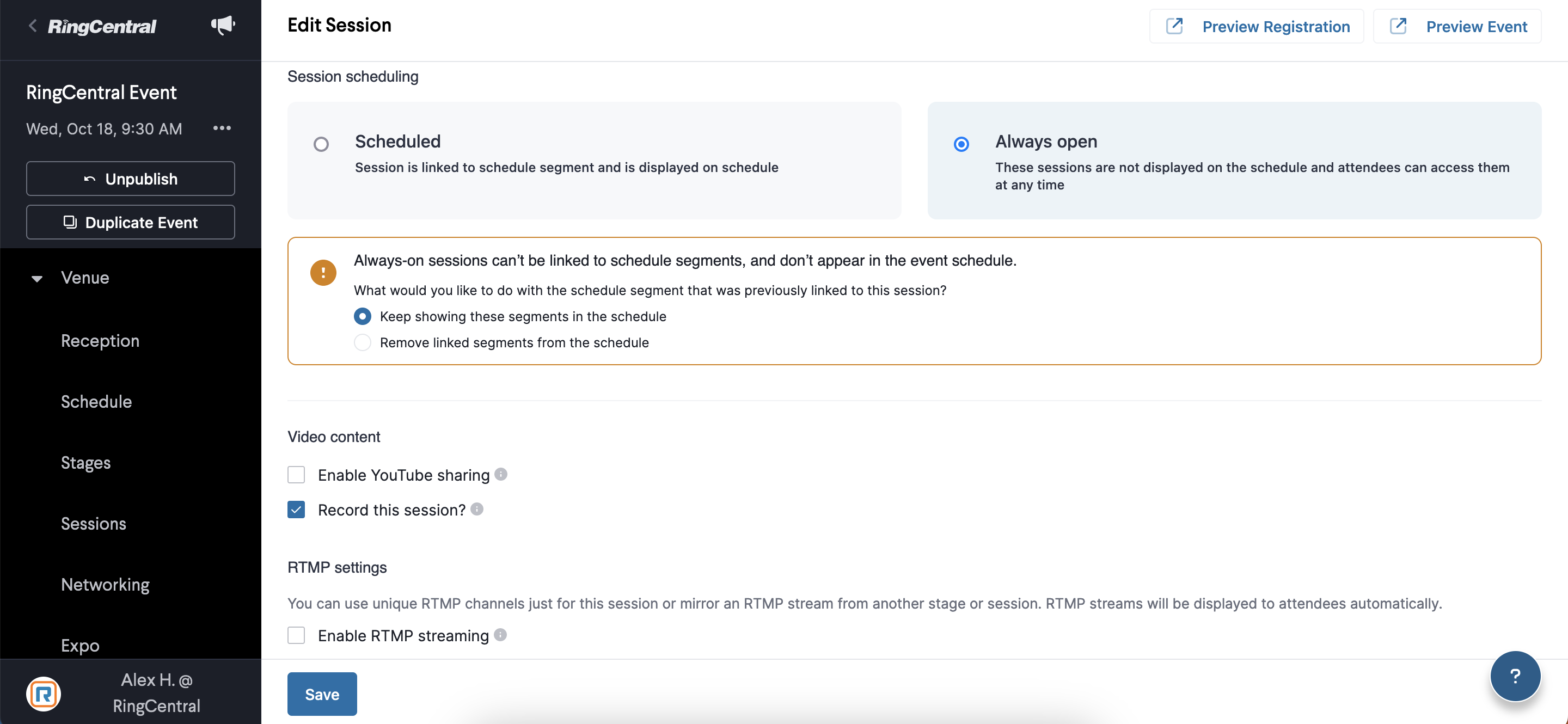 Video content - Select if you'd like to enable YouTube sharing and/or record your Session.
Note: Recording starts the moment someone participates in a Session by joining the screen with audio/video. If speakers leave and no one participates in a Session for an hour, the recording will stop and will not resume until someone re-joins the screen. If a speaker returns in less than an hour, your recording will automatically clip the dead space. 


Apps - integrate any of our apps for translation, engagement, fundraising, and more.

Select Discover more apps to go to the RingCentral App Store where you can install and enable various third-party apps. Once enabled, you can return to the Session page to set it up.
See our guide Which Apps are available on RingCentral? for complete details.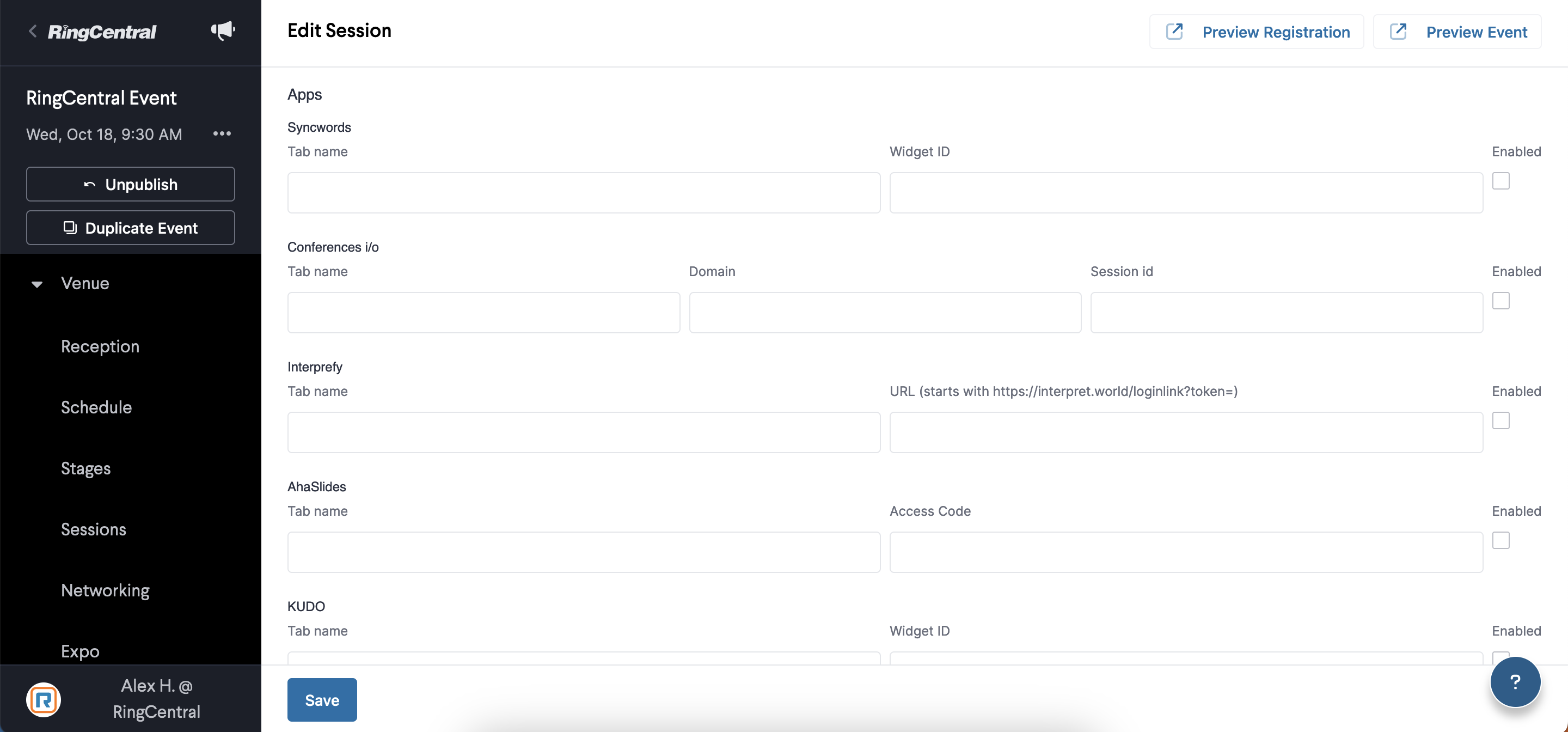 Once you have finished with your settings, make sure that you click Save and your Session will be displayed on your Venue > Session page, where you can view, edit, duplicate, or delete it by using the icons.
Can attendees create their own Sessions?
Optionally, attendees can create any number of their own Sessions during the live event, if the Organizer enables this option. You can find how to do that in our guide How to enable attendees to create sessions in an event.
Searching and filtering Sessions 
For easy editing and organization, you can search for individual Sessions from the Event Dashboard > Venue > Sessions page by using the Search bar or by clicking the Filters button. This will open up a panel where you can search for Sessions based on the date they are active, the tickets they are available to, or the tags associated with them. 
Click on the dates, tickets, and/or tags you want to filter by. Use the x Clear date/tickets/tags option at the bottom of each section to start a new search.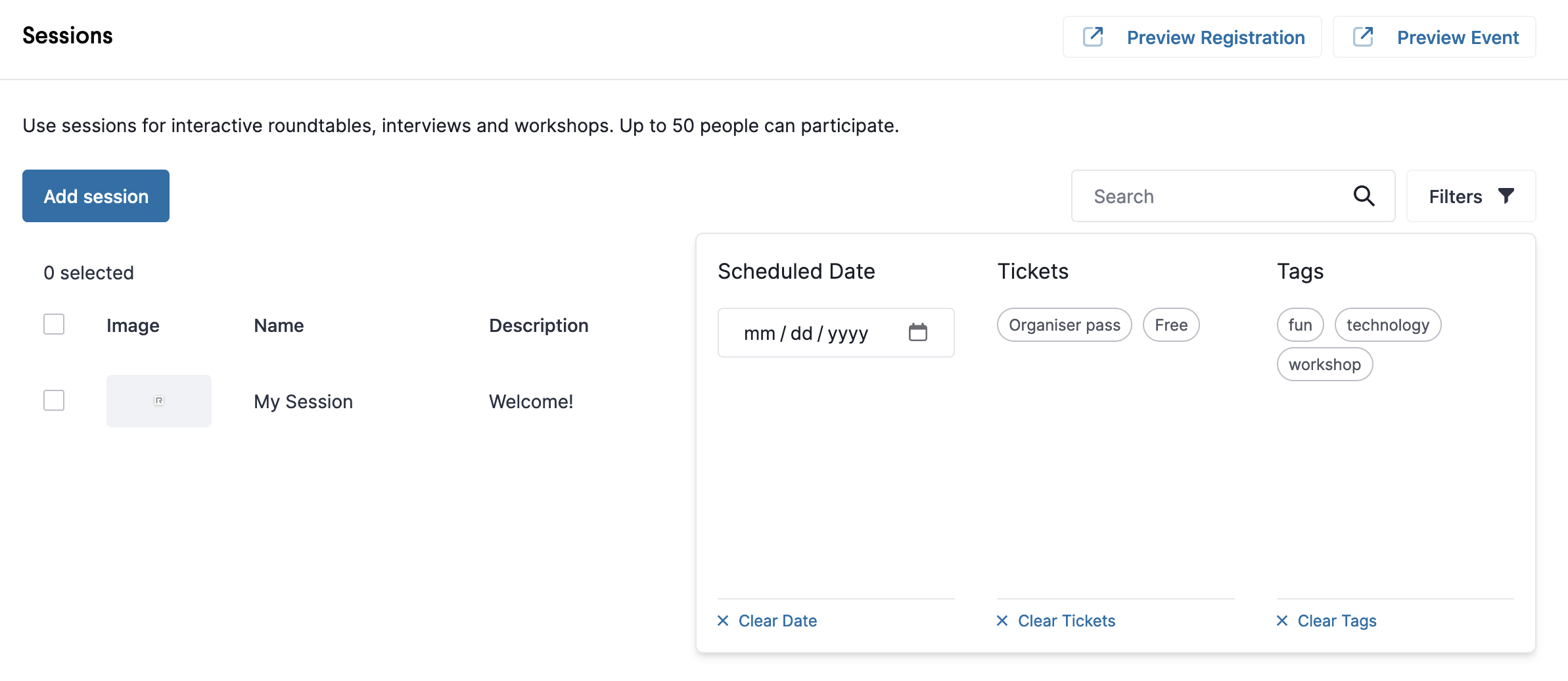 For more information about sessions and how you can use them to their full potential check out our in-depth Sessions Tutorial.