With Early Access, event organizers can now allow event attendees to access the event up to 5 months before it's live. This makes it easier for attendees to prepare and get excited for the event.
What does Early Access mean?
The Early Access feature will allow attendees to organise and maximise their time within an event. They will be able to:
Receive a check-in email (customizable for advanced plans)
Preview the event schedule and Reception area
Set their agenda 
Participate in chat, Q&A and polls (if enabled)
Access the People Area (if enabled) without Networking
Schedule meetings with other attendees
Setting it up
To enable Early Access, navigate to the Event Dashboard > Venue > Venue Controls. On this screen, organizers can enable/disable the Early Access functionality and also determine how early this will be available to attendees ahead of the event start.
Note: Early Access can only be enabled for up to 5 months before the event starts.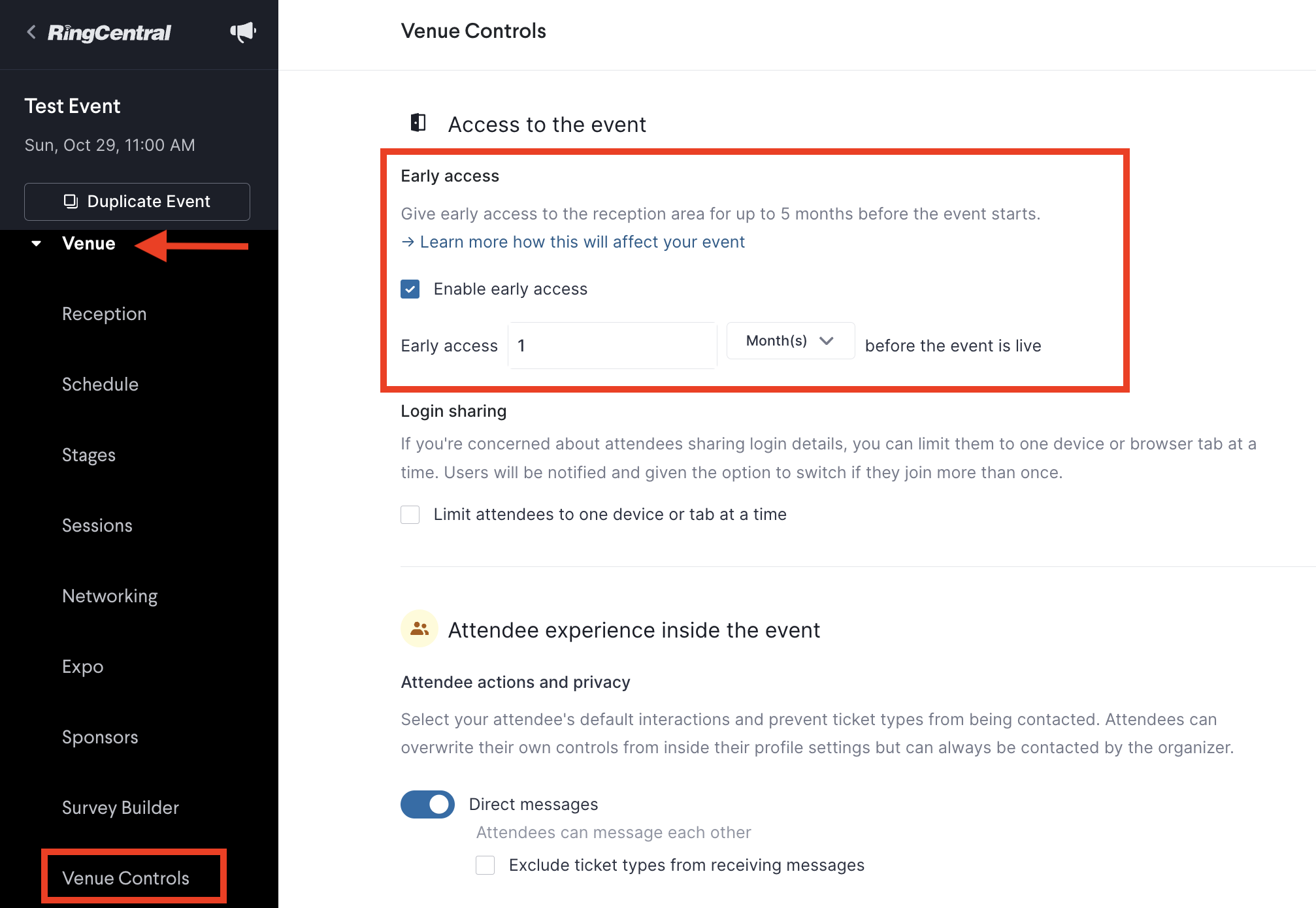 Attendee Notification
Once Early Access is available, event attendees will be notified via email with a "Time to check in" message, inviting them to Check-in.
Note:
this check-in email is customizable on Growth, Business, and Enterprise plans only. Check-in emails will only be sent to attendees that registered before the doors opened early to avoid email fatigue. Here you can learn more about how to customize this message:
Customizing Automated Emails to Attendees
Available activities during Early Access
Although event attendees won't be able to access other event areas yet, such as the Sessions, Stage, or Expo Booths, they will be able to interact with the event schedule and other attendees, as described below:
People Area
If you have enabled the People Area within your event, attendees will be able to view recommended connections, send direct messages and schedule meetings. All you have to do is navigate to the People tab on the left hand side. Networking is not available during Early Access.
For more info on navigating the People Area, check out this guide.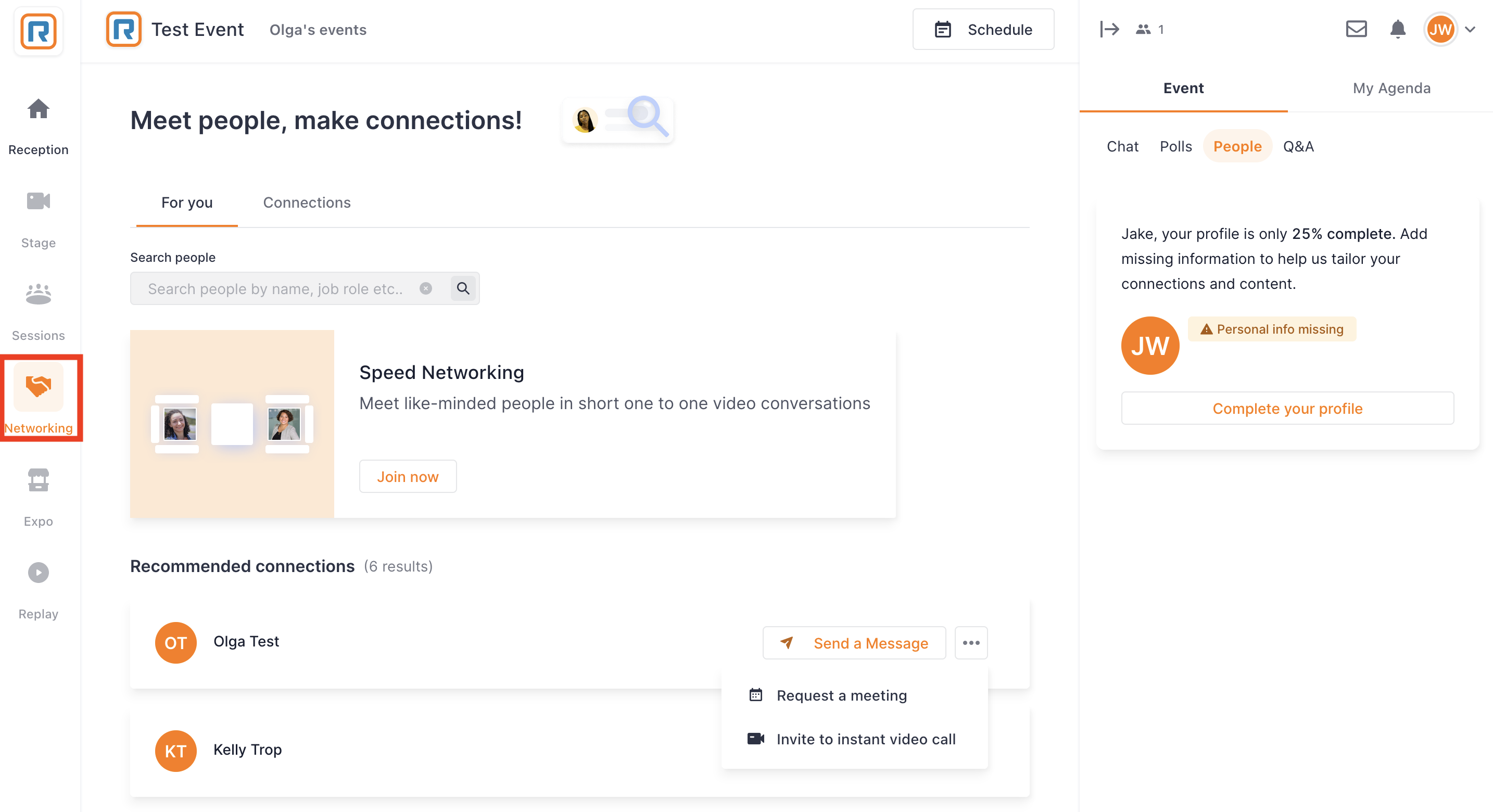 Event Schedule
During Early Access, the event schedule will be displayed in the Reception area. With this, attendees can not only view it but also add items from the event schedule to their own agenda (requires My Agenda enabled) to make the most of their time within the event.
Find the schedule segment you are interested in and click Add to My Agenda. You can view your agenda by clicking on My Agenda in the right hand side tab.
Pre-Event Meetings
To foster connections during the Early Access period, event attendees will be able book and hold meetings ahead of the event start. 
The organizer will need to enable pre-event meetings by going to the Event Dashboard > Venue > Venue Controls and toggle on Schedule meetings. This option is enabled by default. Here you can also determine if you'd like to restrict certain ticket types from being invited to meetings.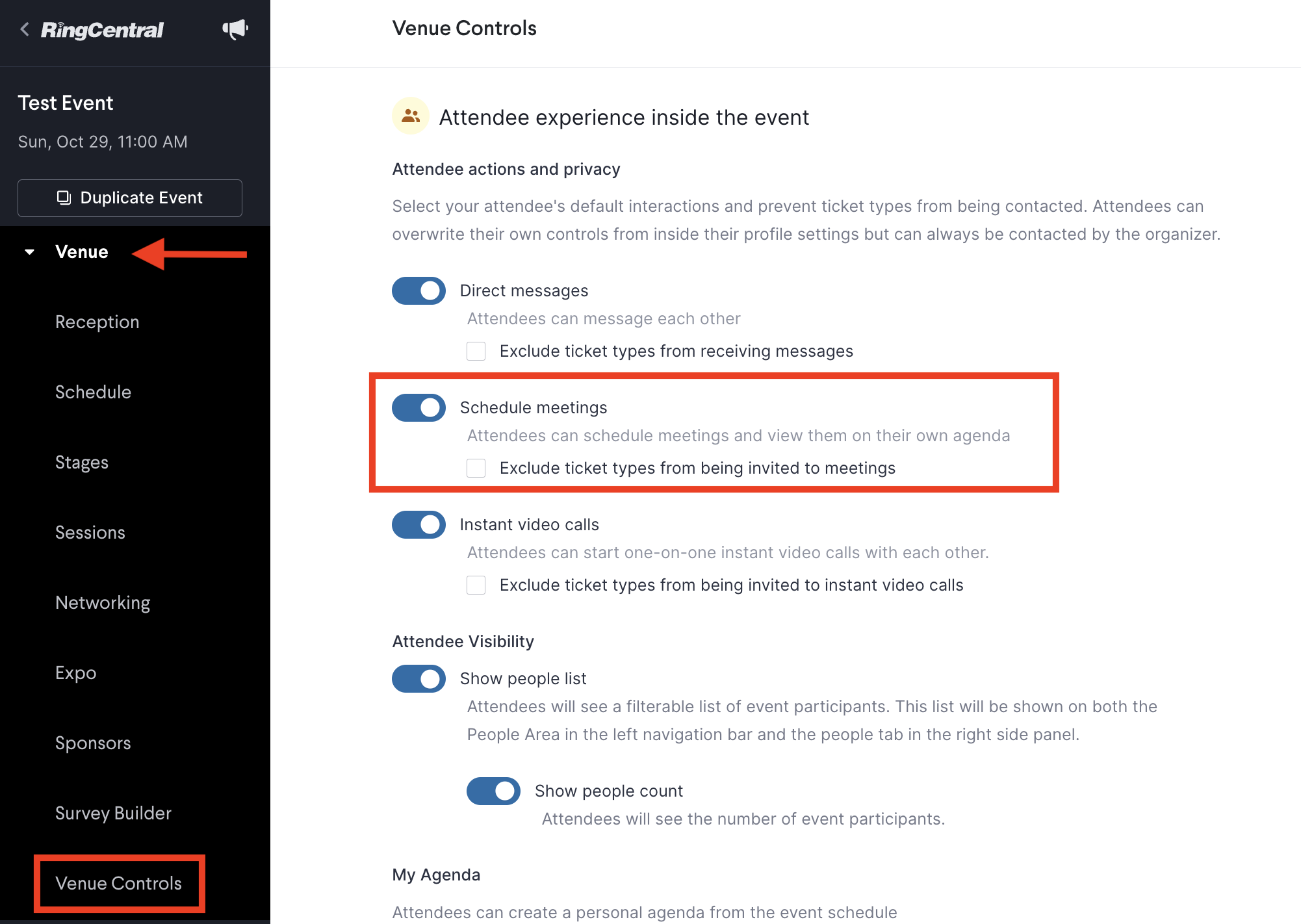 To add a meeting to a pre-event schedule, follow our guide on scheduling meetings.
Audience Engagement
During the Early Access period, event attendees will be able to participate in the Chat, Q&A and Polls - as long as these are enabled. This will help create more engagement for your attendees before the event starts and also provide meaningful insights to event organizers.
You can find the Polls, Chat, and Q&A in the panel on the right-hand side where you can switch between them by selecting the relevant tabs.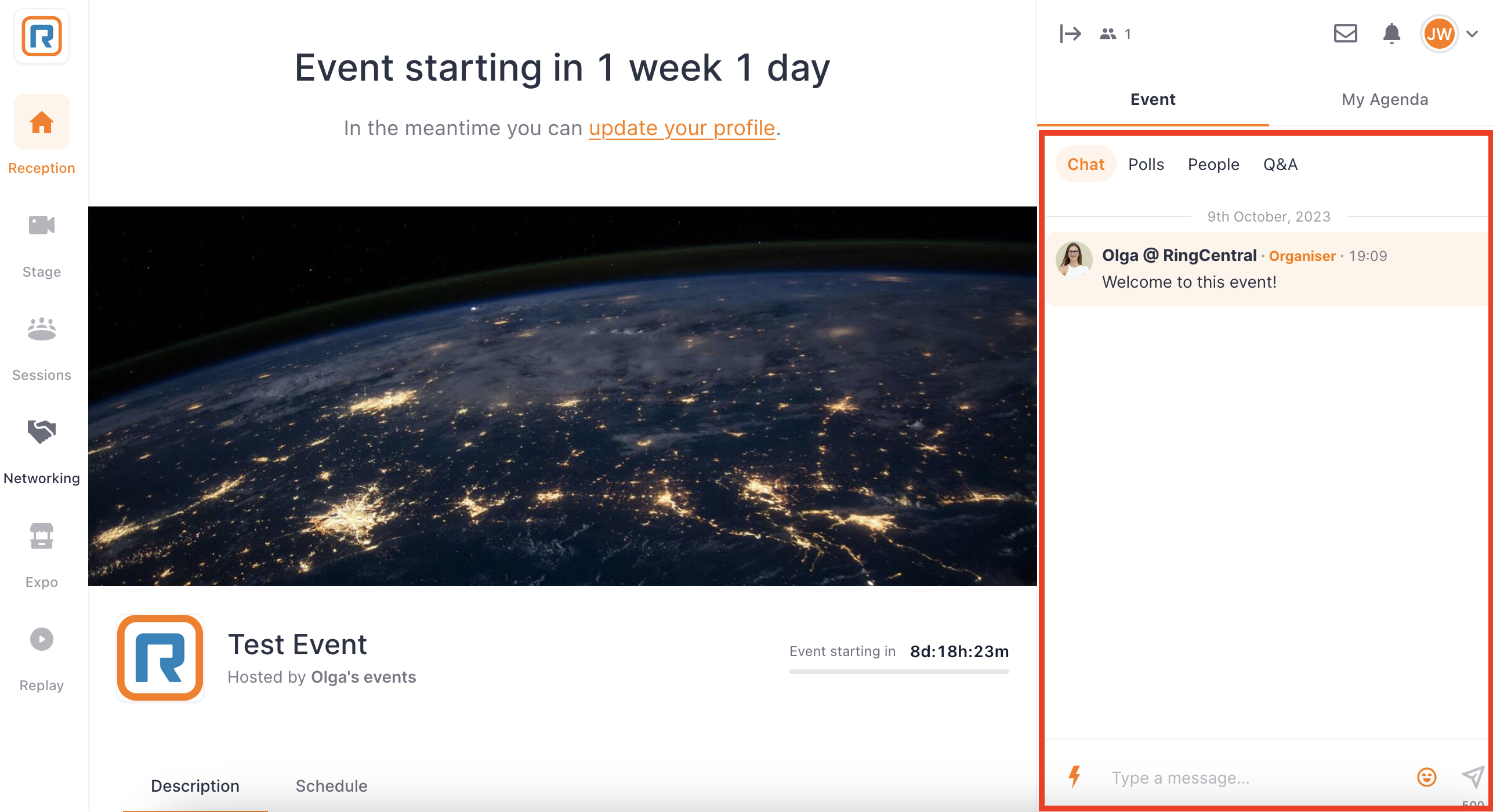 Early Access Reporting
Although there is no dedicated report for the Early Access period, you can utilize some of our other reports to gather information about who has joined the event before it begins, including the Scheduled Meetings Report to see who has created meetings, the My Agenda Report to see which attendees accessed the event and have added which segments to their schedules, and the Attendee Log Report to see movement of attendees across the event prior to the event start time. 
Your Registrants Report and Attendees Report will not reflect attendance data until the event has officially begun at its scheduled time. 
Please check our RingCentral Events Analytics and Reports Availability by Plan guide to verify which reports are available to your Organization.