Managing an event with multiple event areas? Organizers can now send announcements to all attendees during an event by using the announcement feature within the event. This will be shown on the attendees' screens as a notification.
Examples of use cases for this feature are: 
Update about an upcoming session
Inform about an important expo
Help promote a particular stage
Announce competition winners
Making an announcement 
To make an announcement click on the announcement button at the top right of the event page. This will open a new panel on the right hand side. Click New announcement.
Tip: In this panel, you can also see any past announcements that have been made.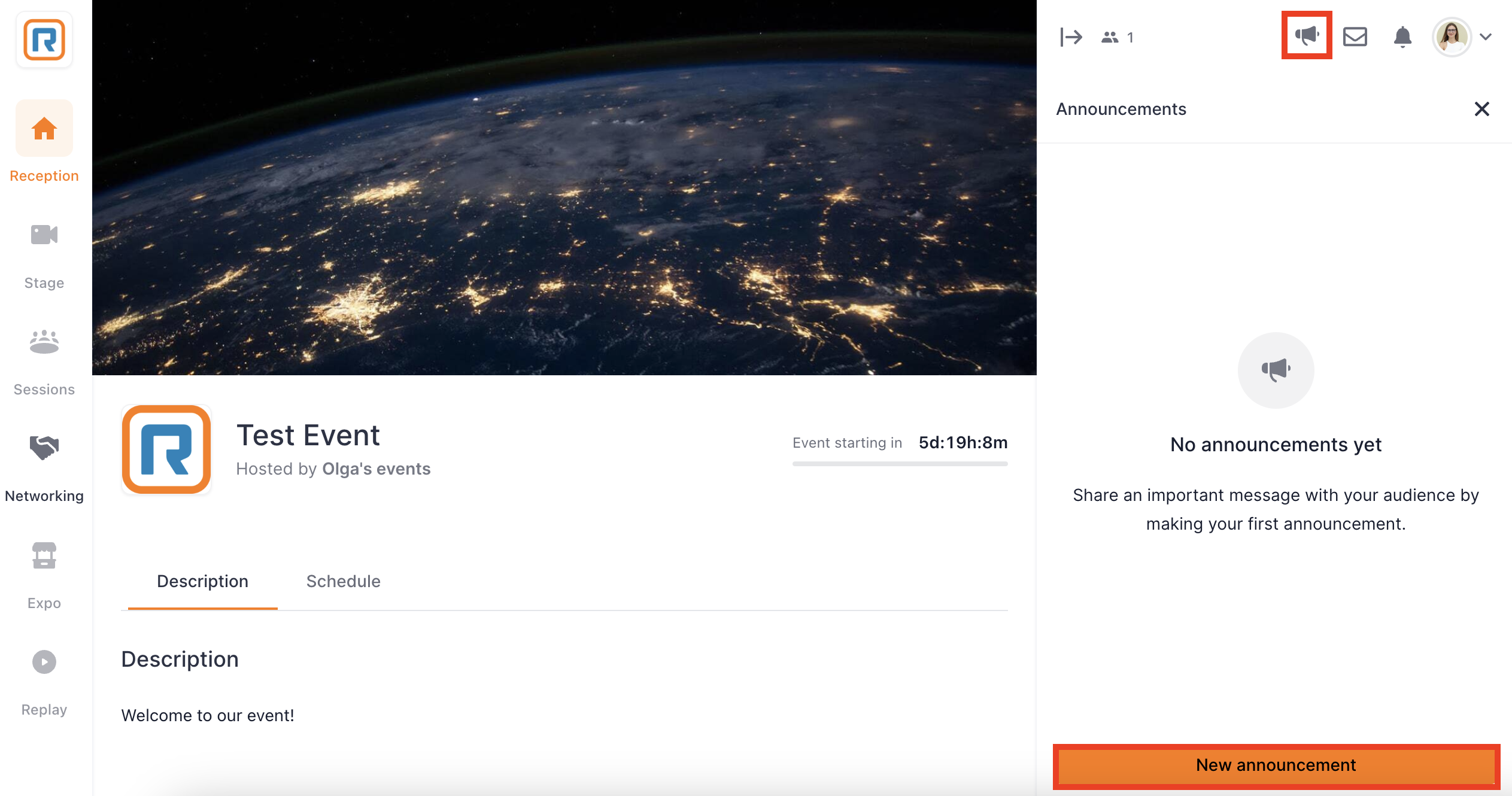 Type your message in the box provided and you will see it appear in the preview box - this is how your announcement will appear to Attendees within the event.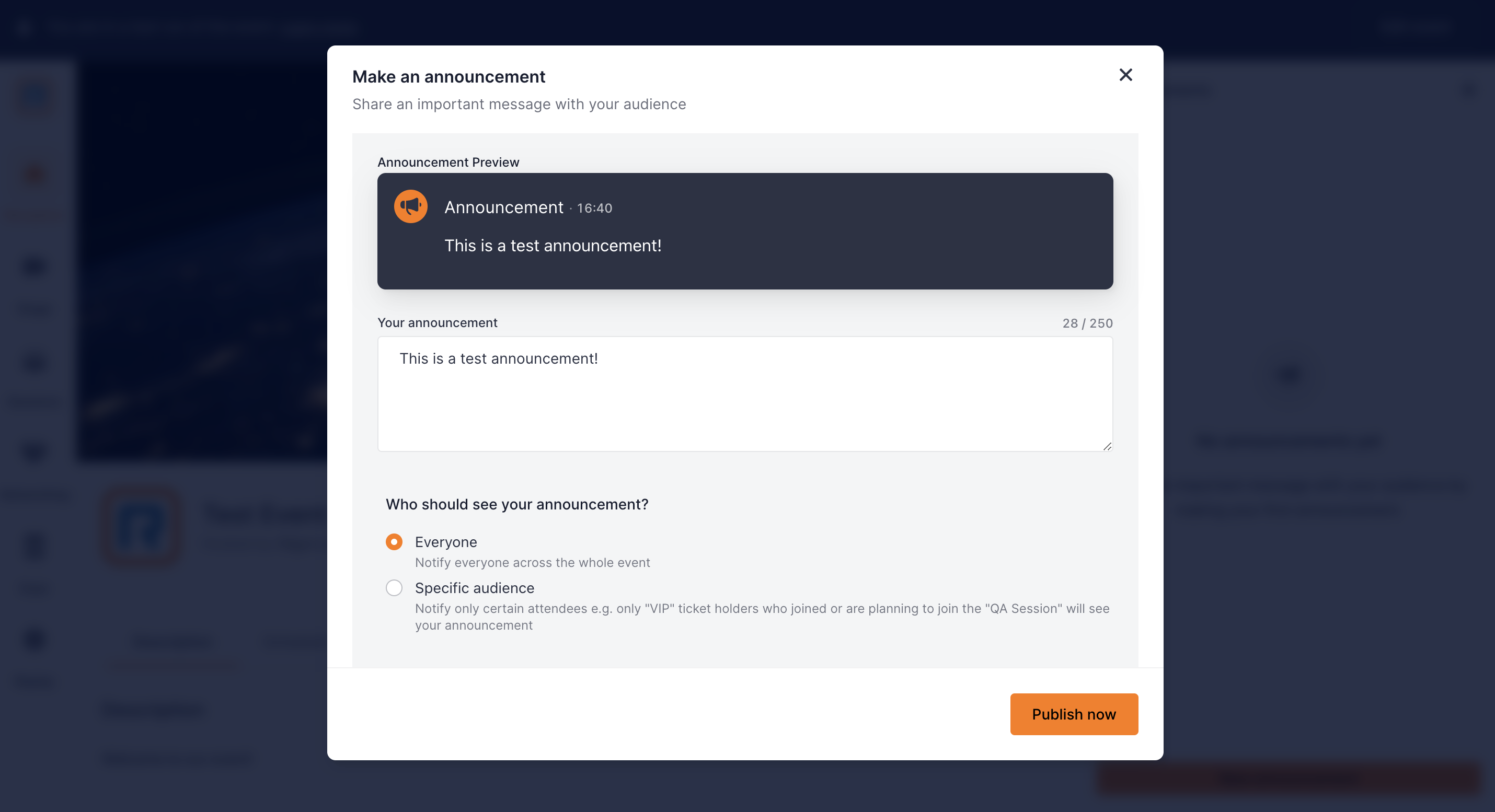 Next, select who you would like to see your announcement. If you choose Everyone then all Attendees in all areas of your event. Alternatively, you can select Specific audience which will display two drop down menus:
Schedule item - only displays to Attendees that have added the segment to their Agenda, or those who are within the designated event area for that specific segment
Ticket Type - only displays to Attendees with the ticket types selected
Once your message is good to go, click Publish now. The message will then be displayed at the top area of the screen venue.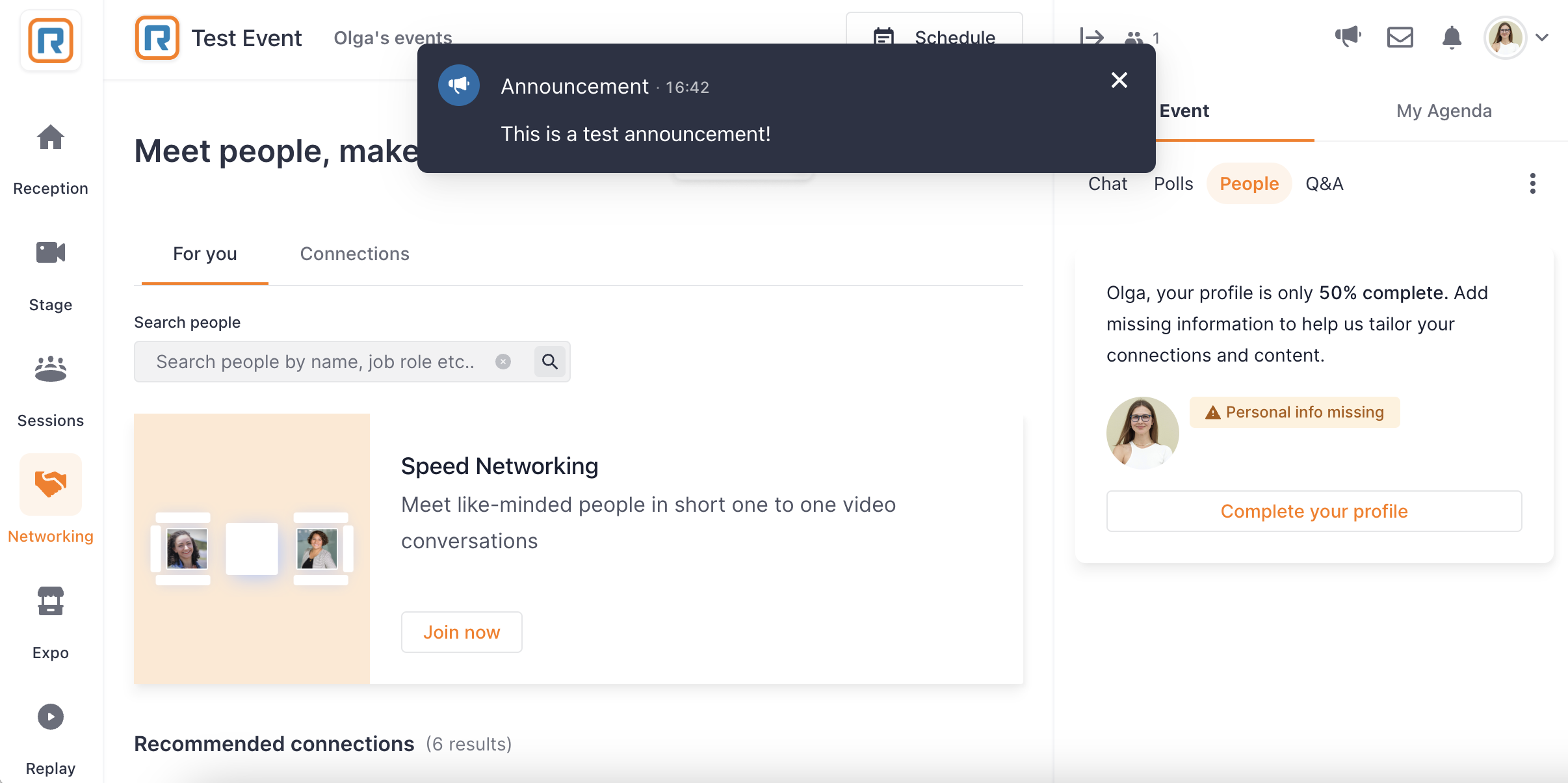 Deleting an announcement
To remove a test announcement and an announcement that's no longer relevant, you will need to click on the announcement button at the top right of the event page once again. This will open a new panel on the right hand side, where you'll see the list of the announcements previously made. Click on the bin icon next to an announcement in order to remove it.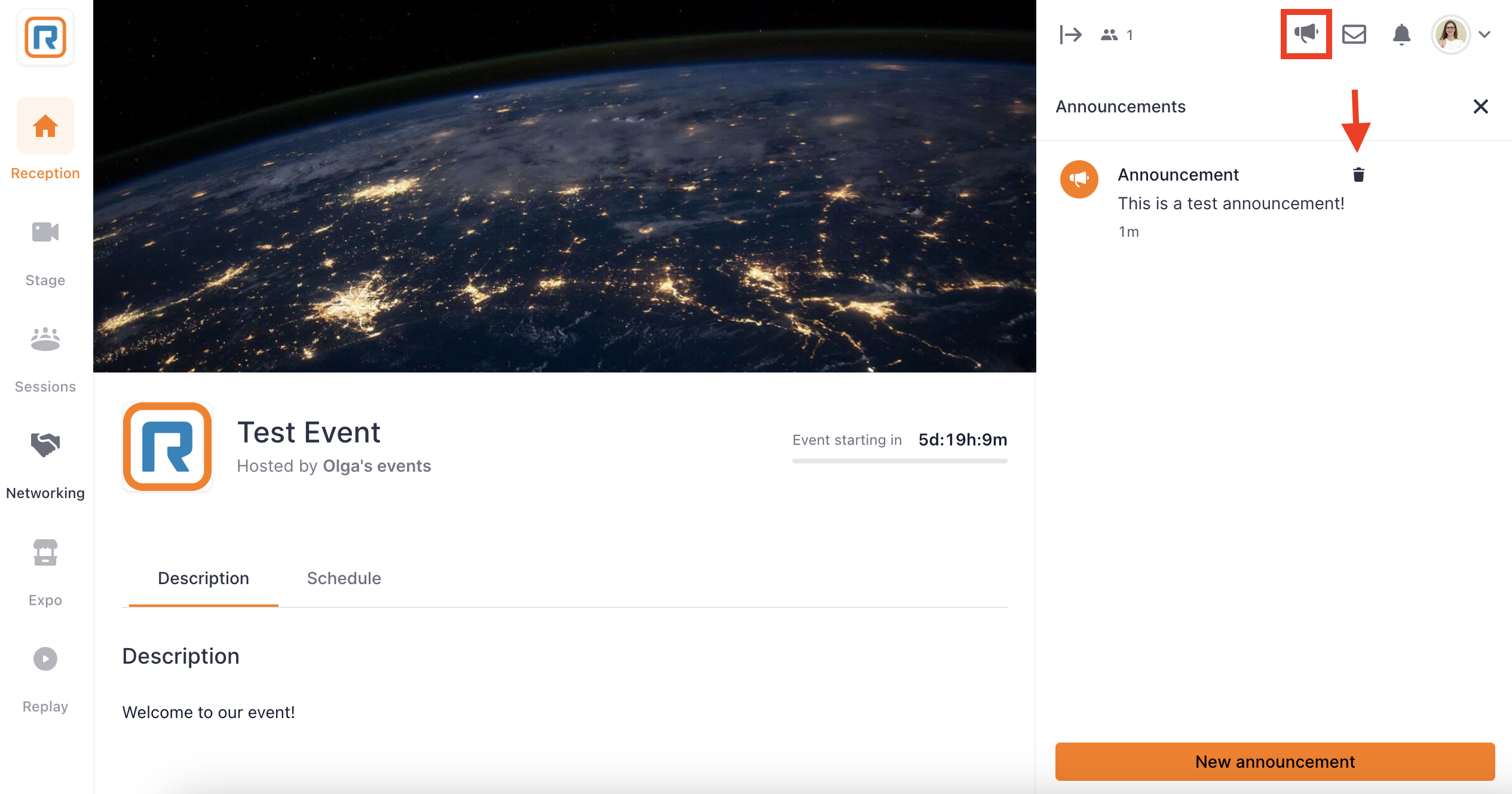 FAQs about announcements
Q: Is it possible to schedule announcements?
A: Not at this time.
Q: Can I share emojis, images, or GIFs?
A: Only emojis can be shared at this time.
Q: What is the character limit?
A: 250 characters.
Q: How long does the notification stay there?
A: Until it's closed by the individual attendee, until a second announcement is made by the Organizer or until the Organizer deletes an announcement. 
Q: What happens to a first announcement if I have a second one?
A: The first one will be replaced at the top of the event page by the second one. However, all announcements will always be available to see from the Notifications menu.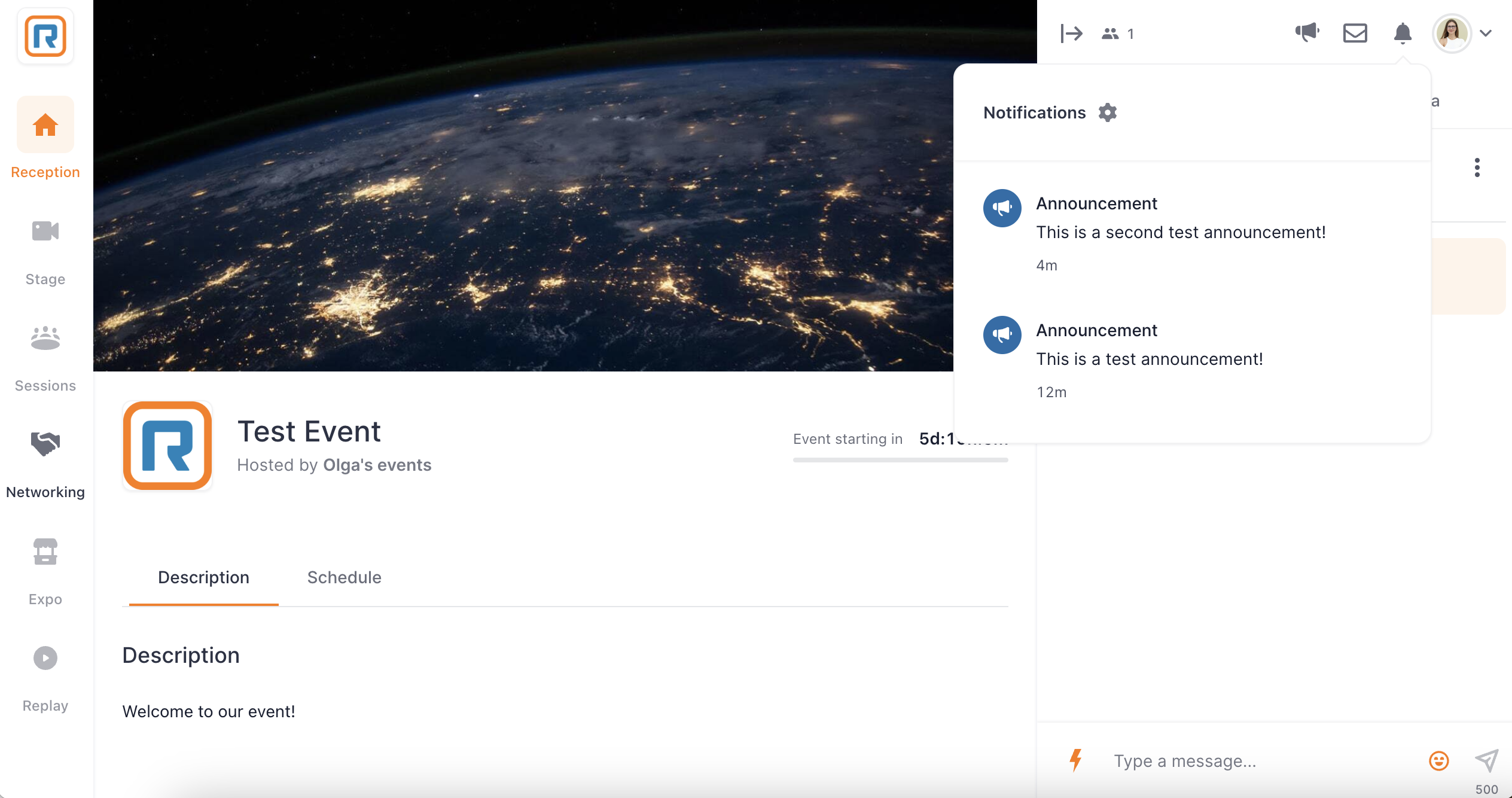 Q: What happens if attendees arrive late to the event, which announcements will they see?
A: The latest announcement that has been made will be shown to new attendees that may arrive late. Organizers should keep that in mind as it could be confusing to attendees.
For example, an announcement such as: "Hey everyone, event is starting now!" 2 hours in the event may sound confusing to late attendees. We recommend sending out updates if and when required. 
Q: Will announcements show up in the Hopin mobile app?
A: Yes, general announcements appear in the mobile app, but you must make sure notifications are enabled inside your app.
Note:
T
he attendee has to be in the event experience on the mobile app in order to get announcement notifications or other kind of notifications. These are not app notifications that will pop up when browsing in another app or having the phone inactive.