Before speaking in or moderating a Session
Ensure you're using an up-to-date version of your browser.

Check to make sure your browser has access to your Camera and Microphone. Mac setup video here and PC setup here for Chrome.

Ensure you can access our website domains to use RingCentral Events. You may have to check with your IT department if using a device or network provided by your employer. See here for more information on network connectivity. 

Check your browser's and network's compatibility with our streaming software here.

Test your audio (best practice is to use headphones; this eliminates echos and background noise)

Check your video; put the camera at eye level (put books under computer if needed)

Silence any distracting notifications on your computer & phone (Do Not Disturb)

Have a glass of water nearby

Try not to move your device or rustle any papers while you are speaking

If you'd like, you can blur your background. See our complete guide How to blur your video background in a session.

Check out general RingCentral troubleshooting tips here
Session limits
The maximum number of speakers on a Session is 50 for both recorded and non-recorded Sessions. This limit can be manually brought down in the Session settings. 
The maximum number of attendees who can watch a Session is adaptive with an average of 500. 
The maximum number of Sessions and Expo booths you can create and run at the same time is unlimited. You can find more on session limits here. 
Session types
There are three types of Sessions on RingCentral: open, moderated and invite-only.  
Open Session
Anyone inside the Session can go on-screen whenever they want by clicking the blue button that says Share Audio and Video.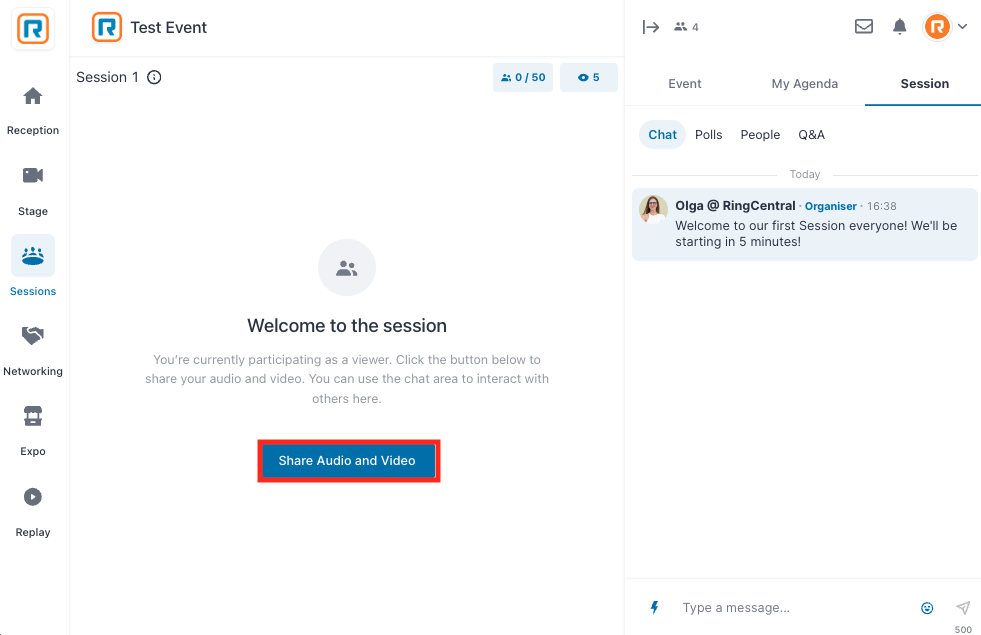 Moderated Session
The event Organizer has pre-determined a moderator(s) who can go on-screen (share their audio/video) whenever they choose. Attendees can request to go on-screen by sharing their audio/video, but they must be approved by a moderator to be brought on-screen.
Moderator view
Moderators can go on screen by clicking the Share audio and video button. When an attendee requests to go on-screen, the moderation toolbar button will display a red tag with the number of requests. A Moderator will need to open the moderation panel in order to see them.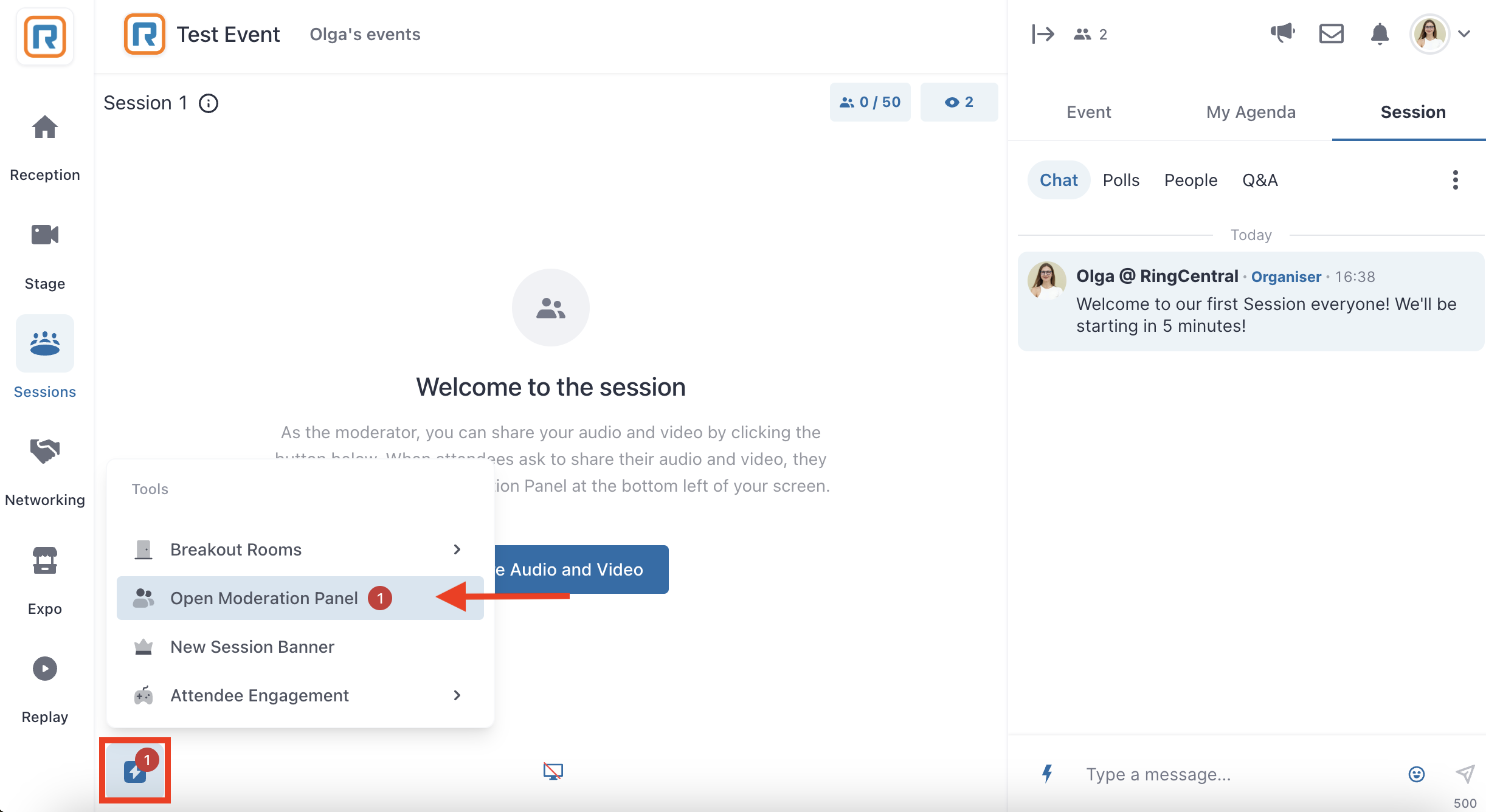 The Moderator can hover over the profile picture of an attendee they would like to add on-screen and click the "+" sign to add that attendee on-screen.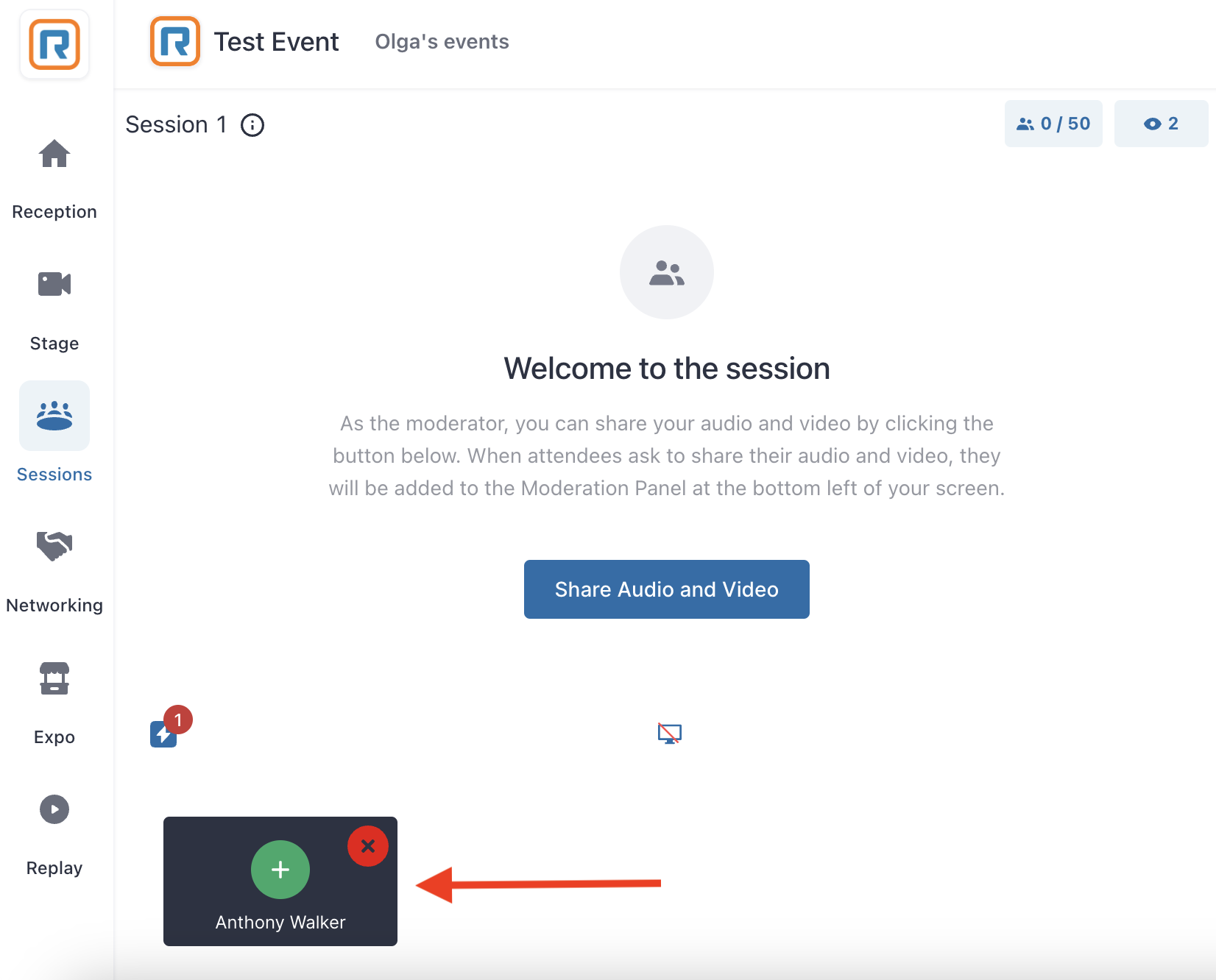 Once the attendee is added on-screen, they can select their AV devices and will be on camera shortly. Moderators and Event Organizers can click on the ••• three dots on their screen to open actions menu and to remove them. Once removed, attendees can join the screen again at any time without waiting for approval.


Attendee view
Attendees (non-moderators) see a blue button that says "Ask to Share Audio and Video." They must click this button to be added to the queue for moderators to then add attendees on-screen.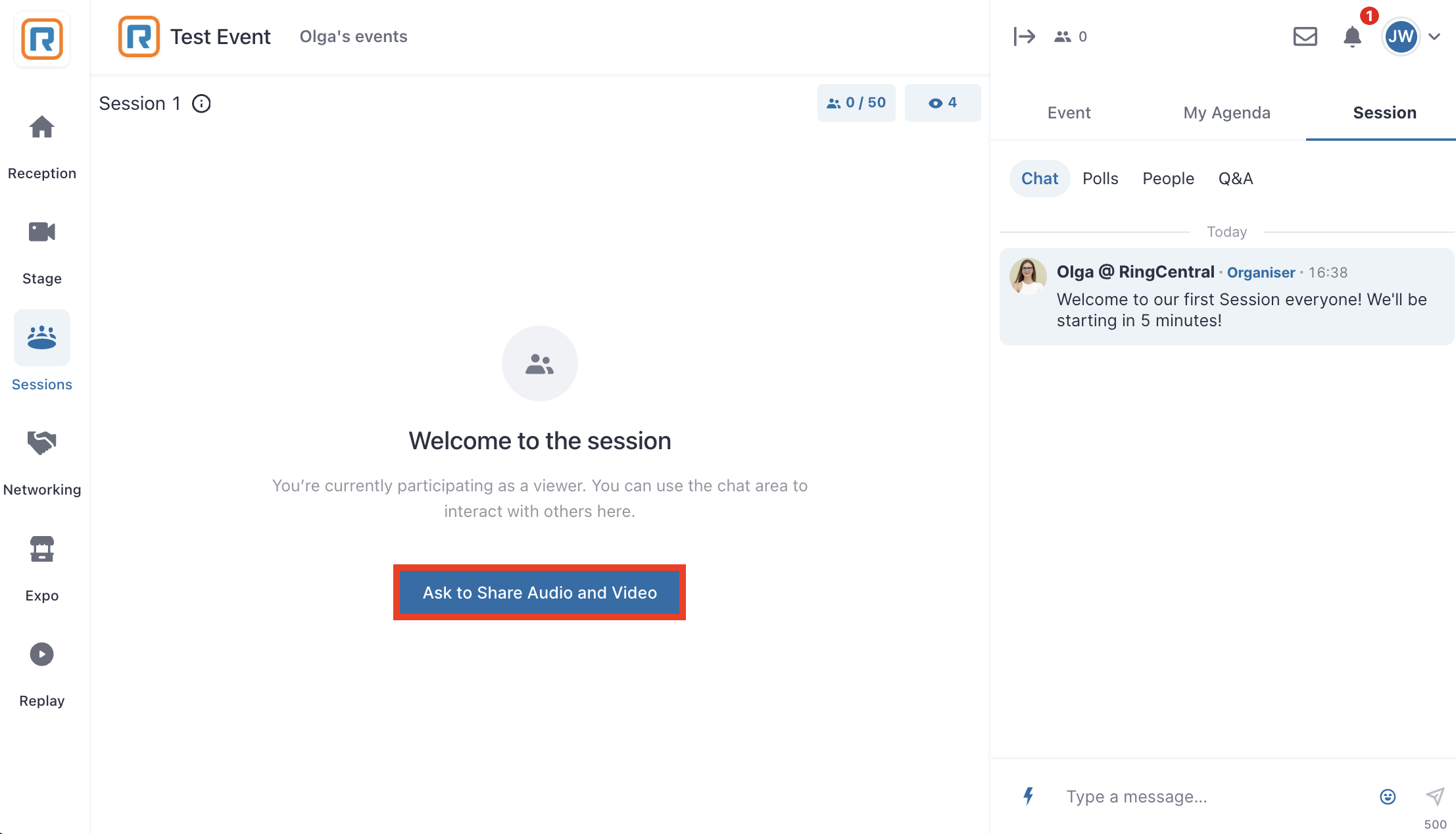 Invite-Only Session
The event Organizer has pre-determined a speaker(s), who can go on-screen by clicking the blue button that says "Share Audio and Video" whenever they choose. Attendees cannot go on-screen at any time and they cannot see this button.
Important note for Organizers: Under "Who can Participate", you are able to add specific speakers. These speakers will also need to be added as attendees under "Who can Watch" in your Event Dashboard.
Sharing screen
Upon sharing their audio and video, Speakers can share their screen, as well as content from other platforms like Youtube, Miro or Figma if these options are enabled in the Session settings.
Assigned moderators have the capability to share content without activating their own audio and video on stage. The Share screen option will be conveniently accessible at the bottom center of the screen.
Note: In the scenario where a Moderator is both sharing content and their audio/video, they can click Stop Sharing Audio and Video to remove themselves from the screen while keeping their content visible. To fully stop sharing, they will need to click Stop sharing as well.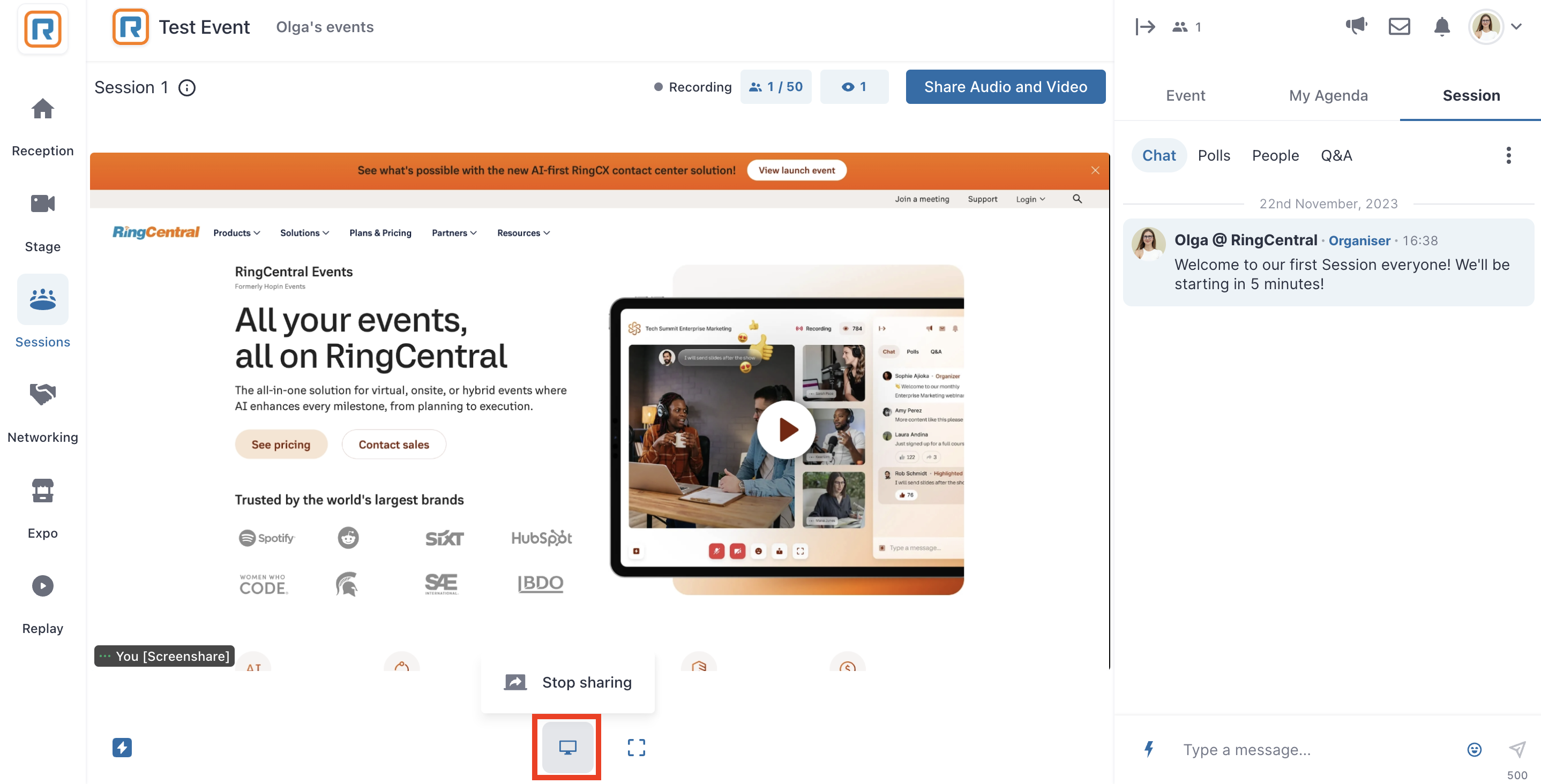 If you need to share your presentation with audio, it's important to note that this option is available for sharing tabs in the Chrome browser only. Firefox browser doesn't support sharing a tab with Sound yet. Here you can learn more about how to share audio from another app: Screenshare: Sharing audio from any third-party app
Attendee engagement
RingCentral Events provides a variety of engagement features for Speakers and Moderators to enhance presentations and captivate attendees. Feel free to utilize these tools to make your presentation more interesting and engaging.
Activity panel
The Activity panel on the right-hand side includes multiple tabs, such as Chat, Q&A, Polls, and additional features depending on the event setup. These tabs are designed to maintain audience engagement throughout the event.
As a Speaker or a Moderator, you can create and manage Polls: How to create event polls   
When Q&A moderation is enabled in the settings,Moderators can approve and delete questions in their respective Q&A tab: How to use Q&A
Displaying in-session banner with a custom button
Another option available for Moderators within a Session is to create a call-to-action pop-up. This is normally used to encourage attendees to participate in a survey or visit a webpage. Here is a dedicated guide where you can learn more about this functionality: How to make a call to action banner in a Session or Expo Booth Session
Breakout rooms
Moderators may choose to split larger Sessions into smaller groups as a way to facilitate discussions, create brainstorming sessions, and encourage larger networking. You can refer to our guide How to manage Breakout Rooms in Sessions as a Moderator to learn more.
Confetti
Confetti is an engagement feature that enables attendees participating on screen to express appreciation by sending confetti. If this option is enabled within the Session you can trigger this effect by clicking on the video tile or screen share during the session, providing a fun way to acknowledge a speaker or highlight presented data on the slides.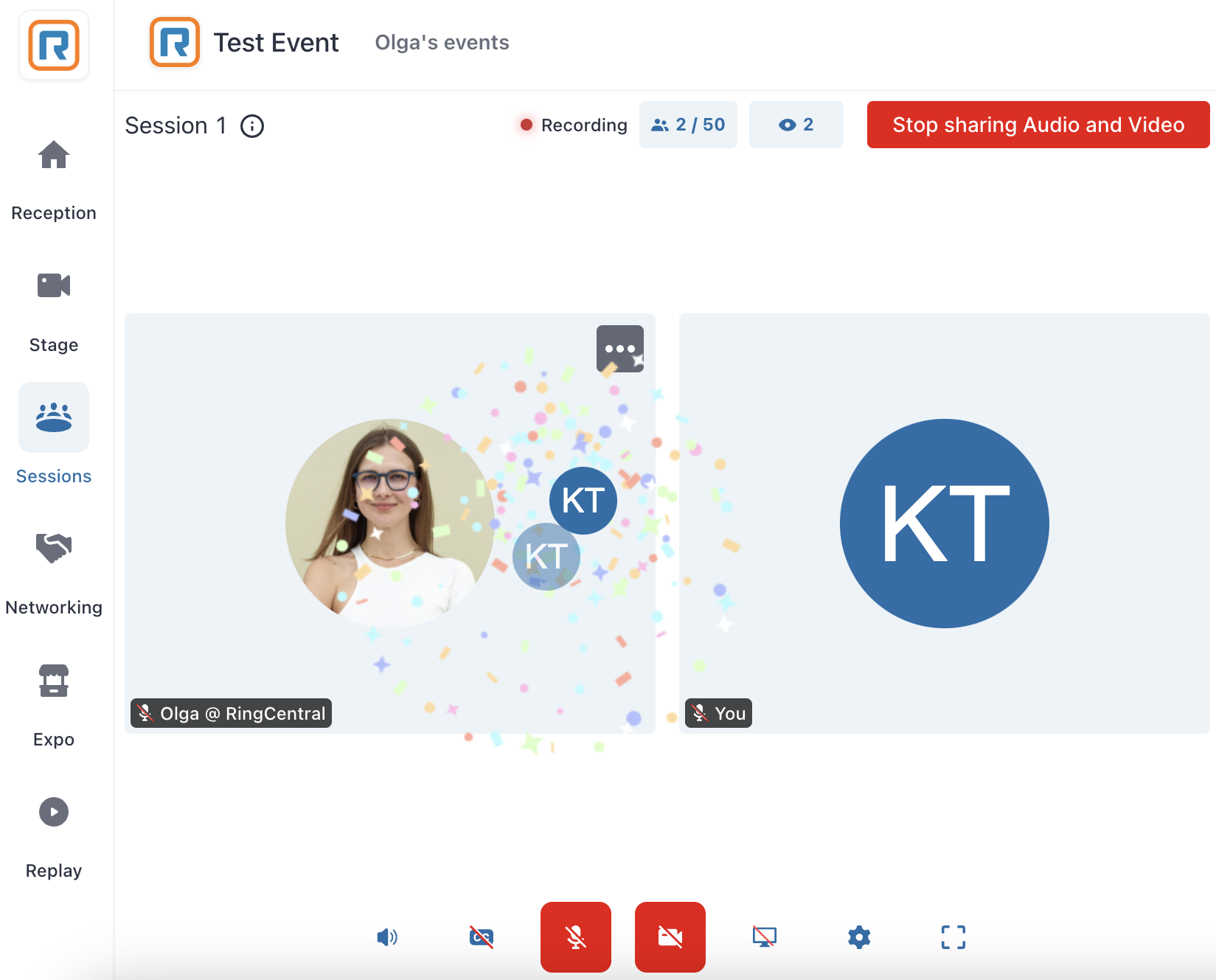 As a Moderator, you can disable this option in the moderation toolbar.