Find below tips and tricks for when wanting to stream a Hybrid event's video feed that includes in person speakers (at the event location) as well as online speakers.
This is by no means meant to be an in-depth guide, it's just to give some basic guidelines on how this could easily be achieved. Also this article is geared towards events with dedicated AV teams with sound technical knowledge and experience.
1. Setup Hopin
Set up a Stage on Hopin, set Hopin as the Stream provider and save the RTMP parameters for your streaming software. You can use either the Preferred or Backup parameters. See Using preferred and backup RTMP stream endpoints for more details.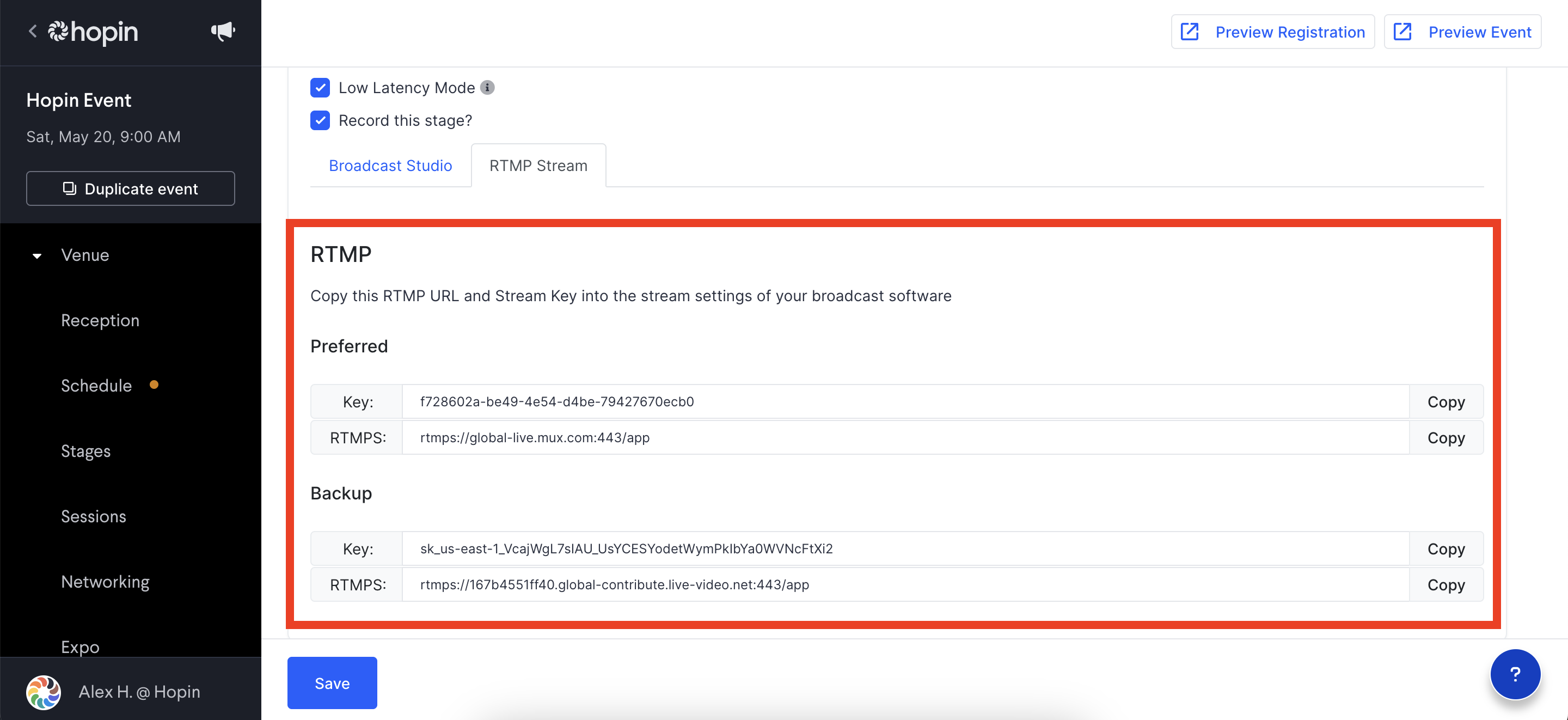 Create additional Stages or Sessions as "Virtual Recording Rooms," set Who Can Watch as your selected ticket types (for example AV team ticket and Speaker ticket). They will not be open to your Attendees, only accessible by speakers, Organizers and AV technicians, restricted via ticket types.

Virtual recording rooms are Stages or Sessions used to capture the video feeds of your remote speakers and other digital feeds such as YouTube videos. Each video will then be captured via its own web browser page (see below for source options) and fed into your streaming software as a video source. For example, one stage and one session (virtual recording rooms) open in their own Chrome tab, can be fed into the streaming software as two separate video sources (input) and then combined into one stream to your public Hopin Stage (output).
Input sources into your streaming software can be:
Window capture (containing the virtual room session or stage stream, live stream from event, Google Meet or Zoom meeting, etc.)

Video Capture Device (actual camera devices for the live event in-person or webcam)

Media Source (local pre-recorded video file)

Display Capture (containing the virtual room session or stage stream, live stream from event, Google Meet or Zoom meeting, etc.)

Browser (containing the virtual room session or stage stream, live stream from event, Google Meet or Zoom meeting, YouTube video, etc.)
As you can see there are many options and combinations that can be used to feed input sources into your streaming software, we recommend testing different scenes and sources to fit your needs accordingly.
2. Setup your streaming software
In our example below, we are going to use OBS. Create a scene for all needed stages or sessions setups:
The first scene set as just the in-person camera feed

The second is a hybrid of the in-person feed and speakers in a virtual recording room

The third is just the digital speakers within Hopin
Once the scenes are created in OBS, populate them with the sources (inputs) from the source tab. These can be local cameras (at the event) as well as browser captures of stages and sessions for Hopin online speakers in virtual recording rooms.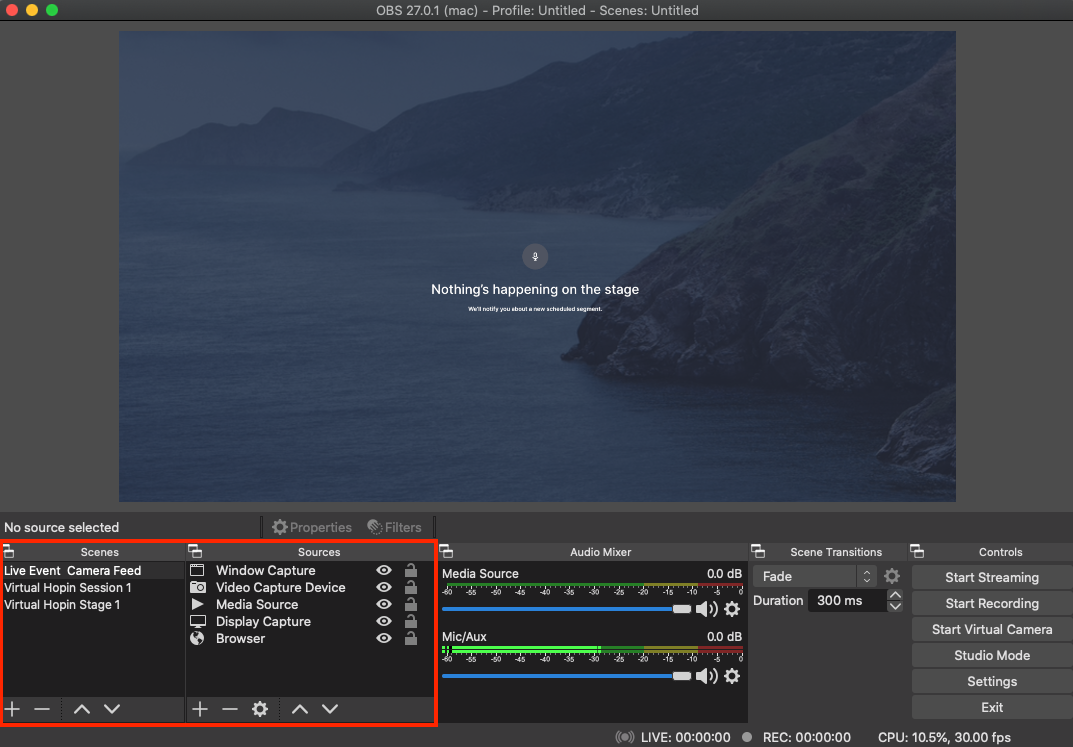 Design the layouts as you wish, see an example preview below with a local camera feed on the left (this could be the in-person, local camera of your Hybrid event), and on the right the two camera feeds are captured directly within the virtual recording studios via web browser.
3. Configure the A/V Settings
Stream URL
Use the <RTMPS-url> + <stream-key> saved in step 1 above as the output stream in your streaming software.
Internet connection
Use wired connections. WiFi and LTE connections can be spotty or suffer from interference or latency due to bad QoS/packet-queue prioritization. Whenever possible, rely on a wired connection for broadcasting.
Video
Codec: H.264

H.264 level: Main

Bitrate: up to 8500 Kbps. (note that this is excessive in most cases, it is the max bitrate supported, 5000 Kbps will be sufficient for a full HD 1080p stream)

Frames per second (FPS): 30/60

Keyframe: 2-second interval

Aspect Ratio: 16:9

Always use Constant BitRate (CBR), not Variable BitRate (VBR)

Use progressive signal flows; avoid any interlaced video in production flow and/or encoding
Audio
Codec: AAC LC

Bitrate: anything up to

320

Kbps

Sample rate: 44.1 Khz or 48 Khz (it is best to match your production audio flow)

Channels: Maximum 2 - Stereo (mono or stereo audio channels supported)
Find more details in our Required RTMP Streaming Encoder Settings guide.
4. Broadcast
Once setup, you can broadcast from your broadcasting software of choice directly into your public Hopin Stage via the RTMPS stream details saved in Step 1 above.
You would then manage the entire show from your broadcasting software via your AV team similarly to recording an in-person event. The difference is that instead of just saving the recording locally or broadcasting to a local screen, you are directly outputting your feed into Hopin where your online guests are also attending your Hybrid event.