Frequently asked questions by Organizers
Check out Become an Organizer for more information on being an organizer.
Q. How can I preview an event?
A. You can easily preview an event at any time, by clicking on the Preview Event button at the top right corner of the dashboard.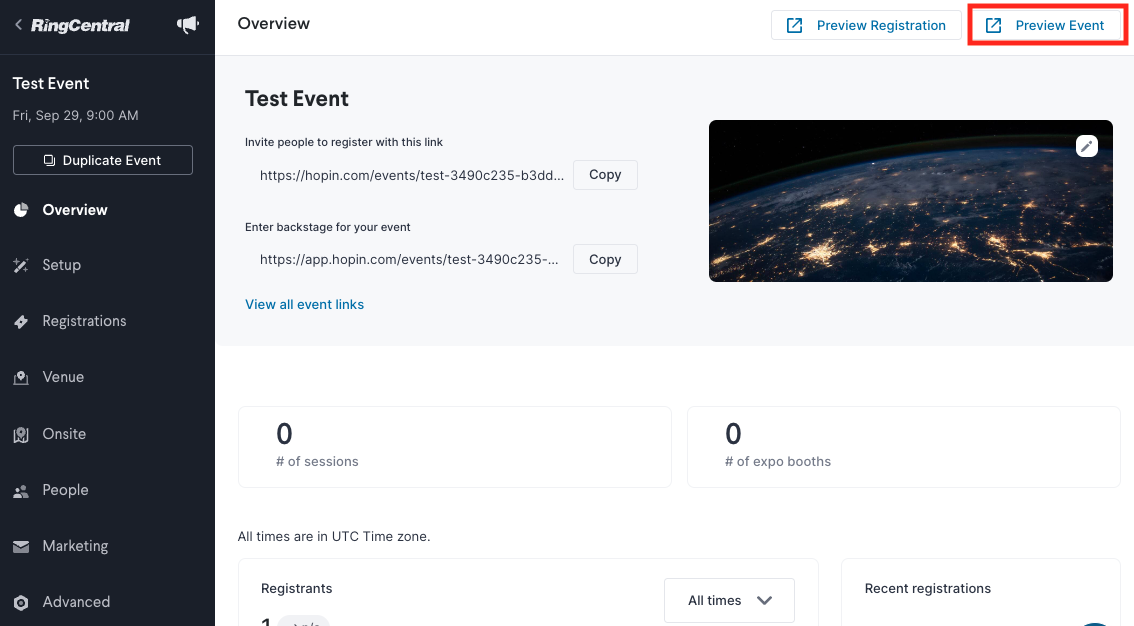 If your event is not yet live, once you click the link you will be taken to the Reception page waiting room. There it will give you the option to create your profile, or preview the event. Click on preview the event to proceed.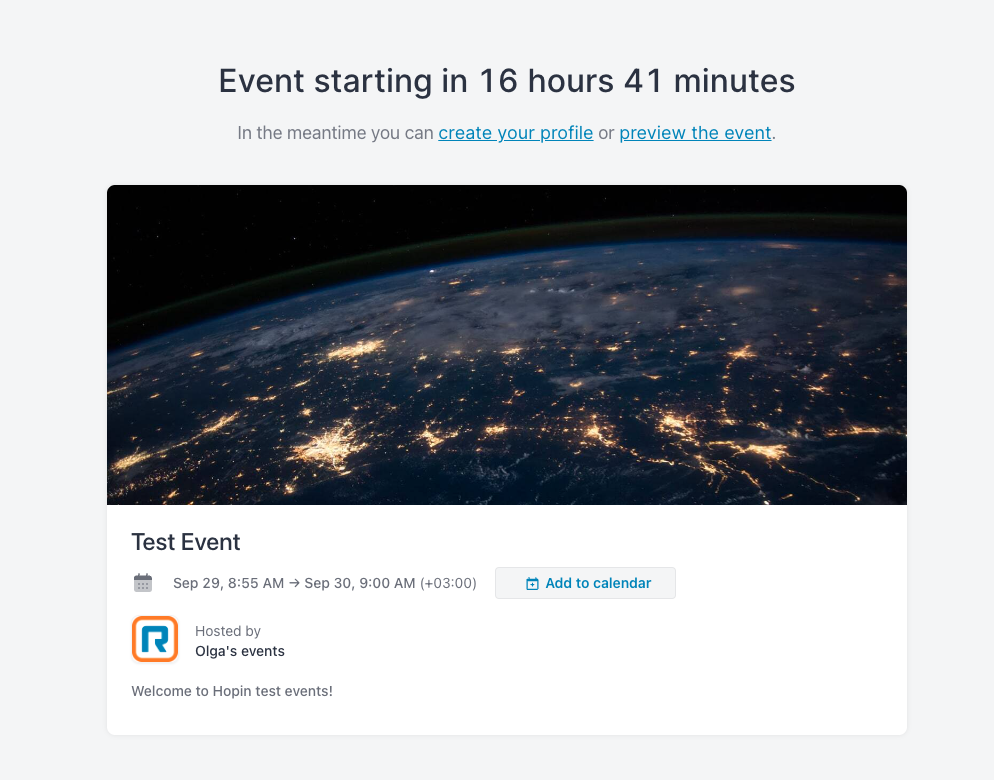 Q. What happens if I reach my registration limit?
A. Every plan starts with a registration base. If your event will have more registrations than what you have in your base, you will simply be billed for those registrations.
With all plans (except for Free which has a limit of 100 registrations per event), there is an overage fee for every registration over your base amount for that billing period. For Starter plans, the fee is $0.50. For Growth plans, the fee is $2.00. For advanced plans, you will want to connect with your Customer Success Manager or Account Executive for more info.
You can find your available registrations in the Billing tab on your Organization's page.
Q. How do I make my event go Live?
A. When you are setting up your event, you choose a time and day you want the event to occur. Your event will automatically go live 5 minutes before the designated start time, unless you have enabled early access. This gives attendees time to get to the event, and find the segment of the event they are interested in.
Q. Do organizers have to control the backstage?
A. Organizers are the only ones who can let people on the stage once they have entered the backstage. You can learn more about understanding roles, in this article about Permissions.
Q. Will my event automatically close when the time is up?
A. The doors will close 5 minutes after the end of your event. This will give your attendees some time to get last minute questions answered, as well as any last minute connections made.
Q. How do I extend my event?
A. Sometimes you don't want your event to end so soon. You can extend your event by going to Event Dashboard > Setup > Basics tab. Once there, you can change the end time of your event under Ends at.
Note:
Make sure the end time doesn't go over 72 hours since the start of the event if you are not on one of our Business plans. If you try to extend your event past 72 hours, a warning message will appear at the top of the dashboard and the change will not save. To have events lasting longer than 72 hours please get in touch with
our sales team
for more info.
Q. How do I delete an event?
A. When attempting to delete an event, first you need to remove all attendees from the event. You will not be able to delete the event until you have done so. Here a dedicated guide explaining the whole process in detail: How to delete an event
Q. How do I remove, block, mute an attendee?
A. If an attendee is writing inappropriate messages in the chat, you can click the red trashcan icon next to their message to remove it instantly.

You can also go to the People tab, find the attendee and click on: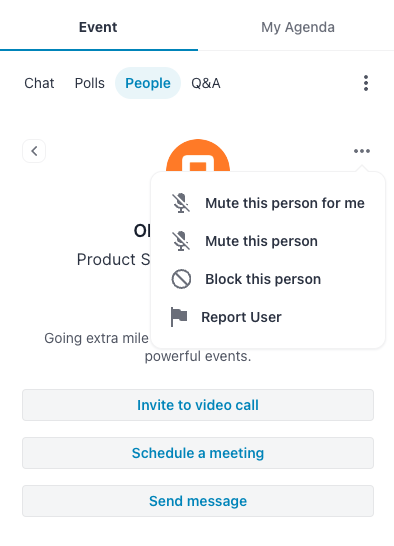 Tip: Organizers can easily unblock attendees by clicking the pencil button on the Event Dashboard > People > Attendees tab for a specific attendee in the list.
Note: If an issue with a user persists, you can reach out to the support team directly, we will swiftly respond, look into the situation, and remove the person from the event on the backend.
Q. How do I change the Organization logo?
A. The Organization information can be found under the Profile tab on the Organization dashboard. From there the details of the organization, such as name, logo, website, etc., can be updated to reflect any changes within the organization. Here a detailed guide covering this process: How to update your Organization's profile
Q. How can I switch my account into someone else's name?
A. To switch the account into someone else's name, the organizer will need to contact support using the same email address that is registered to their account.
Q. What is an Organizer Pass?
An organizer pass is something that allows the organizers to join an event without having to buy a ticket, as they would have to do in the past. 
It is automatically applied when you add an organizer to your organization and there is nothing additional that you need to do to enable it. This does not grant team members any additional access.
Note: The main organizer of the event will not add to the registration allotment but any additional organizers will. However, they will not be shown on any attendee reports, other than the Attendees Data report that you can download on the Attendees page (Event Dashboard > People > Attendees).