Streamyard is the easiest way to create a professional broadcasting experience for your event.  Using the StreamYard studio, you will be able to quickly add graphics, banners, backgrounds and overlays to your session broadcasts.
Connecting your StreamYard broadcast to your session follows the same steps as connecting any RTMP source to your session.
Note
: This can be set up for the Sessions as well as the Stage.
Setting up the RTMP Stream
Open the Hopin event Dashboard
Navigate to Venue > Sessions
Create a new session by clicking the blue Add Session button or click Edit to set up RTMP within an existing session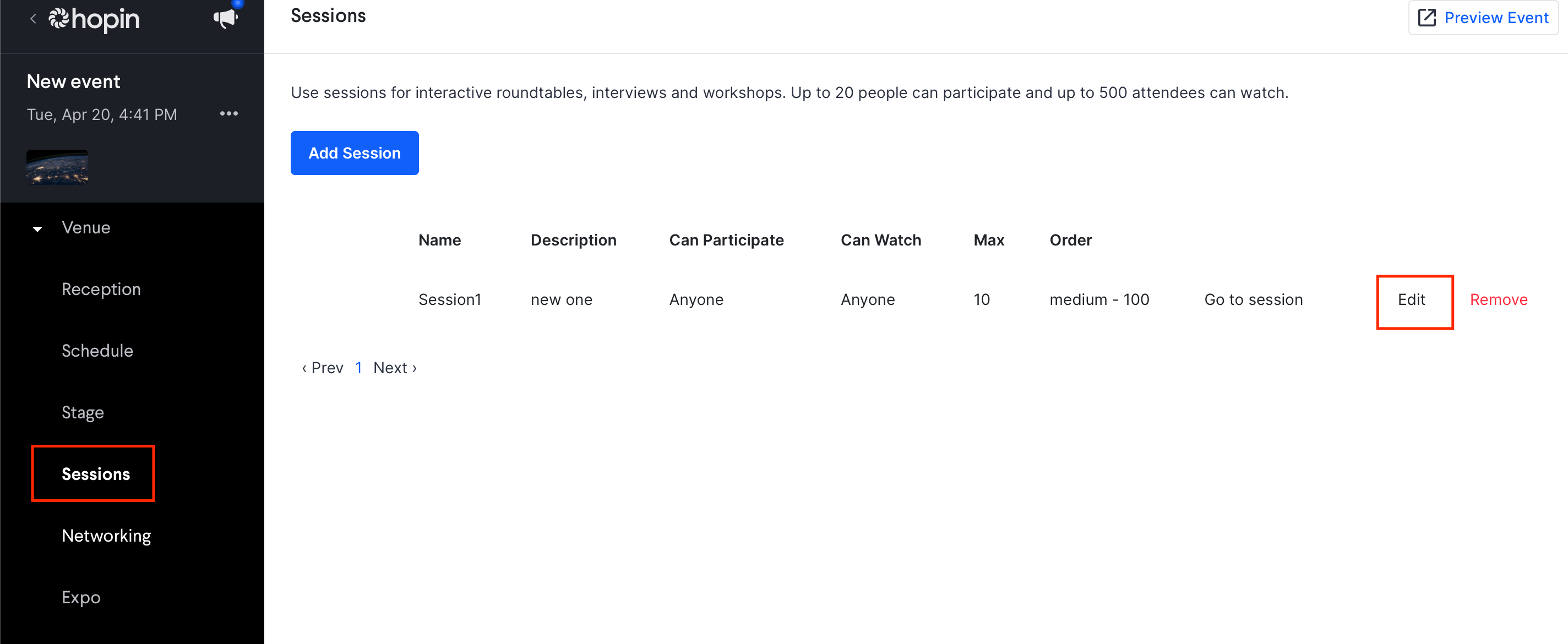 Find the RTMP settings section and click the checkbox Enable RTMP Streaming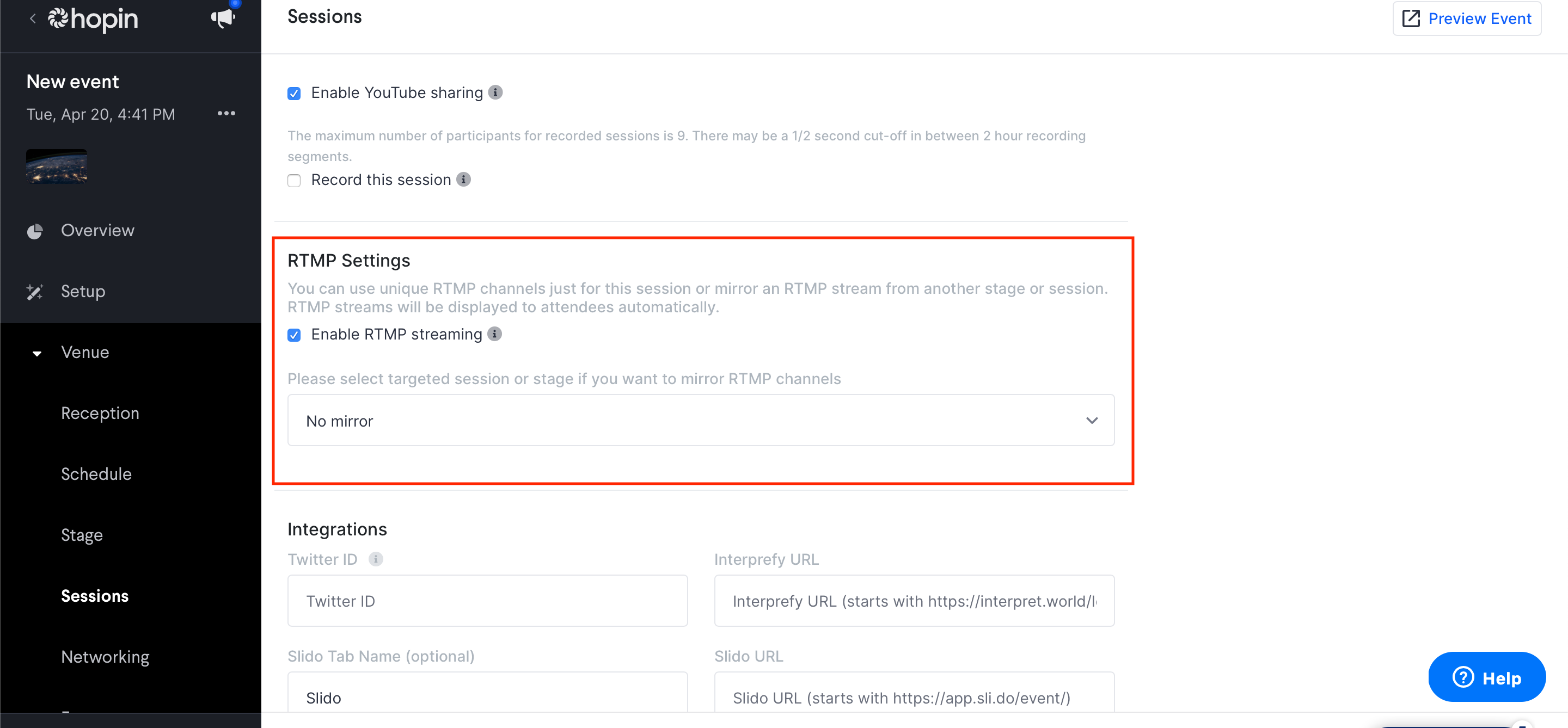 In the next option box, select No Mirror since you are broadcasting directly from StreamYard into the session. Then hit Save. 
Note: If you'd like to copy/mirror an ongoing stream from the Stage or another Session, select Stage or Session as well as the name of the Stage or Session. 
Once the session is saved, click the Sessions tab of the event dashboard to find your list of sessions. You will now find a column containing the RTMP details of the session you just saved. 

Click the RTMP Details to retrieve the RTMP URL and Stream Key.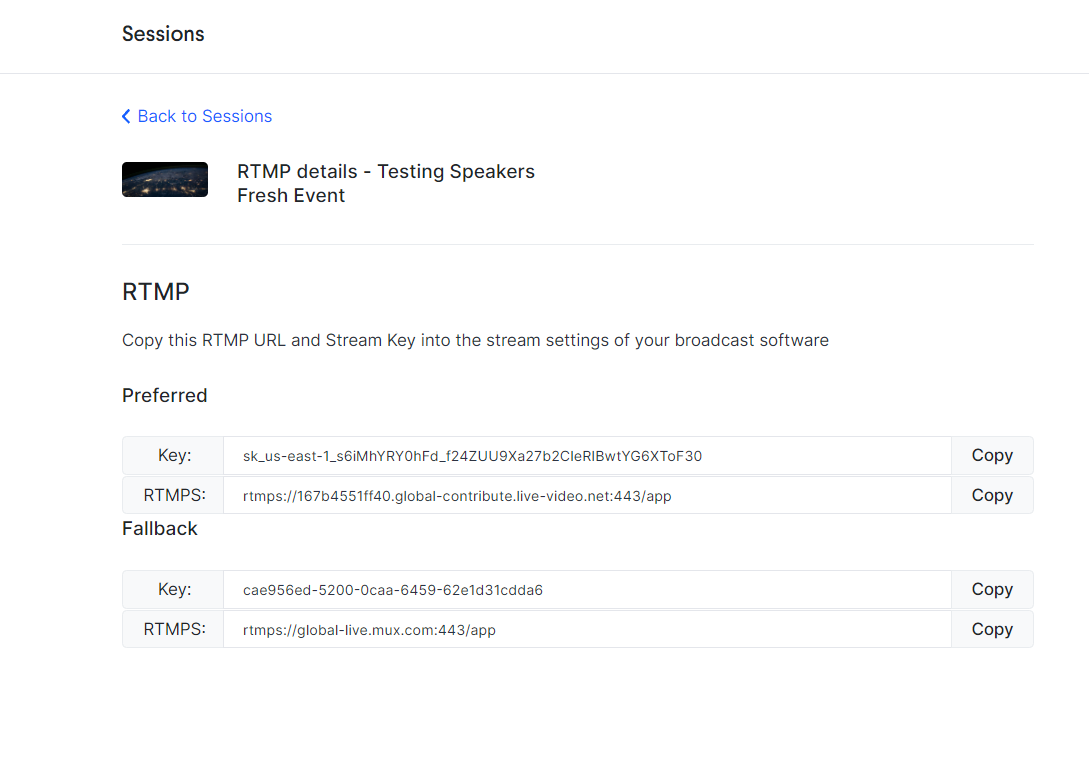 Note: The first and preferred is the main RTMP server in place. Should any issues arise when connected to the preferred server, we recommend switching to the fallback provider.
Copy the Stream Key and RTMP URL 
Connecting the RTMP to StreamYard
In order to stream to custom RTMP sources, you will need to be subscribed to the Basic StreamYard plan (or better). Pricing and more details about StreamYard can be found here.
Once you are logged in to your StreamYard account, you will need to click over to the destinations page and then Add a destination: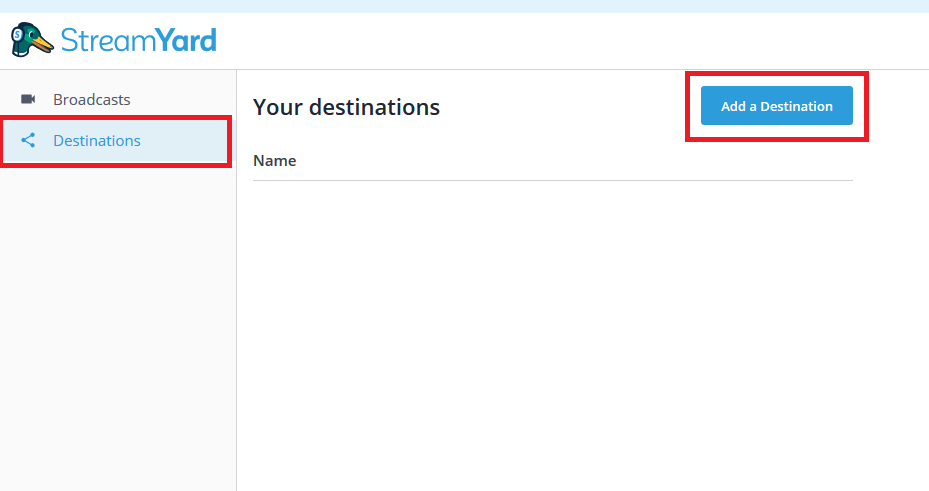 Clicking that button will open a pop up where you can choose your broadcast destination: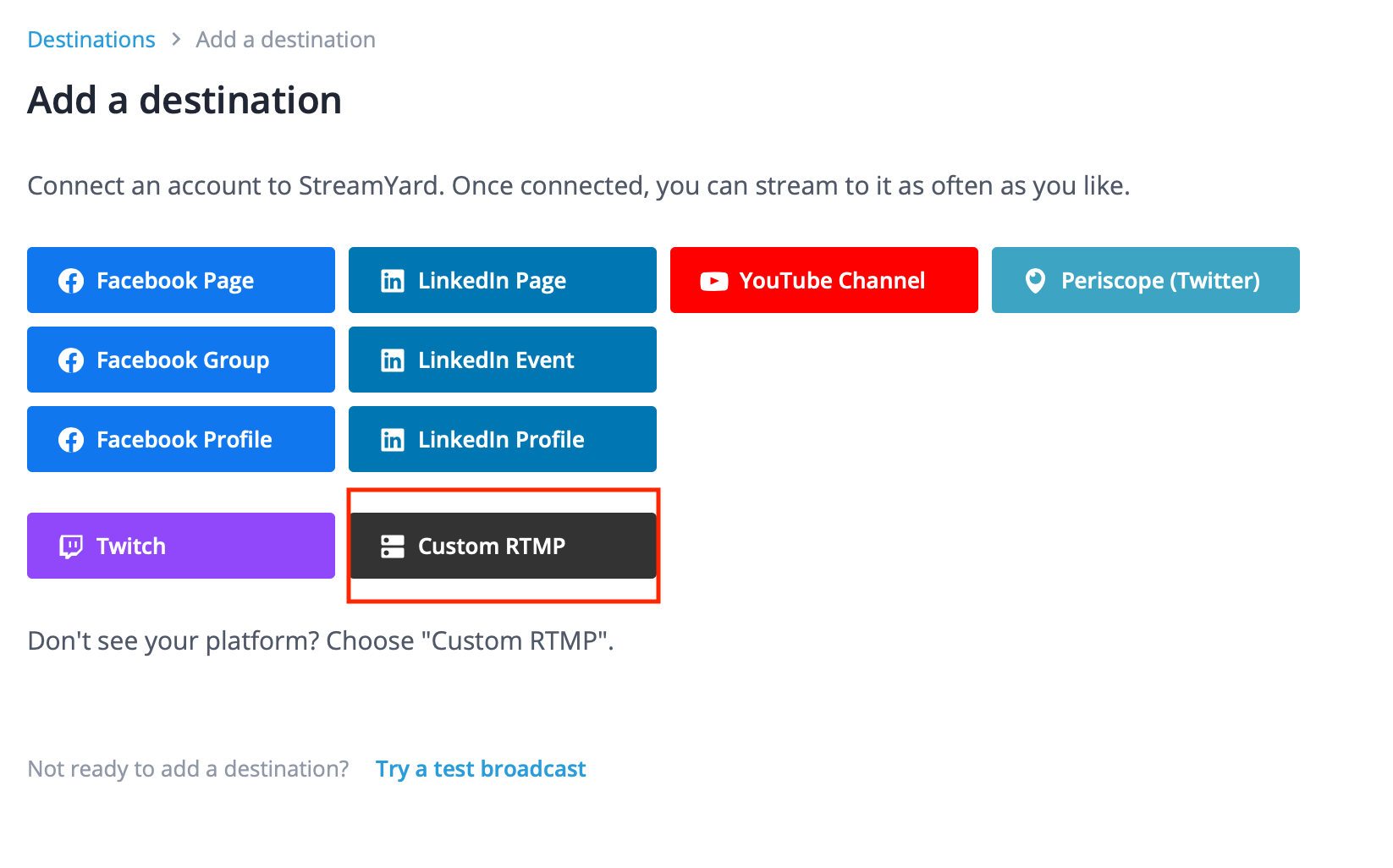 To connect to the Session, you will want to pick Custom RTMP Server.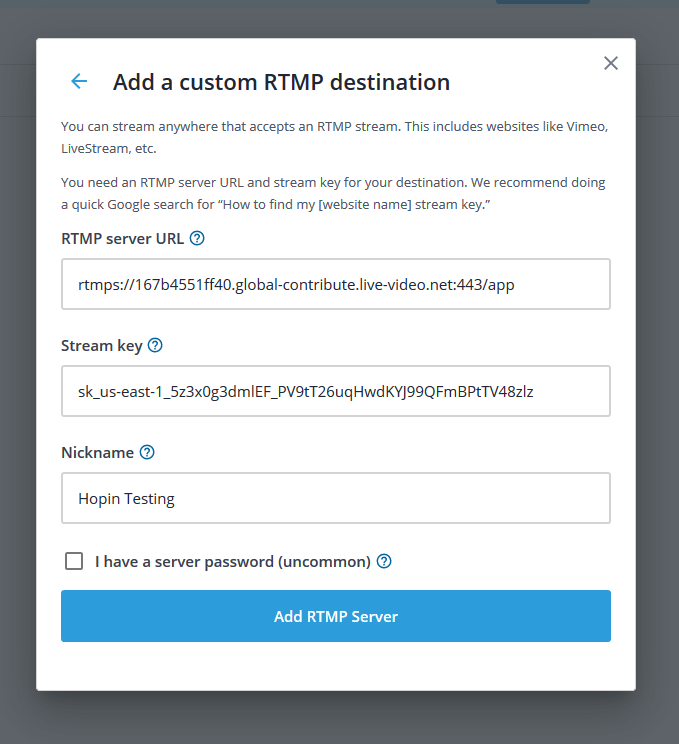 Inside of that box, paste the RTMP server URL and Stream key specific to your event. Then give your destination a name.
Now that we have added a destination, we can start our broadcast. To do this, click over to the broadcast tab and click create a broadcast.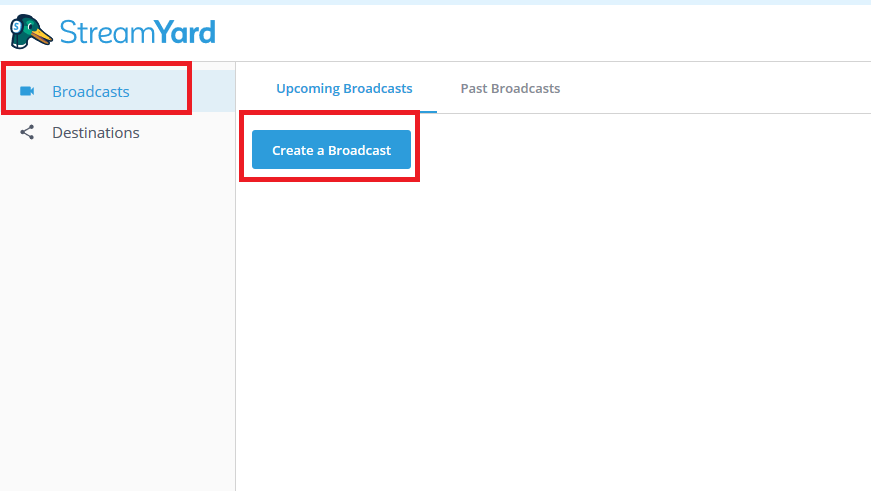 Pick the Hopin event for the destination and then click create broadcast: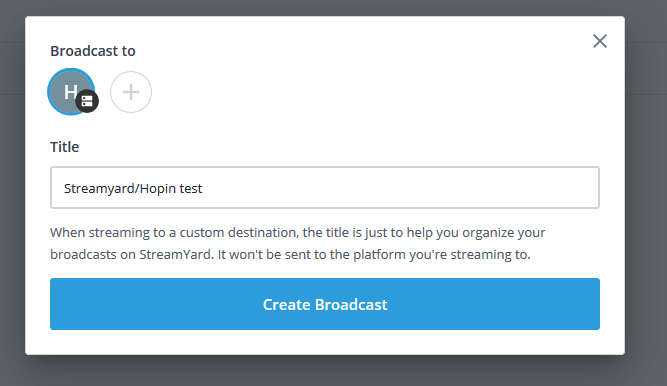 You will be prompted to share your audio/video devices, and then be taken into the StreamYard Studio. You can add overlays, backgrounds, logos, video files and much more: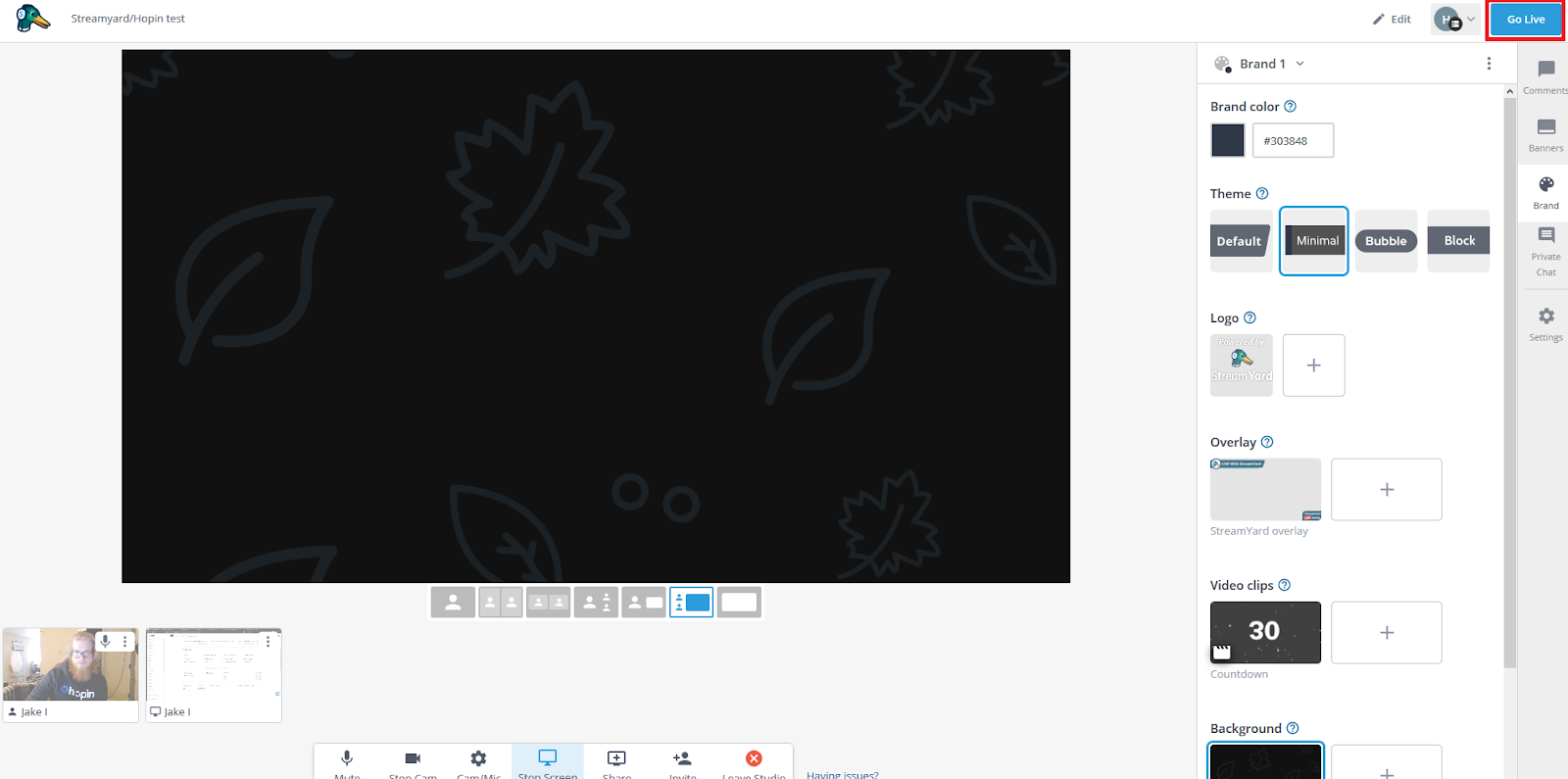 Once you have your broadcast set up and ready to go, click the blue Go Live button in the top-right corner, and your broadcast will be streamed to your session. 
Remember, there is roughly a 10-second delay between the source stream and the session. 
When you are ready to end the broadcast, click the end broadcast button, located where the go-live button was: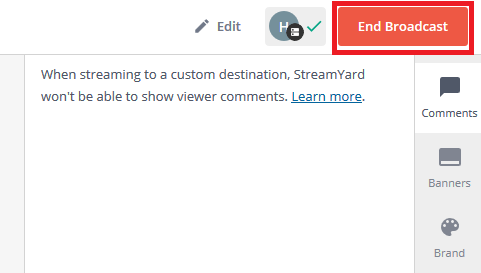 Important things to note: 
When RTMP is not live, sessions can be used like any other session. Once RTMP is live:
The RTMP stream will not be viewable on the mobile app or on mobile browsers, only desktop browsers
You can have a maximum of 20 people on screen
You will not be able to share your screen, Miro, Figma, YouTube, etc
The RTMP stream can only be stopped from the broadcast software, not from within the session
RTMP cannot be used in Expo Sessions
Closed Captions are not available for content that is being RTMP streamed into a Session room or an Expo booth