Important: Before you delete your RingCentral Events account, note that you need to cancel any subscriptions you may have to avoid being charged after deleting the account. 
To delete your RingCentral Events account
Sign into your account
On your Attendee Dashboard, click on your profile image in the top-right corner
Click Manage Profile

Scroll to the bottom of the page and find the Security section
Click Delete account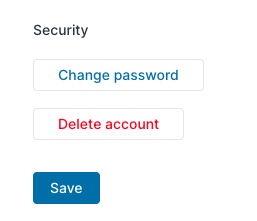 Enter the confirmation phrase as it is displayed and then Delete account. Please note that your will have your personalized confirmation phrase displayed in your account. You can see an example of it on the screenshot below.
If you would like to unsubscribe from any marketing emails, you can do that here.
If you receive any emails from Event Organizers around the events they host on RingCentral Events or would like your Event Data removed however (which we do not control), please reach out to those Event Organizers directly, or let us know if you have issues finding their contact info.
Note: If you delete your RingCentral Events account, this will delete all data associated with it including events (past, draft and future), event data and analytics, event recordings, and organizations held under the account, this action is irreversible and data will not be able to be recovered.
I'm an organizer, how can I delete attendee accounts after the event? 
Please note that organizers are not able to delete accounts on behalf of their attendees. This needs to be done by the attendees by following the steps already mentioned above.