If you experience an issue with Audio/Video or Microphone/Camera during an event using the RingCentral events Mobile App for Android follow the below tips to get you back up and running!
Troubleshooting Audio playback on Android
If you can't hear audio from the Stage, Sessions, and Expo sections of an event the first thing to check is to make sure your device volume is turned up, you can do that by using the physical volume buttons on the side of your device.
To change the volume simply press a volume button.
Note: When you press a volume button, the volume that changes depends on what you're doing. For example, if you're watching a movie, the movie volume changes. If you press your volume buttons when you're not listening to anything, your media volume changes. For listening to events with the RingCentral Events app you are only interested in 'Media' volume.
Check out this guide from Google for more info.
If using Bluetooth headphones with your device make sure they are properly connected and their batteries are charged.
Tip: If your phone is paired to more than one Bluetooth device, you can change where you hear music, videos and games. Under 'Media volume', tap 'Play media to'.
Note: This info may differ depending on your Android version and device model, please refer to the manufacturer support guides for specific instructions.
Troubleshooting Video playback on Android
If you experience video playback issues it is most likely due to a poor internet connection.
To avoid problems we recommend using a good WiFi connection and try not to rely on slower 3G/4G mobile networks, however, 5G should work fine. Avoid using a free WiFi hotspot usually available in public places such as a cafe or airport, these networks are used by many people simultaneously and can result in poor playback. 
It could also be due to issues with TCP/UDP ports being blocked, for example, if you are connecting from a corporate network or from behind a firewall. See our Connectivity Settings guide for more info.
Troubleshooting Microphone and Camera issues on Android
To be able to join a screen in the event, you need to make sure the RingCentral Events app has permission to use your device camera and microphone. You will be automatically prompted to allow the RingCentral Events app to access both the microphone and camera as shown below.
Click 'While using the app' or 'Only this time' to allow taking pictures and recording video. Next, click 'While using the app' or 'Only this time' to allow recording audio. This will allow you to join the meeting with both your camera and microphone.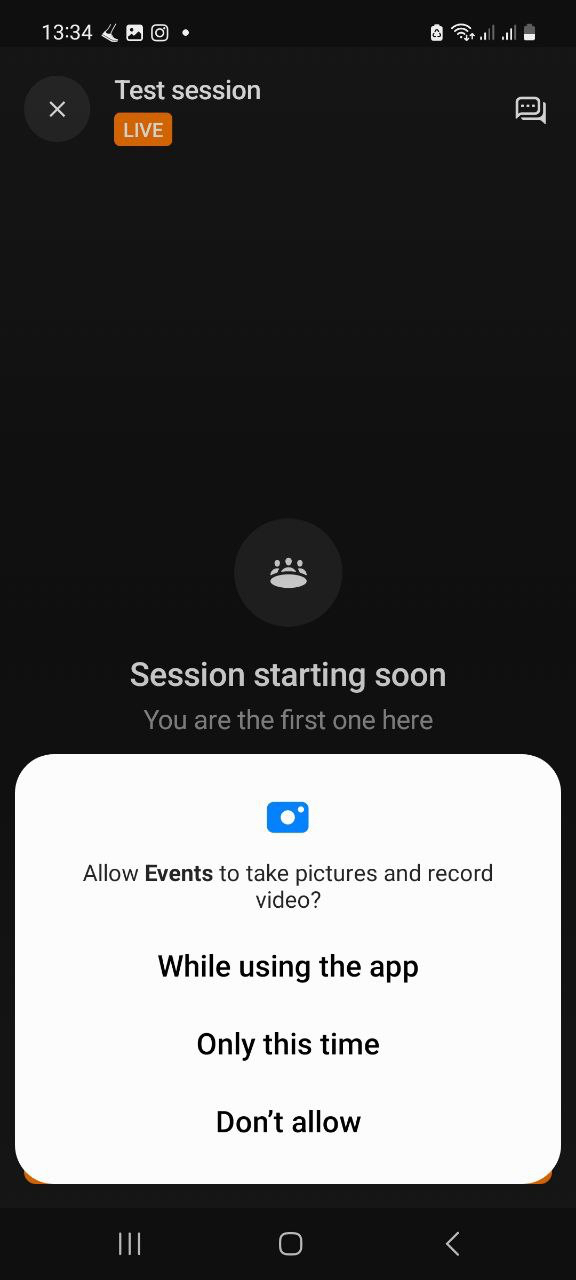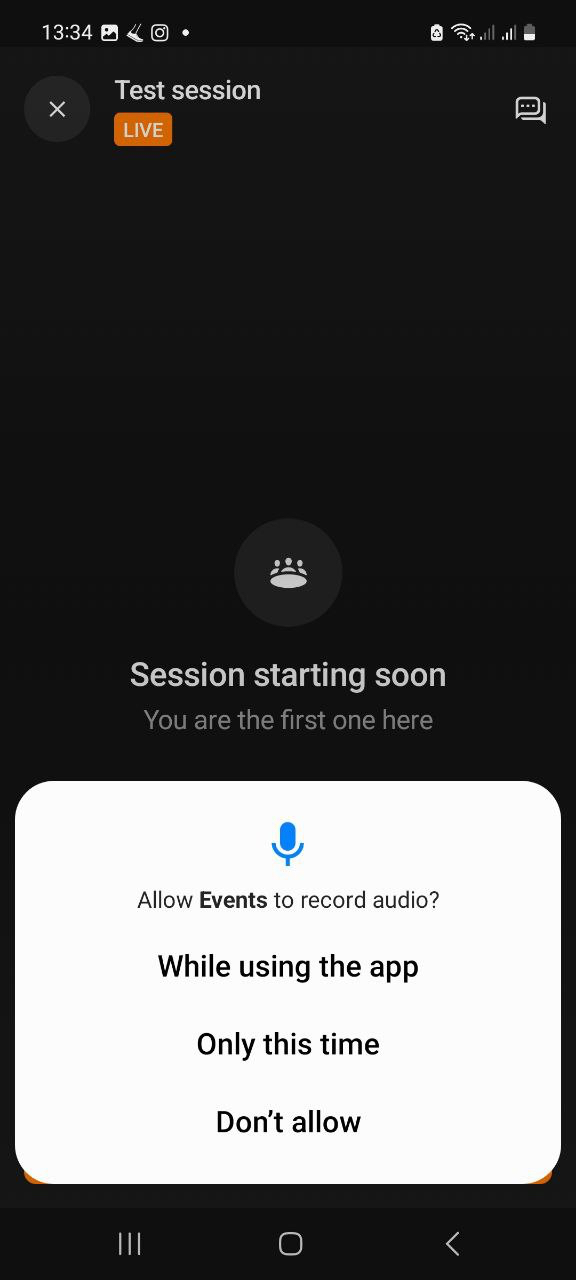 If you don't get prompted to allow your camera or microphone, close the RingCentral Events app, then locate the RingCentral Events app icon on your device. Click and hold on the RingCentral Events app icon to reveal the options menu, then select 'App info'.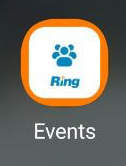 Under 'App settings > Permissions' make sure 'Camera and Microphone' are allowed. They are both required for the app to function properly. If your settings look like below you are fine and ready to go.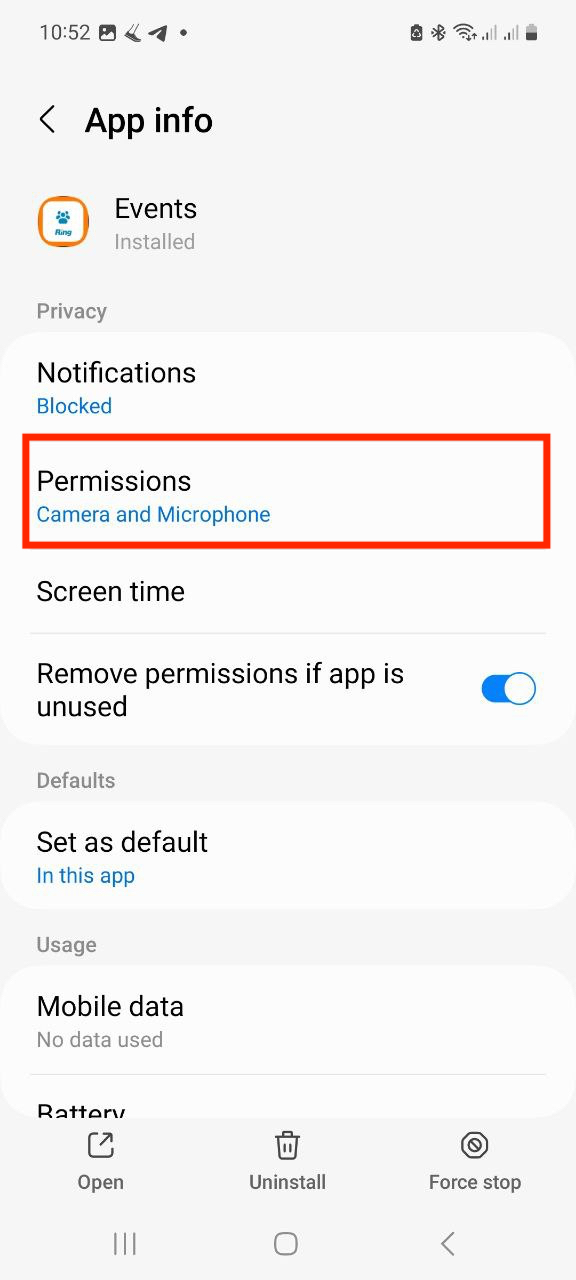 If 'App settings' display 'No permissions allowed' there is a problem, click on 'Permissions' to grant access to the camera and microphone.

In the example below, both the camera and microphone are 'Not allowed' and will not work.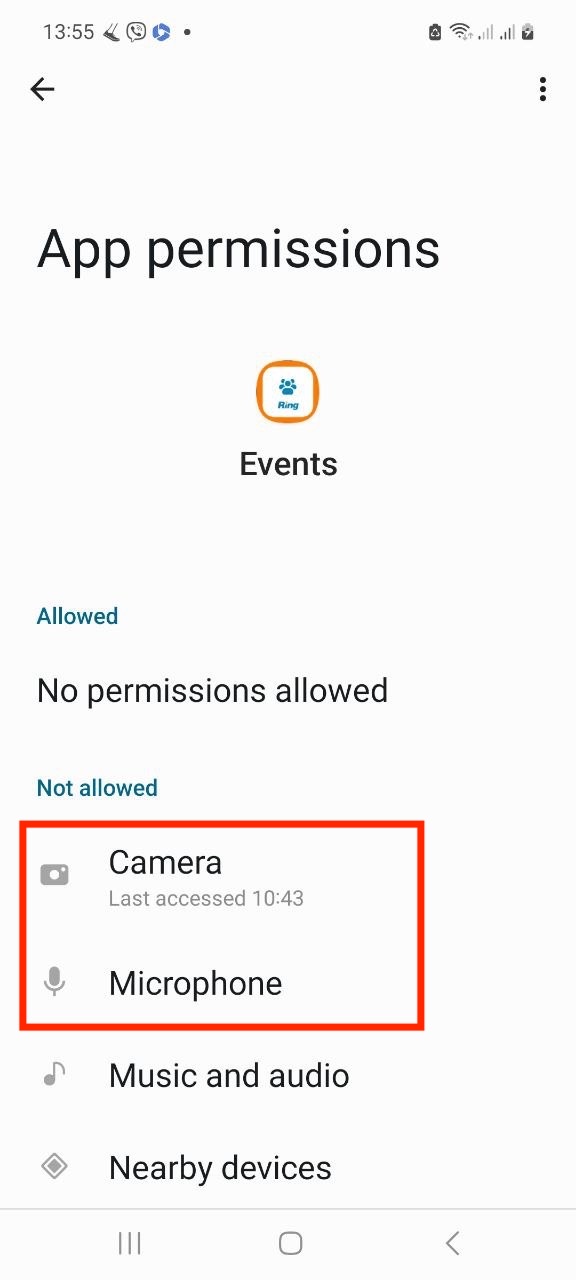 Click on 'Camera' to grant permission by selecting 'Allow only while using the app' or 'Ask every time'. Next, click on 'Microphone' to grant permissions in the same way.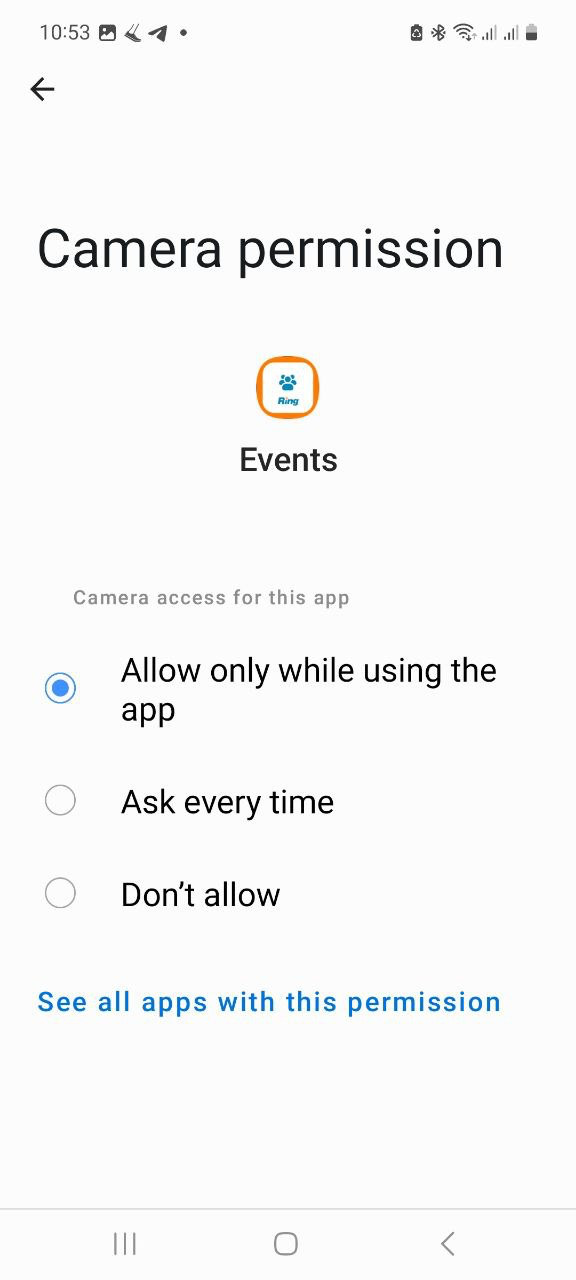 Below is how the settings should look like for the camera and microphone to work as expected.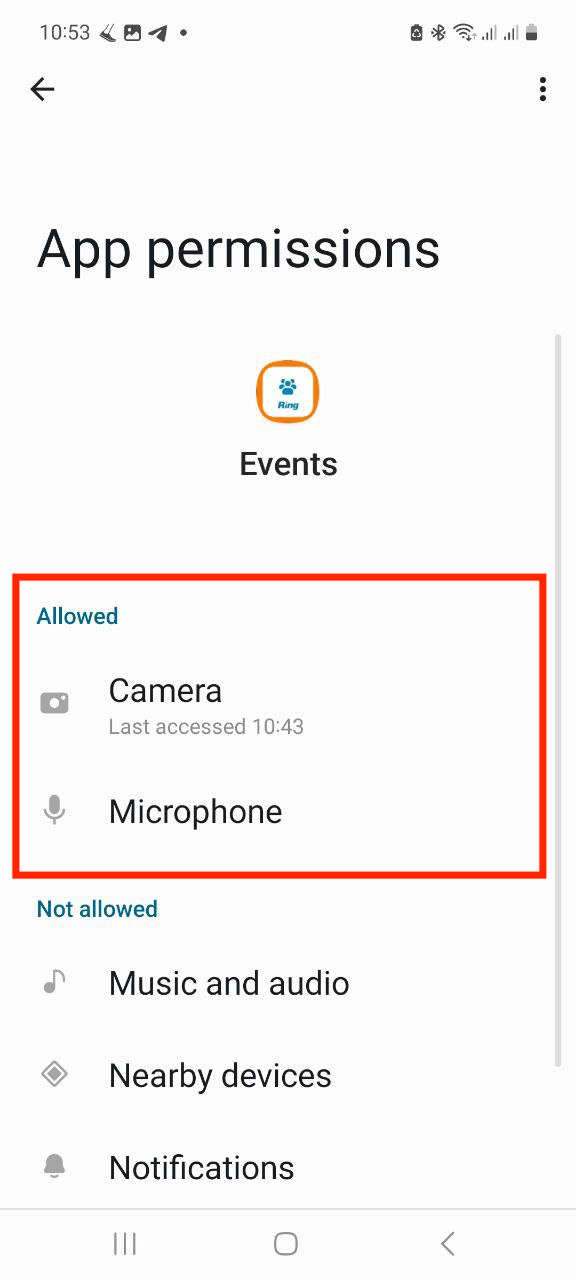 Once the settings are updated, launch the RingCentral Events app and try again.