Invited Exhibitors are users assigned by the Organization admin per Expo Booth, per event, that have access to their Booth settings. Please note that this feature is available on Advanced plans only.
Important notes:
All invited Exhibitors and their Moderators need to register for the event in order to access the online event venue and their Expo booth, as they do not automatically become Attendees once they accept the invitation.
Exhibitors don't become Moderators by default; they need to set themselves as Moderators while creating the Booth (or add a team member) if the Expo Booth is set to the Session content provider. Moderators also have access to create polls in their Booths and hide and unhide the polls.
Only Organizers have the option to determine the Booth's size and priority number. Invited Exhibitors will not have the option to change the size and priority number of their Expo Booths.
Uploading Expo Booths
The option to upload booths is a quick way to add a list of booths and invite Exhibitors to set them up. Go to the Event Dashboard > Venue > Expo and click Upload booths. You will also be able to use the option to upload after creating several booths manually. 
A new window will pop up. T o ensure seamless CSV upload, we recommend creating your list of Exhibitors based on our template. Click Download CSV Template to fill in the information for your Expo and save it. Once completed, upload the file back into RingCentral Events and finally click on Next.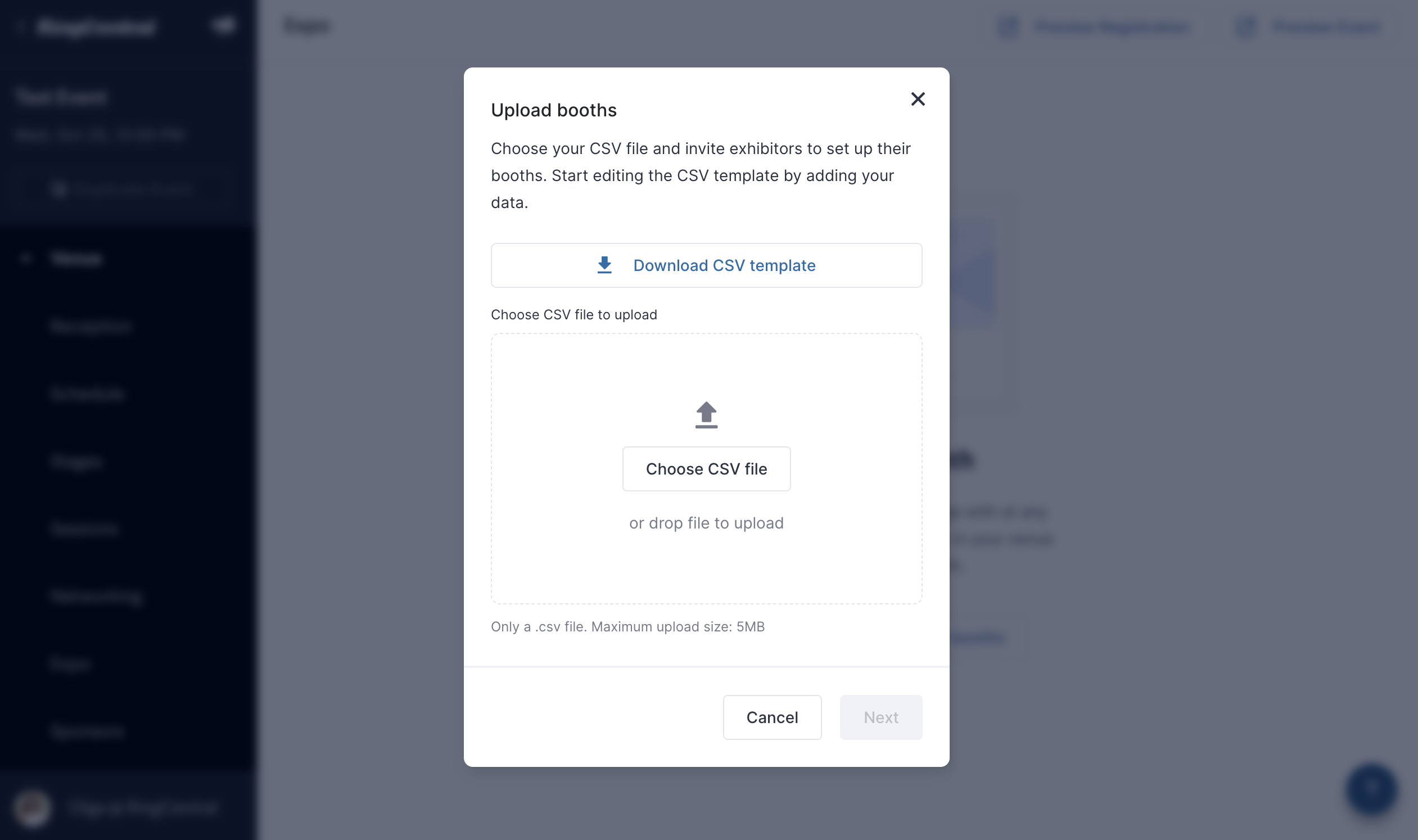 The platform will automatically match the columns from your file. You can review it and make changes if needed. Click Confirm and invite exhibitors to upload your CSV file. This action will also send an email invite to exhibitors to set up their booths.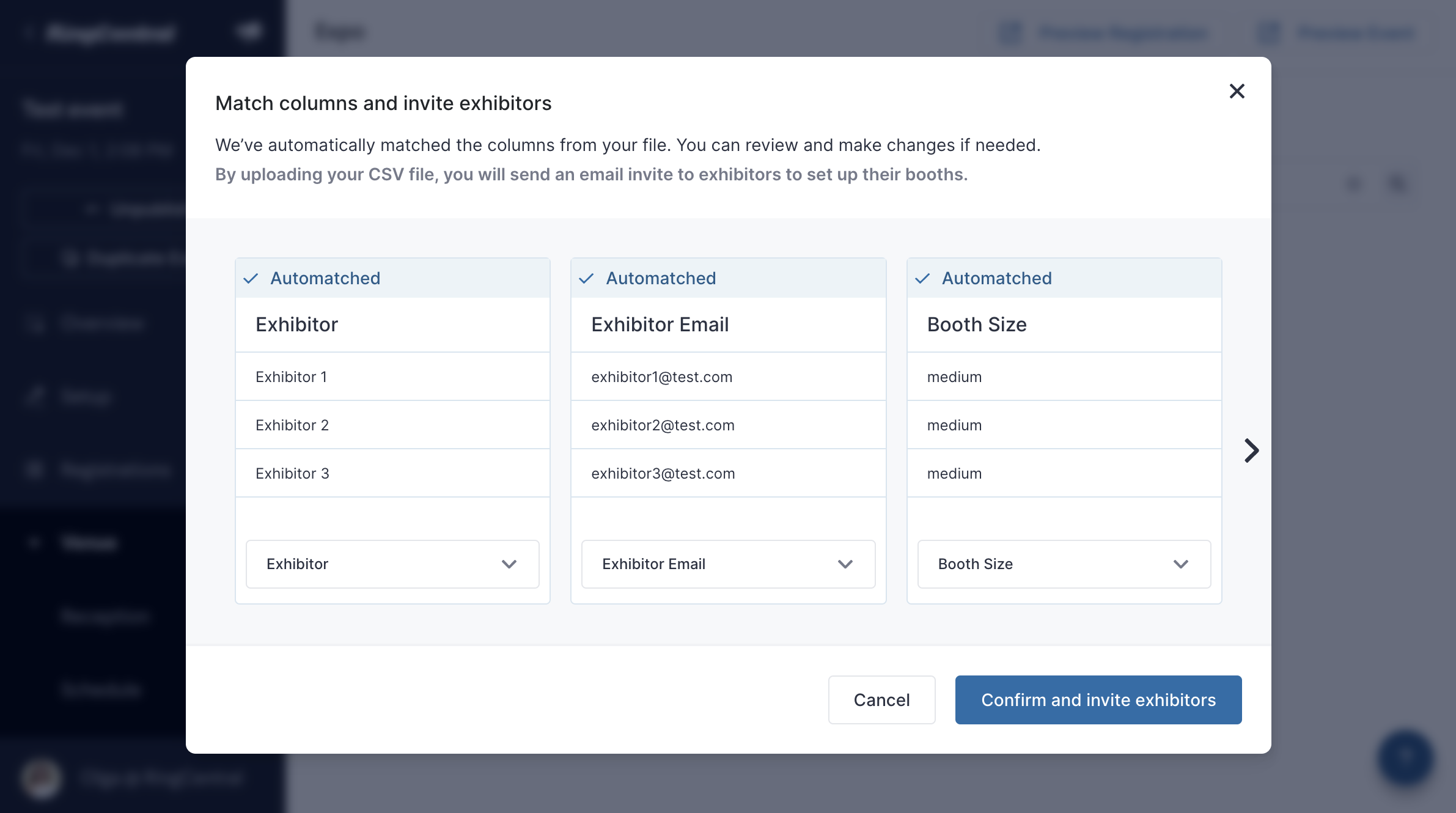 Inviting Exhibitors
Manually
Alternatively, you can create your booths and send the invites manually. Go to the Event Dashboard > Venue > Expo and click Invite Exhibitors.
Note: You have to create at least one Booth to be able to see this button. If you cannot see this option, create a Booth and then return to this page.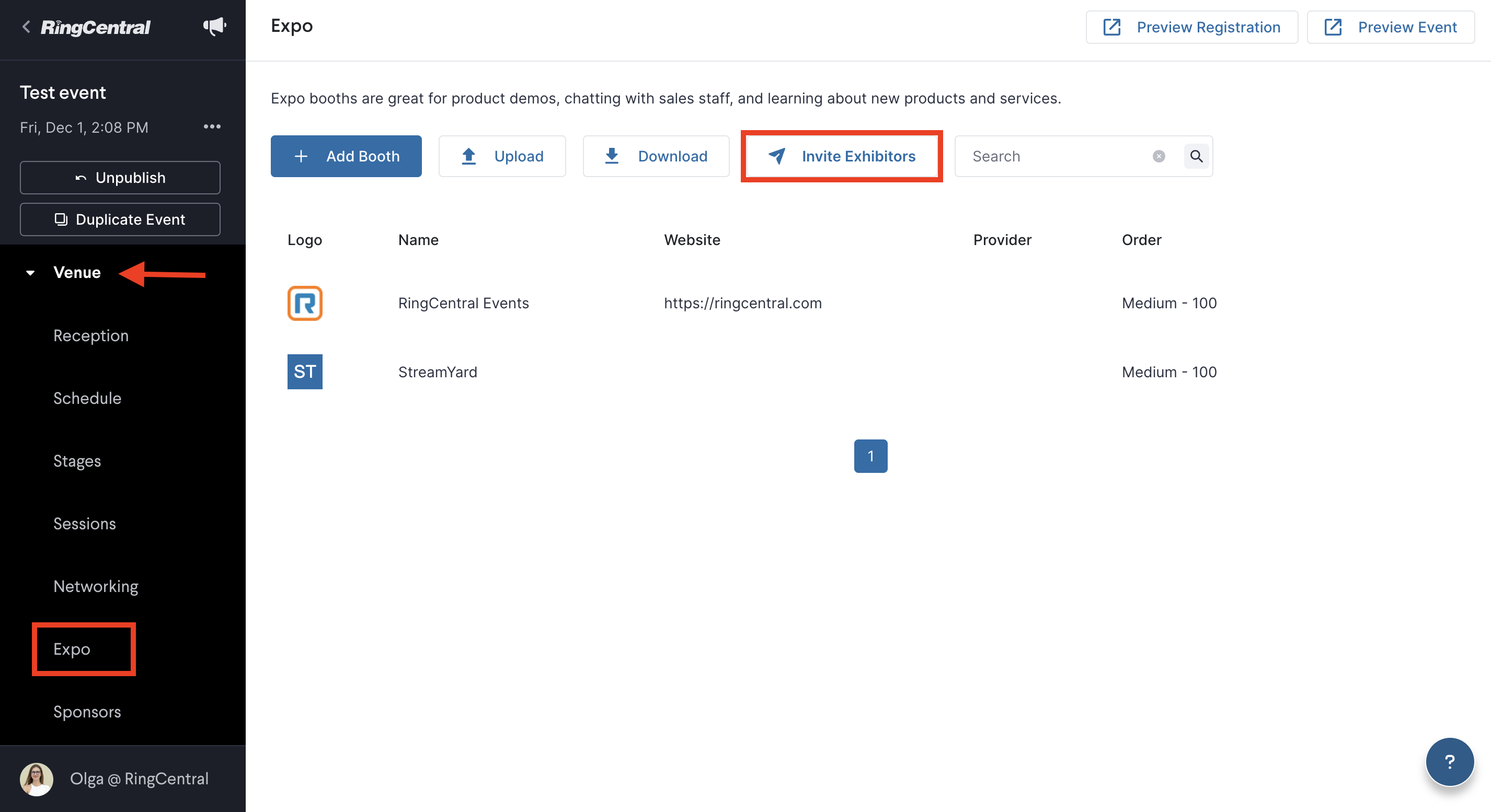 On to new page, enter the email of your Exhibitor, assign a booth and click Send Invite. You will also have the option to create a brand new Booth instead of selecting one of the existing ones. In this case, you will also need to select the booth size: large, medium, small or mini. 
Tip: By sending out the invites manually, Organizers can assign multiple Exhibitors to the same Booth. It's also possible to send invites to more Exhibitors after uploading a CSV file.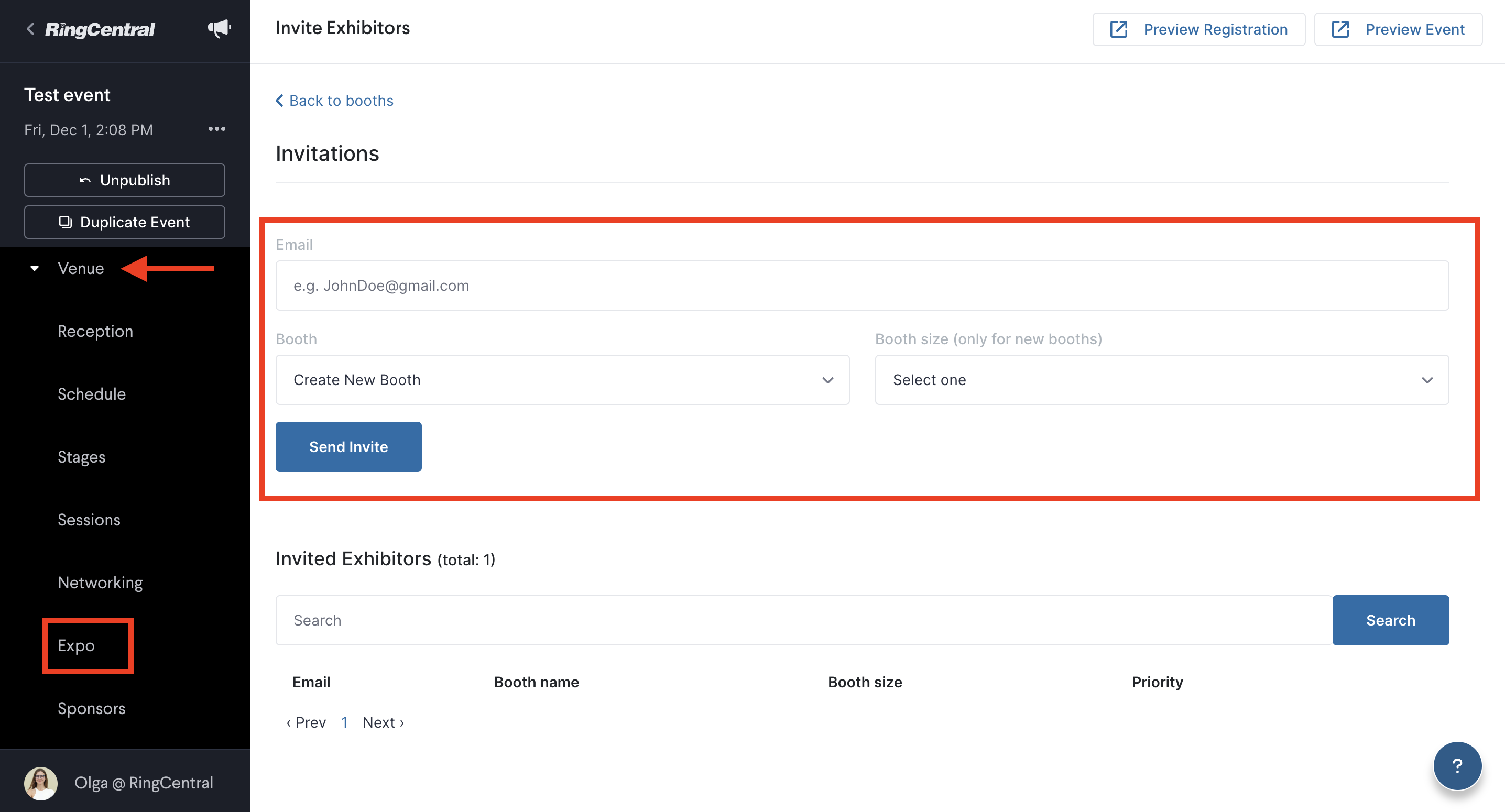 Managing Invites
Once you have uploaded a CSV file or sent an invite to your Exhibitors, a list will start populating at the bottom of the page with all the Exhibitors you have invited. You will have the option to re-send the invitations as needed or remove the Exhibitor.

Note: Each Exhibitor has to be assigned to a specific Booth, therefore, if you delete a Booth, then any invitations that were assigned to that Booth will also be deleted. In this instance, you will have to re-invite any associated Exhibitors to new Booths if you would like to them to have access to your event.
That's it! Now you know how to invite Exhibitors to set up their Booths. Once they have registered and accepted the invitation, they will be able to access the Booth settings. You can forward them this guide: Setting up an Expo Booth as an Exhibitor