If you cannot share your screen, it is likely that the button for this function is greyed out.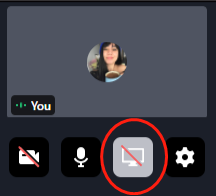 Ensure you are connecting to the event using a computer, as screen sharing is not supported on iPads and other mobile devices.
If using MacOS, follow I can't share my screen on Mac for further troubleshooting.
Ensure you are using the most updated versions of Chrome, Firefox, or Microsoft Edge for Windows 10 and up. See Browser compatibility for virtual events on Hopin for more info.
Check to see if the maximum number of participants has been reached. If it has been reached, the screen share button will be greyed out as a screen share is counted as a participant. Since the default maximum number of speakers (sharing audio and video) allowed in a session is 50, if you have 49 speakers in a session and one of them decides to share their screen, the screen share will be counted as the 50th person. However, these limits can be manually set lower than 50, so please check your Event Dashboard > Venue > Session settings under "Maximum participants."