While the RingCentral Events browser based app is a great way to connect to events hosted on RingCentral Events, the mobile app (iOS and Android) makes it even more convenient for attendees to watch events.
Note: We recommend at least iOS/iPadOS version 14 or higher and Android version 10 or higher for the best compatibility with the RingCentral Events Mobile App.
RingCentral Events App Limitations
The RingCentral Events mobile app is the only recommended way for speakers/attendees with no access to a desktop or laptop computer to go on-screen with audio and video on iOS/iPadOS, while using Safari is not supported. This only works for Sessions, and Expo Booths (set as Sessions), it isn't possible to go on-screen on the backstage/stage.
You cannot screenshare when participating from a mobile device.  If speakers/presenters are sharing a YouTube video in a session, currently it will not display for mobile app users.
Replay and Networking are not available in the RingCentral Events Mobile App and can currently only be accessed on a web browser.
Note: Schedule segments linked to the Replay area won't be visible in the app. However, segments linked to Networking will be displayed within the app. Clicking on these segments will redirect attendees to the Networking page in their mobile browser.
Please note the app only provides basic functionality and is mainly designed for attendees. We strongly advise whenever possible to use a desktop or laptop computer to enjoy the full RingCentral Events experience and functionality.
Additionally, event registration cannot be done within the app. Only events that you have registered for will be listed on your welcome screen. If you are not registered for an event, you will need to access the event's registration page with a web browser on any device. Please follow the advice in our Browser compatibility for virtual events guide in regards to supported browsers/devices for our website.
Also note that if multiple segments are added to one Schedule item, only the first segment will display on the Schedule and be accessible through the app. See our guide How to create a Schedule for an event fore more information.
Note: When you're using a dark mode on your mobile device, it will not be supported by the RingCentral Events app. If you're using a developer mode forcing all the apps to switch to the dark mode on Android, you may need to switch it off to avoid design issues in the app.   
RingCentral Events Mobile App Overview
When you open the app, you will be asked to log in to your RingCentral Events account.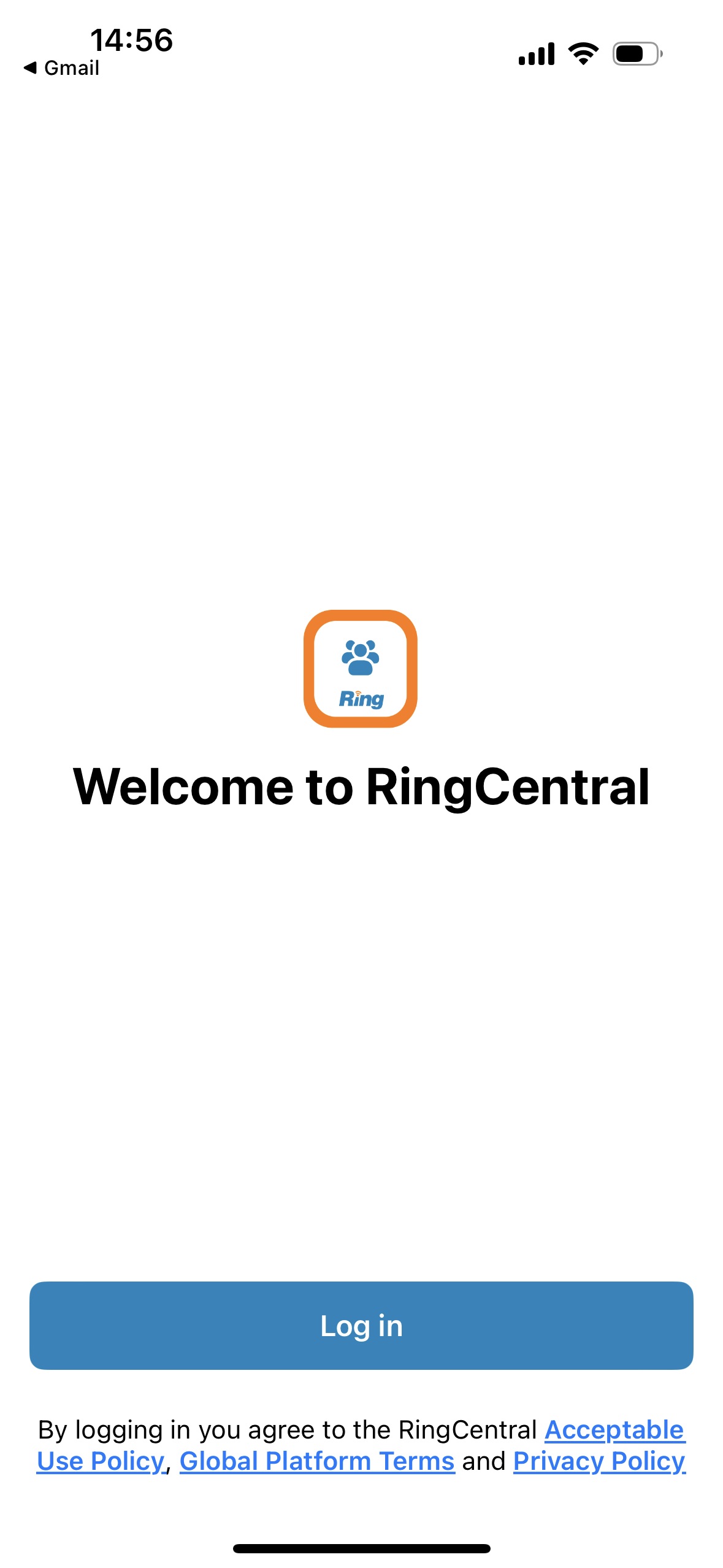 After logging in, you will be able to see a list of the live and upcoming events that you are registered for.
Note: This will include all events that you have registered for using the same account you logged into the app with. Therefore, if you registered for an event on a web browser using the same account, you will automatically be able to access the event from the Mobile app.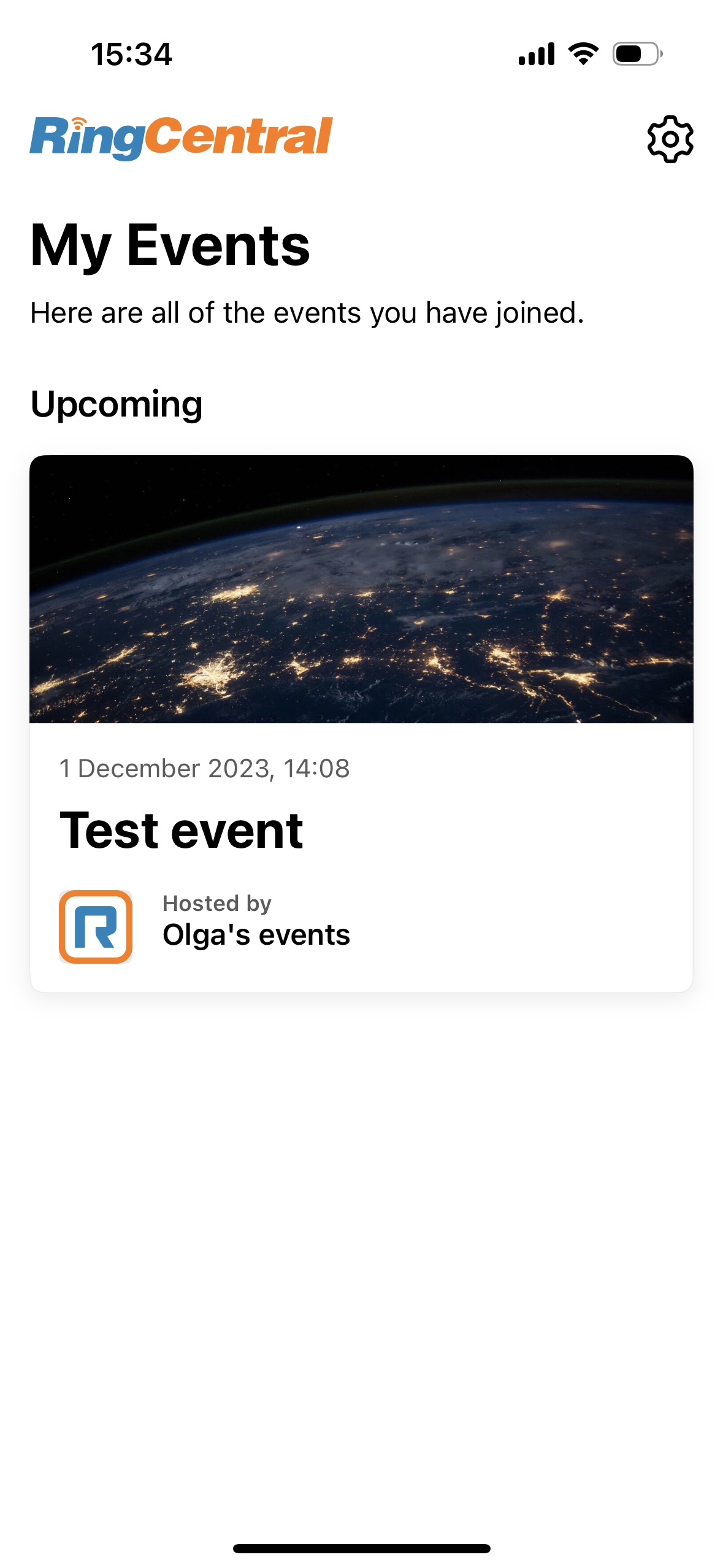 Tapping on any of your events will take you straight into the reception page of that event. From this page, you are able to get anywhere within the event.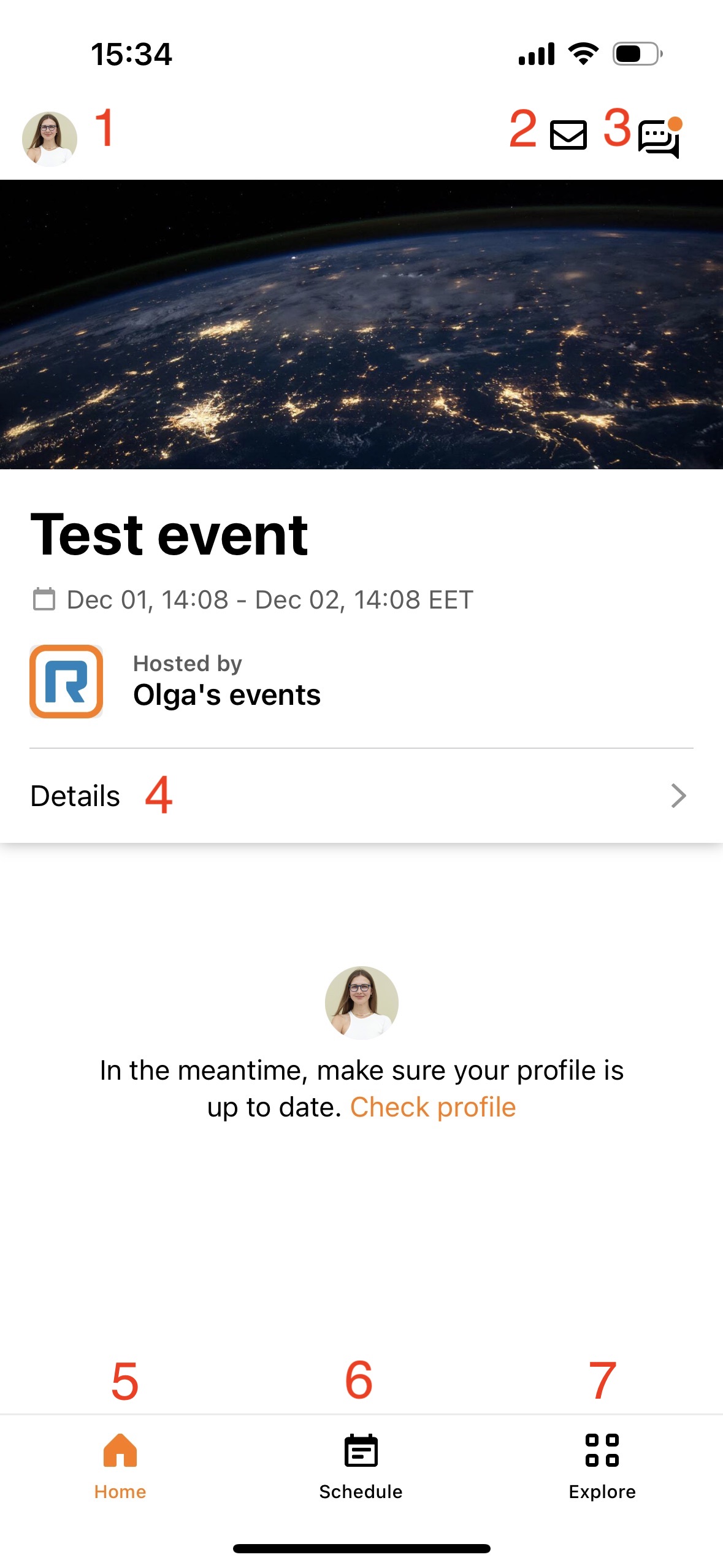 Click on your profile picture in the upper-left corner to be able to edit your profile, view your ticket (Hybrid and Onsite events only), and exit the event.
Messages: Access your direct messages. 
Event Activities: Access Chat, Polls, Q&A and the People tab, when enabled.
Details: This shows the description and additional information that Organizers have provided for the reception page
Home: This will always take you straight back to the home page where you can see what is live and access the event details
Schedule: Easily see what is happening and when - this tab will also give you access to "My Agenda" so you can see which segments you have registered for as well as personal meetings.
Explore: This section allows one-click access to everything that is included in the event (Stage, Sessions, Expo, Speakers, Floor Plans)