During a presentation hosted on RingCentral Events, not all attendees get the chance to hop on camera and ask their questions. While the chat area may be a great way to share queries, the Q&A feature is an even better way to do it!
You can find the Q&A feature for the Event, Stage, Expo, and Sessions pages, but not Networking. 
Asking a question as an attendee
Note: Attendees can ask up to 500 questions per event segment. 
Go to your desired event segment (e.g event-wide). Click on the Q&A tab. Click the ask a question button and type in your question.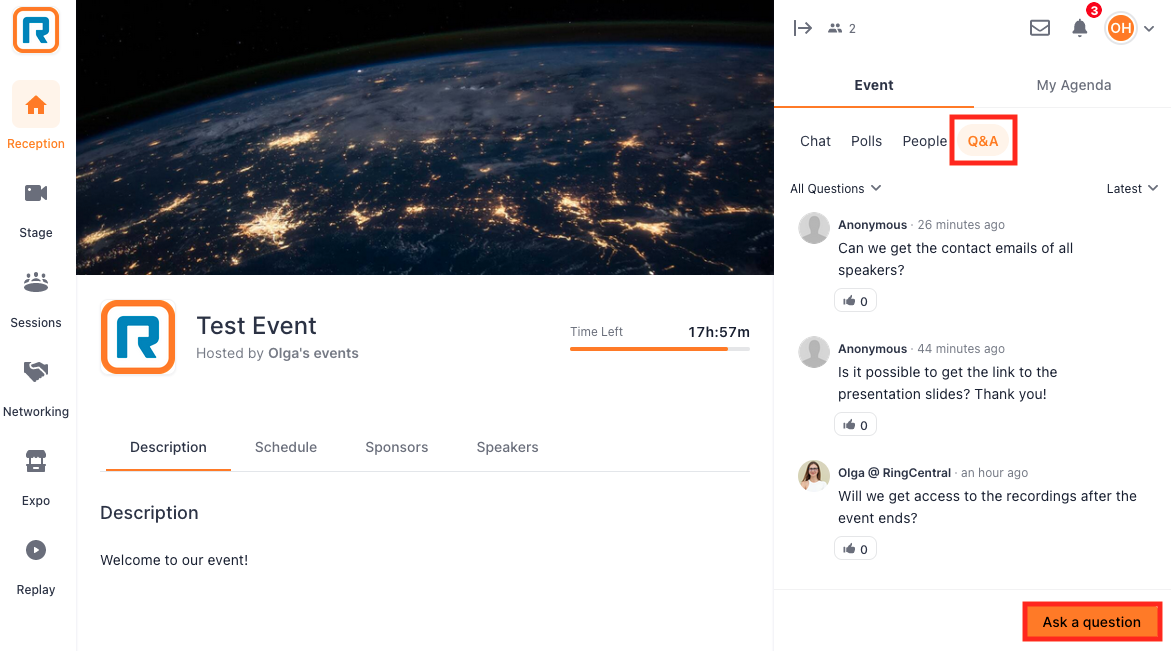 You can choose to be anonymous by using the Ask anonymously toggle button.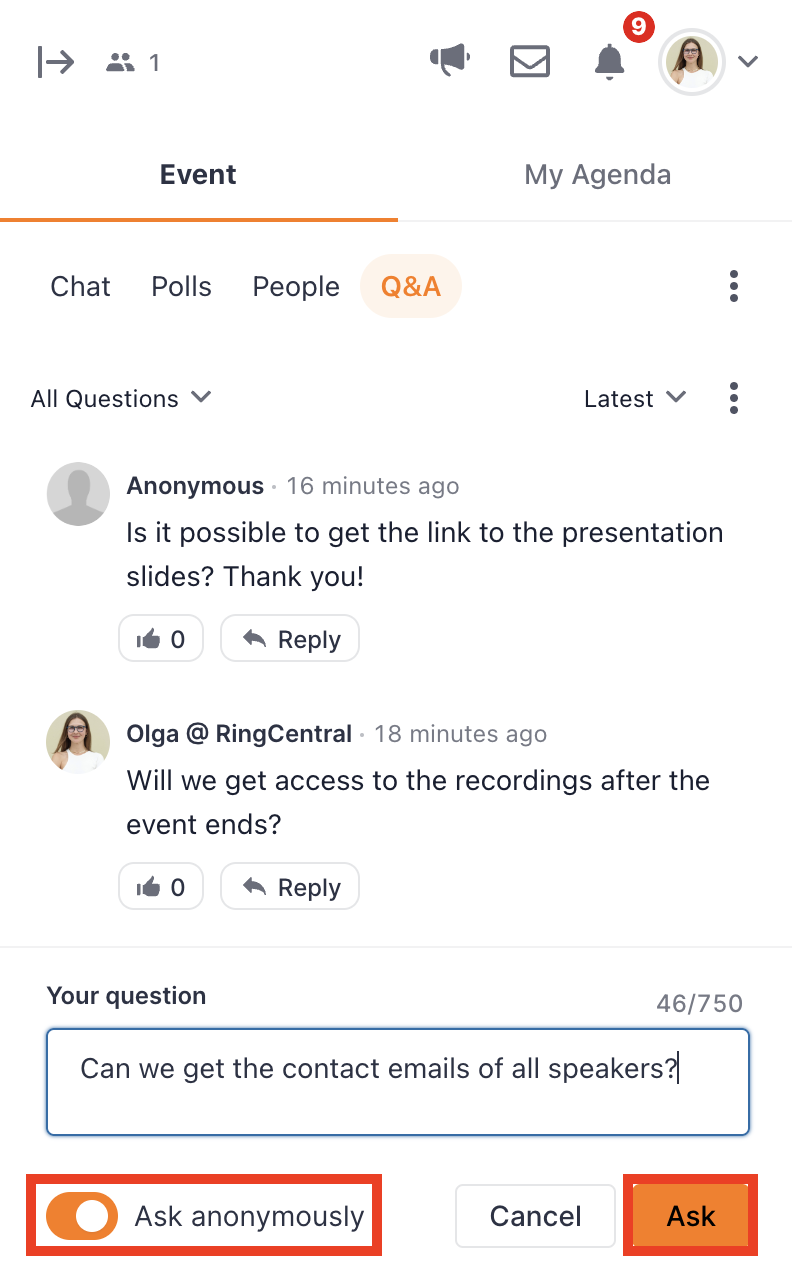 Don't forget to click the Ask button to post your question.
Q&A auto-categorization
When 10 questions are posted in the Q&A tab, our AI system will automatically categorize them. The AI will generate up to 5 categories based on the topics of the questions. Each new question will be placed into an existing category or categorized under 'Other' if it does not align with any of the predefined categories.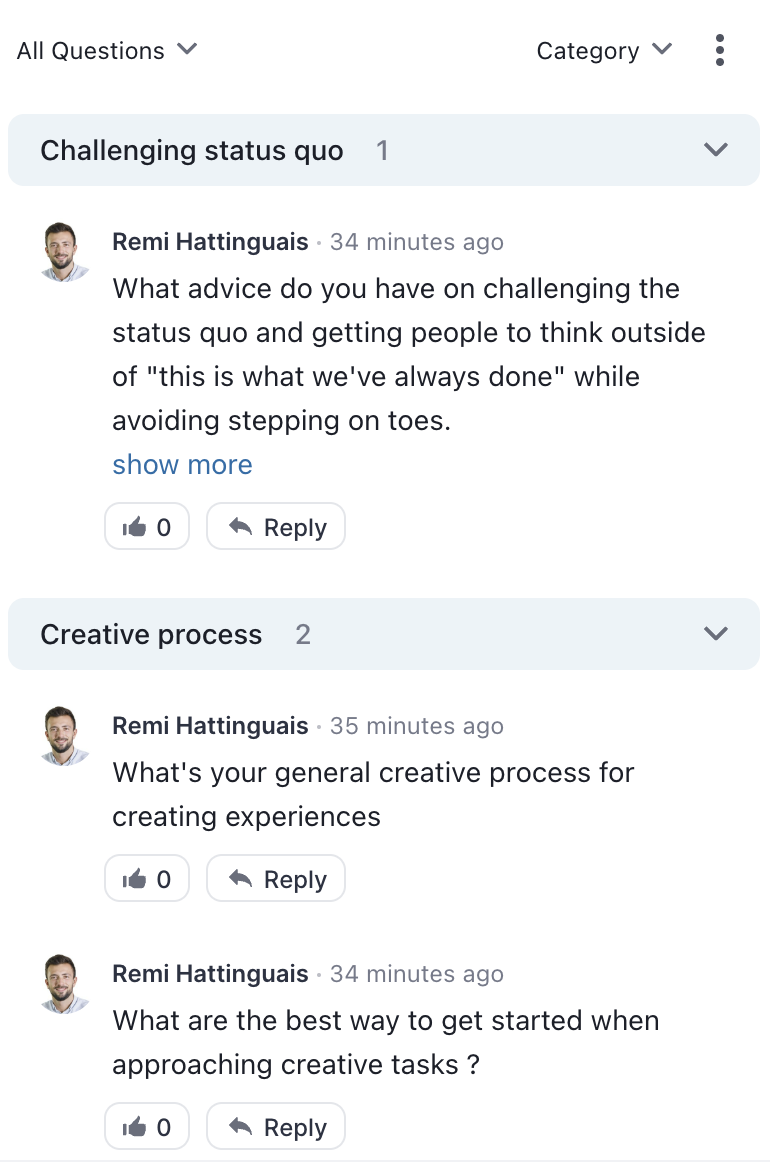 Upvoting a question
Attendees can upvote each question once by using the upvote button. To remove the upvote, simply click the upvote button again.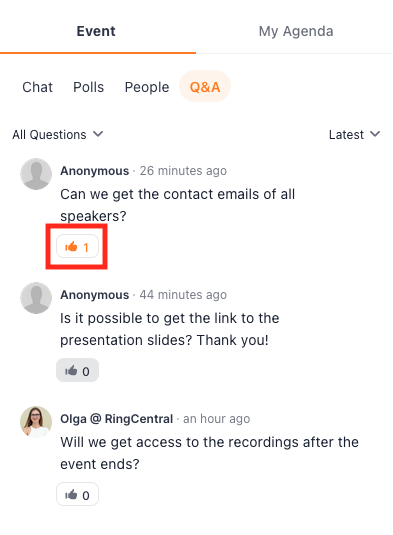 Note: If you choose to filter the questions based on popularity, those with the most upvotes will be displayed first.
Answering a question
Organizers are able to reply to a question anywhere in the event by clicking the reply icon underneath each question. 
Note: Speakers with a Speaker Profile for the event can answer Q&A event-wide. Moderators (who aren't added as Speakers) can only reply to questions in Sessions where they've been assigned as a Moderator and not in other areas of the Event.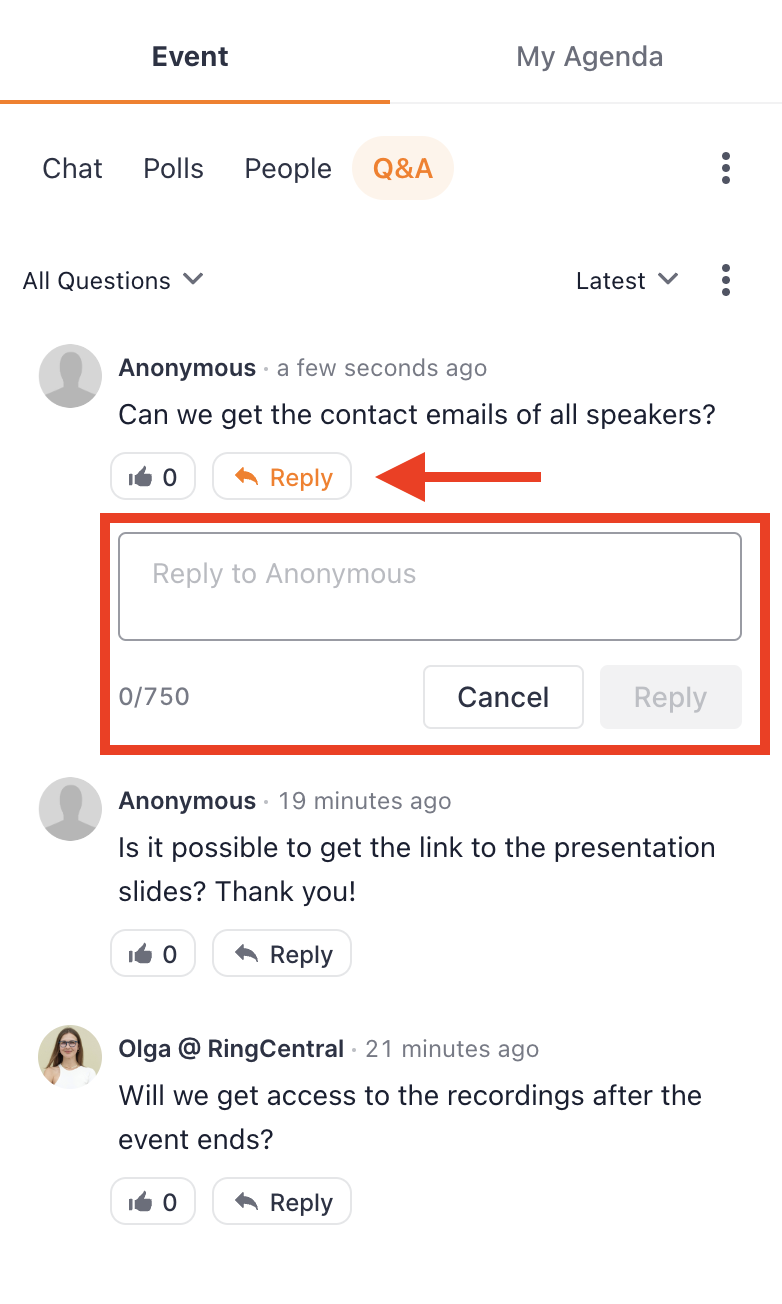 Note: Questions and answers are limited to 750 characters.
Marking a question as "answered" 
Once an question has been answered the Organizer can mark it as "answered" to display a badge next to it to say as such. Click on the 3 dots next to the question and select Mark as answered. The question will then display a badge saying "answered".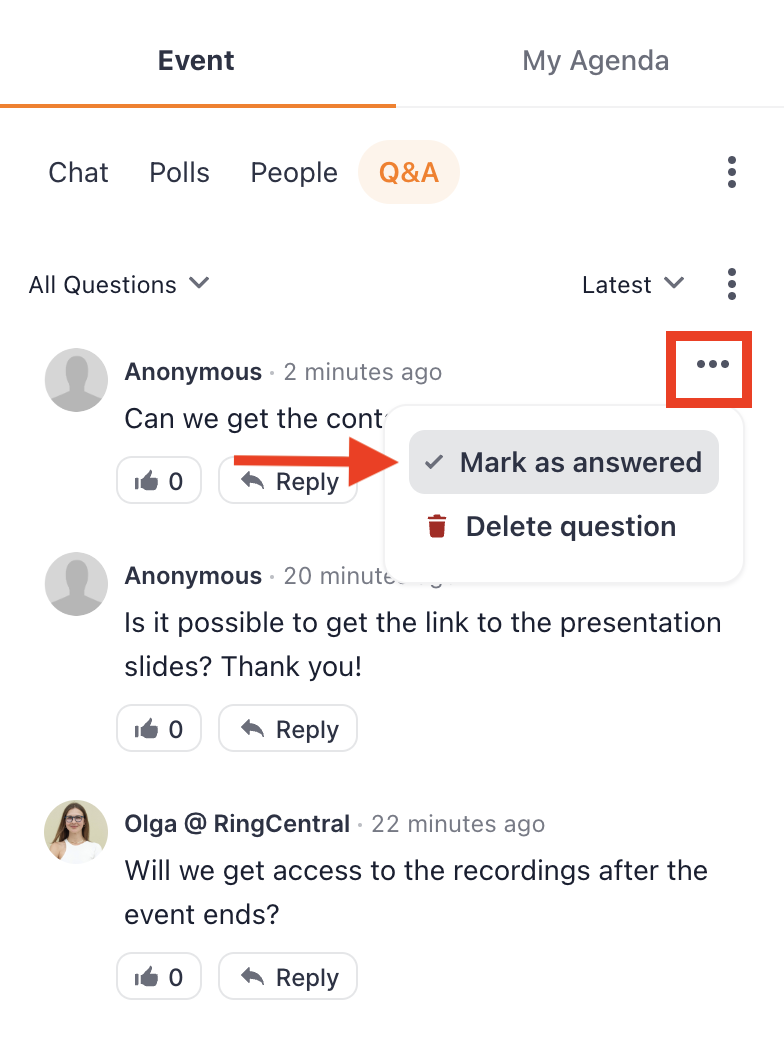 The question will then display a badge saying "answered". The question can be marked as unanswered in the same way.

Moderating Q&A as an Organizer
There is a global moderation setting in events for Q&A, which allows organizers to make all questions in Q&A for the event either moderated or un-moderated.
You can enable/disable Q&A moderation in Event Dashboard > Venue > Venue Controls. Tick the box to enable Q&A moderation.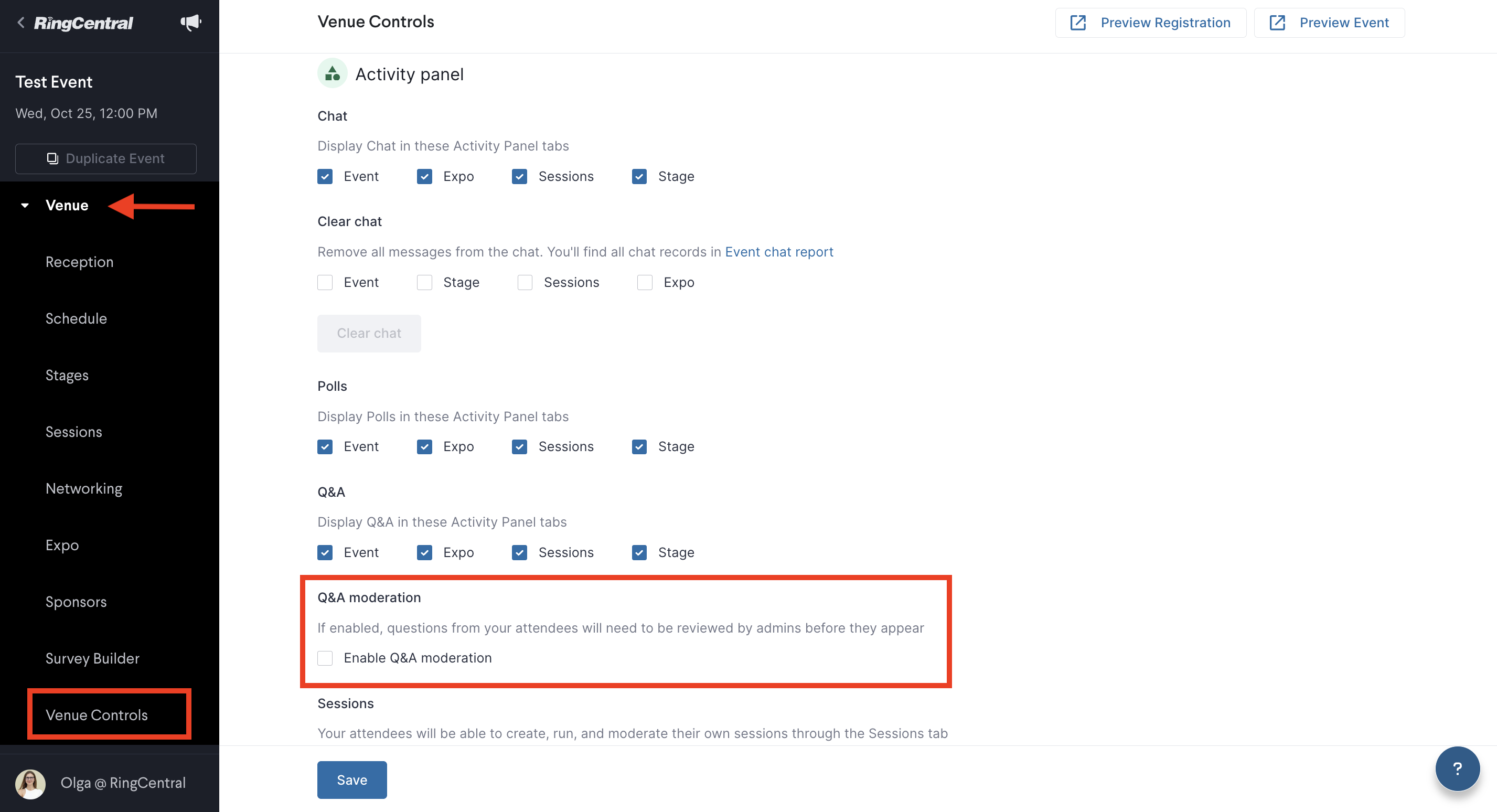 When the moderation feature is turned on, questions from attendees will have to be reviewed by Event Organizers or Moderators before they are displayed live for everyone to see.
As an organizer, you will see all of the pending Questions waiting to be approved. 
As an attendee, you will only see the questions that you have submitted and are waiting to be approved. If you submitted a question as Anonymous, you will no longer see this when it is pending approval.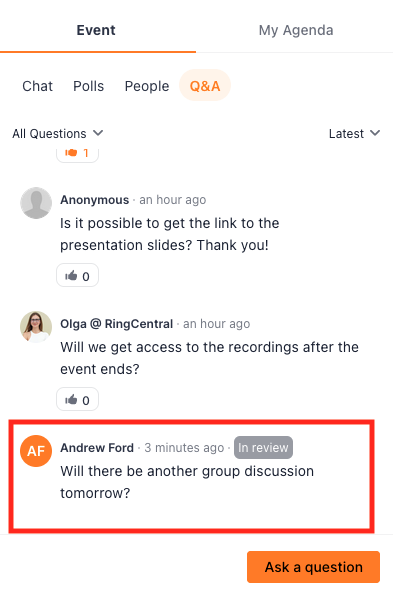 As an Organizer, click on the 3 buttons to the right of each question to display a drop down menu. From the menu, click the Approve button to approve the question to be displayed to everyone.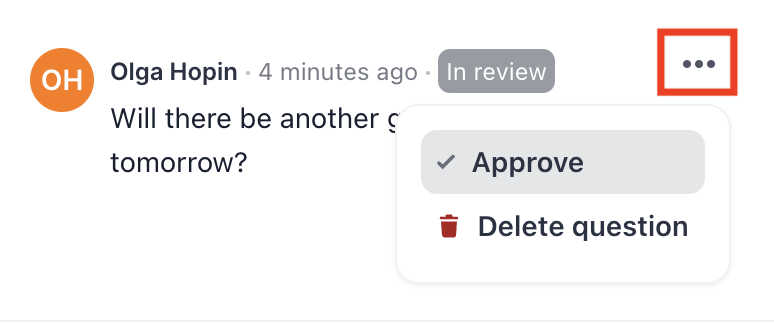 Note: Assigned Moderators for a specific Session or Booth are also allowed to approve, reply, and delete Q&A submissions (within that Session/Booth). Only Organizers can approve, reply, delete Event Q&A submissions.
Making a Q&A announcement
If you feel that you aren't getting enough responses on the Q&A tabs of your event, you can choose to send a notification to your Attendees to encourage them to get involved. 
Simply head over to a Q&A tab within your event and click Announce Q&A at the bottom of the right hand side panel.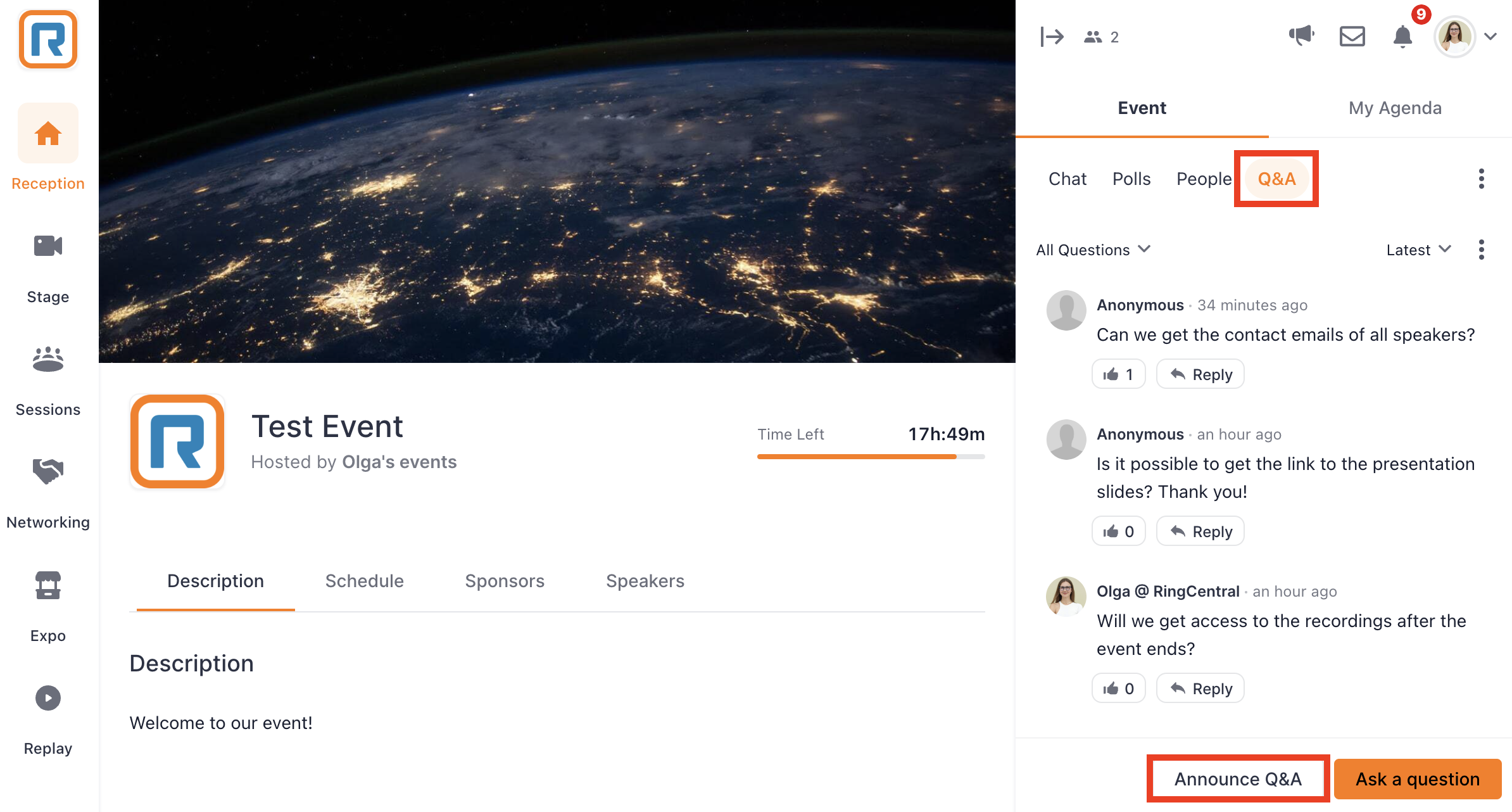 For more information, check out this article on how to announce your Q&A.
Filtering questions
Use the 2 drop down menus at the top of the Q&A panel to filter the questions.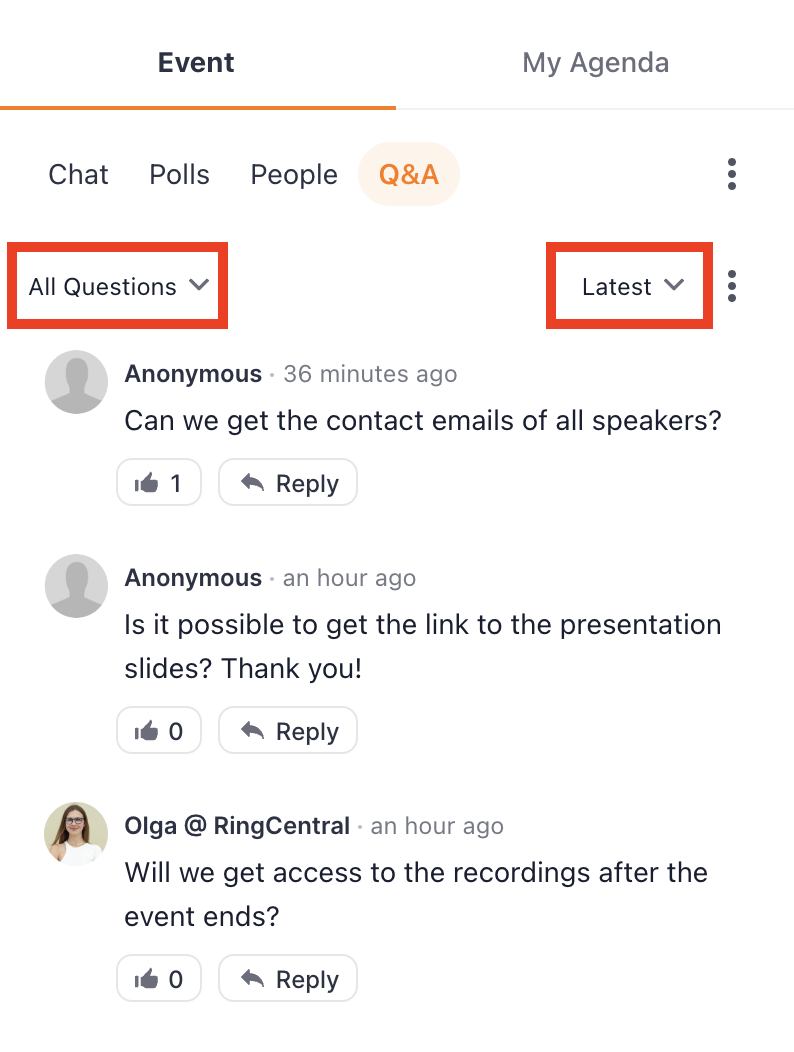 From the left hand menu you can choose:
All questions
My questions
Answered
Unanswered
From the right hand menu you can choose:
Note: when you filter your questions by "latest" or "popular", they will still be grouped in the following order: unanswered, user's questions, answered questions, pending approval. 
Deleting questions
Organizers and moderators are able to delete all questions and answers but attendees are only able to delete theirs.
Note: Attendees can't delete their questions if it was asked anonymously.
To delete an individual question, click on the 3 dots next to each question and click Delete question then click Remove from the pop-up that appears.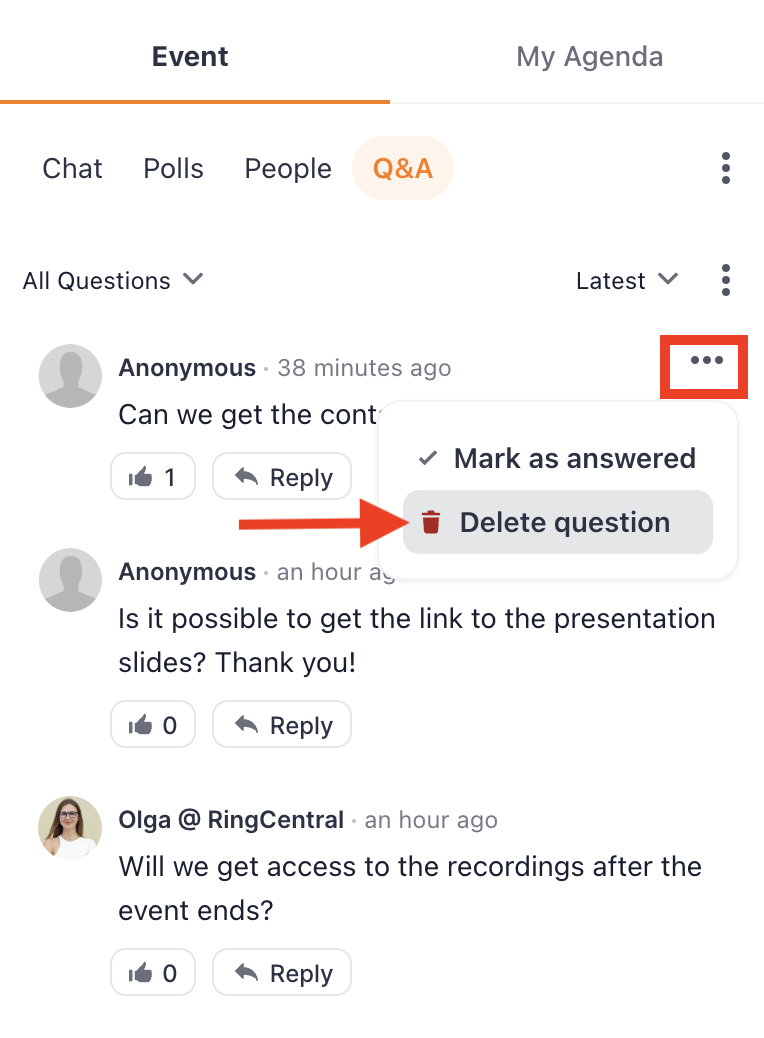 To remove questions in bulk (e.g when a new segment is starting), you can use the three-dot menu and click Delete questions to remove multiple questions at a time. Next, you can tick the box for "Select all" or you can select each question individually. Click Delete selected and then click Delete questions from the panel that appears to confirm your selection and delete the questions.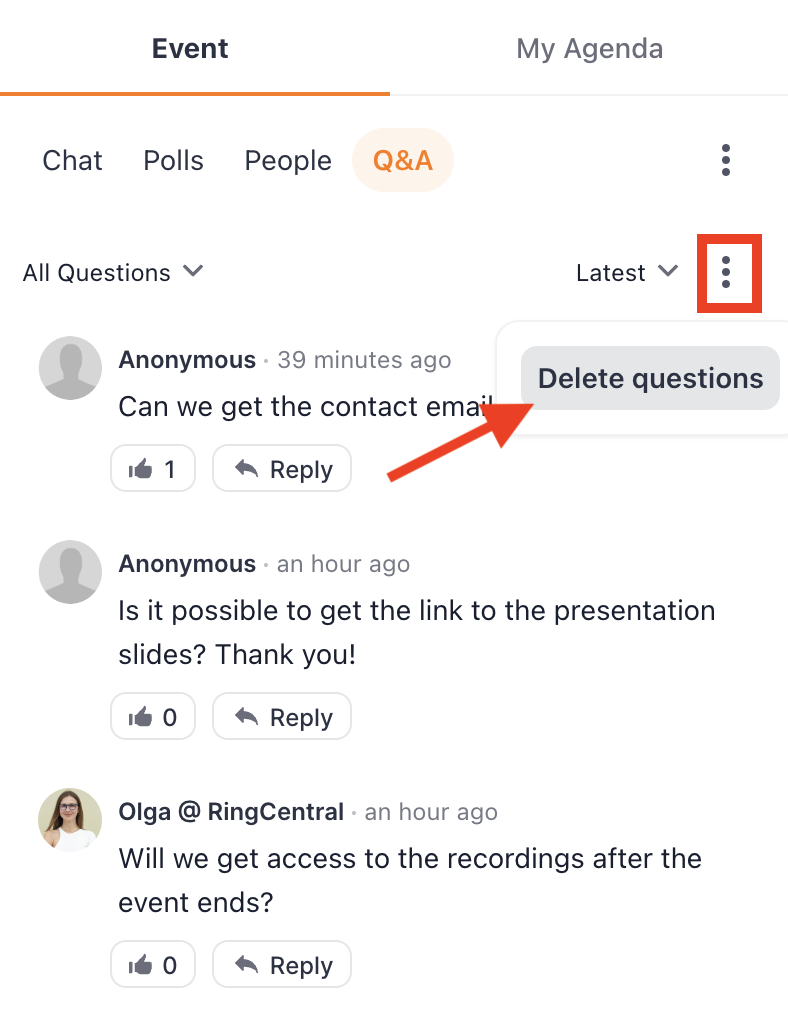 Disabling Q&A
To disable the Q&A feature across the event and within segments of the event, please see this guide.
You can also make use of our Slido integration for your Q&A sessions.
Question and Answers report
To access reports for the Q&A, please go to the Event Dashboard > Analytics > Report, find the Q&As Report and click Generate.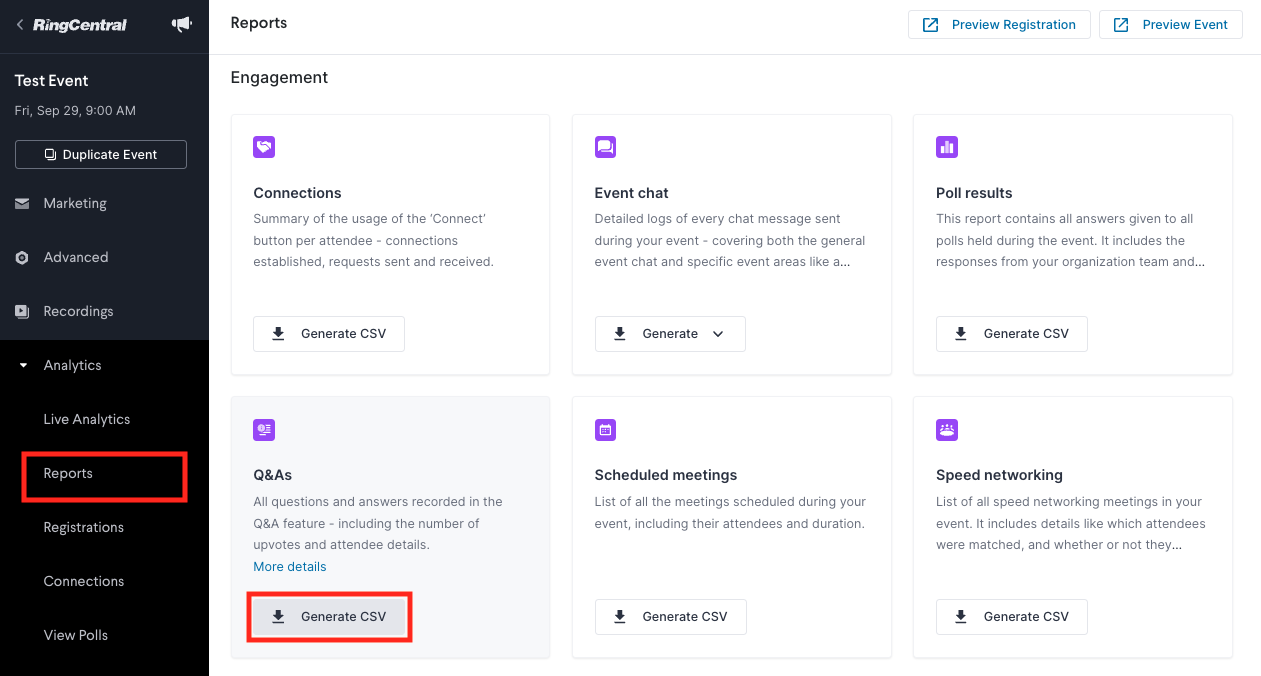 The report contains the questions, the questioner, the number of upvotes on each question, the response, the respondent, the time the questions were asked, the time the questions were responded to and if the question was removed by the Organizer. Here you can learn more about it: Q&As Report