By adding your Google Analytics tracking code to RingCentral Events, you'll be able to track page visits on your RingCentral Events classic registration page.
Note: The existing integration doesn't track page visits on the Canvas registration page and inside of the online event venue (e.g. Stage, Reception, etc). Google Tag Manager is not supported.
Starting July 1, 2023, standard Google Analytics Universal Analytics properties stopped processing data and were fully replaced by next-generation Google Analytics 4 properties. To get started, you need to create a new GA 4 property on your Google Analytics account. Please use your event registration page URL as the Website URL when creating a property. You can refer to the Google Analytics Help Center if you need assistance with it. 
Once the property is created, copy the Measurement ID from your Google Analytics account.

Go to your Event Dashboard > Marketing > Sharing and Tracking. Paste your tracking ID to the Google Analytics Tracking Code field. Click Save for changes to take effect.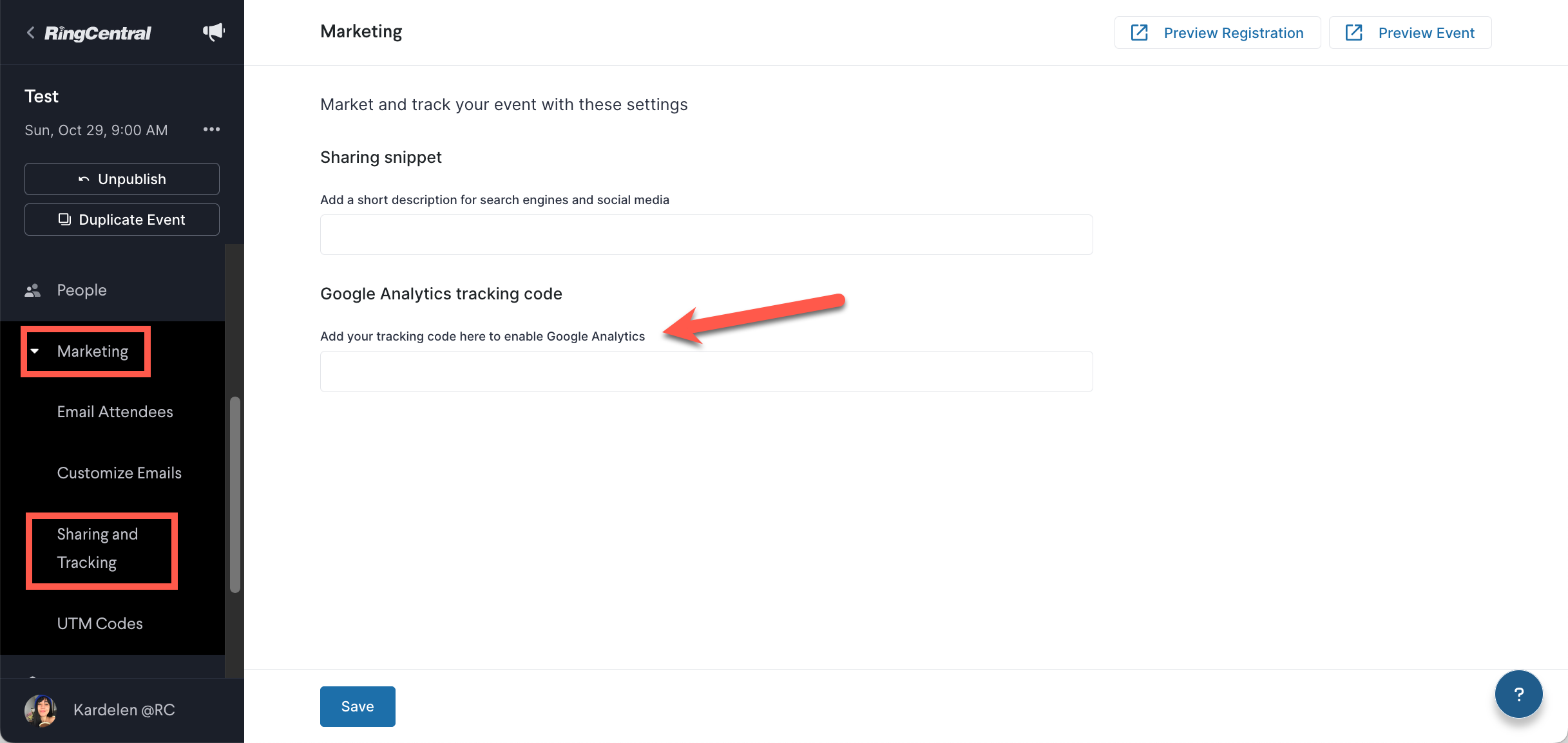 How to verify your Google Analytics Tag is working
Once you have successfully installed the Analytics tag, it can take up to 24 hours for data such as traffic-referral information, user characteristics, and browsing information to appear in your reports. However, you can check your web-tracking setup immediately by visiting your event registration page and looking at the Real-Time Report in Google Analytics.
Advanced RingCentral Events Analytics
Taking into account the limitations of our integration with Google Analytics, RingCentral Events' own analytics and reporting would be a better source for detailed insights and event data. RingCentral Events Advanced Plans get access to the advanced analytics package including the Live Analytics Dashboard. 
Find out more in our guides Event Reports and RingCentral Events analytics and reports availability by plan.
To see reports, navigate to your Event Dashboard > Analytics > Reports page.