Duplicating an event on RingCentral Events is useful to have a test run of your event, double-check any customizations you have made, or even to try out some new ideas. 
For your real, big-deal events, it's highly recommended to start fresh by creating a brand-new event. Duplicating an old event that doesn't include the latest features and fixes may cause inconsistencies and technical issues. 
Let's get started.
Note: Any registrations for these test events will be counted towards your total registrations. Speakers will need to re-register for duplicated events.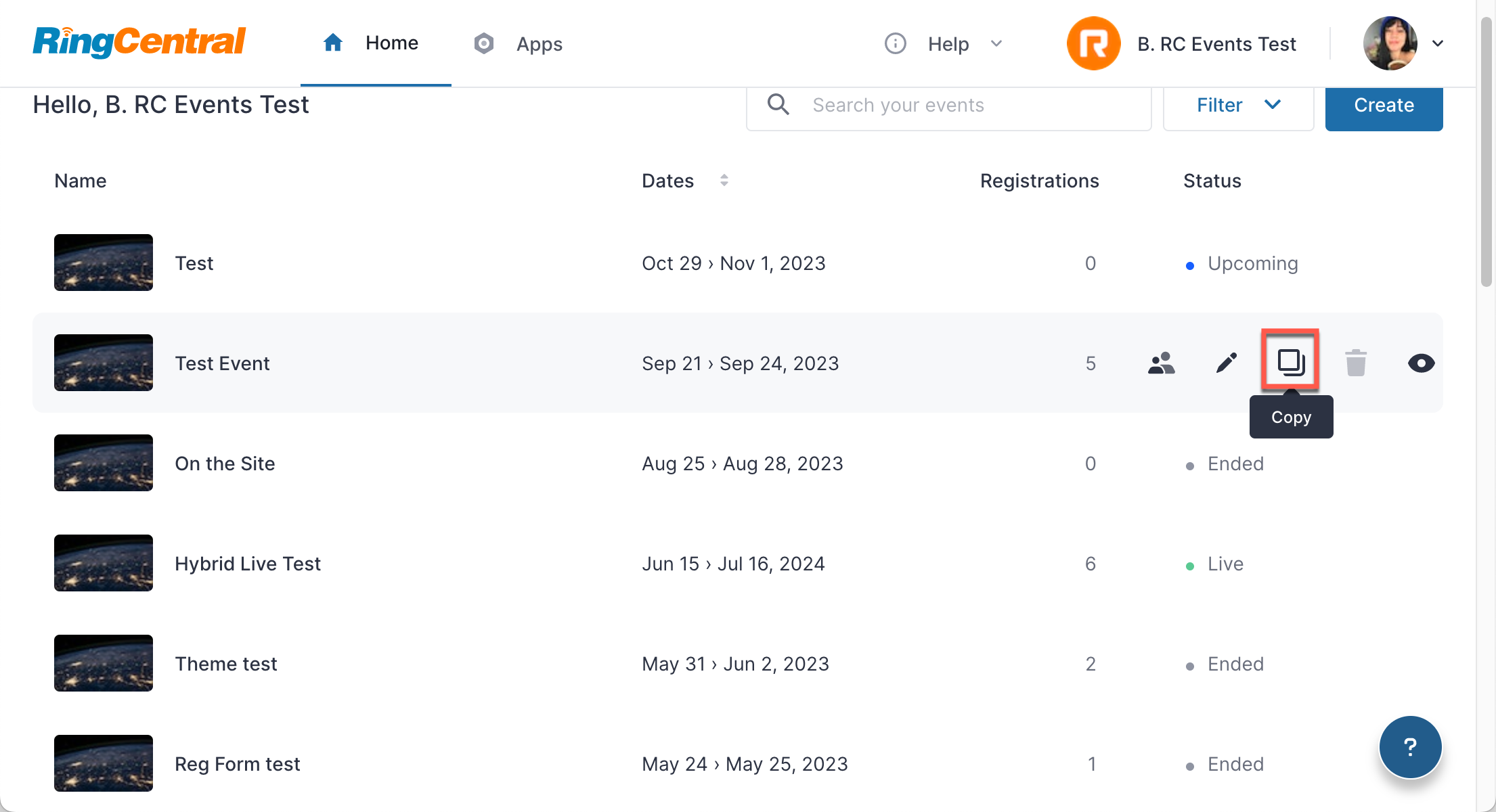 Open the Events page on your Organizer Home and find the event you want to duplicate.
Hover over the name of the event to display some action buttons on the right-hand side and click Copy.
This will take you to the 'Duplicate Event' window for the event you want to duplicate:
Note:
You can also duplicate your event from within the Event Dashboard - simply click the
Duplicate Event 
button on the left-hand side panel.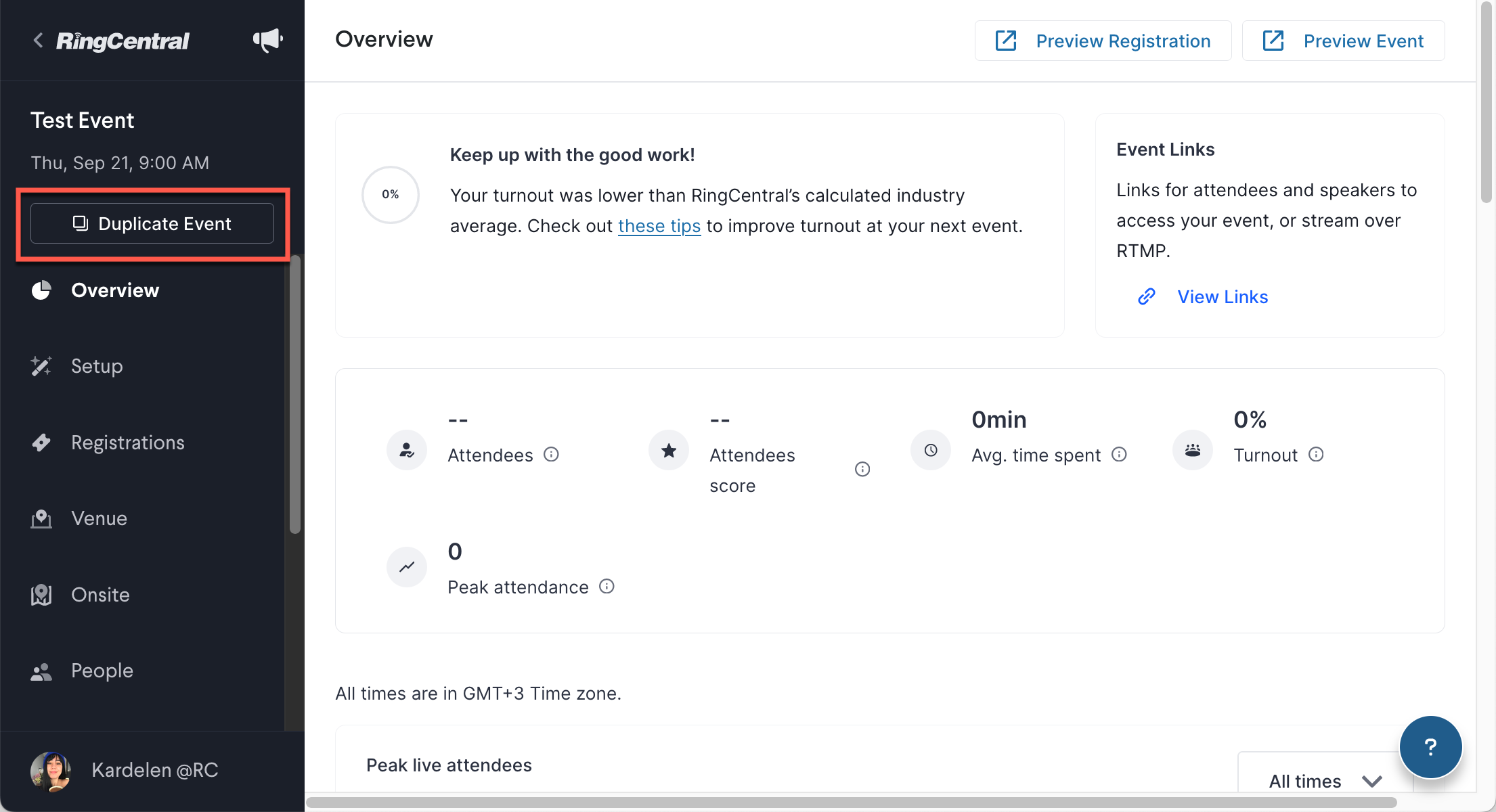 Whichever way you decide to follow, the action will open a new page.
Here, you can rename your duplicated event, and set the start and end time. Once you have configured your settings click Save and Continue.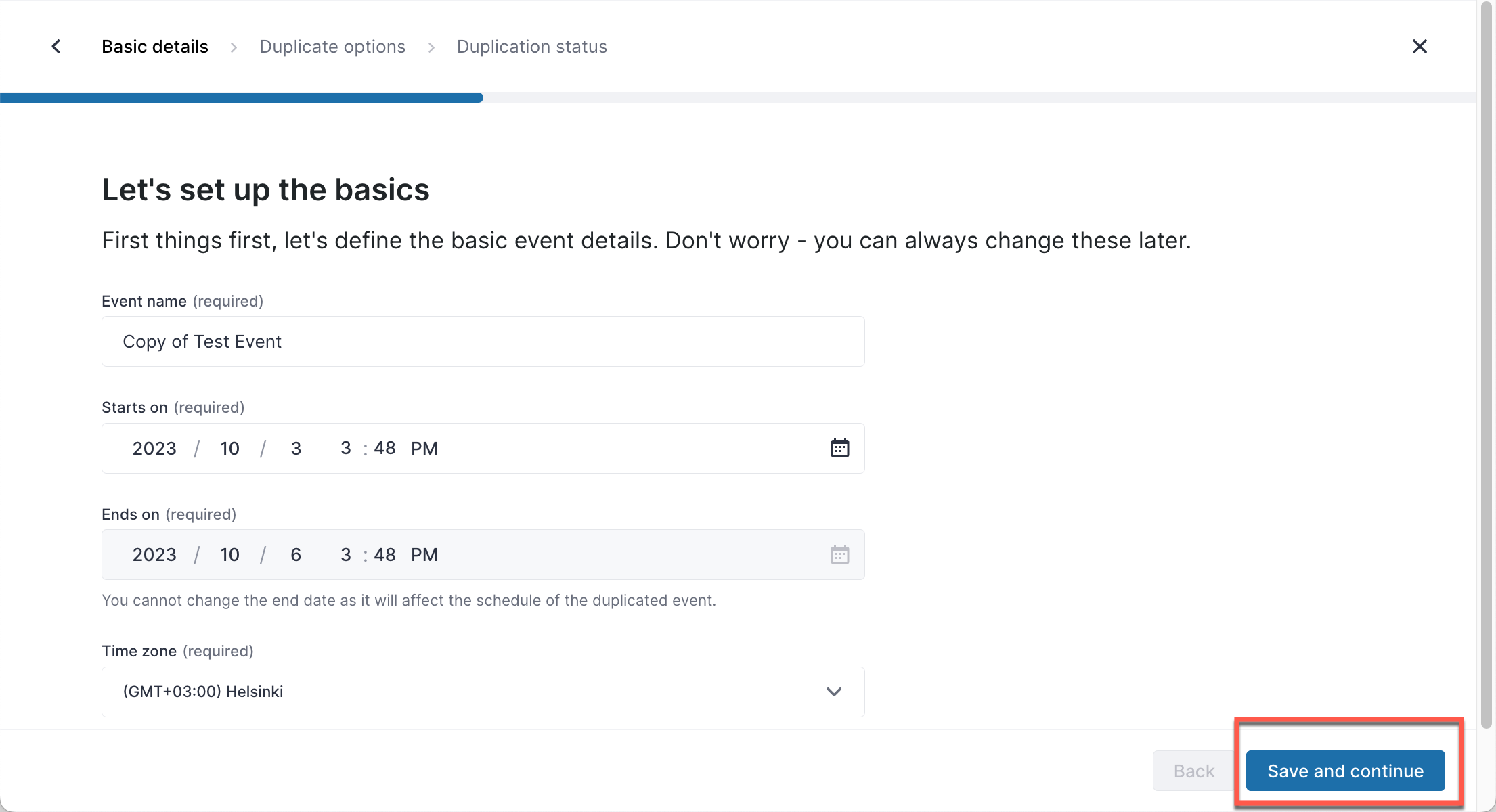 Next, tick the boxes for all of the Event Areas that you would like to duplicate and then click Duplicate. 
Note: Once an event has been duplicated, you cannot change your choice of areas to be duplicated. If you would like to include different areas, you will have to duplicate the event again.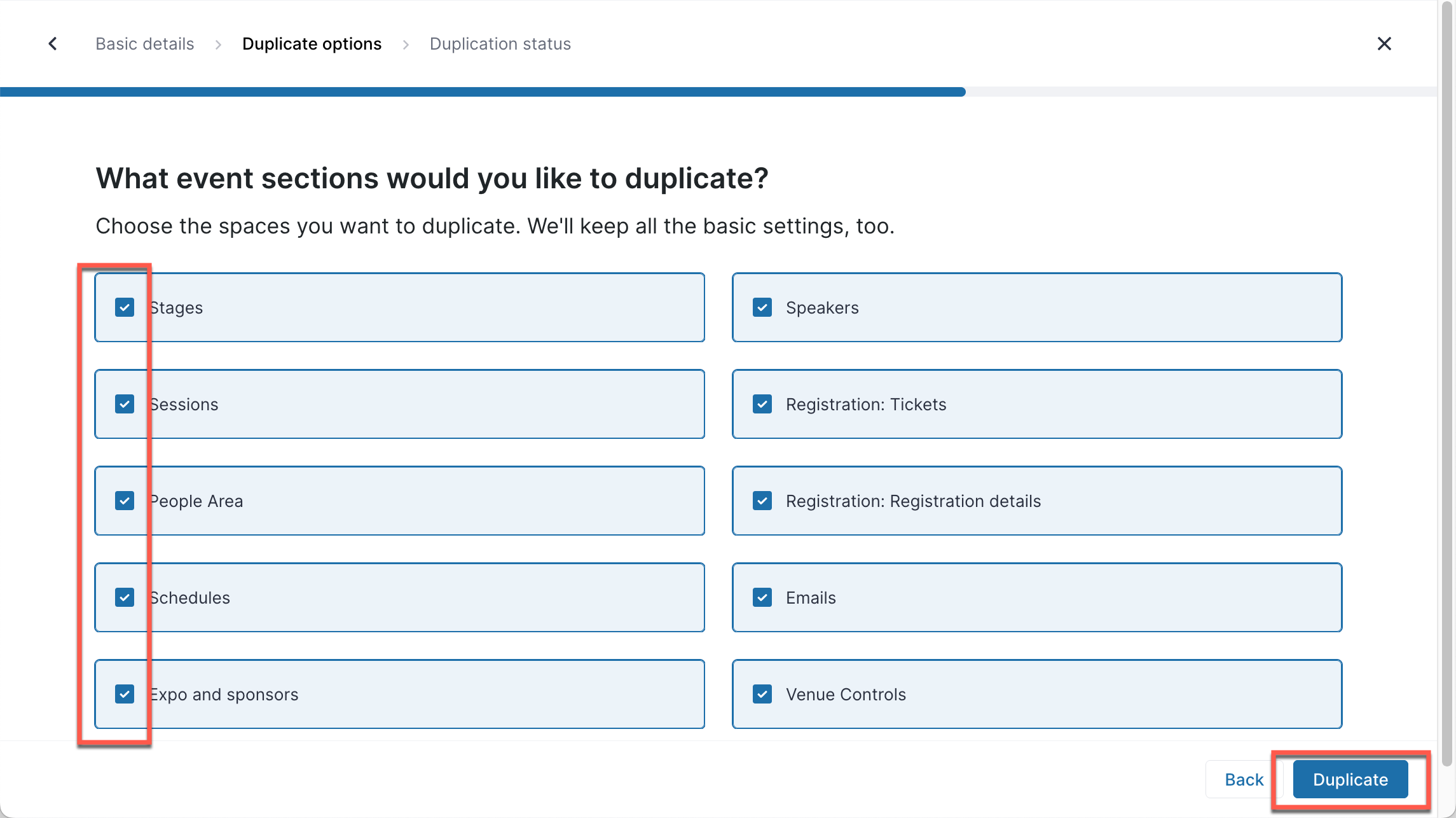 Here you can duplicate the following sections of your event:
Schedule
Tickets
Stages
Sessions
Sponsors and Expo Booths
Registration details
The People Area
Venue Controls
Emails
Speakers
You cannot duplicate the following parts of your event:
Attendee registrations
Customized Text
Custom Area (Enterprise plans only)
Note: Hybrid event data is not currently supported in the duplication process. If you would like to duplicate a Hybrid event, you will need to manually recreate any Onsite features that you have setup.
On the next screen, you will be updated on the status of the duplication. Click Go to dashboard to head back to your Organizer Dashboard. Your new event will be shown here as soon as it is completed.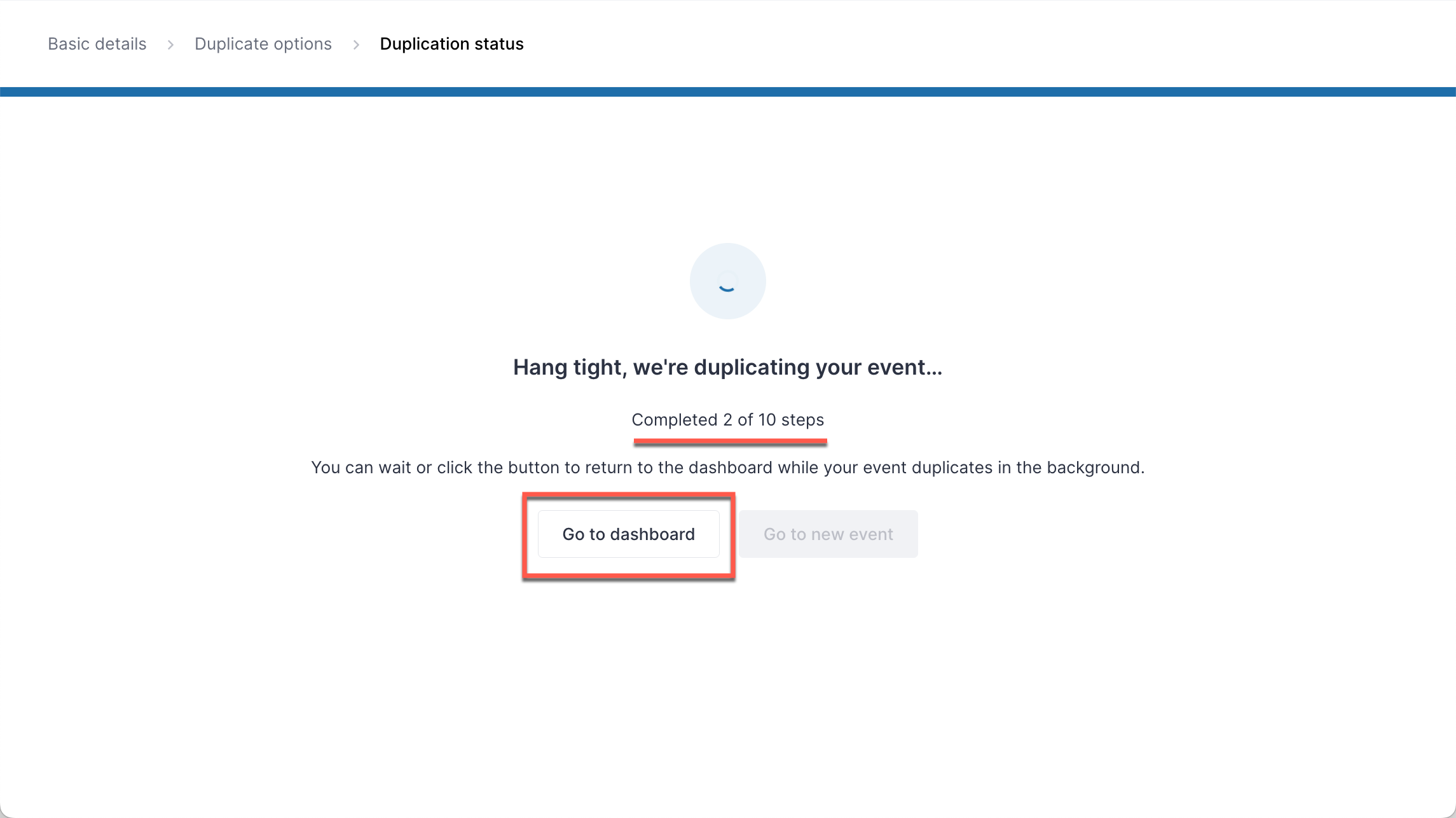 Alternatively, wait on this screen for the duplication to be completed and click Go to new event to begin working on your duplicated event.