As with any events, online or offline, you and your team will probably be a little stressed — speakers can cancel last minute or not show up, a network connection can go down, and an attendee might stray — but don't worry, here are several tips and how-tos that will help you keep your event as stress-free as possible from start to finish.
Tip 1 - You don't need to "start" your event
Everyone can enter your RingCentral event through the registration page link. Your attendees will see a Join Event button and anyone who has registered will land in the Reception area and start interacting. Your attendees will be able to chat, see Polls, and check out other attendees in the People tab.
There is nothing you need to do to "start" your event. It's automatic according to the time you've set for your event to begin. Most organizers "kick off" their event on Stage with a welcome message, but you can begin your event however you please.
Tip 2 - Open three browser tabs
To manage your event, you'll probably want to have three browser tabs open:
The event itself -- so you can join Sessions, Networking, and Expo and other parts of the event as an attendee.
The Backstage -- so you can broadcast to the Stage.
Your Event Dashboard -- so you can make changes to settings of your event on the go, such as end times, schedule changes, adding speakers or sessions, or placing pre-recorded videos on the Stage or in vendor booths. All changes are real time once you save them.
Note:
Only one event tab should have audio playback enabled to avoid issues with echo and audio feedback. When multiple event tabs are open make sure you mute extra tabs accordingly. See our guide Echo in Sessions or Stage for more details. 
Tip 3 - Remember the Stage delay
There is a 10-15 second delay between the Backstage and the front Stage. So when you start broadcasting to the Stage, you won't show up instantly. That's okay. Continue speaking normally. When the front Stage does start streaming, make sure it's muted on your device. You are able to mute the stage by lowering the volume/clicking on the speaker icon in the bottom left of the stage stream. Otherwise, you'll hear an unpleasant echo.
Also, if you ask your attendees a question while you're presenting on the Backstage, their responses in chat will come ~10-15 seconds after you ask the question.
Tip 4 - Mute, delete, or remove unwanted Attendee behaviour
If an attendee is writing inappropriate messages in the chat, you can click the "delete" icon next to their message to delete it instantly.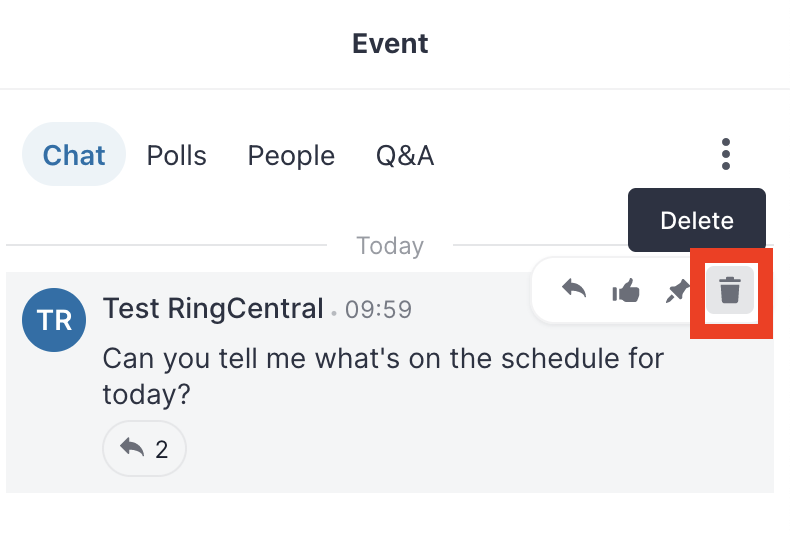 You can also go to the People tab, find the attendee and click on Mute this person to prevent the attendee from sending messages at the event.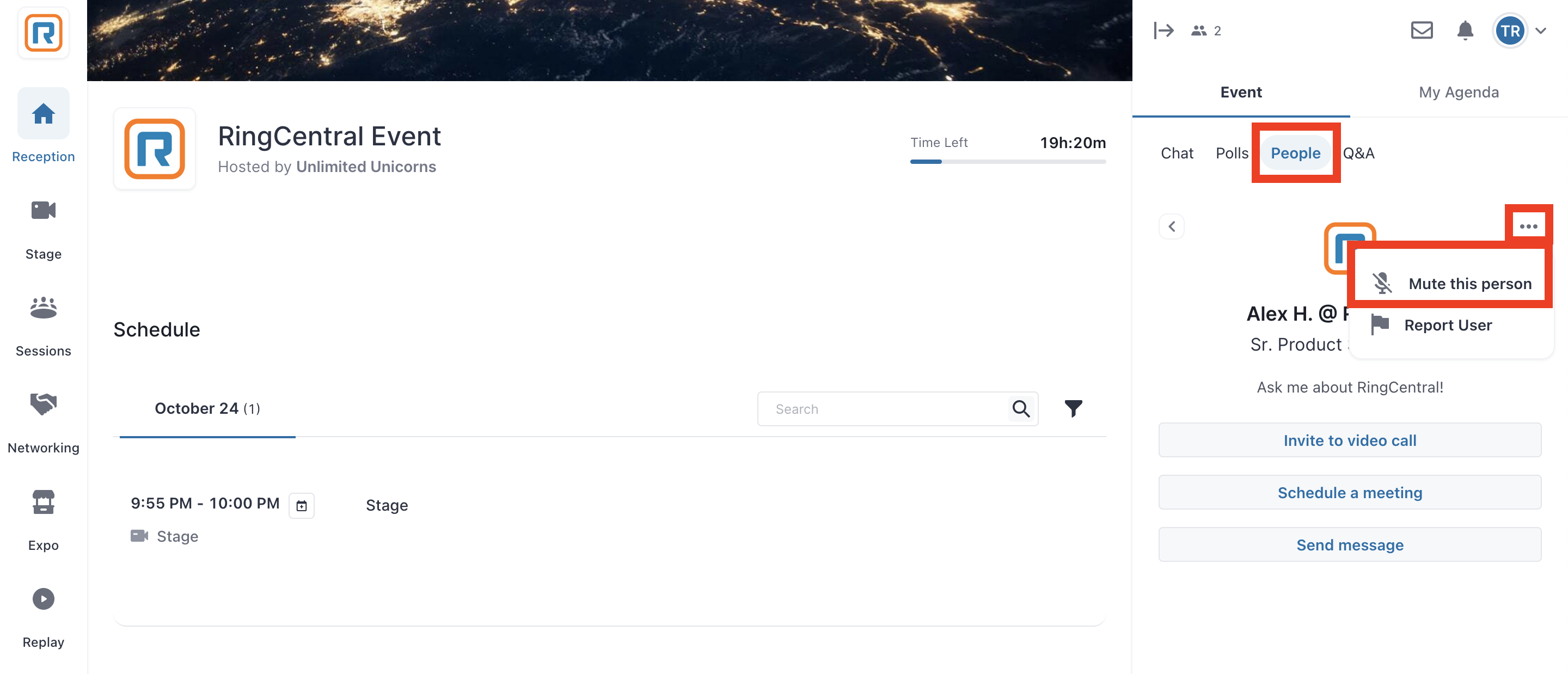 Block this person option will immediately ban the attendee from the event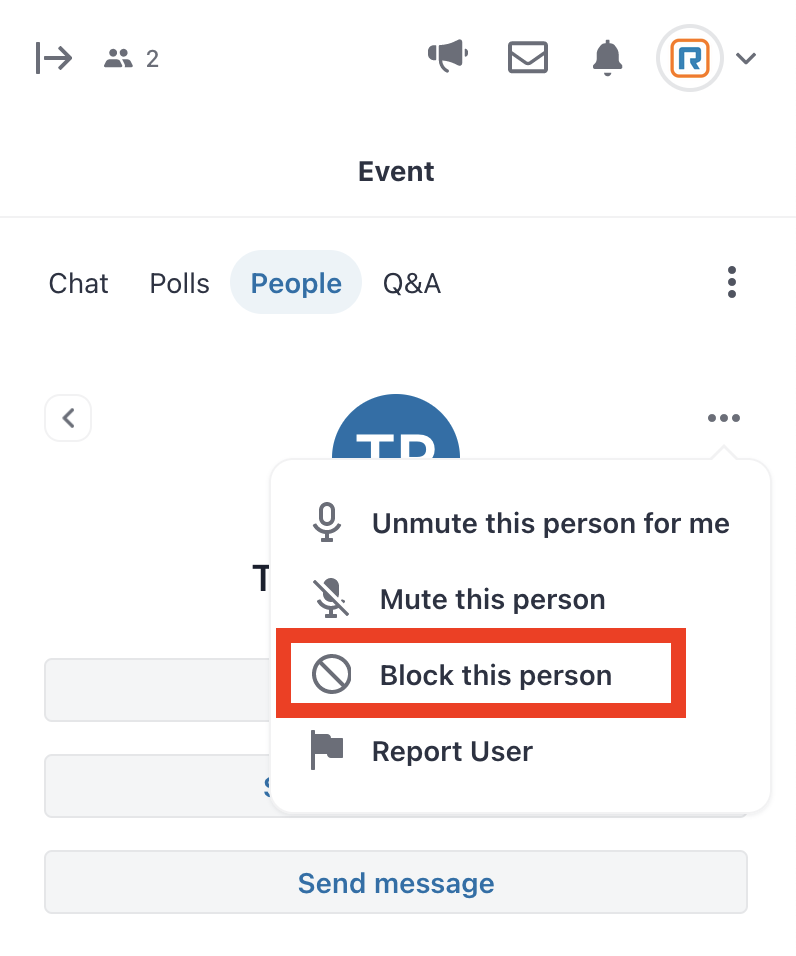 This will prevent them from re-entering the event.
Learn more about Session moderation here. 
Tip: Organizers can easily unblock attendees by going to the Event Dashboard > People > Registrants page. Here, you will need to search for the registrant using the search bar and then click on ••• and See Details next to their entry to edit. Click Unblock.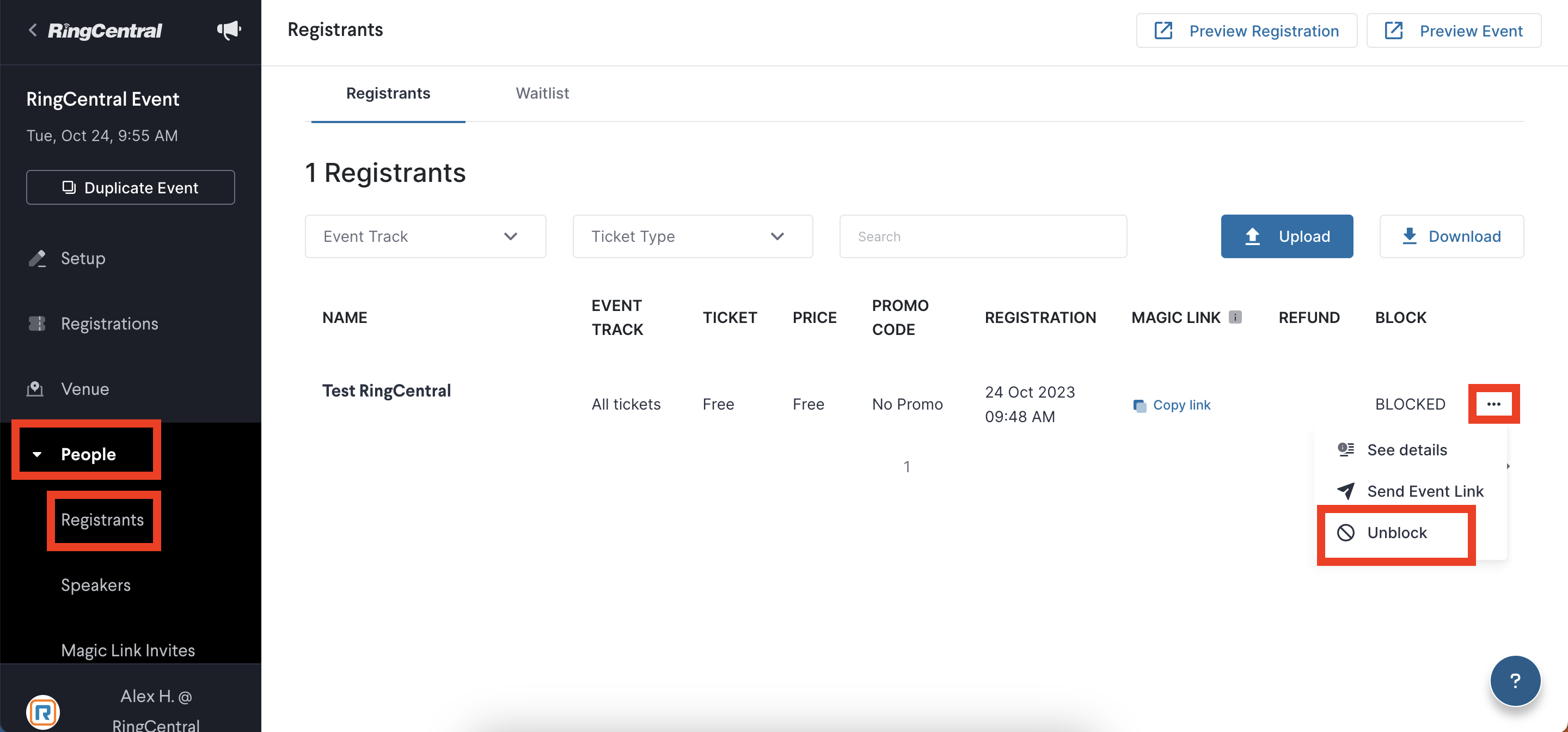 Tip 5 - Have a backup plan ready for absent speakers or bad network connections
As with any event, online or offline, things happen. People get sick, get called away, or get delayed. There are things outside of your control to account for. In these scenarios, it's always good to have a backup plan — maybe another speaker or someone from your team can step in, or a pivot to another area of the event, such as Networking or Sessions. Or encourage your guests to explore the Expo area. You can also provide our Quick Troubleshooting Reference Guide to anyone experiencing device, network, or browser issues.
Tip 6 - Direct your attendees with chat messages
To direct people around your event, detail your plan in a welcome message on the Stage or use the Event Chat to post where everyone should be. Your Organizer messages are always highlighted in color so they're easy to see.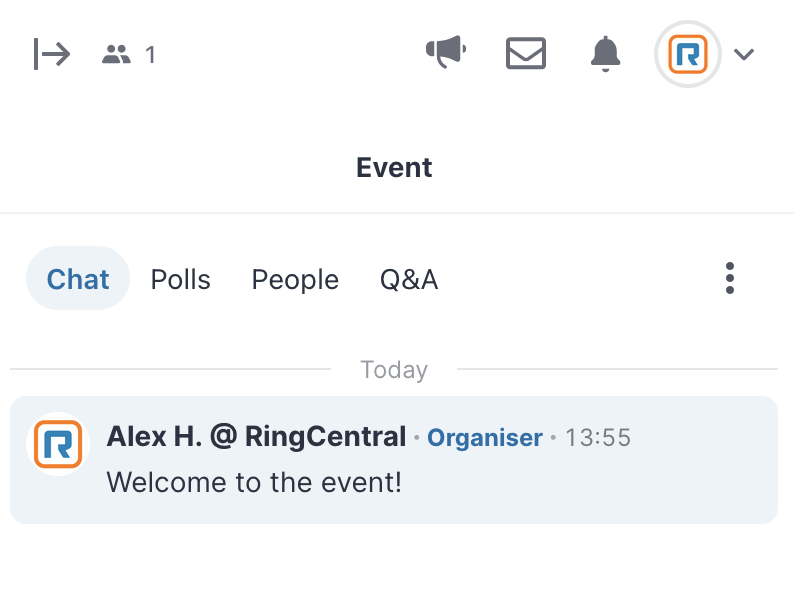 After you drop a link or message, pin it to the chat! Our Pinned message feature allows each chat has its own pinned message to direct attendees. To create a pinned message, send a chat message and hover over it. You will then see a "thumbtack" icon, and all you have to do is click it.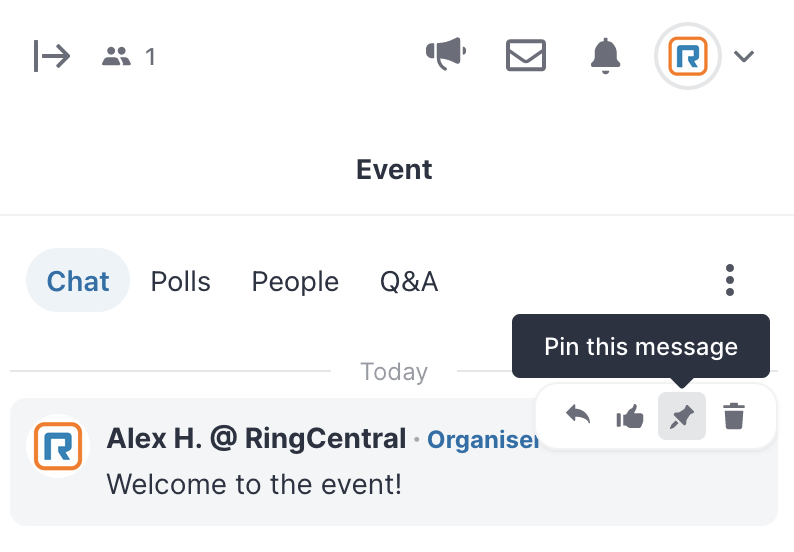 Tip 7 - Send a general announcement
General announcements are a great way to get the attention of all attendees and provide them with important information.
General announcements appear at the top of all event pages for each attendee and can only be dismissed manually by each person or replaced with a new general announcement.
From the options at the top-right corner of the event, click the megaphone icon.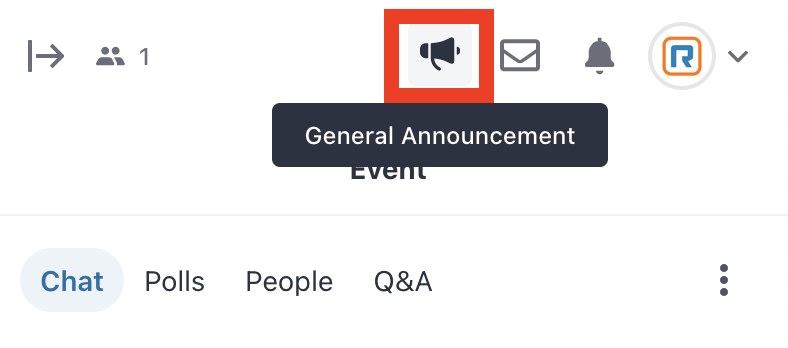 General announcements can be made to everyone or specific ticket types. They cannot be scheduled.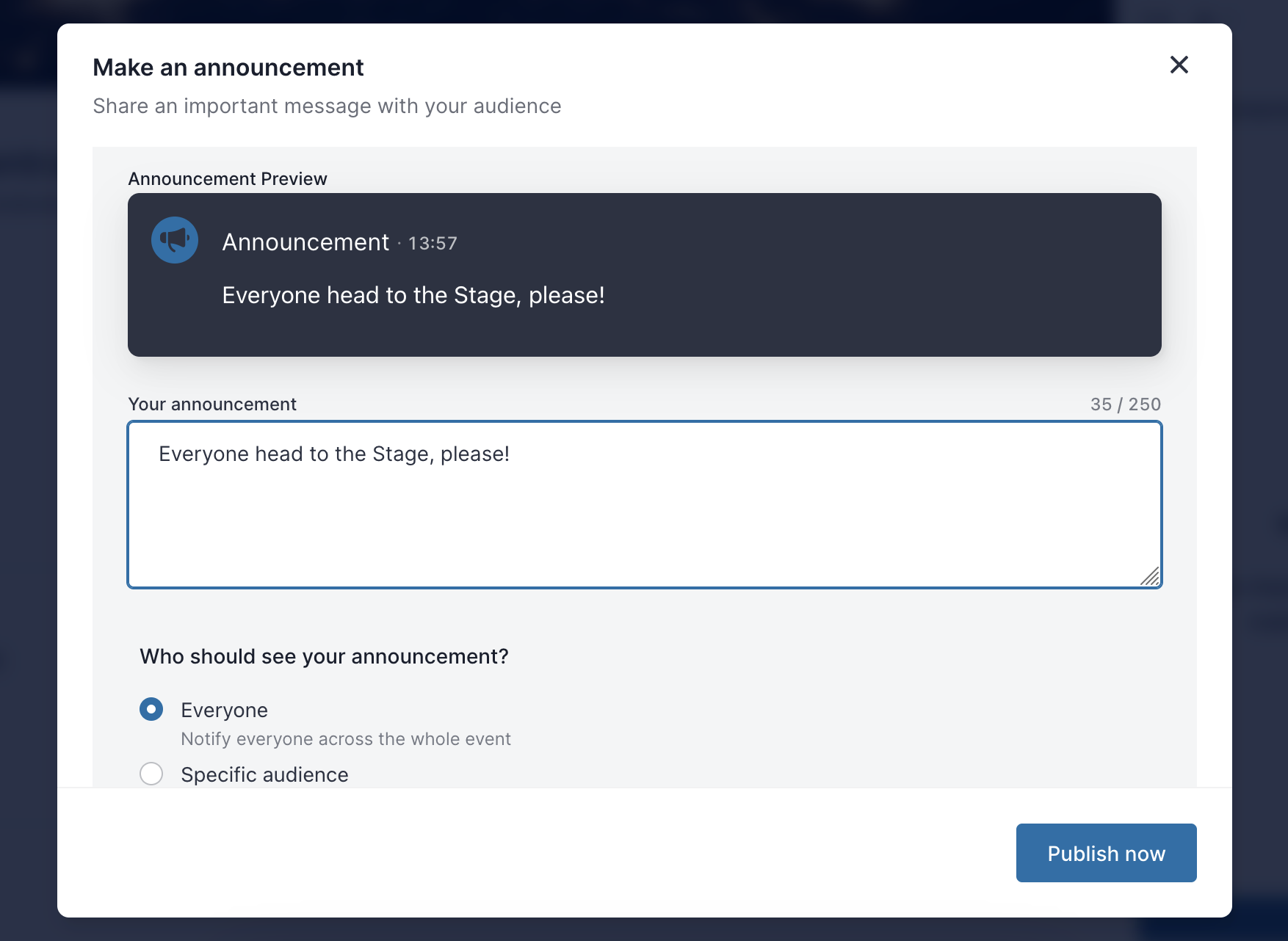 See our guide How to make a general announcement in an event for complete details. 
Tip 8 - Switch the Stage from a live-stream to a pre-recorded video
When you're not using your Stage for live-streaming, you can switch the Stage to a pre-recorded video. This way, when attendees go to the Stage when it's not live, they'll still be able to watch a video.
You can change the Stage from live-stream to pre-recorded video by going to your Event Dashboard > Venue > Stage. Click to edit the Stage, and switch the "Stream provider" from StreamYard to YouTube/Vimeo/Wistia and input the video ID for a public (not unlisted or private), and hit Save.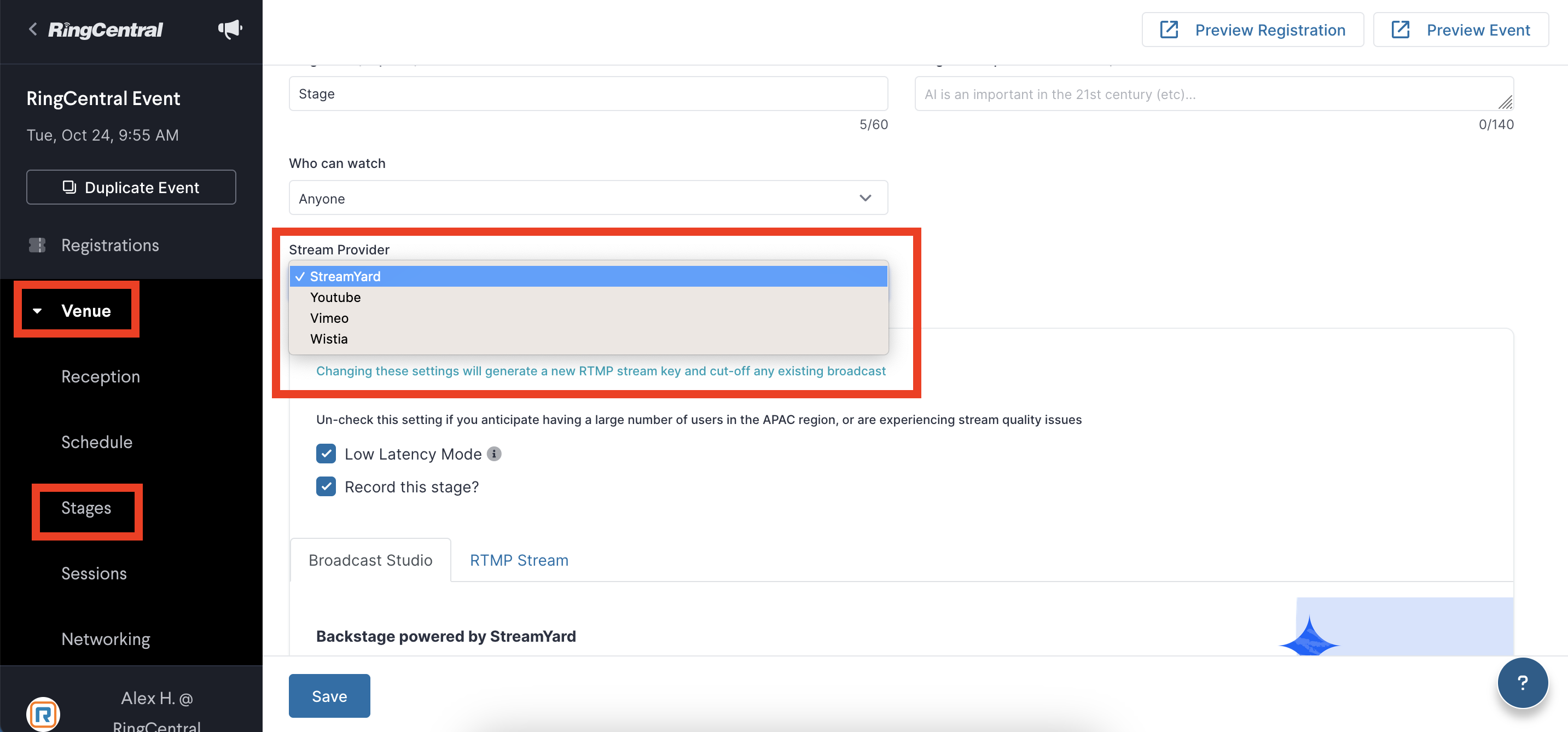 Go to your event and refresh the page and the pre-recorded video will be playable on the Stage.
Note: Your attendees will need to push play in order to start the video.
You can also share pre-recorded videos directly from the Backstage. See our guide How to use the RingCentral Backstage powered by StreamYard for more information on streaming.
Tip 9 - After your event
Your event closes automatically 5 minutes after your specified end. If at any time during the event you think you may run over, you can extend your event end time via your Event Dashboard > Setup > Basics (as long as it does not exceed the maximum allowance of your plan). You can also see How to extend an event after it has finished for guidance on extending your event. 
Once the event is over, event Organizers receive an email to view the Event Reports. Event Reports are available at any time in the event in the Event Dashboard > Analytics > Reports page.
For more information on all of the different reports available to you, check out our Event Reports guide or read more about our Event Analytics. 
Tip: Contact us about upgrading to the Advanced plans and unlocking additional event reports.