Below is a step-by-step tutorial with everything you need to know about launching your first Hopin event from start to finish.
You can also check out our free, on-demand Hopin Learn courses for video tutorials and interactive guides.
For this training exercise, you'll learn how to set up a basic event as a virtual venue for your attendees to explore.
Step #1: Create your event
After logging in to your account, click the Create new event button in your Organization Dashboard.

You can then select which kind of event you'd like to create, either Virtual, Onsite, or Hybrid.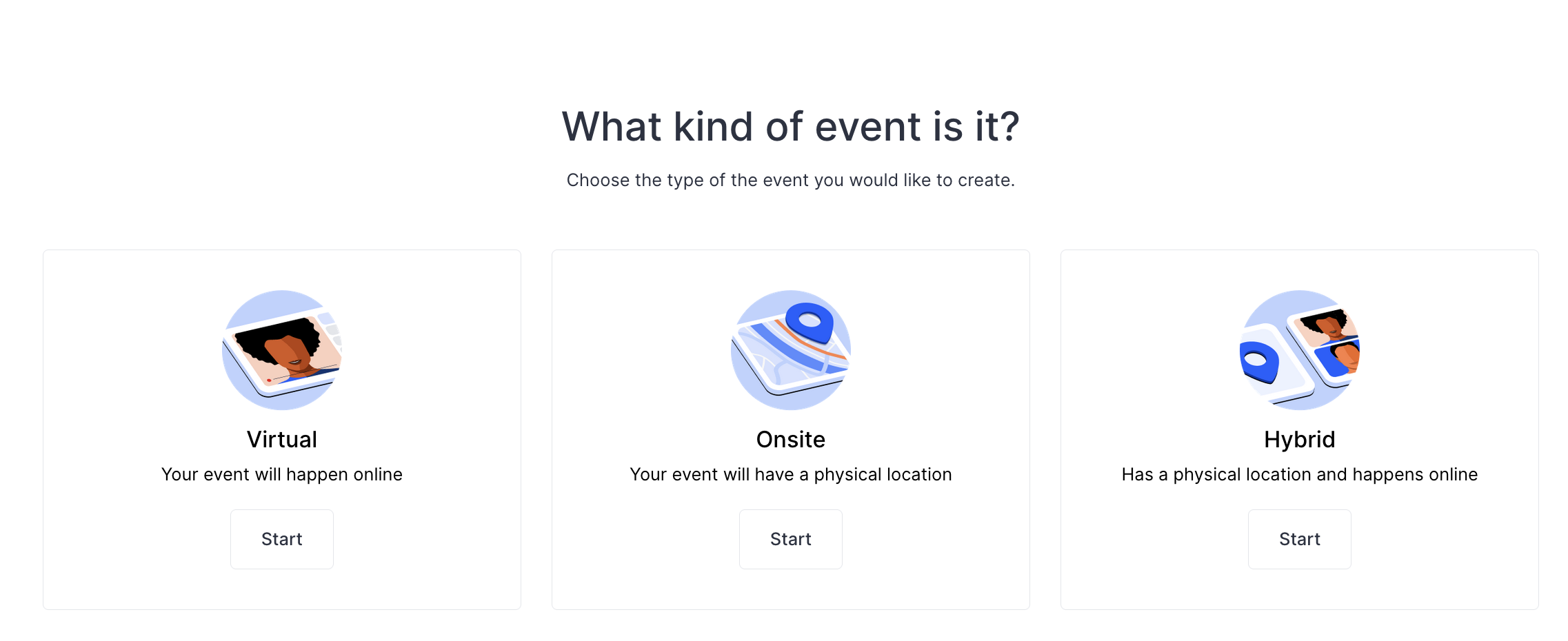 In this guide, we'll use a Virtual event.
Next, select your event style. You can create a completely blank event or use of our templates to get you started.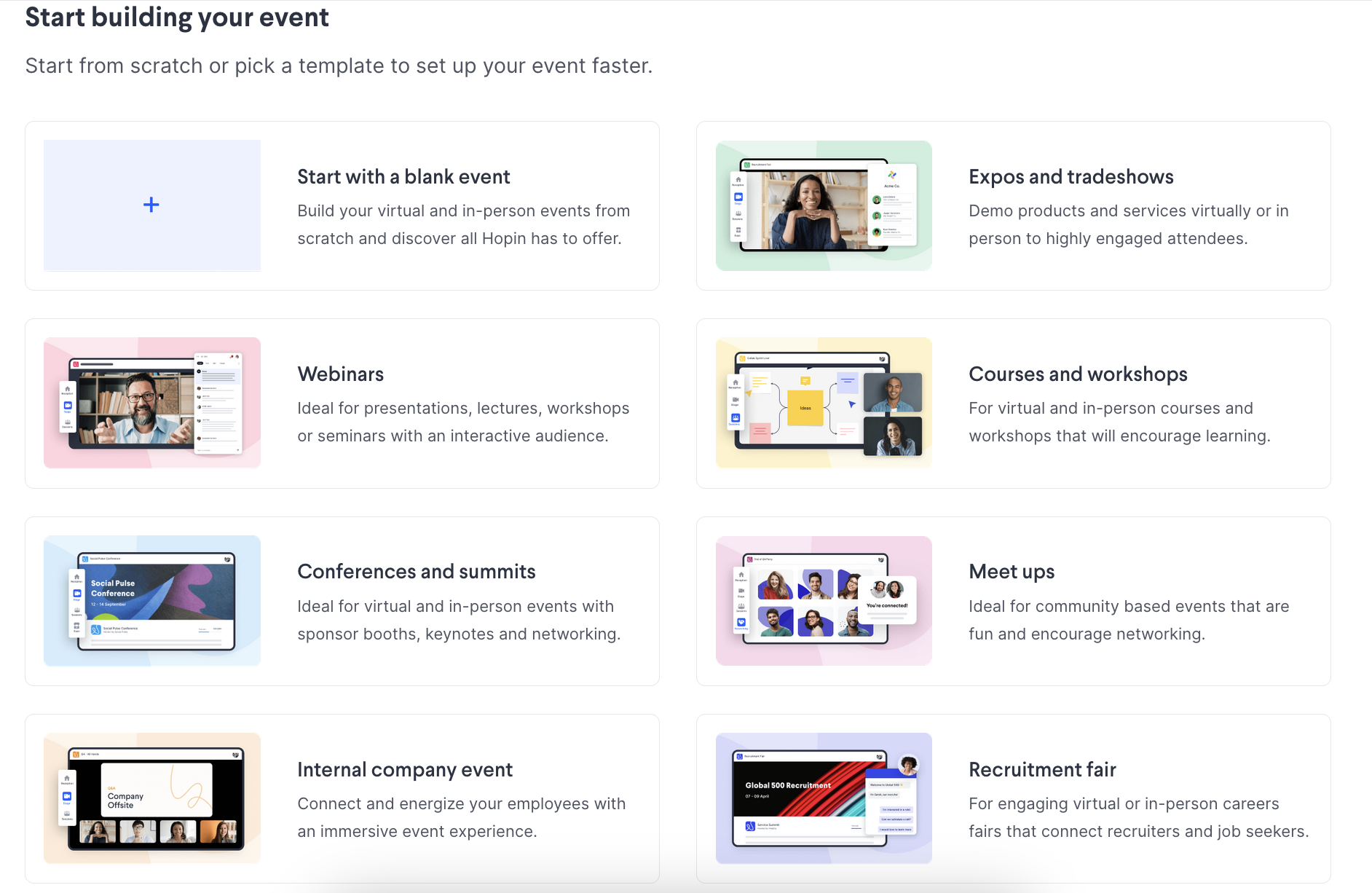 Hover over them to preview it in action or start building. You can always make adjustments to your event elements once you get started.

Next, enter your event details.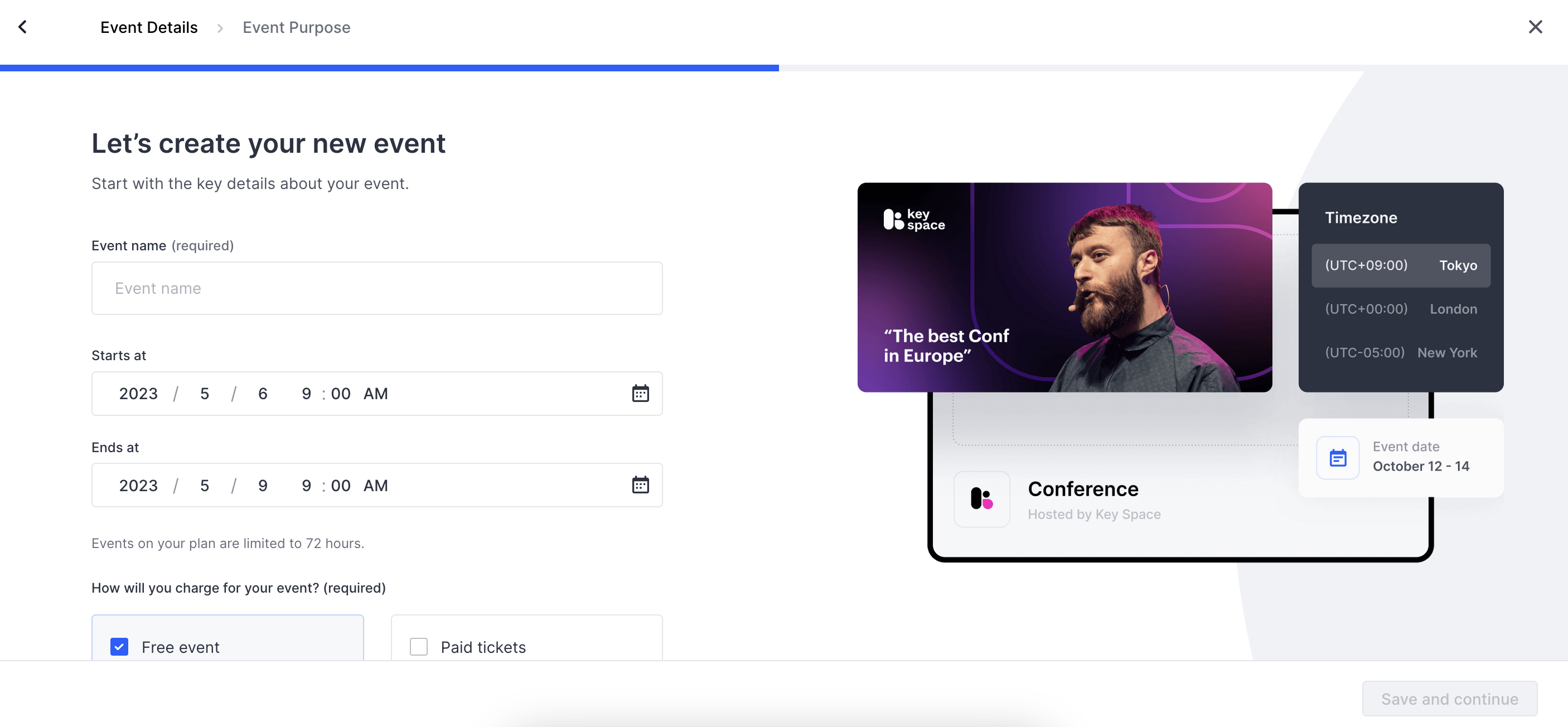 Name: The name of your event can be changed at any time from the Event Dashboard.
Start/end date & time: The duration of your event (2 hours on the Free plan, 72 hours maximum on paid plans. This can be extended up to 240 hours on our Advanced Plans).
Note:
Your event limit is strict, but you can
extend your event
by 15 minutes before it closes in case your program is running late. You can also extend the time of your event from your Event Dashboard before the event ends as long as you remain within your duration limit mentioned above.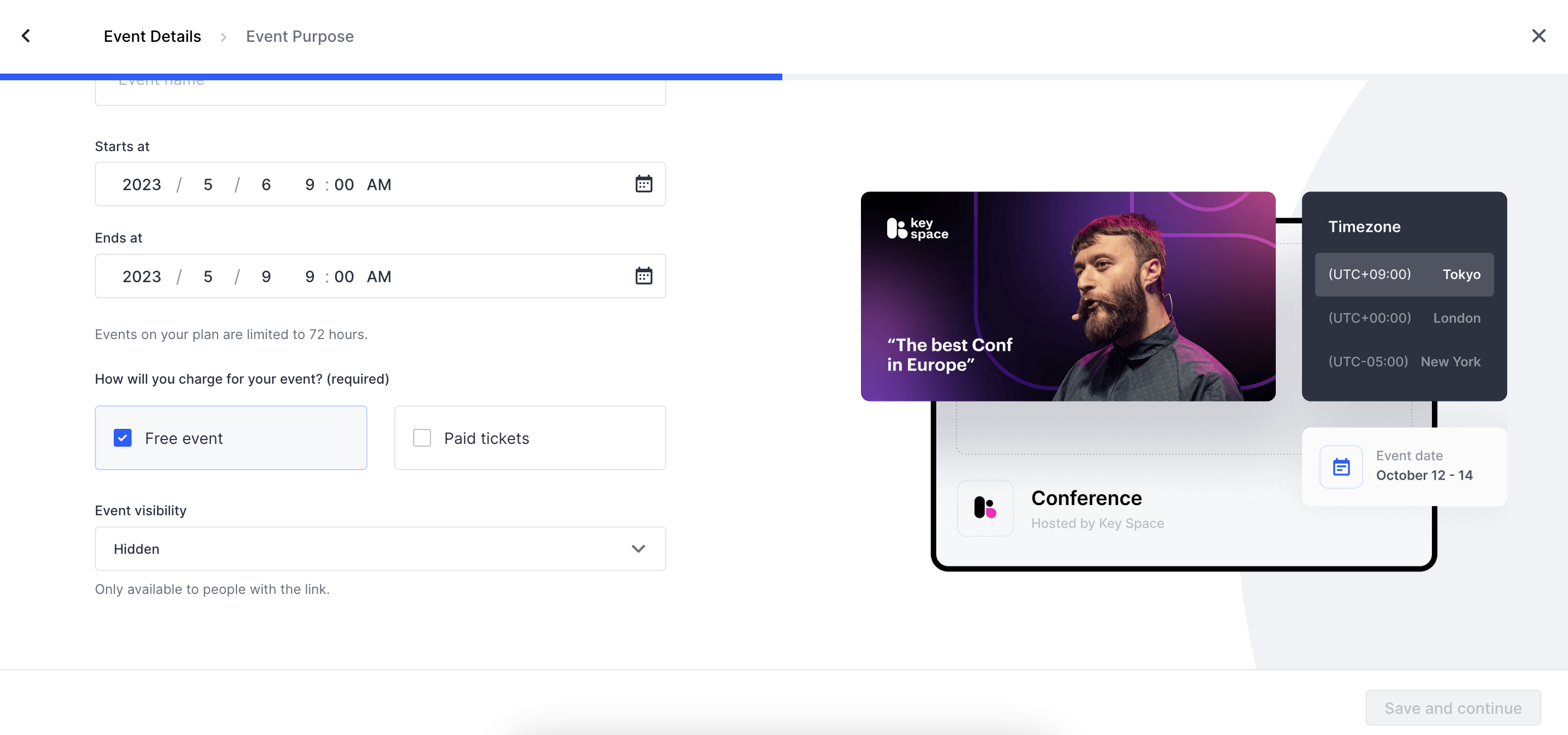 Ticket type: Your event must have tickets, but they can be Free or Paid. For more information about setting up paid tickets, see our guide How to connect your Stripe account.
Event visibility:
Note: If you are on our Free Plan, you will only be able to make a Hidden event.
Once you've filled in your event details, click Save and continue.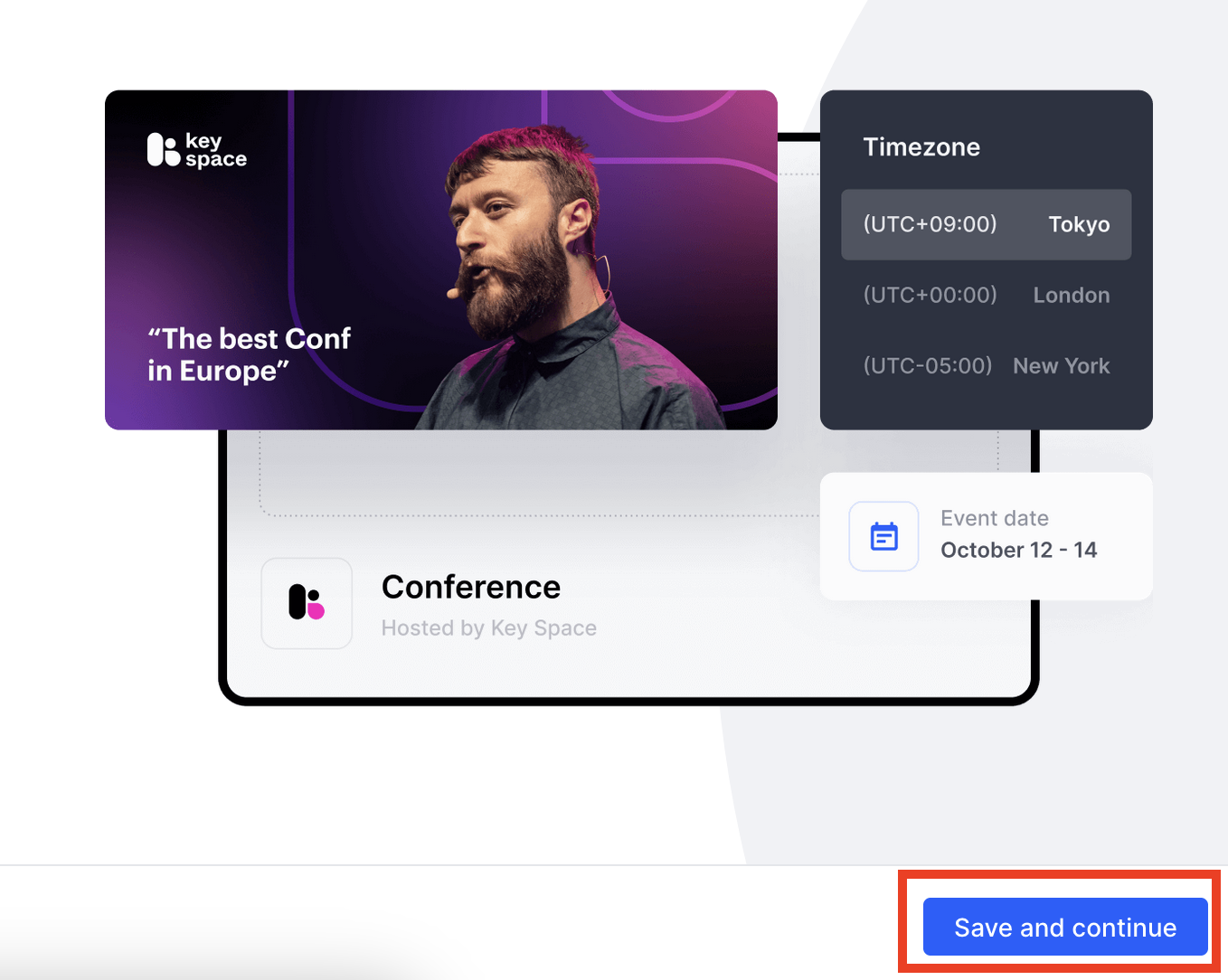 Update settings in your Event Dashboard
Once created, you'll be inside your Event Dashboard. Notice that your event is a draft and is not yet published, so it is only accessible by Event Organizers inside your account.
You can always make changes to your event and event areas, even after publishing. You can also un-publish your event as long as no one has registered for it yet.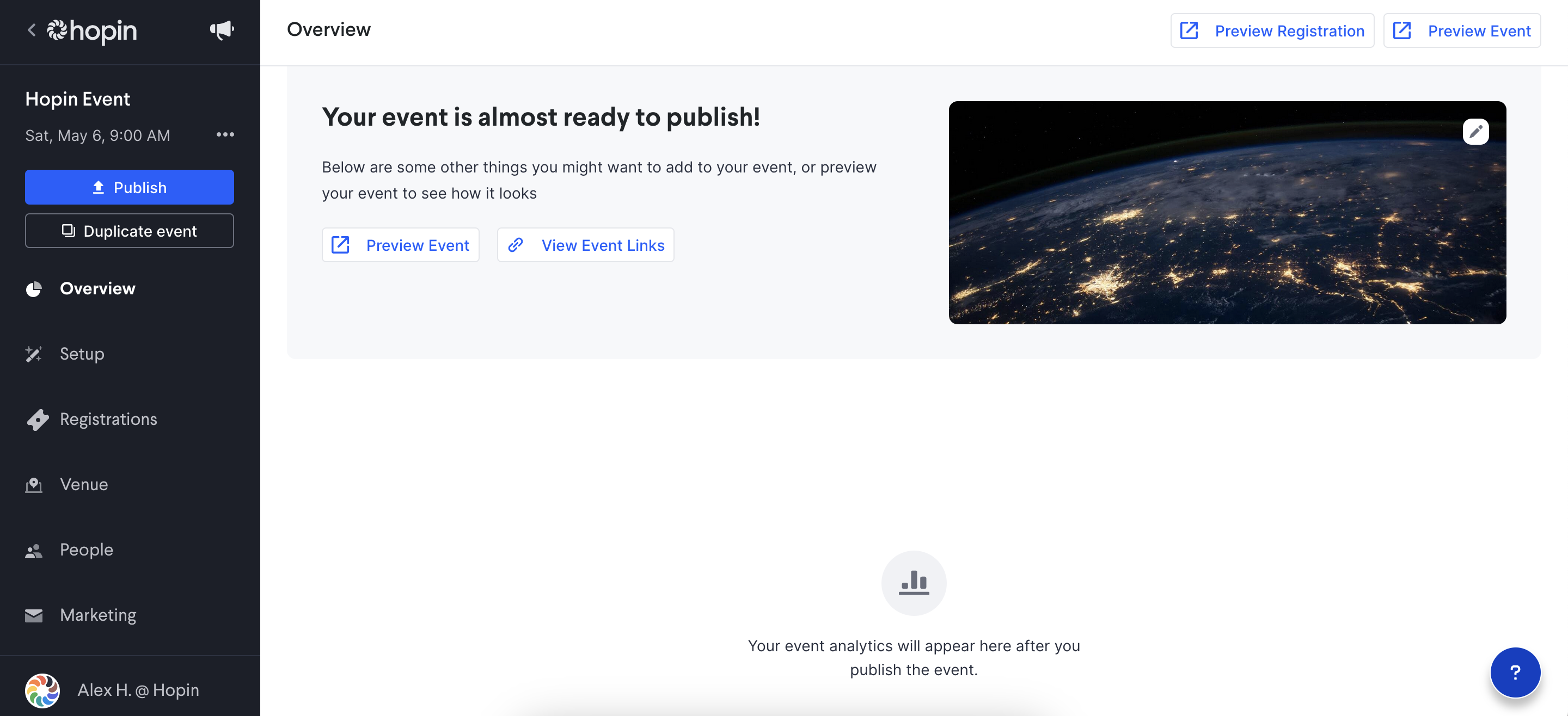 Navigate to Setup > Basics in your Event Dashboard to configure more event details. Existing settings such as the name of the event or the start and end times, etc., can also be changed here.

Your event times are automatically localized to your attendees' regions according to the timezone set in your event details. For example, attendees accessing your PST event in a BST timezone will see all PST timings in their BST timezone. For more information, see our guide What happens when attendees are from different time zones?
Event Areas
Depending on the goals and nature of your event, you can choose any combination of these areas or all of them.


Event format and visibility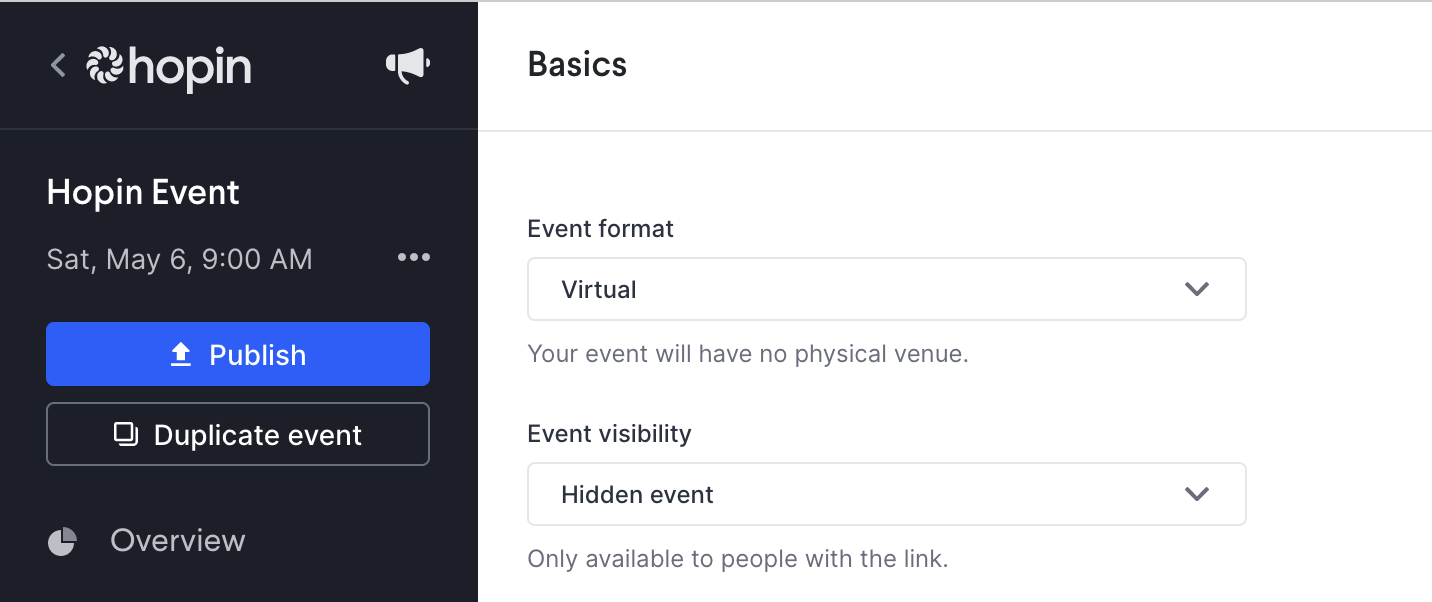 Advanced Settings
Click to expand and show additional settings.

Event URL
This is the link to your event registration page and all pages inside your event. You can change the part after https://hopin.com/events to anything you like, as long as it is not in use by another event.
Note: Changing your Event URL makes the previous one invalid. If you change your Event URL after you've already shared it with anyone, you will need to provide them with the new link.

Session Display
By default, if a Session is attached to a Schedule segment, it will only display for 5 minutes before and after the set time in the Sessions area of the event. However, here you can adjust this so that your scheduled Session can be viewed for longer outside of its set time.

Step #2: Update your event registration page
The registration page will only be accessible to preview or share to registrants once you've published your event.
Navigate to your Event Dashboard > Registrations > Registration page.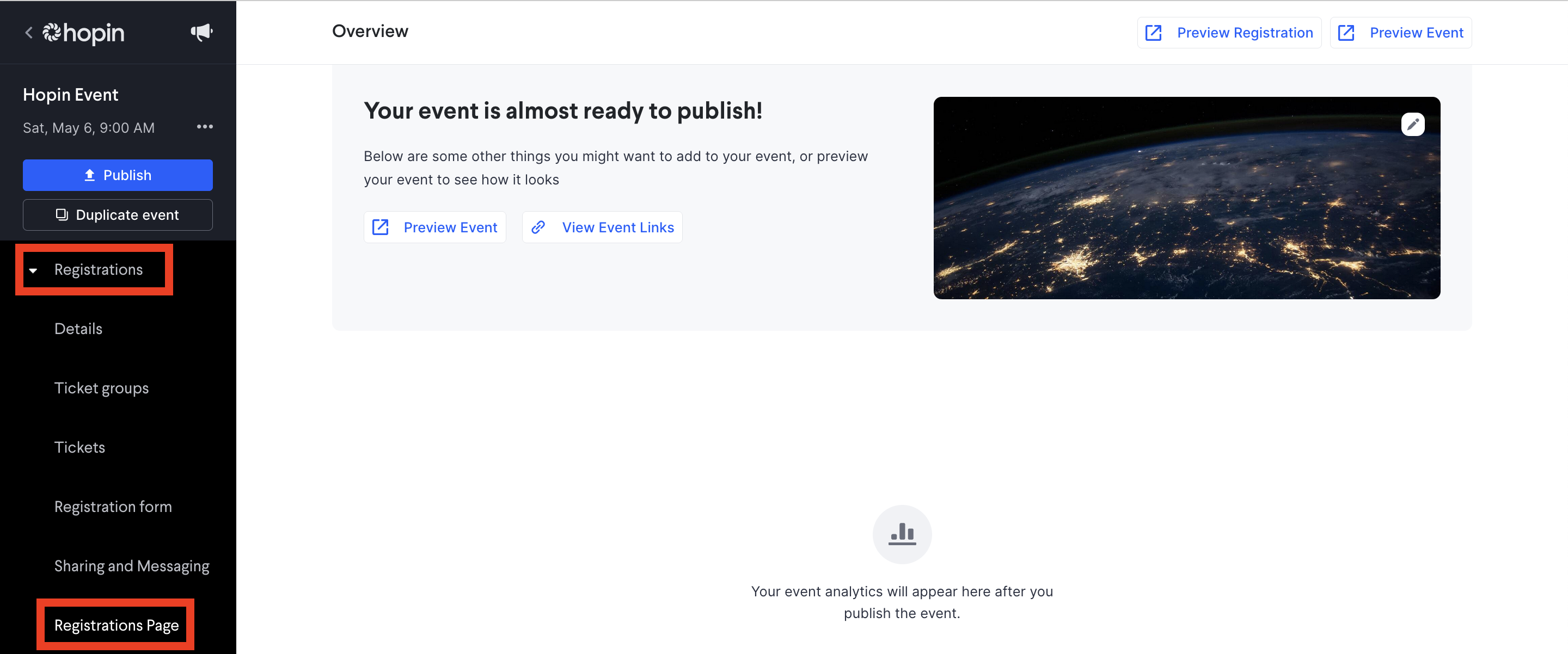 The registration page is where your attendees register for your event by claiming tickets. Our registration tools allow you to set up tickets for your event, promo codes, waitlists, registration forms, and more. The registration page also displays the various components of your event, if you have them, including sponsors, schedule, speakers, and booths.
At Hopin, we've built our own registration systems so you don't have to worry about using another platform to collect, track, manage, and accept payments for your attendee list. However, it's completely possible to use a separate registration system for your online event on Hopin using our "Magic Link" one-click event entrance solution on our Advanced plans.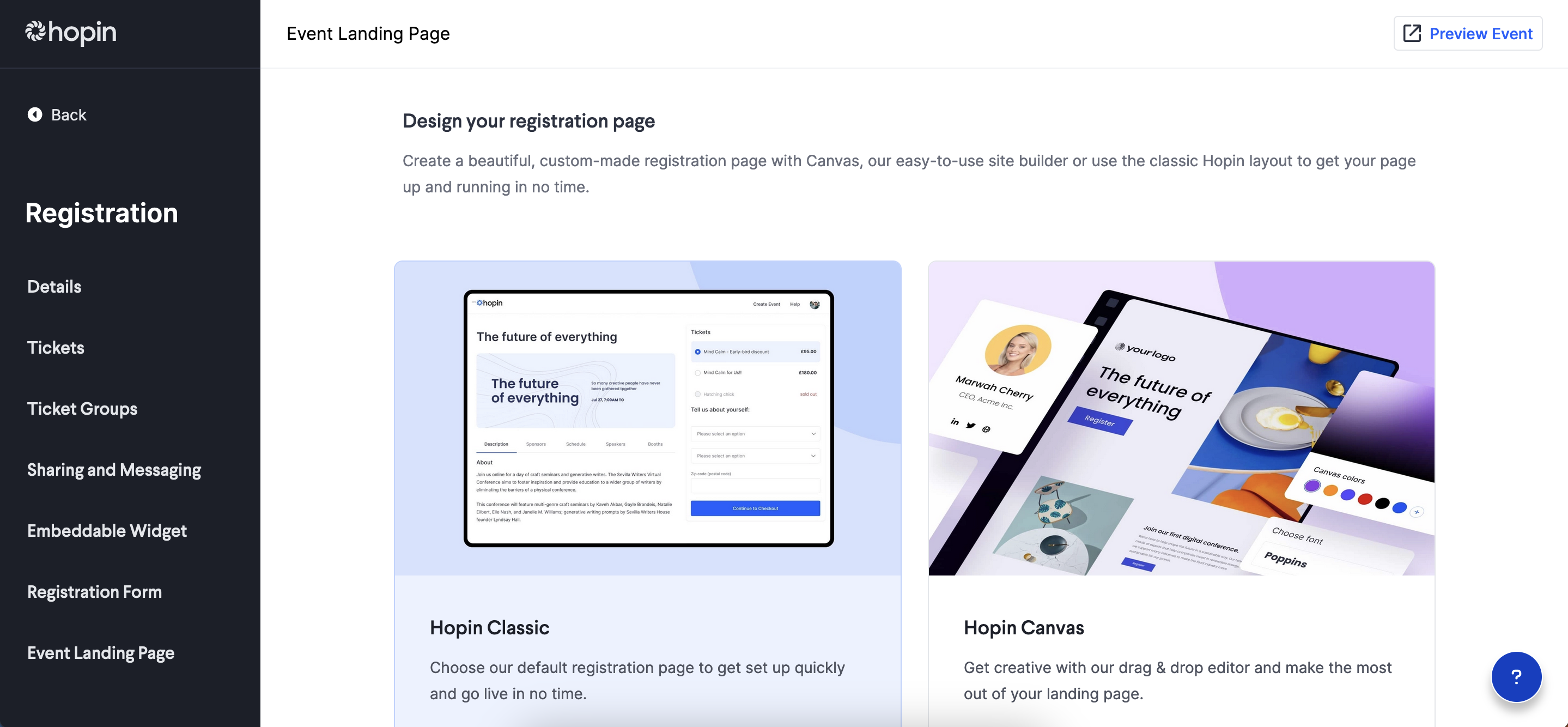 You have two options to set up your registration page: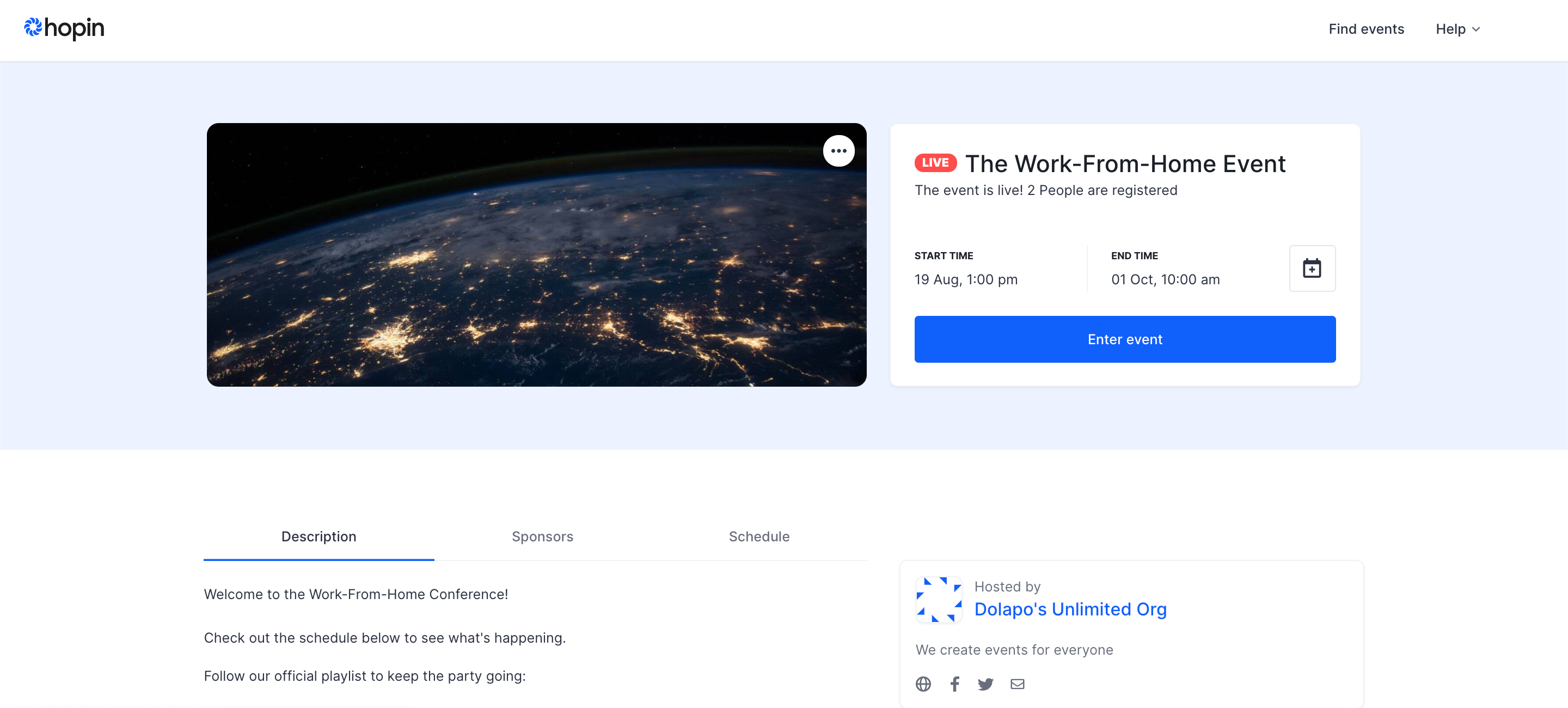 Step #3: Create your Reception page
Head to the Event Dashboard > Venue > Reception page.

The reception page is where attendees will land once they enter the event, so you want to help orient them. Here is where you can write your welcome message, add sponsors, and apps. Your event schedule, if created, will also appear in your reception page.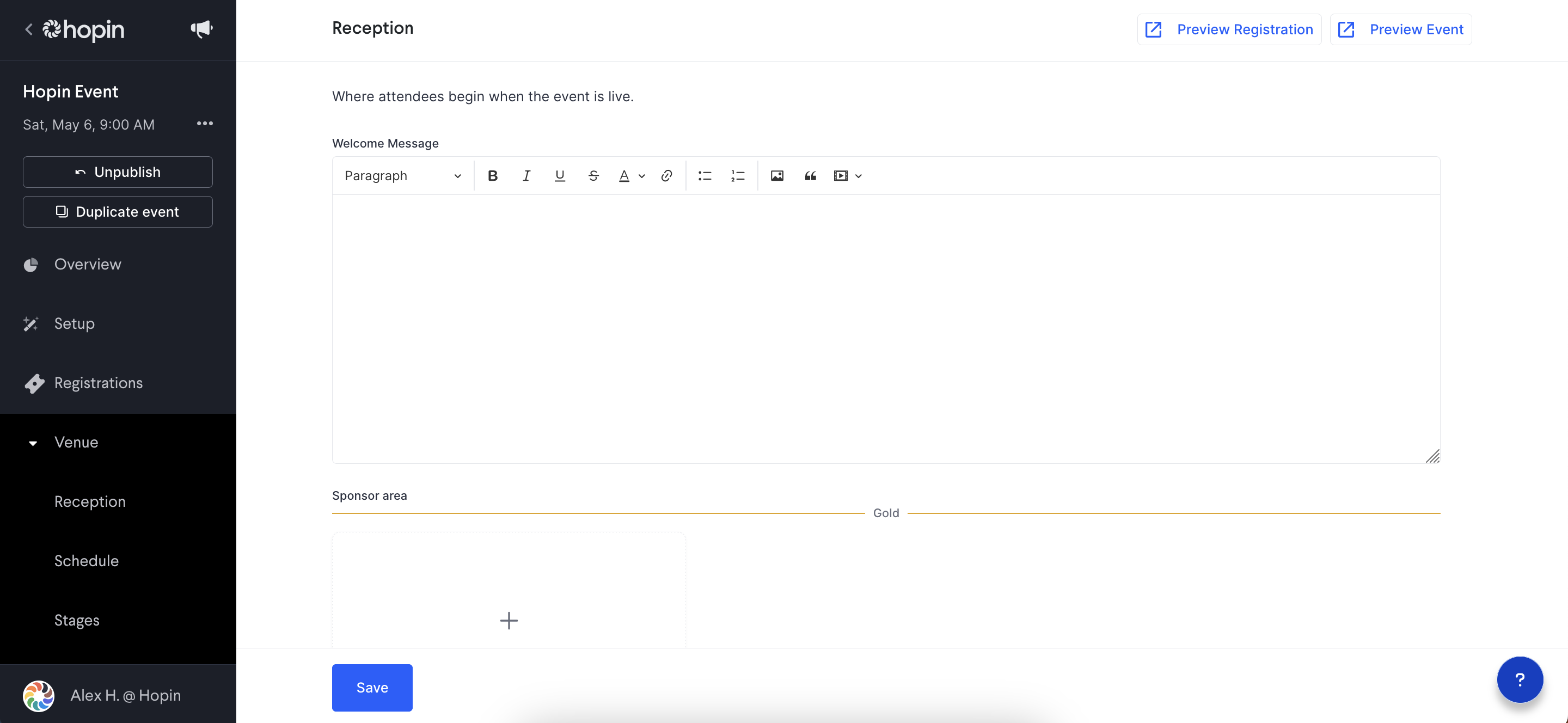 If you're hosting an event with no schedule, feel free to put a game plan here. For example, when an attendee first joins the event, where do you want them to go? Let them know here It's also a good idea to add some tips such as, "how to get the most out of this event."
The Reception page is also where you can add any links to resources that your attendees should know about.
Sponsors
If you have sponsors for your event and you'd like to display them on your reception page, you'll need to first add them from the Venue > Sponsors tab. Once added, go back to the Reception tab and add your sponsors.
Sponsor logos can be tiered into three levels of sponsorships: gold, silver and bronze. Learn more about how to add sponsors to your event in our guide Add sponsors to your event on Hopin.
See our guide How to customize your Reception page for complete details and instructions.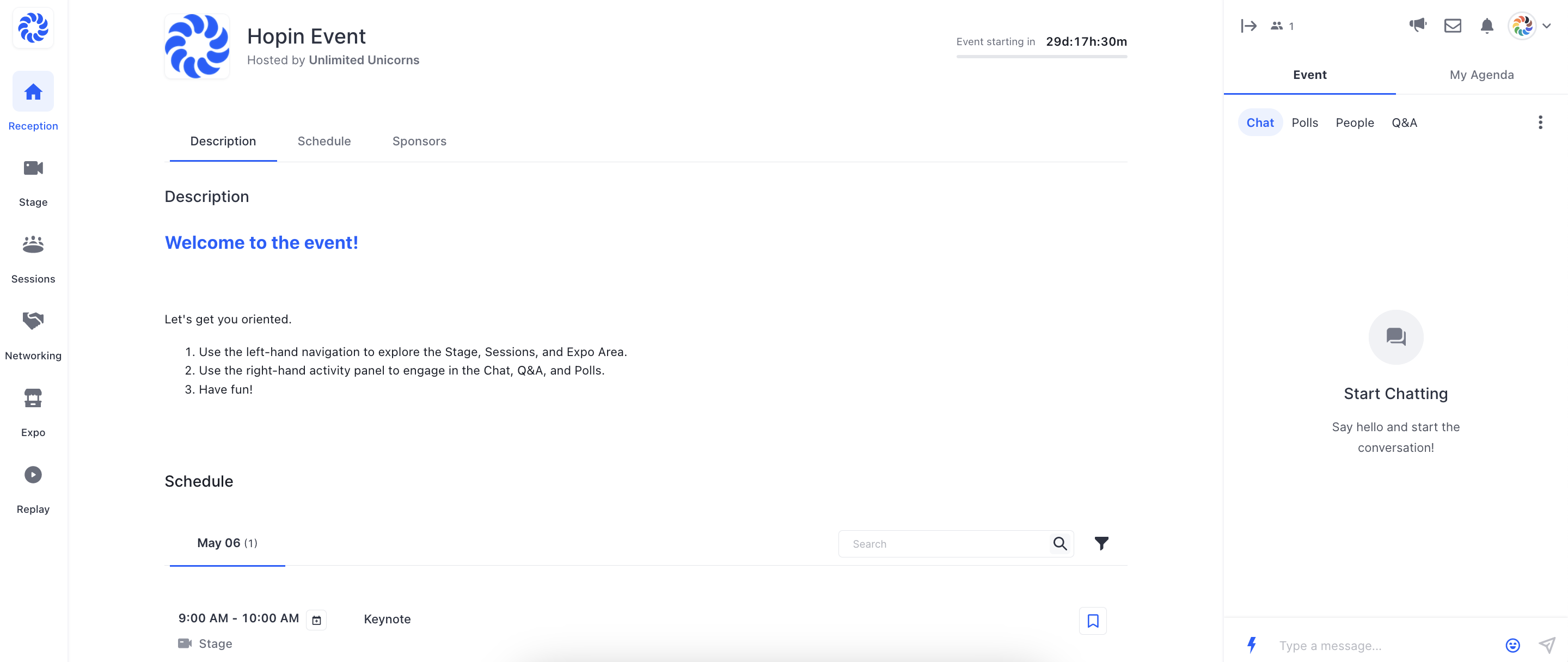 Speakers
Let attendees know who is presenting and featured at your event by adding speakers.
One way to add Speakers is by navigating to your Event Dashboard > People > Speakers page. Here, you can add, remove, and edit all of your speakers. You can also register them here or choose to just create their profile now and register them later.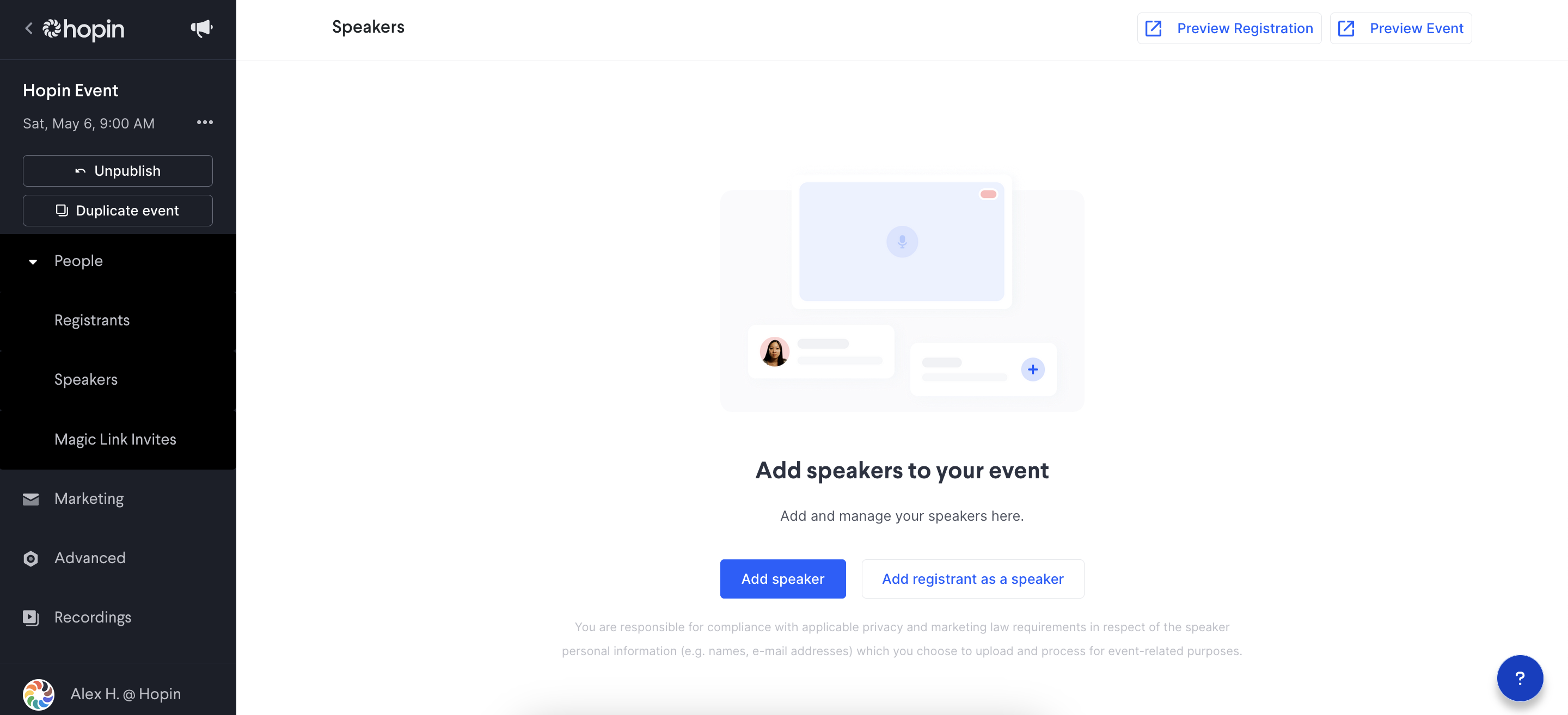 Check out our guide How to add speakers to your event on Hopin for complete instructions and details.
Important: If you add a speaker and they have not yet registered for your event, they must join the event using the same email attached to the speaker profile that you created.
Go LIVE!
Although there's much more you can customize, you now have the basic elements you need to launch your event.
If you're ready to start sharing your event for attendees to register, you can go to your Event Dashboard and Publish your event.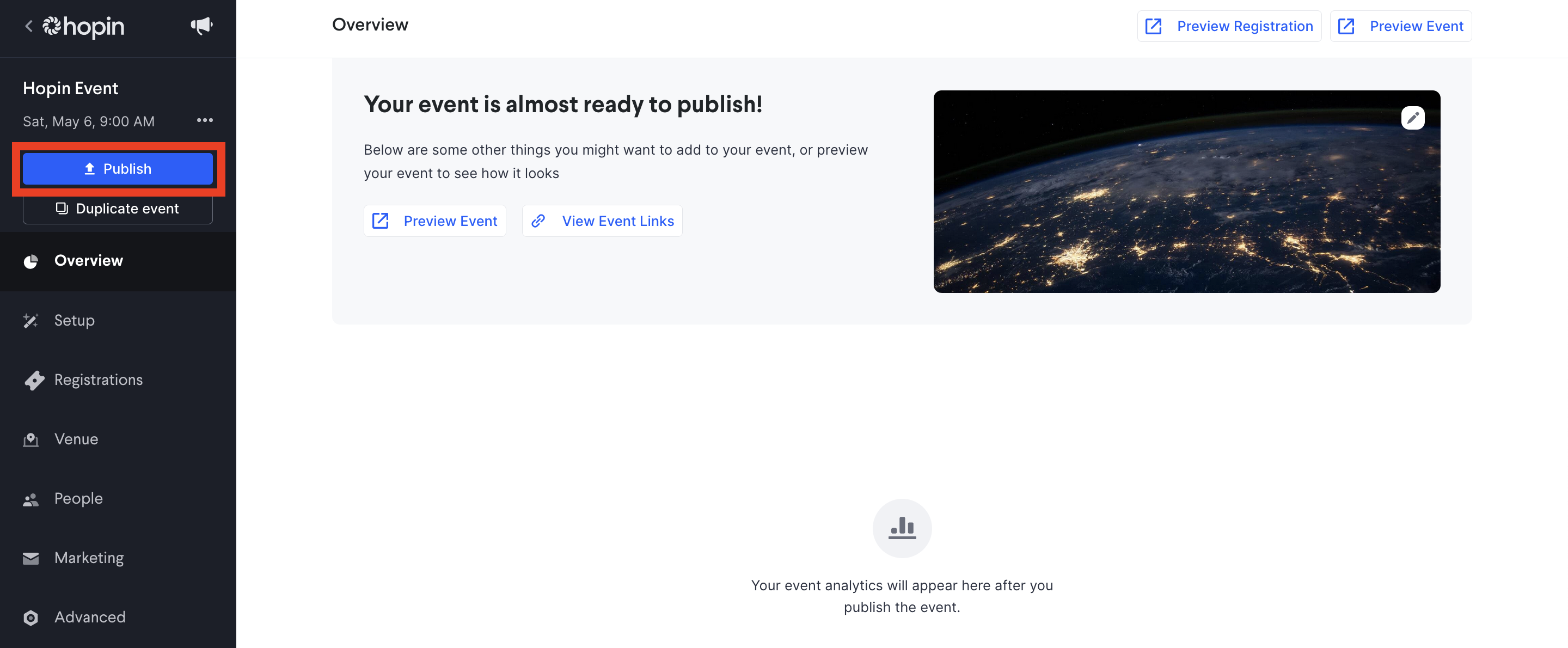 Once your event is published, you can copy the event URL and Backstage links from the Overview page to start promoting your event and rehearse with your speakers Backstage.

You must publish your event before sharing the Registration page link, otherwise the link will redirect to Hopin's homepage.
All details of your event are editable at any time if you need to make a change, so there's no pressure to make everything perfect before publishing. You're now able to keep track of registrants, ticket sales, and revenue on your Overview page.
Congrats! Your first virtual event is live on Hopin.