If you're having trouble joining a Session or Backstage, make sure you've completed the following.
Ensure you have a ticket for the event
Make sure you are registered for the event so that you can access the Backstage or a Session, the event Organizer should be able to provide you with this information before the event starts.
Here's how to register for an event and How to access an event as an attendee.
Ensure you're logged into the correct RingCentral Events account
Sometimes, attendees are redirected to the home page when they are not logged into the correct RingCentral Events account with access to the Backstage or Session in question. 
Check your emails for a "Thank you for registering" email, and make sure that you are using the same email address that you registered with when you try to login. 
Refresh your web browser
Tip: Hold the Shift key when pressing the command+R (macOS) or Ctrl+R (Windows) combinations to reload the page without the cache.
Check your browser permissions
Click on the padlock icon next to the URL field and make sure Camera and Microphone are set to Allow for app.hopin.com web page.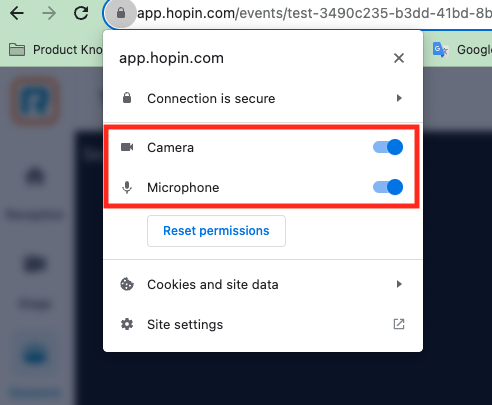 Check the browser and make sure it is updated
Currently, using the latest versions of Google Chrome or Mozilla Firefox on your laptop or computer guarantees the best experience.
Here are instructions for updating Chrome and here for Firefox. Other browsers aren't supported.
Note: Sometimes, third-party extensions can affect the experience by blocking some of the RingCentral Events interface elements. That's why we also recommend opening the event in Incognito mode (command+Shift+N on macOS or Ctrl+Shift+N on Windows) on Chrome or a Private tab (command+Shift+P for macOS or Ctrl+Shift+P for Windows) on Firefox.
On mobile devices, the experience will be limited for Organizers or Speakers and sufficient for event attendees.
Restart your web browser
Sometimes browser settings require a browser restart for changes to take effect.
Most of the time, a refresh of the webpage will fix most problems.
Network Setup
If you are joining from your workplace then chances are there will be some firewalls in place for your online security.
You can ask your IT team to follow this Networking Connectivity guide to ensure that you can access and enjoy your RingCentral event.
Alternatively, try temporarily connecting to a different network such as a mobile hotspot. 
Nothing Works...
If you tried the tips above and still unable to join a Session or a Backstage, it could be due to one of the following reasons:
The Moderator or Organizer is not allowing you to enter the session or Backstage
The maximum amount of people are already on screen is reached
Try contacting the Organizer in the event chat.