This lesson is about preparation. The following tips are good steps to ensure everything goes smoothly on the day of your big event.
Check your browser
Desktop
Currently, using the latest versions of Google Chrome, Mozilla Firefox, or Microsoft Edge for Windows 10 and up on your laptop or computer guarantees the best experience, especially if you are an Organizer or Speaker.
However, check our browser compatibility article for more of our recommendations. 
Note:
Sometimes, third-party extensions can affect the experience by blocking some of the RingCentral Events interface elements. That's why we also recommend opening the event in
Incognito mode
(command+Shift+N on macOS or Ctrl+Shift+N on Windows) on Chrome or
Private tab
(command+Shift+P for macOS or Ctrl+Shift+P for Windows) on Firefox. See
Quick Troubleshooting Reference Guide
for more.
Mobile 
On mobile devices, the experience will be limited for Organizers or Speakers but sufficient for event attendees. In case the mobile device is the only you have, we recommend downloading the RingCentral Events Mobile App. Alternatively, please make sure to use Safari on iOS and Google Chrome on Android, if you are unable to use the app.
Please check this article for more information on joining an event from your mobile.  
Check your internet connection
Video and audio streaming is heavy on your internet connection, and that's why we recommend running a speedtest (e.g. https://www.speedtest.net/) to make sure you have 30Mbps+ on both Download and Upload speed for the best experience and highest resolutions across the event.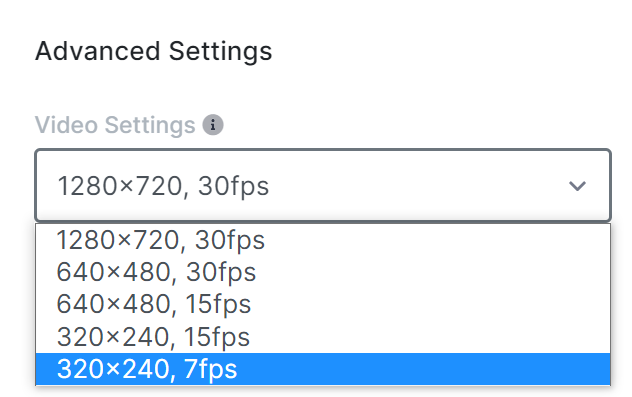 Note: The lowest bandwidth supported is 5Mbps.
Mozilla Firefox works best for low-bandwidth internet connection for laptops or computers.
Check any settings on top of your internet
Some over-the-internet settings affect the experience and can prevent you from getting the best experience. Please make sure to turn off VPN, proxy or Firewall while organizing, attending or speaking at the event on the RingCentral Events platform.
Check your laptop or computer specs
Video streaming requires processing power. Please make sure you are using computers that are not more than three years old, have multiple core processor, 8GB+ RAM and a video graphics card that can handle 1080p 30FPS video resolution.
Do a test event
You can test your scheduled Sessions or Stages inside your event before it's live.
You and your registered Speakers can access the Backstage at any time as long as your event is published by using the Backstage link, which you can find in your Event Dashboard > Overview page.

You can use the RingCentral Events Backstage powered by StreamYard to stream to your event. 
If you choose RTMP, then make sure you test the links well before the event to avoid any issues on the day. See Required RTMP Streaming Encoder Settings for more information.
To allow registered Speakers to access Sessions before the event is live, you need to have Early Access enabled and be within the time period you set for it. 
Then, get the direct link from your Event Dashboard > Venue > Sessions page.

See our guide How to access a Scheduled Session before the start time for complete details.
You can also duplicate your main event by clicking Copy icon from your Organizer Dashboard. Change this copied event to "Hidden" or "Private" in the Event Dashboard > Setup > Basics page so that it is not searchable within RingCentral Events. Your speakers will have to register separately for this event, but this will allow everyone to practice and become familiar with the venue.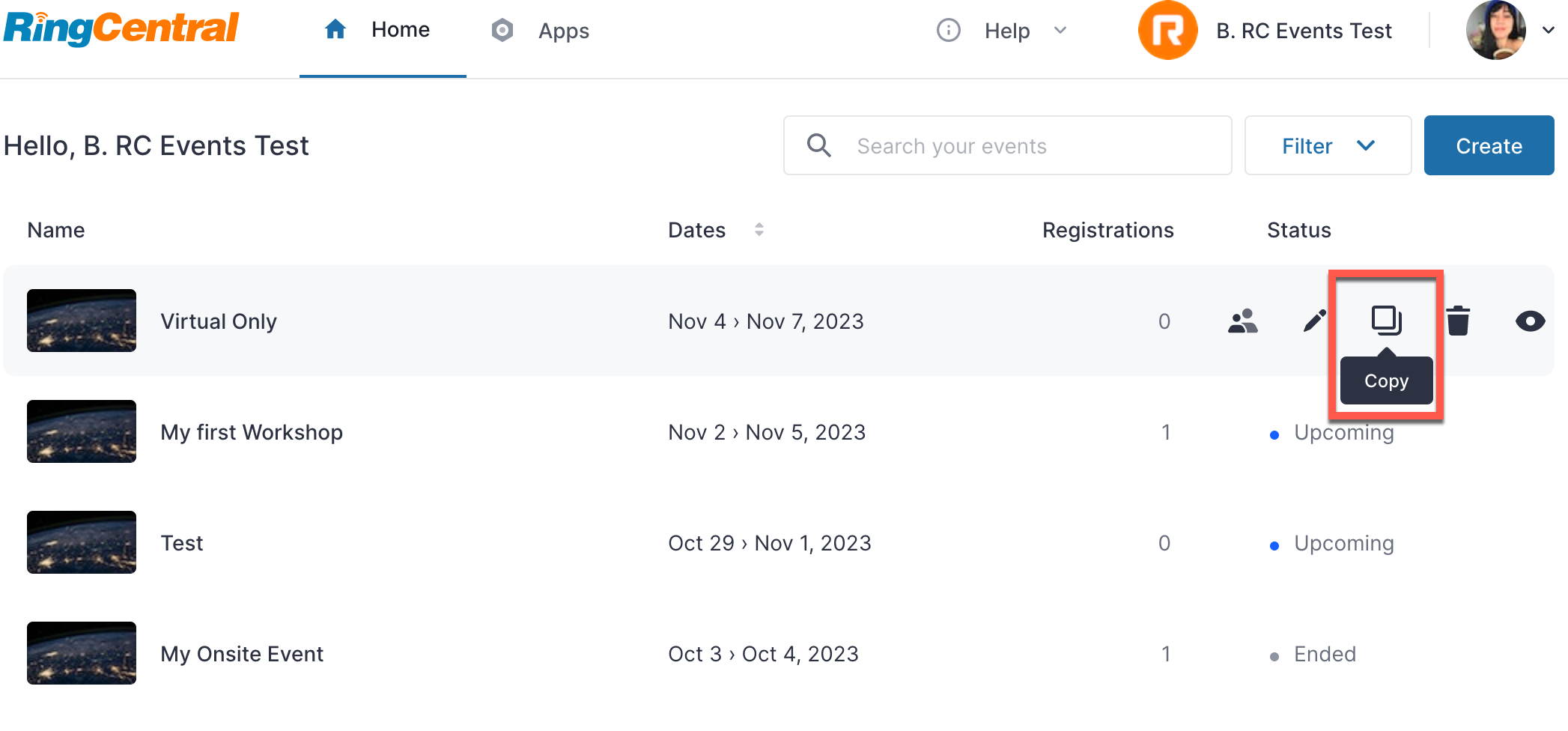 Note: Please always use a new event for your official events. This ensures you have the most up to date features and functionalities. We recommend duplicating your official event for testing, checking configuration, speaker rehearsals, and more. However, any event that is going to be live to the public should be completely new for the best performance.
See our guide How to duplicate your events on RingCentral Events for further guidance.
Register yourself for your event
Although you can preview your event at any time but clicking Preview Event at the top of your Event Dashboard, we recommend registering as an attendee with a different email address so that you can view your event from an attendee's perspective.
Register your speakers, moderators and vendors
Have your speakers and vendors register themselves on RingCentral Events. You can use the Hidden tickets option to send them individual links to the Registration page.
Add your Speakers in the Event Dashboard > People > Speakers page and add them to their talks on the Schedule. We've also created these handy Speaker Instructions for you to share with your speakers.
Here's some additional information on how to assign Moderators to Sessions and vendors to Expo Booths, too!
Do our pre-event test
The RingCentral Events Pre-Event Check is a tool we provide to test the stream quality of users' devices before participating in events hosted on RingCentral Events. The test results will help determine if the local device set up is good to go for an event or if there are likely to be issues.
It is available at the following URL as a dedicated page: Pre Event Check. It is also available within an event session. See how to run the test using both options in our Test your local setup with the RingCentral Events Pre-Event Check guide.
RingCentral Events automated emails and what you can do about them
RingCentral Events sends automatic emails at key points in the user journey of attending your event. These email reminders are sent to attendees for events on all plans. You can use these, turn them off, or customize them on the Advanced plans only.
You can find more info on how to email attendees manually in our guide How to email attendees.
The emails that RingCentral Events sends are:
Order confirmation. Delivered when the user registers. 
One-hour reminder. Delivered one hour before the event starts.
One-day reminder. Delivered one day before the event starts.
Start time changed. Delivered when the event gets rescheduled.
Magic Link Invitations. Invitations sent by magic links.
Refund Processing. Delivered when refund has been successful.
Ticket Cancellation. Delivered when a ticket is cancelled.
Early Access. Delivered when your Early Access period begins, if enabled.
Post-Event Invitation. Delivered 2 hours after the event if recordings are published, if enabled. 
To turn off RingCentral Events emails (Advanced plans only), toggle on Disable all emails at the top of the Event Dashboard > Marketing > Customize emails page.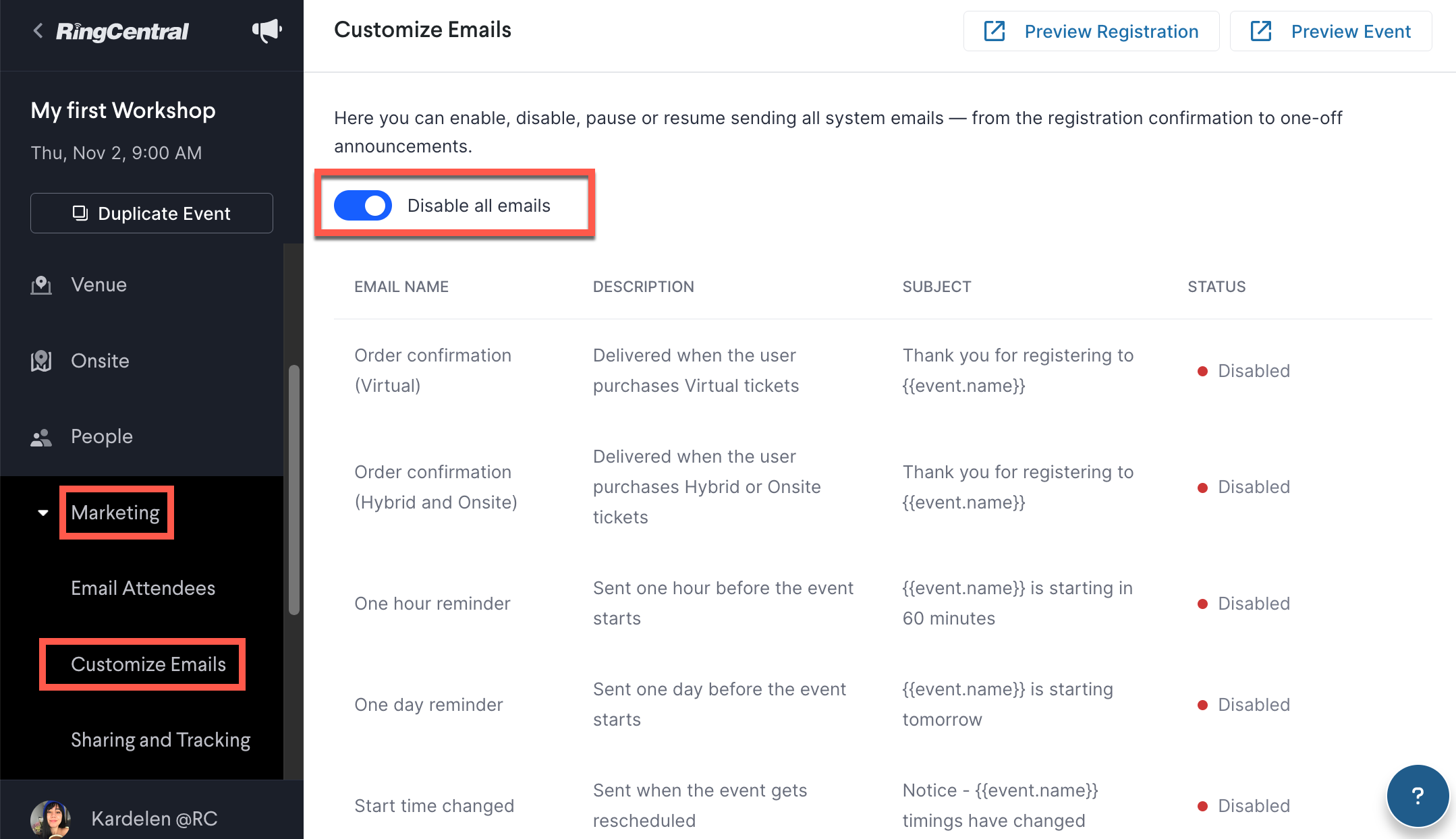 Check out more tips for successful virtual events.