The Expo area of RingCentral Events is the exhibitor hall of digital Expo booths at your event. The Expo area is great for all kinds of exhibitions, such as trade shows or fairs, where event-goers can "walk-around" to visit the booths that interest them, interact with your Exhibitors and Sponsors, and take action.
Each booth at your event can contain pre-recorded or live video, branded content, Website and Twitter links, special offers, salespeople on live camera, and customized button CTAs. 
Here are some important details to know about Expo Booths before you can create one:
Expo Booth streams cannot be recorded. Please use a third-party screen-recording tool (OBS, Camtasia Studio, etc.) in case you would like to record the Expo Booth and store the recording locally on your computer.

The maximum number of Expo booths you can create and run at the same time is unlimited.

The maximum number of participants (speakers or screen shares) on the Expo booth set to Session type is 10. The maximum number of attendees who can watch the Expo booth set to Session type is 5,000. For more info on participant and viewer limits in expo booths check out our Max On-Screen and Viewer Limits article.
Creating an Expo Booth
In the event Dashboard, go to Venue > Expo tab on the left-hand menu. Click Add Booth or Upload Booths.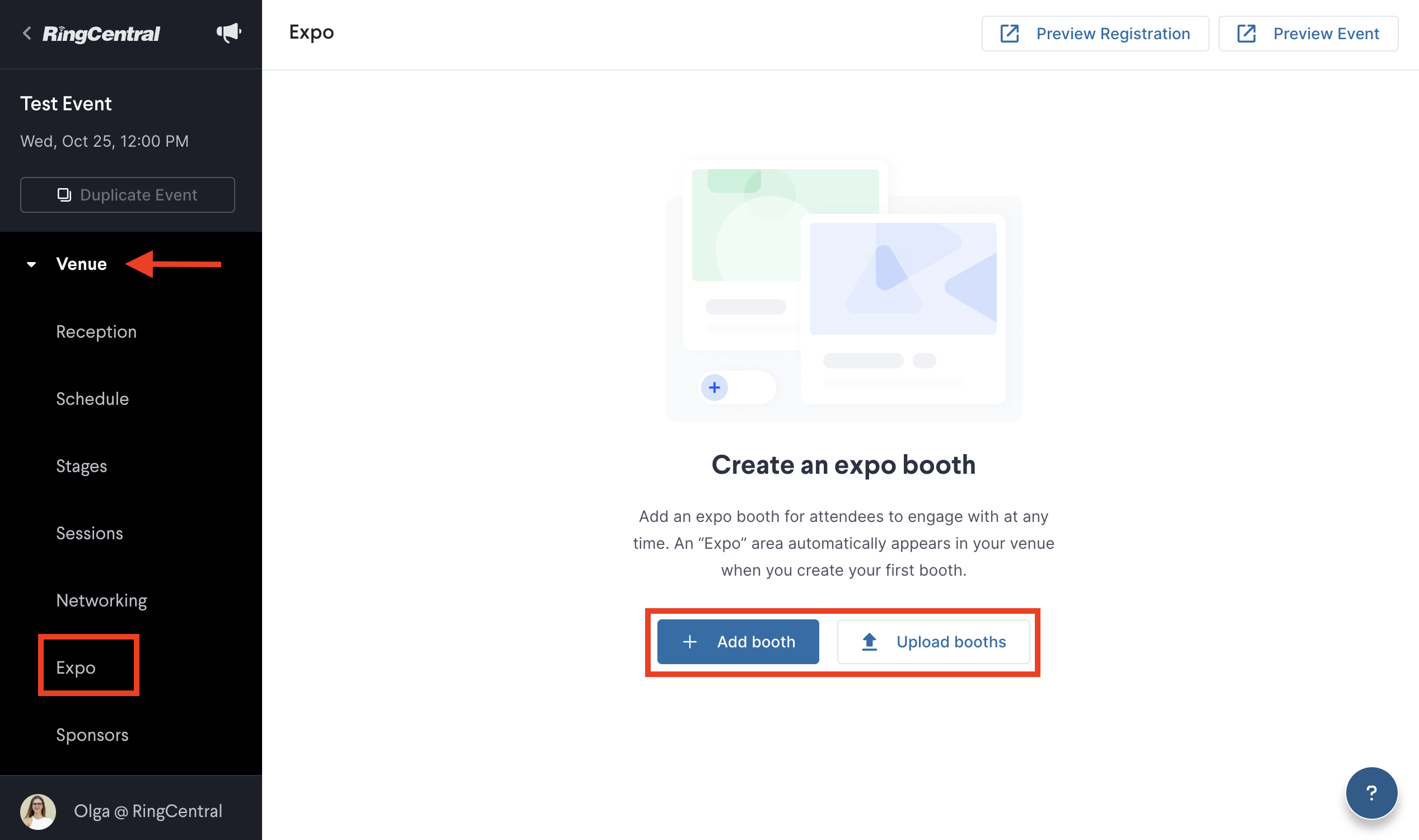 The option to upload booths is mainly used by Organizers on Business plans. This way they can quickly add a list of booths and invite Exhibitors to set them up. Here you can learn more about this feature: How to invite Exhibitors to set up and manage an Expo Booth
Building an Expo Booth
When creating or editing a booth, you'll see the following fields:
Exhibitor Name (required). The name of the company, product, idea, or content. For example, an Exhibitor name could be "Acme Co" or "Sign up list." It's up to you and your use case.
Exhibitor Email (required). The email where all emails from attendees who click the Register Interest button will be delivered. 
Exhibitor Headline. Any short text about the Exhibitor, e.g. Exhibitor motto or key message.
Booth size. The size reflects the importance of an Expo Booth at the event. Mini, small, medium or large - we get you covered for multiple sponsor tiers scenario.
Note: When you have created booths of the same size and have assigned the same priority number, the system will order the booths chronologically in the order they were created (as opposed to alphabetically). That means the booths created first would appear first. 
Priority. Numbers 1-1000 will regulate the way booths are ordered top to bottom on the Expo page. 1 is the first booth to be displayed and 1000 is the last one.
Lead Retrieval License. If the event is set up as Onsite, there will be an option to set up Lead Retrieval for your Exhibitors at your onsite event. Here you can learn more about it: How to enable and assign Lead Retrieval Credits
Live Preview (Desktop). Real-time preview for the Expo Booth size Background image and Logo. Make sure to have the Background and Logo image content centre-aligned to fit multiple screen sizes.
Tip:
Check our
guide on Image dimensions
to make sure your images fit just right across the event. When you add your image it may appear stretched in the preview but, as long as you use the correct image dimensions, it will display fine on the actual event. 
About. A few words to make the booth more descriptive for the event attendees (maximum 700 characters).
Tags. Labels or filters to sort booths by categories and help attendees to quickly navigate through multiple booths during the event. Here you can learn more about it: How to create Tags for Expo Booths
Booth Video / Content Provider. There are multiple ways to display content on the Expo. Learn more about each of them by expanding the tabs below. 
You can place pre-recorded videos from YouTube, Vimeo, or Wistia on the Expo. Once you select one the mentioned sources as the content provider, you will need to add the video ID.

Note:

The Stream identifier field is for the ID only, NOT the entire URL. If the entire URL is used, or the timecodes are added to the link (e.g. LXb3EKWsInQ&t=26) an error will occur. E.g. for the YouTube URL

https://www.youtube.com/watch?v=LXb3EKWsInQ

please use only LXb3EKWsInQ -- the part after the "=" symbol.

Note: Be sure to use a video that is Public and not Unlisted or Private, as otherwise it will not work.

If you like to add a YouTube playlist, this will let attendees select which video(s) they want to watch. In this case, the playlist link must include https://www.youtube.com/playlist?list=.You can find the link of the playlist by clicking the Playlist name at the bottom right corner of the YouTube window:

Adding Session as a content provider in your Booth means that you can make your Expo Booth into a Session like you would see in RingCentral Events Sessions.

Select Session to have a live chat session with up to 10 attendees who visit your Expo Booth, while also being able to switch to a pre-recorded video by setting up a fallback provider.

Organizers need to assign Booth Exhibitors as Moderators on the Expo Booth settings to allow the Exhibitors to manage which attendees will be on or off-screen during a live session. Leaving a Booth with no Moderators assigned will allow all visitors to join a screen. 

Note: Anyone who needs to be added as a Moderator must complete event registration beforehand. 

A fallback provider can be set when you want to display a pre-prepared slideshow or video when there is no one is live in your Booth. You can use a video from YouTube, Vimeo, Wistia or Google Slides. 

Organizers or Moderators can toggle the Fallback provider ON or OFF any time to switch between live video or the fallback provider or your choice.

Last but not least, when large, medium, and small Expo booths are currently in live sessions mode, there will be a red 'live' tag appearing next to them on the Expo page. This doesn't apply to mini booths. If you switch back to the fallback provider, the 'Live' tag will disappear.

Selecting Google Slides as the content provider allows attendee to browse through your slides when visiting an Expo booth. In this case, you will need to add a link to a Google Slides presentation that is published to the Web.

Note: 

Make sure the presentation is published to the web and you copied the correct link. Otherwise, attendees will see an error when visiting your Booth. Refer to this guide to learn how to publish the presentation to the web:

Google Slides Error Message in Expo Booths 

 
Website link (required if Button Action is Link to webpage). The link that will bring to the Exhibitor's website in case the Button action is set to Link to website.
Twitter link. The link to Twitter profile to get in contact with the Exhibitor on social media.
Facebook link. The link to Facebook profile to get in contact with the Exhibitor on social media.
Instagram link. The link to Instagram profile to get in contact with the Exhibitor on social media.
LinkedIn link. The link to LinkedIn profile to get in contact with the Exhibitor on social media.
Offer. Use this field to write a special offer for booth visitors. It could be a discount, special access, coupon code, or anything. It's optional text, not tied to anything programmatically.
Button Text (required). Any short text used as a click to action for the attendees.
Button Action (required). It can be either Register interest (sends attendee emails to the Exhibitor mail) or Link to webpage (opens any website or external resource for downloading more content from the Exhibitor).
If an Attendee clicks on the Register interest button, there will be a message sent to the Exhibitor email:

Apps. When you click the 'Discover more apps' button, you are redirected to the App Store. There, you can enable various apps to your event. Check out this article to see which apps you can have in your Expo Booths!
Once they are enabled, you can go back to the Expo page of the event dashboard and you will be able to add in the information you need to feature the apps in your event. 
Additional Information Area. You can add additional information to the booth for your attendees by using the content area. Follow this guide to set that up. 
Editing & Managing an Expo Booth
Once you create your booths, you will see them listed in the Event Dashboard > Venue > Expo page. To edit or to remove an existing Expo Booth, hover over the listing and click on the pencil or bin icon correspondingly. 
You will also be able to download a CSV file with the list of Exhibitors. This option is especially useful if you need to upload the same Exhibitors into another event.
The option Invite Exhibitors is available on Business plans. You can assign Exhibitors to the created Booths so they can set them up. Here you can learn more about this feature: How to invite Exhibitors to set up and manage an Expo Booth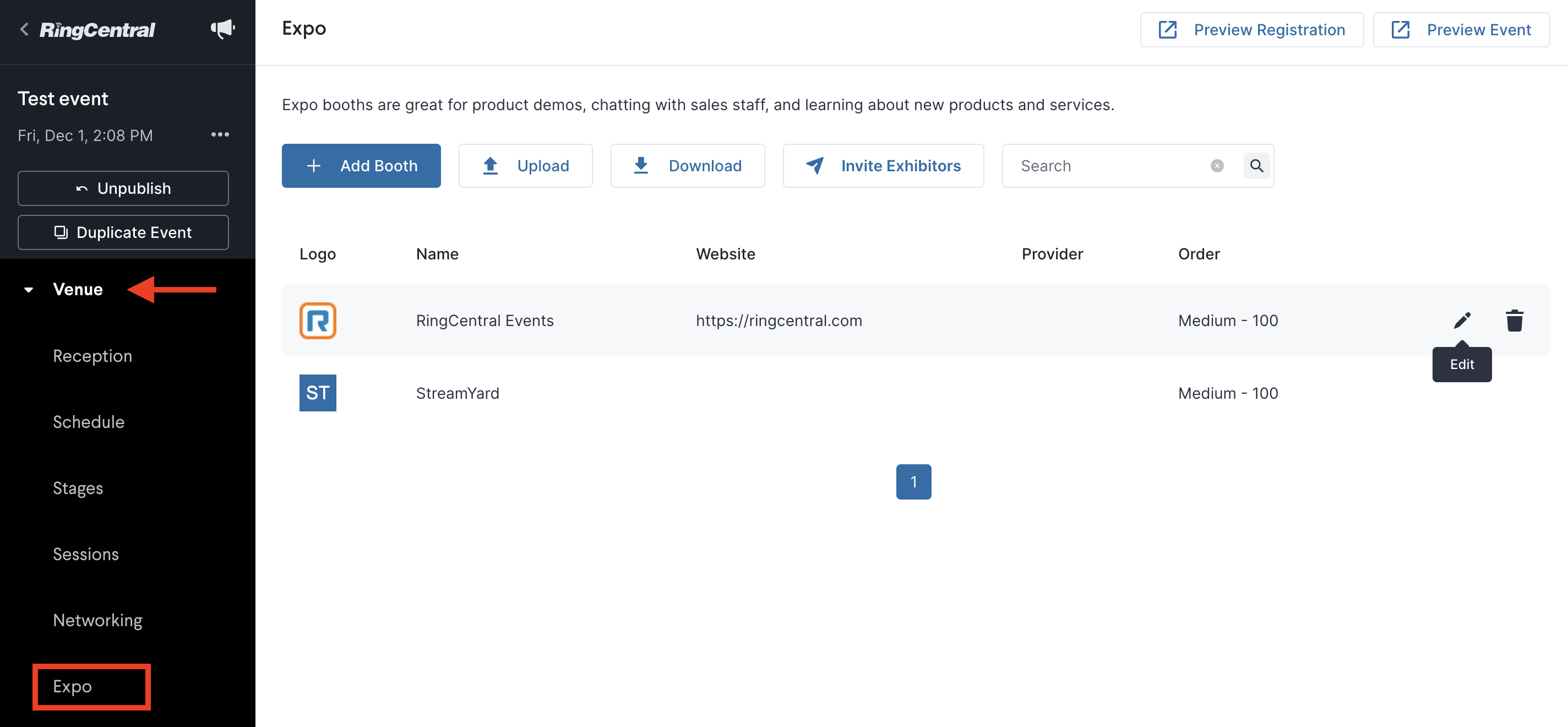 Expo Activity Panel
Once the event is live, attendees can also engage with the Exhibitor in the dedicated Booth activity panel: Chat, Q&A and Polls tabs. 
Tip: Exhibitors can ask Organizers to send a pinned message to the Booth chat with more details about the Exhibitors or any external resources that might be helpful to the attendees.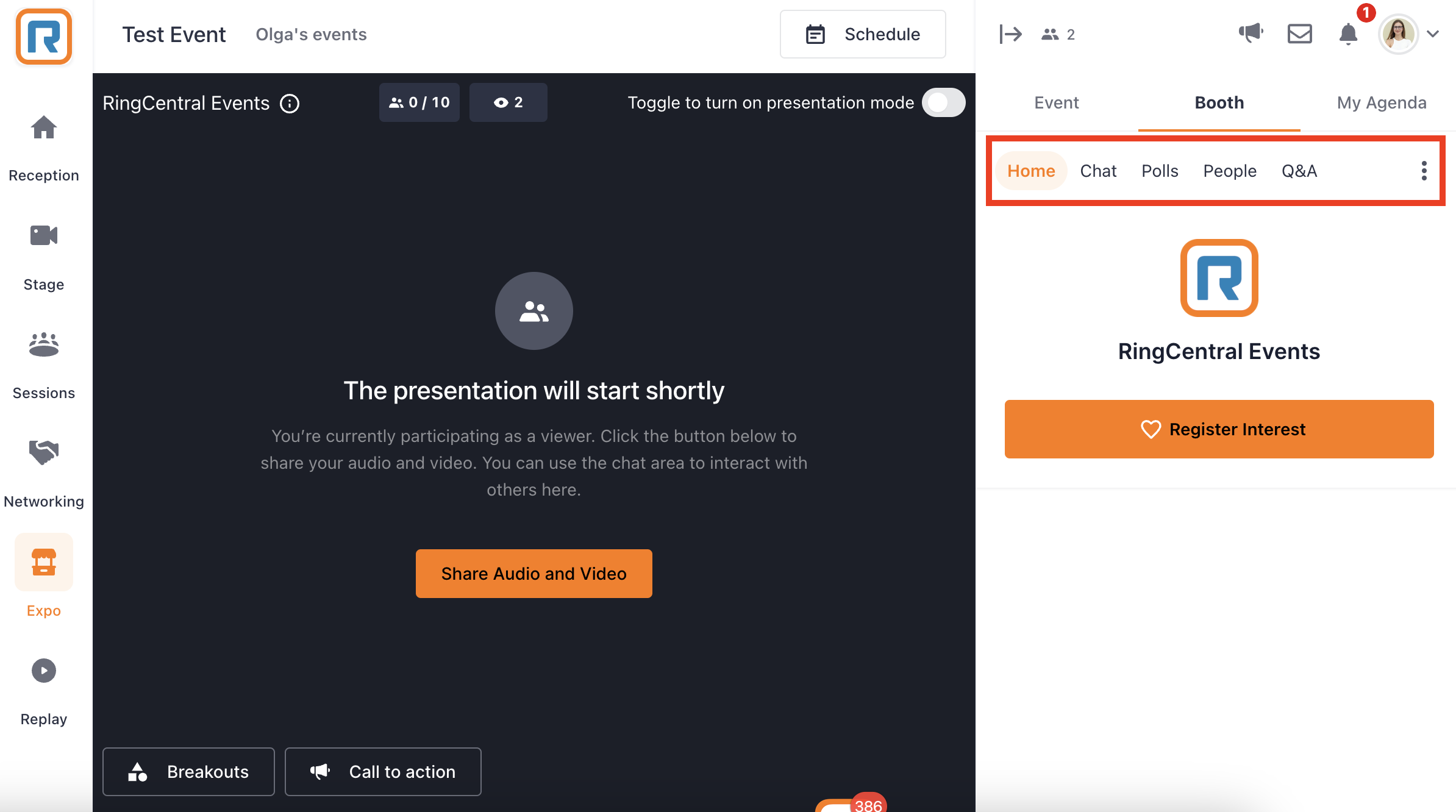 That's it! Now you know how to create and adjust the Expo Booth at your online event.