Create an Organizer account
When you first sign up for RingCentral Events, you will create an attendee account. An attendee account is what you use to attend events hosted on our platform, and what is available the first time you log in. To become an Organizer and to be able to host events, you will need to add an Organization to your account.
To create an Organization on RingCentral Events:
Sign in into RingCentral Events and open Your Account page.
From the menu on the left, click Create new organization.
Fill out the information about your Organization.
Click the Create organization button to finish.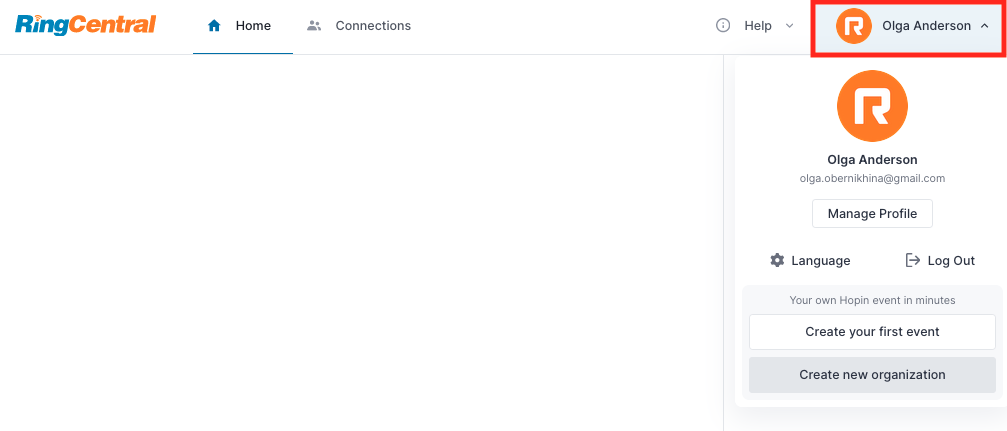 Once your Organization is created, you can access it from the left sidebar by clicking on the newly created Organization. By default, all newly created Organizations are subscribed to the Free Plan. An Organization can have one subscription at a time.
To create your first event, navigate to your Organization and you will notice a Create Event option in the top right corner of the page. You can also learn how to Create Your First Event on RingCentral.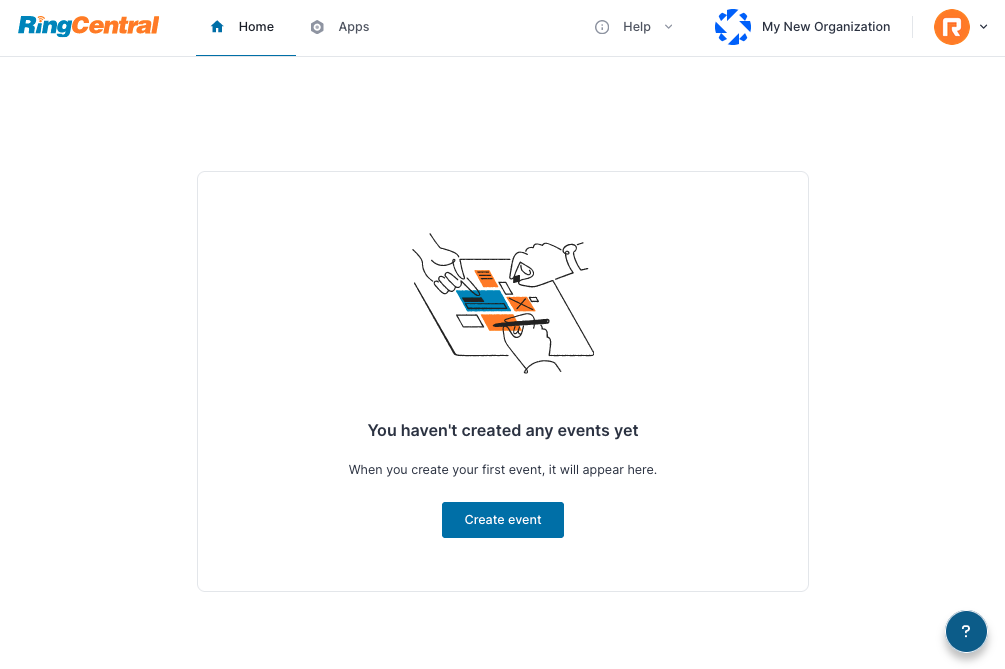 Every Organizer can create and access events at any time, even on the Free Plan. At the moment, the Free Plan is limited to hosting events with up to 100 registrations per event and with events lasting up to 2 hours. For events larger than 100 people in a month/longer than 2hrs, a paid subscription is required.
Editing your Organization
You can edit the name, logo, email for your Organizations at any time under the Profile section of your Organizer Dashboard. Check out this article for more info on how to edit your Organization's profile.
RingCentral Events Subscriptions
An Organization can have one subscription at a time. Please see our pricing page for complete details.
To manage your subscription, select your Organization and navigate to the Billing tab. See An Overview of the Organization Dashboard for further details. 
Selling tickets. Connect your Stripe Merchant account
In order to create paid tickets for your event, you should connect (or sign up for) a Stripe Merchant account.
Note: Stripe is the only billing platform supported on RingCentral Events at the moment.
An Organization can have a single Stripe Merchant account connected. If you have multiple Organizations, each should be connected to a separate Stripe Merchant account.
To connect your Stripe Merchant account, head to the Billing tab of your Organization account. Then locate the Stripe integration: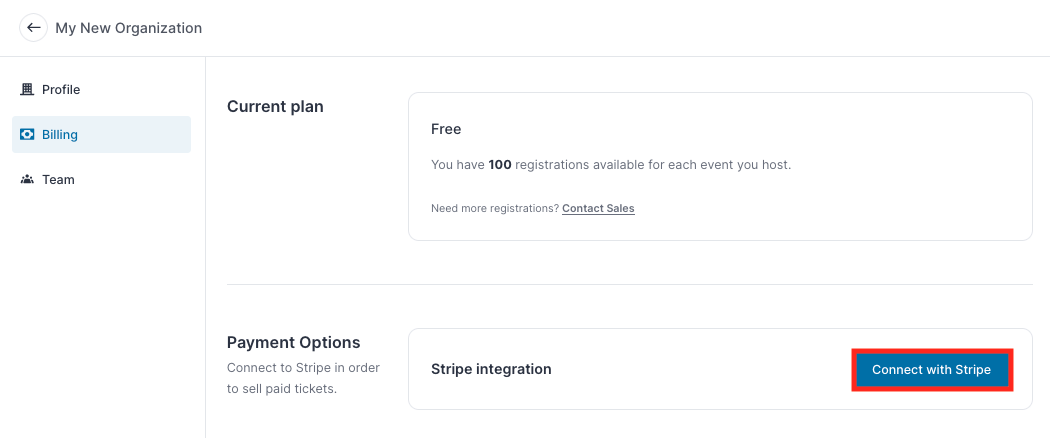 Follow the on-screen instructions to establish a connection and upon completion, you can begin defining paid tickets for your event. 
See our guide How to connect your Stripe account for complete instructions. 
Your ticket sales revenue is deposited into your Stripe account 3-7 days after the sale occurs.
RingCentral Events does not cover Stripe's payment processing fee.
To issue refunds for tickets purchased by your attendees, go to your Event Dashboard > People > Registrants tab and find the attendee in question. When you hover over their entry, the three dots ••• will appear at the end of their respective row. Click on this icon and then See Details.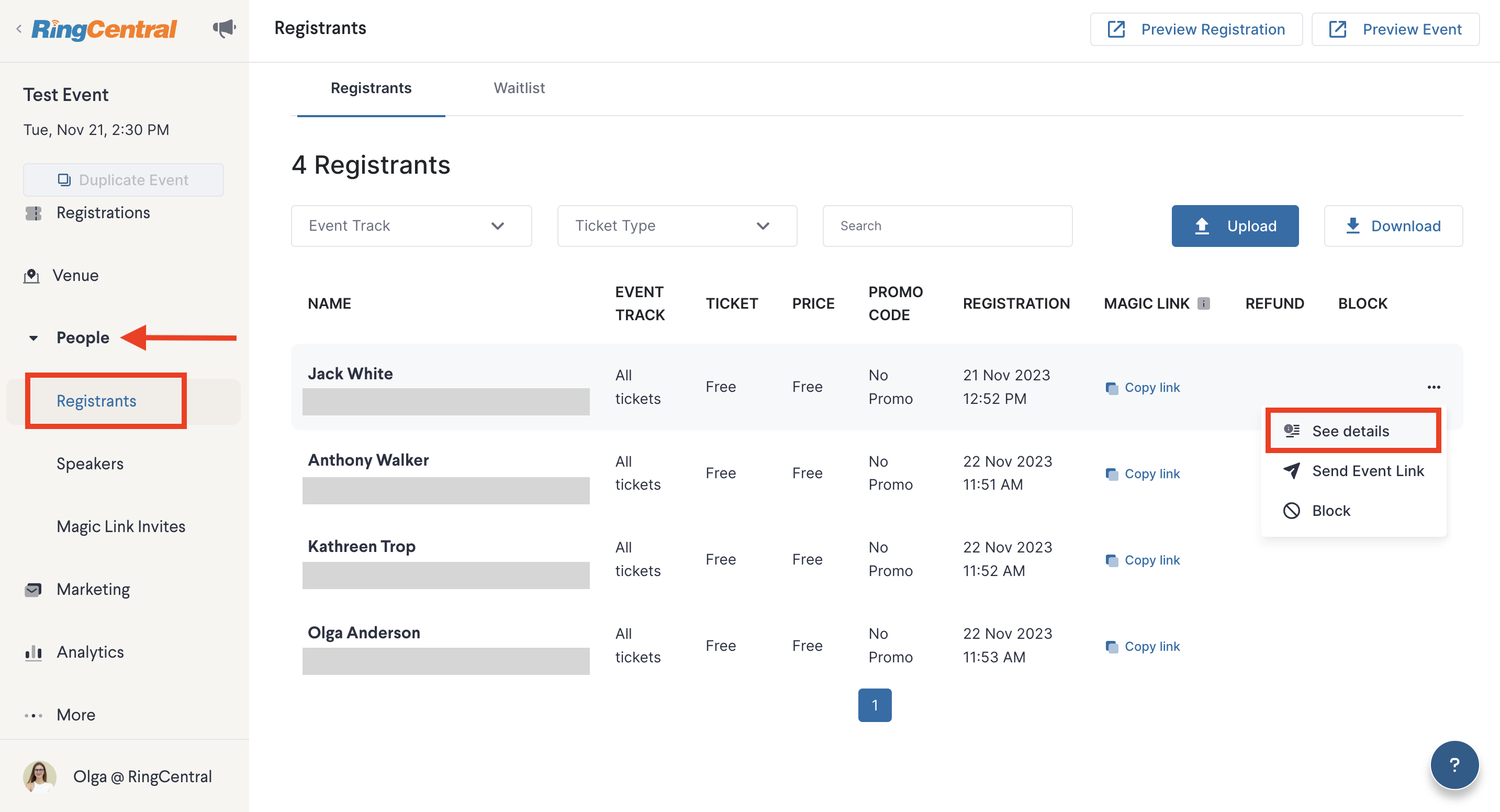 Here, you will see the Refund button at the bottom of the window. Click Refund and a small pop-up will ask you if you are sure. Click OK and the refund will be issued.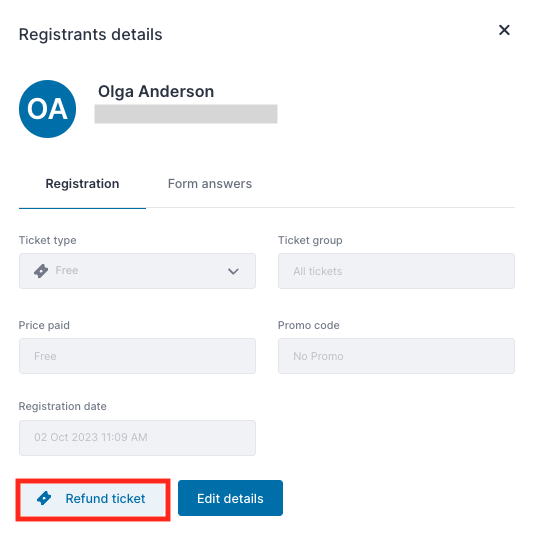 For more information on your paid tickets and transactions, you can head to your Stripe account or checkout Stripe Direct Billing.
Selling tickets. Invoicing and Receipts
When someone purchases a ticket for your event, RingCentral will send them a basic receipt for their purchase. VAT invoices, if required, should be issued and sent to your attendees separately for the time being. Information on who purchased which ticket type can be found in your Attendees report or the Export Orders report.
Add team members to your Organization
More team members make organizing and running events on RingCentral easier. To add team members to your Organization, open the Team tab in your Organizer Dashboard. You can also check out this article for more info on how to add additional Organizers. 
Note: Adding teammates (called Organizers) can be an immediate additional charge of your monthly or annual fee.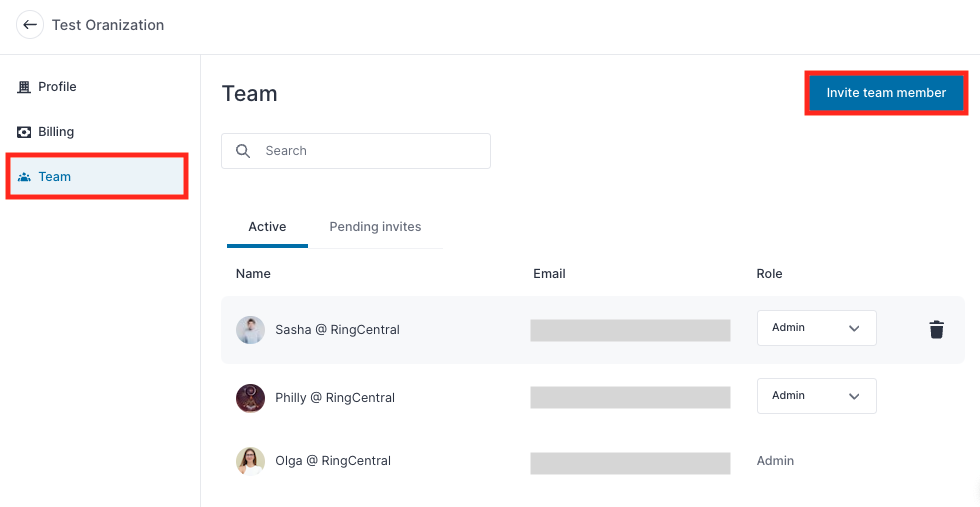 Input their email and hit Send invite. The user you sent the invitation to will see it upon logging in to their RingCentral Events account.
Additional Organizers can create and manage all your events, invite other team members, and make changes to your billing account. There are no sub-accounts or team permissions to allow single-event privileges. See our guide Organizers, Moderators, Speakers - Understanding Roles & Permissions on RingCentral Events for more information.
Adding multiple Organizations to your account
You can have multiple Organizations tied to your RingCentral Events user account. Each Organization requires its own billing plan and Stripe Merchant account. You can use the same Stripe Merchant for each Organization, but you will need to add it to each count individually.