Schedules provide a clean structure and source of information for your Attendees to know what's happening during the event, where they should be, and when.
When you create a Schedule, it automatically appears on your event's Registration page and Reception page. For example, here is how your schedule would look like on the Reception page inside of the event. The schedule modal can also be accessed from the header when browsing around the event.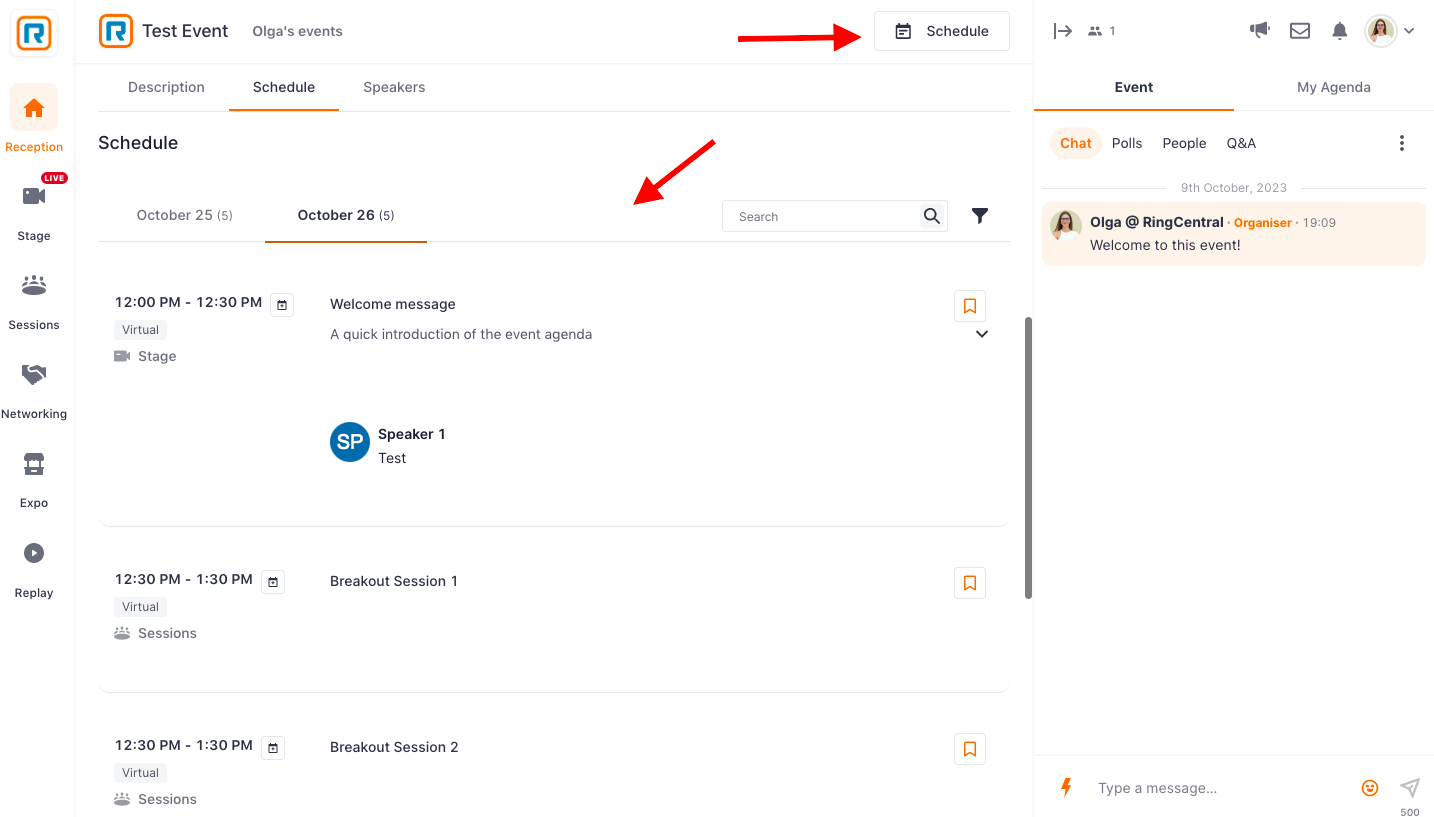 What happens when I have a schedule for an event?
With a Schedule, RingCentral Events will automatically add a live indicator to the area icons on the left of your event and it will add a "What's happening now" area to your Reception page to let your Attendees know what's currently happening at your event. RingCentral Events reads your Schedule and attaches the red LIVE tag to the currently scheduled areas of your event. The live schedule will also be highlighted in the schedule.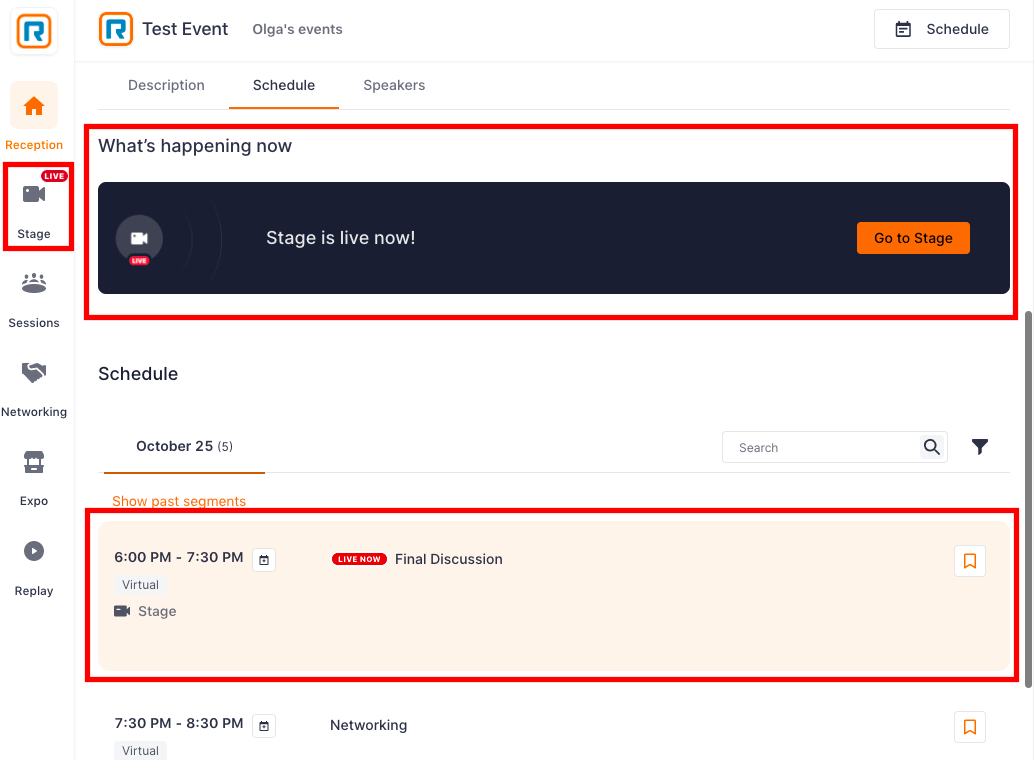 Creating your schedule
To create a Schedule, click the Venue > Schedule page from your Event Dashboard. There are several ways you can go about creating a Schedule. Click one of the options below to learn more:
Table view

Make sure that you click Table from the toggle at the top of the page to work on your Schedule in Table view. In Table view, your Schedule should look something like this:

Simply press the "Q" button on your keyboard or click Quick add new to add a new segment to your Schedule. 

This will open a new row where you can add the Title and the time of your Schedule segment and then hit "enter" on your keyboard, or click Add. 

This will create a Schedule segment but you will still have to edit the segment to add in all the extra information regarding speakers, tags, and where this Schedule segment will take place. 

Note: It will automatically default to the Stage when creating a segment in this way.

Once the segment has been created, you can also set it as a "Draft" so that it is not shown within your Event. To do this simply scroll to the end of the segment and click on the drop down under "Editing Status." Select Draft from the options. When set as "Draft," the segment will display as orange and you will see an orange dot next to the Schedule tab in your Event Dashboard.

Calendar view

Make sure that you click Calendar from the toggle at the top of the page. In Calendar view, your schedule should look something like this:

To add a Schedule manually, click the Add to Schedule button and fill in all the information in the modal on the right hand side. Alternatively, you can click on the plus icon next to the chosen time slot.

This will open a pop-up window on the right side where you will be able to set everything up.

1. Editing Status: select whether you would like this segment to be set as a "Draft." Simply toggle it on or off at the top of the panel. If you set it to "Draft," you will see a "Draft" label on the segment as well as an orange circle on the Schedule tab of the Event Dashboard.

2. Segment Format: select whether the Schedule segment will be a Hybrid, Onsite, or Virtual segment; depending on which one you choose, you may see additional fields to complete.

Note:

This option will be only visible if your event is set up as Hybrid or Onsite. For more information on adding a Hybrid/Onsite segment to your event, you can

check out our separate article.

3. Segment type: Choose from the dropdown between Stage, Session, Networking, Expo, Replay, External URL, Custom Area (for Enterprise plans only], App Area, or Break.

The next field will be either Stage, Session, Networking, Expo, External URL, Custom Area, or Break depending on the previous selection (Select the actual Stages or Sessions, etc., from the dropdown).

Note:

you could use the

External URL

option if you would like to direct your attendees to another event outside of RingCentral Events or if would like them to complete an additional activity

4. Title: Add a title for the schedule segment. 

5. Description: Add a description for the schedule using our rich text editor where you can bold, italicize, underline or strikethrough text, add hyperlinks, and create lists.

6. Start & End: Start and end date and time

7. Onsite room (Hybrid/Onsite only):

Choose which room at your onsite venue the segment will take place in

. 

8. Onsite capacity (Hybrid/Onsite only): What is the capacity of the room in which the segment is taking place? 

9. Speaker(s): If any added to the event you'll be able to select them or create a new profile

10. Tags:

Search or create new to add tags




11. Attendance: regular or recommended

Upload a schedule CSV

To get started, click Upload and then choose a file to download.

To ensure seamless CSV Schedule upload, we recommend creating your Schedule from our template. Alternatively, you can click Download CSV Template where you can fill in the information for your schedule using and save it. Once completed, upload the file back into RingCentral Events and finally click on Import.

The next thing to do is to map the fields from your CSV to the schedule template on the event dashboard. If the fields do not match automatically, click the dropdown button and select the match for each column of your CSV. Once done, click Confirm fields. 

Next, confirm the date and time format in your CSV file. That's it! 

What if I want to upload another Schedule CSV?

If you want to upload another schedule CSV when a schedule already exists, simply follow the same steps as stated above. You will then get a pop-up box with a message that says a schedule already exists.

Click Append to Schedule to keep all the existing schedule items as well as the items from the new CSV you're uploading. Click Replace Schedule to replace the existing schedule items with the new one you're uploading.
Schedule visibility
If you would like to hide your schedule from Attendees and ensure it is not shown within your event, simply look for "Show schedule in event" toggle at the top of the page. This looks the same whether you are editing in Table view or Calendar view. 
Toggle it on/off depending on if you would like the Schedule to be shown within your event or not. This can be toggled on and off at any time before or during an event. 
Note: On the RingCentral Events mobile app, if multiple segments are added to one Schedule item, only the first segment will display on the Schedule and be accessible. Keep this limitation in mind if using concurrent linked segments and expecting mobile app users for your event. 
For more information on hiding your Schedule's visibility, check out this article.
Can I edit my schedule?
You can edit your Schedule in many ways before your event, or even when your event is live. You may need to do this if a speaker cancels, if a segment runs over, or perhaps you have simply changed your mind about something!
To find out how to edit your Schedule, check out our guide.
How to add breaks to my schedule
Breaks are useful to add to your Schedule so that your Attendees can easily plan their day. Adding a break simply blocks out that period of time on your Schedule.
This can be done easily, just follow these steps to know how.
How to create a new Session from the Schedule
To save you time when building your event, you can now create a new Session directly when creating your Schedule. This means that you can build new Sessions into your Schedule without having to go back and forth between the different areas of your Event Dashboard. Simply create a new Session and then edit it later! 
Check out this guide on how to create a new Session from within the Schedule to know how!
Other things to note
Organizers now have the ability to generate the embed code via iFrame for their event's schedules and can embed this code on third-party websites to have the schedule pulled up (Advanced plans only). Find out more here. 
To add Networking to your Schedule, you must first enable it. Check out this article for more info. 
If you have added speakers to your event, you are able to add them to specific scheduled segments. You will be also able to

create a speaker profile or add registrant as a speakers directly from the schedule when creating a new segment or editing an existing one. 

By default, scheduled Sessions do not show up on the sessions tab of the event until 5 minutes before the scheduled time. Organizers are able to access the sessions via the link on the event dashboard at any time. 
If the Scheduled time for the Session/Stage is over, the session/stage will still be live and won't get cut off. Even though no one will be kicked out when the scheduled segment is over, the scheduled sessions will disappear from the Sessions tab 5 minutes after the scheduled end time, unless specified otherwise.