Your attendees will love engaging with custom polls related to your event's content. Here's what you need to know.
The Basics
Only event Organizers and Moderators can create, hide, or delete polls.
-Organizers can control polls at any level of the event (event, stage, session, expo)
-Moderators can control polls within their Moderated Session or Expo Booth
Speakers who have a Speaker Profile created for them by the Event Organizer can publish Polls event-wide.
Polls can be specific to a particular Session, Expo or event-wide.
You can create a poll in any area of the event except the Backstage.
Attendees are allowed to vote once per poll.
If you create polls before your event starts and attendees land on your event's Reception Page, they can vote on the pre-created polls before your event begins.
Polls can be created anytime before or during the event. You may choose to keep your Poll as a draft, schedule to publish later or publish immediately. It's also possible to unpublish/republish your polls. 
Character limit for poll questions: 200
Character limit for poll options: 100
Limit for number of poll options: unlimited
Creating polls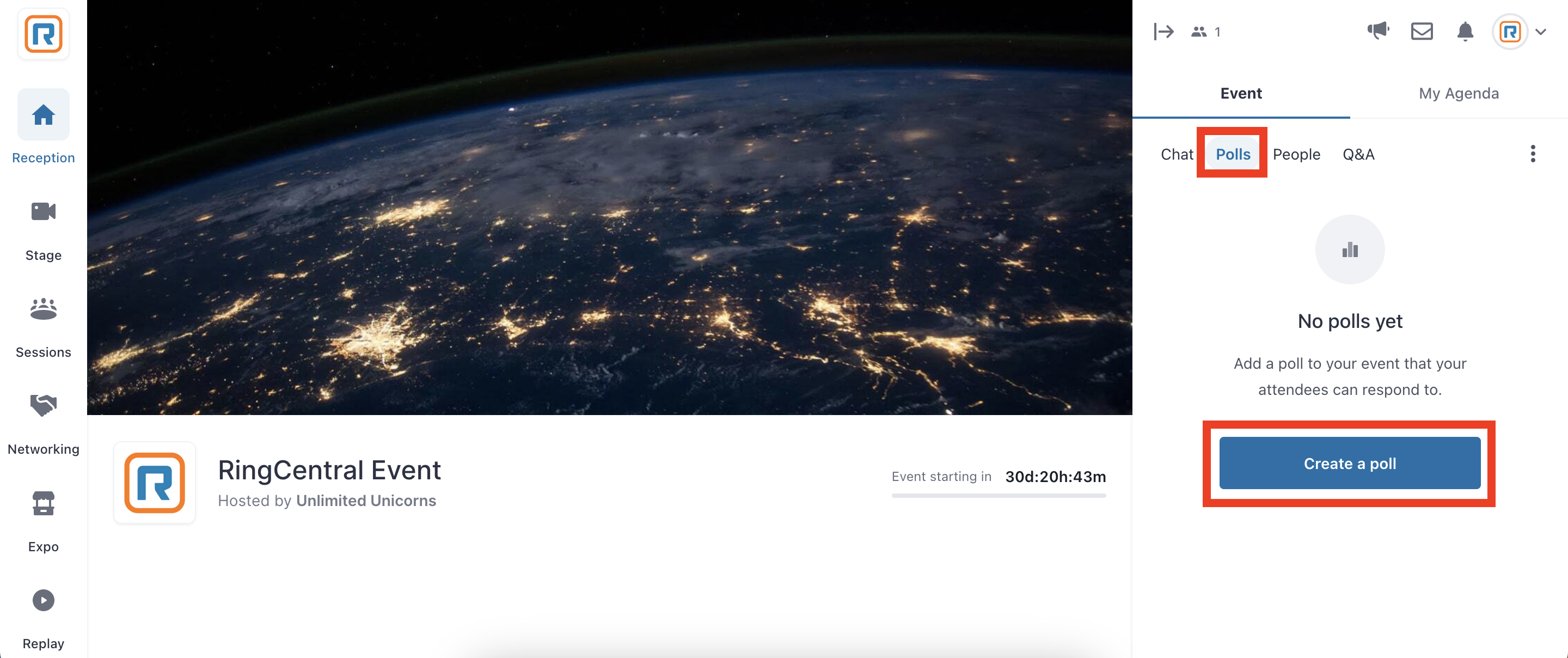 Head over to the Polls tab on panel on the right hand side and click Create a poll.
Note: You can also create a Poll within a specific Session or Expo Booth, just head over to the Event area and follow the same process as above.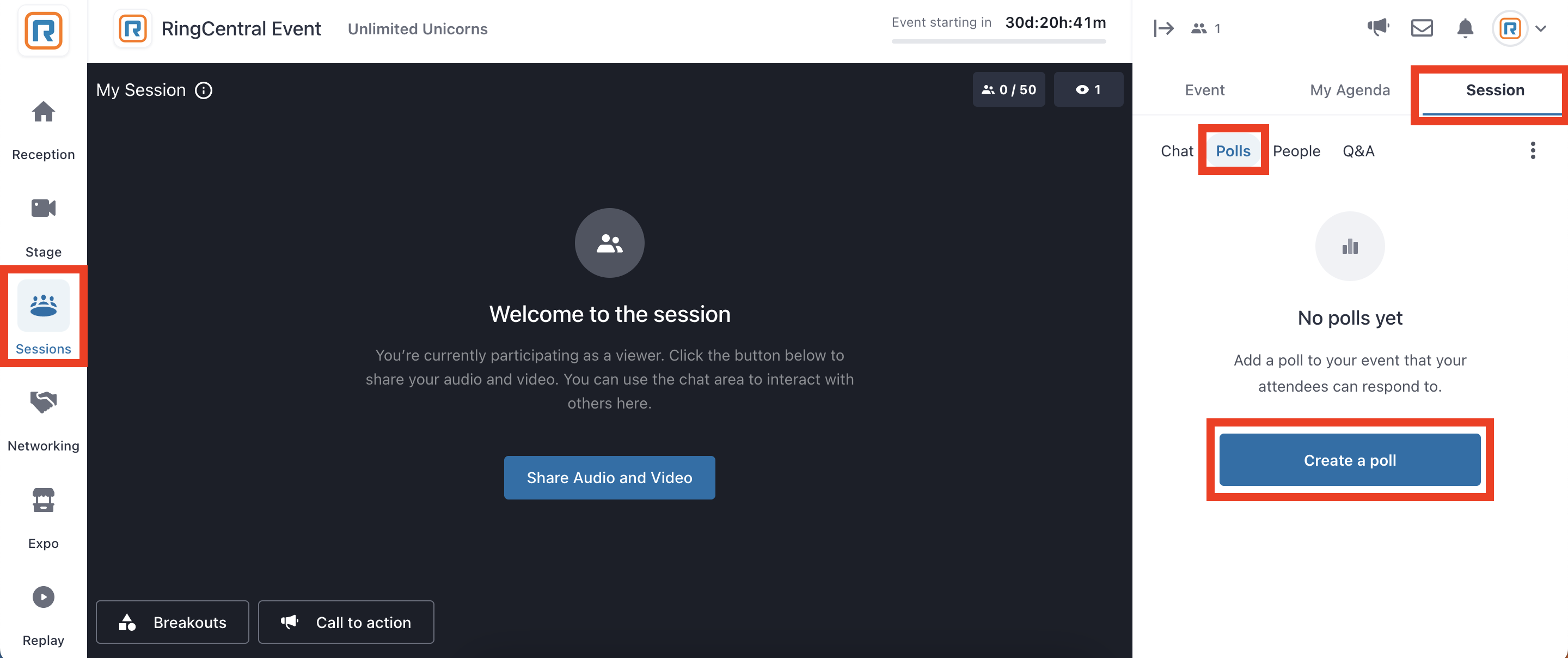 A new panel will open where you can enter the question you would like to ask, as well as the options you would like to be available to choose from.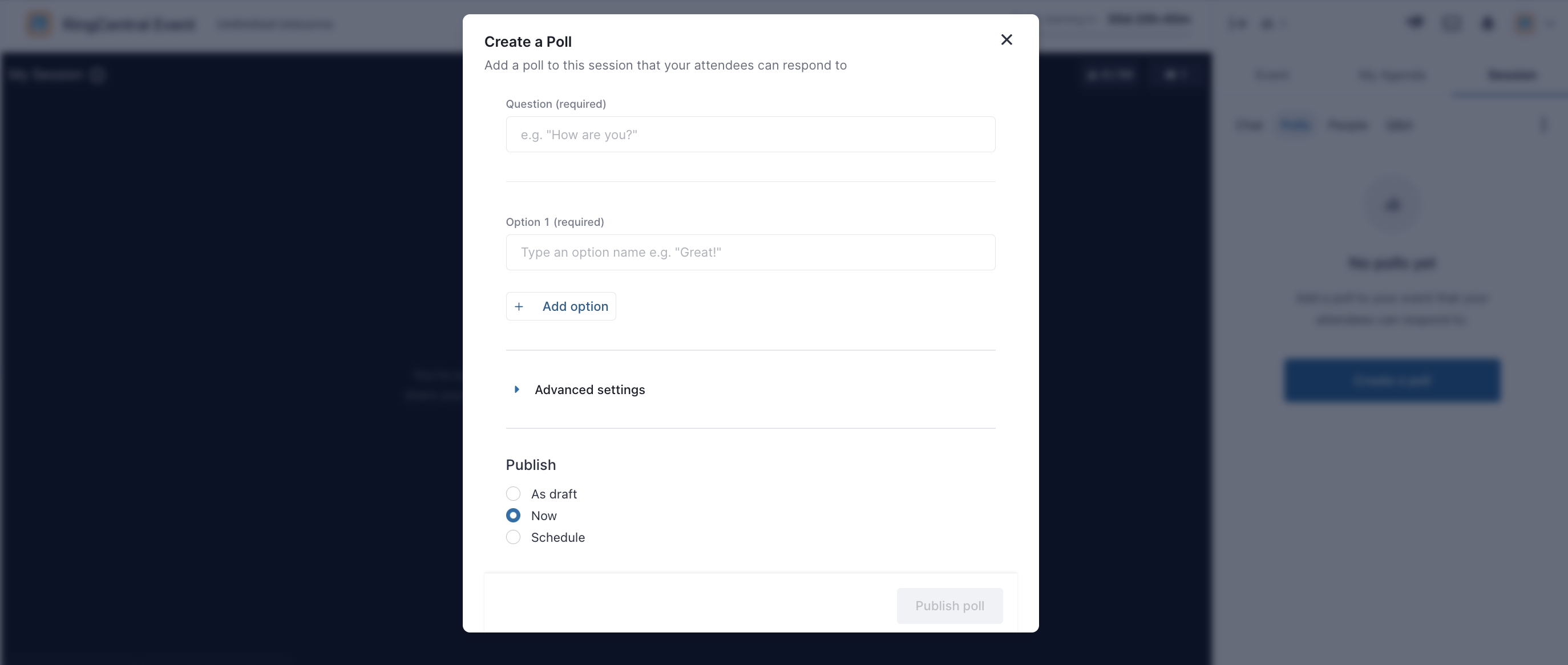 If you would like the poll to be published now, simply click Publish poll.
Schedule a poll for later
Alternatively, you can choose when you would like the Poll to be published or if you would like to save it as a draft:
As draft - this can only be viewed by Organizers and Moderators and can be edited and published at a later time
Now (default) - the poll will be published immediately
Schedule -  you can set the date and time you would like the poll to be published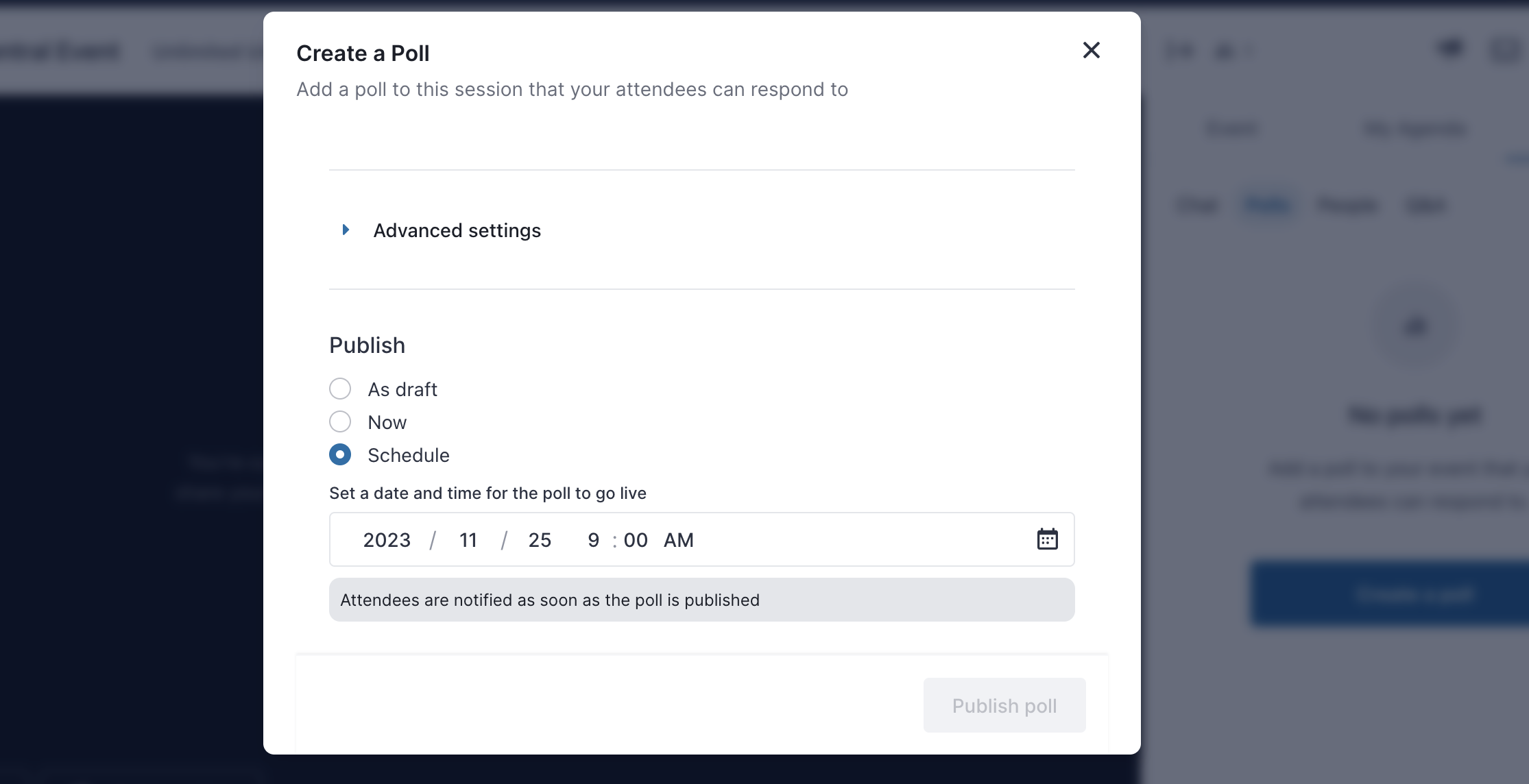 If you select As draft or Schedule you will see a label next to the poll in the tab to say "Only visible to admins" or "Scheduled for..."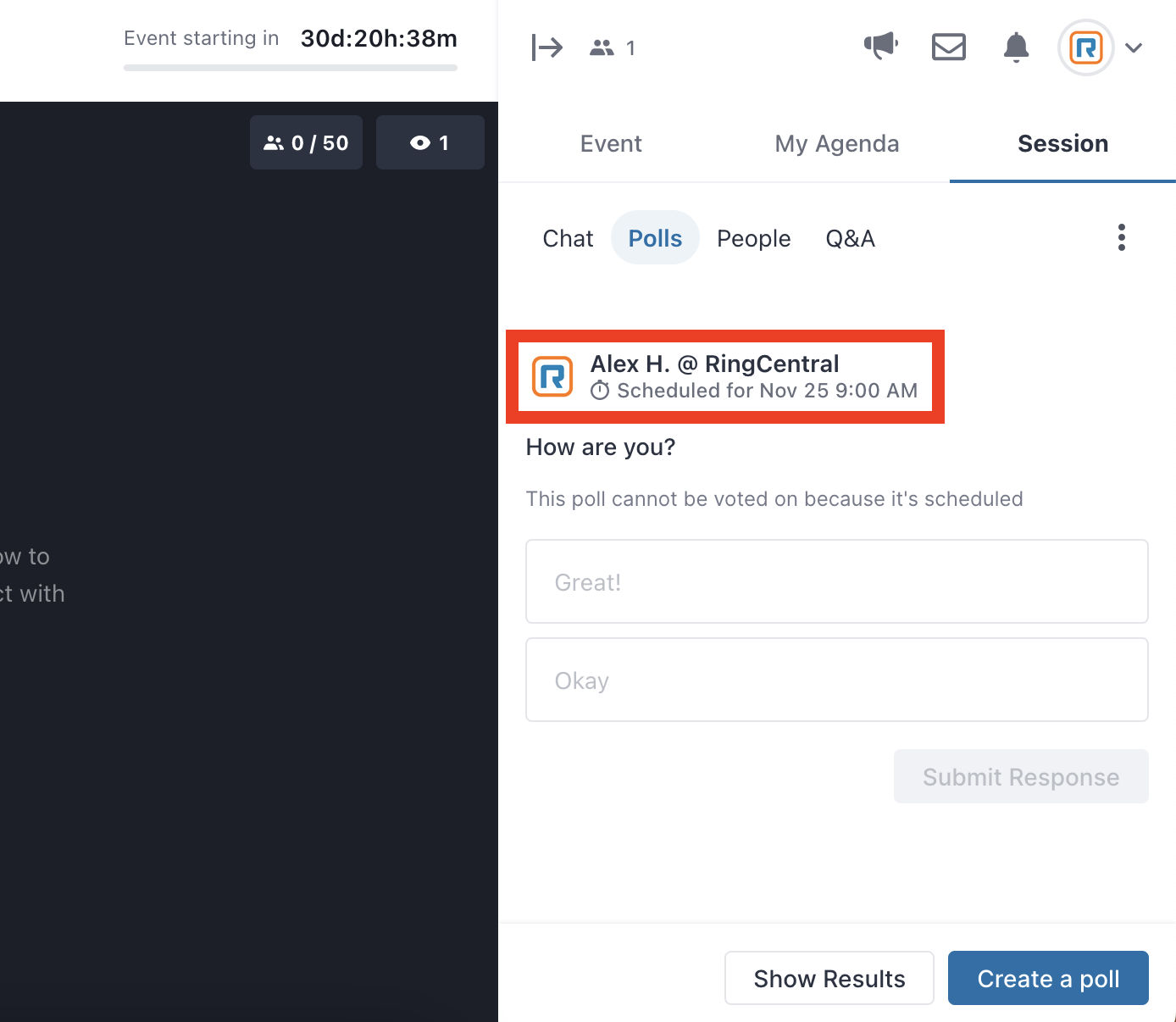 Advanced settings
Advanced settings bring more controls to Polls at your event.
While creating a new Poll click on the Show advanced settings menu.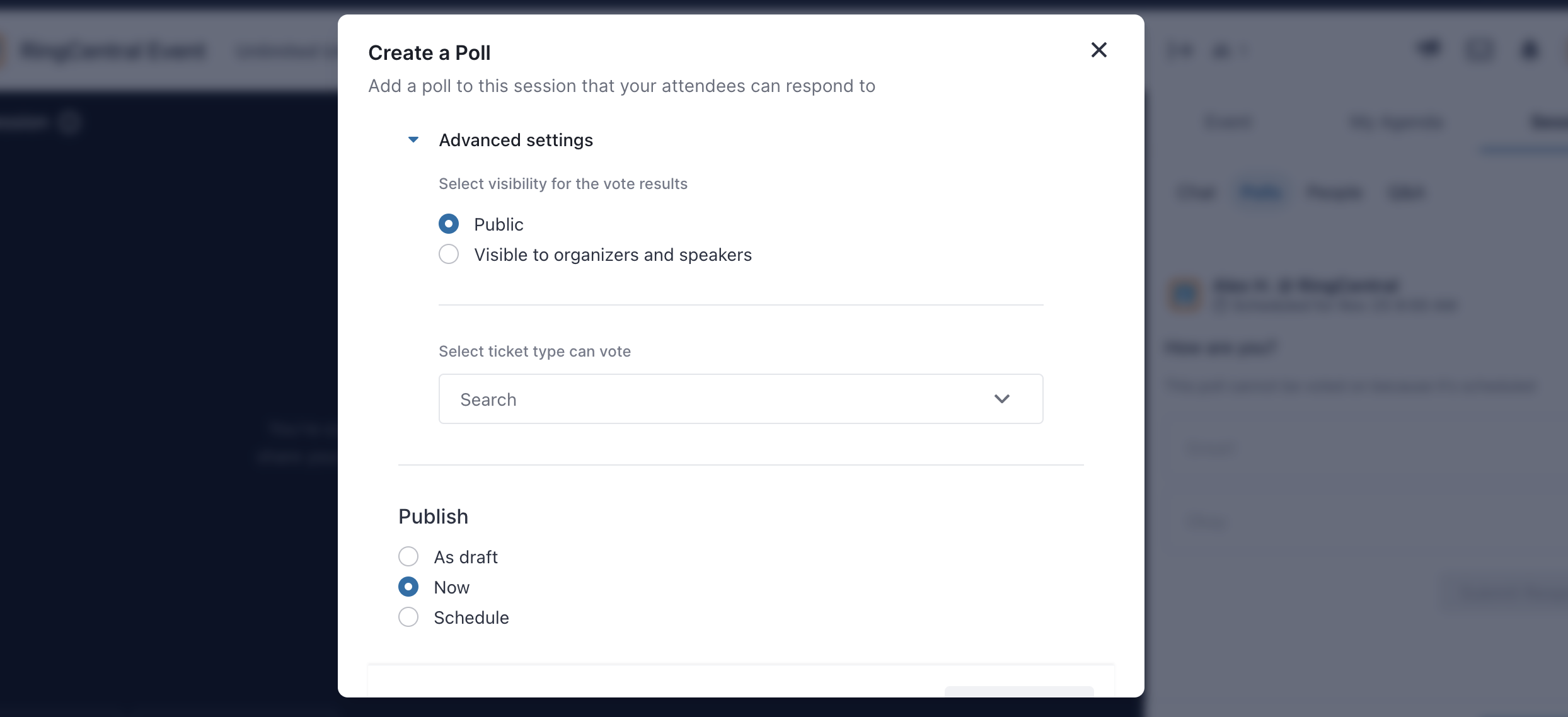 Select the visibility for the vote results, you can choose between:

Public - this means that all attendees will be able to see the poll results
Visible to organizers and speakers - this means that only the organizers and speakers can see the poll results (examples below)

Restrict voting to certain ticket types only. This means you can choose which ticket types can vote for certain polls. Simply select which ticket types you would like to include from the drop down menu. 
Note:
If you want to create polls
before your event starts
, you must preview your event by visiting by clicking
Preview event
in the top-right corner of your Event Dashboard. See
How to preview an event as an organizer
for details.
How will the attendees know that there is a poll?
Attendees will now receive a notification when a new poll is posted! It will be displayed in the top right hand corner of their screen. When they hover over the notification, they will see an option to Dismiss the poll or Vote now. The latter will take the attendee to the poll where they can cast their vote!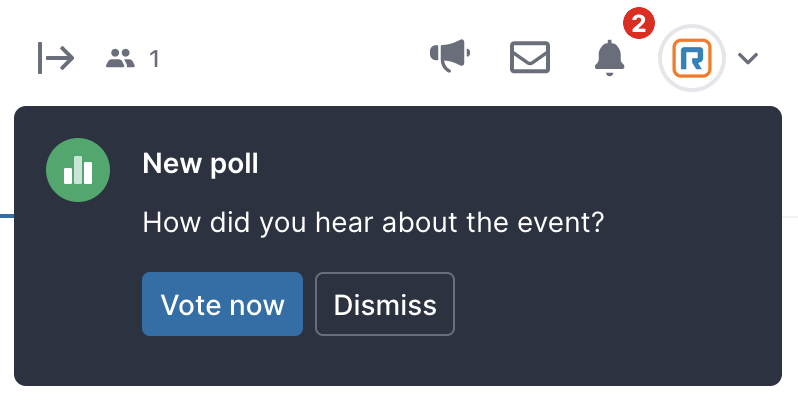 Poll data
You can view the responses to your polls directly in each event area by clicking Show Results in the specific poll section.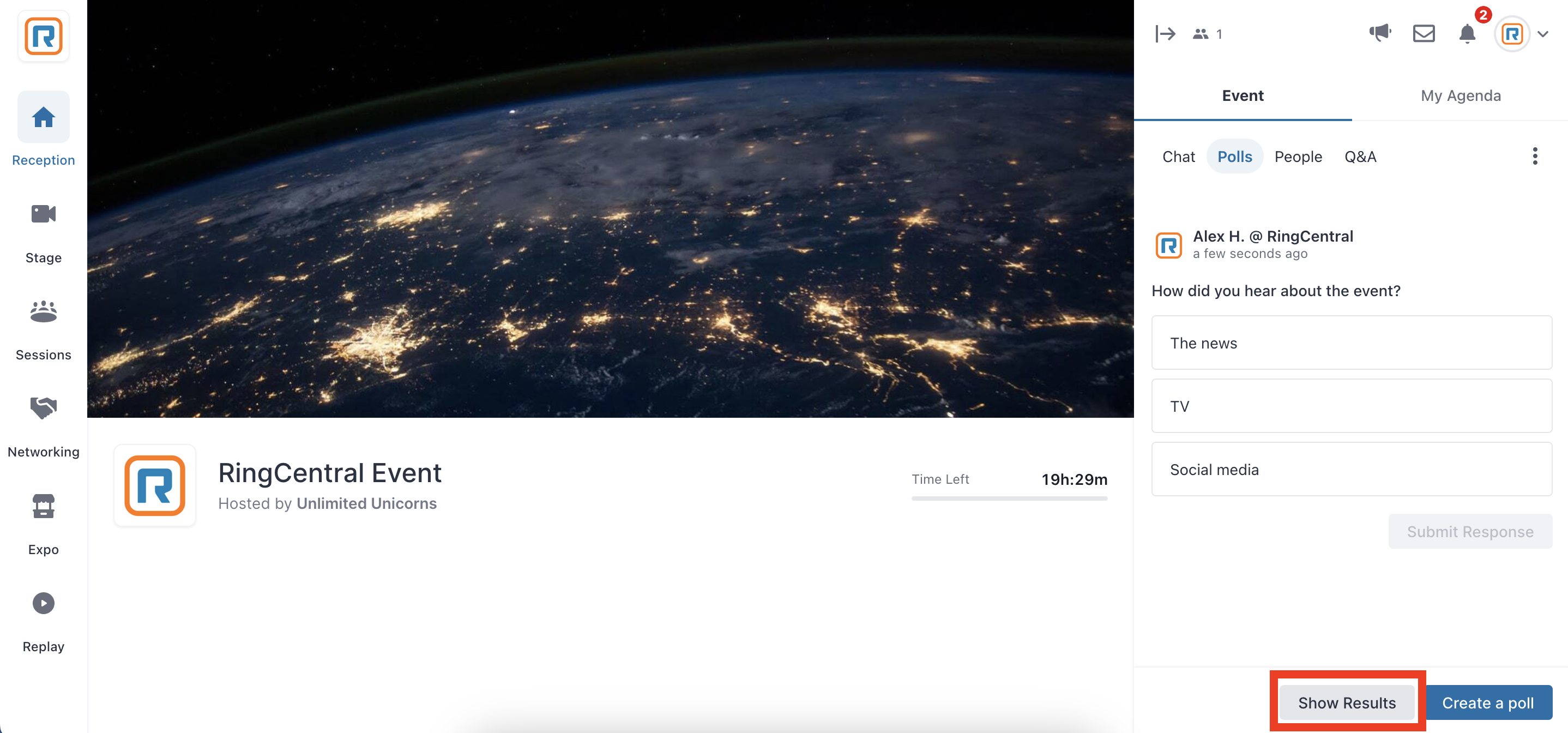 Alternatively, Organizers can check live poll results by going to their Event Dashboard > Analytics > View Polls.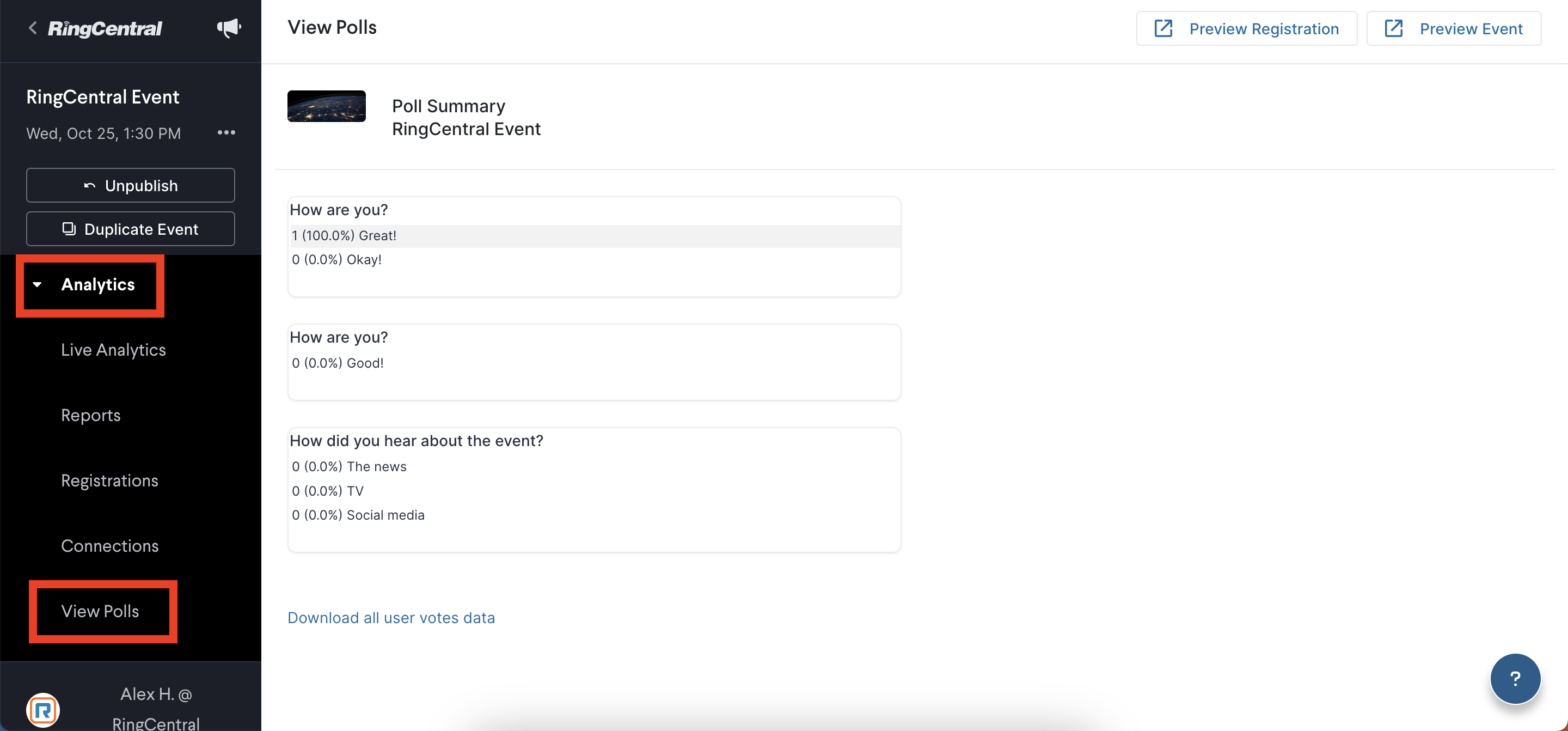 Here, you can view and Download the Poll results at your event. You can also download the Poll Results Report for further analysis!
To do more with polls, check out our guide on Which Apps are available on RingCentral Events? such as the Slido App.
Disabling event-wide/segment polls
To disable the poll tab of the event/segment, please see how to disable polls for instructions.