Because we prioritize accessibility and are constantly trying to improve our platform, we have made sure that all Organizers, Speakers, and Attendees are able to experience and engage with events on Hopin.
Currently, there are a few different ways to present with captions during events.
Closed Captions in Sessions
As an attendee, you can enable closed captions within a Session by clicking on the CC button at the bottom of the screen you are viewing.
For more info on closed captions within Hopin, check out our guide Using Closed Captions (Sessions, Expo Booths, Networking).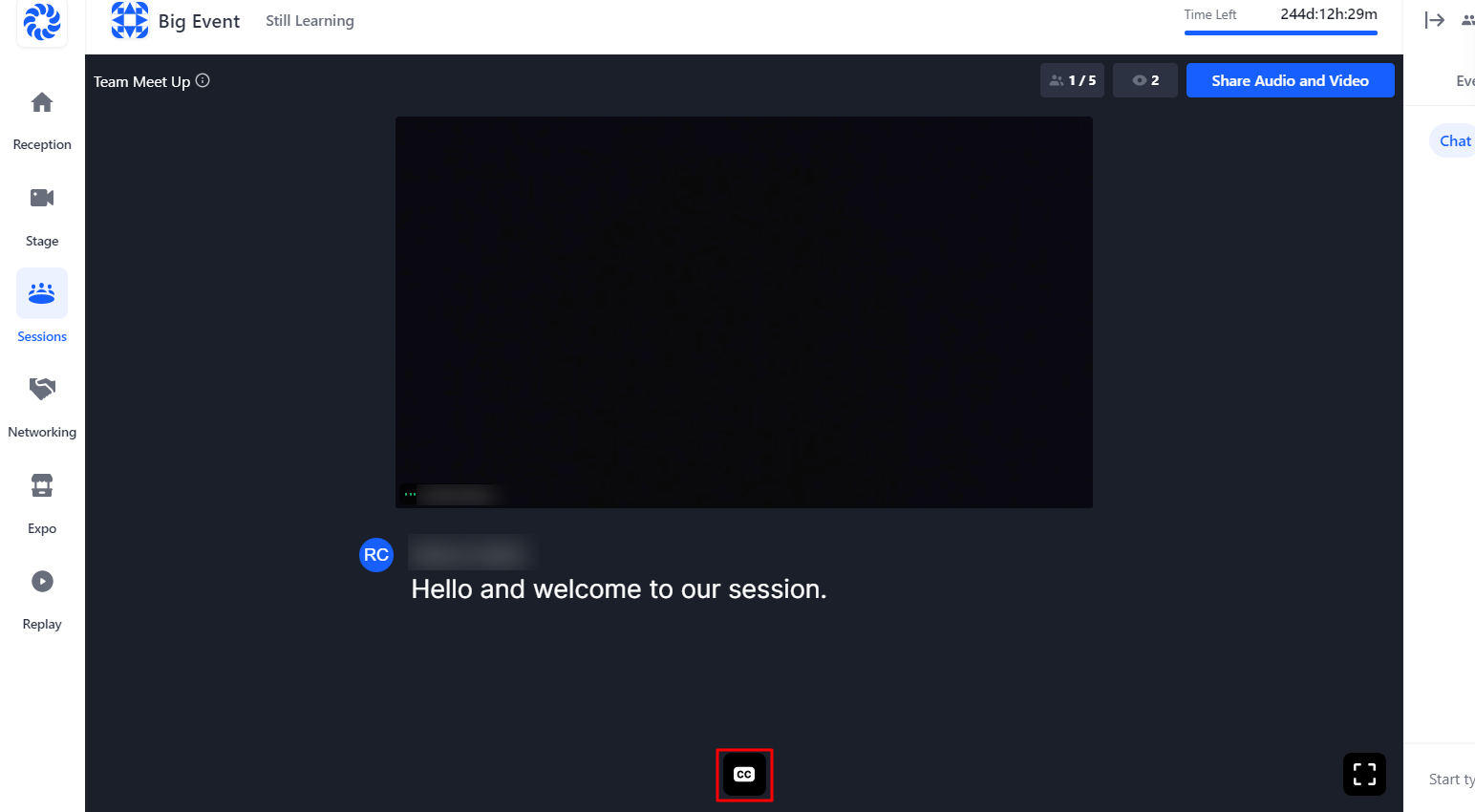 Closed Captions on Stage
You can now enable closed captions within the Stage area. Check out Using Closed Captions in the Stage for complete details.
Once it has been enabled by the Organizer, Attendees can click the CC button at the bottom of the screen.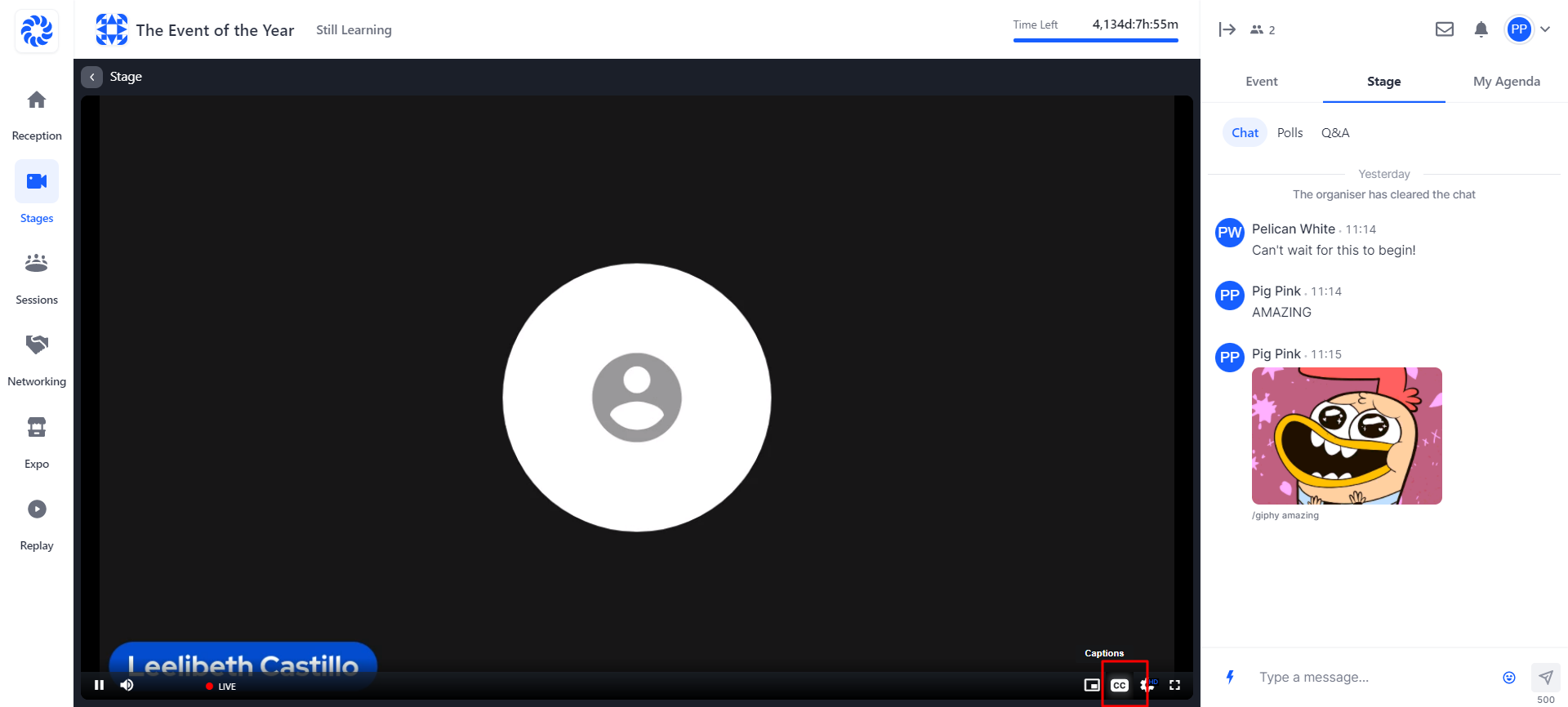 Captions for Speakers Backstage or in Sessions
Although inbuilt captions are available to everyone on the Stage and in Sessions as described above, individual Speakers can also choose to use the Web Captioner tool for Backstage or Sessions and simply screen share the captions.
Once the Speaker is on the Backstage or Session, click the screen share button, choose Web Captioner page on the Chrome tab and hit Share to start sharing the tab.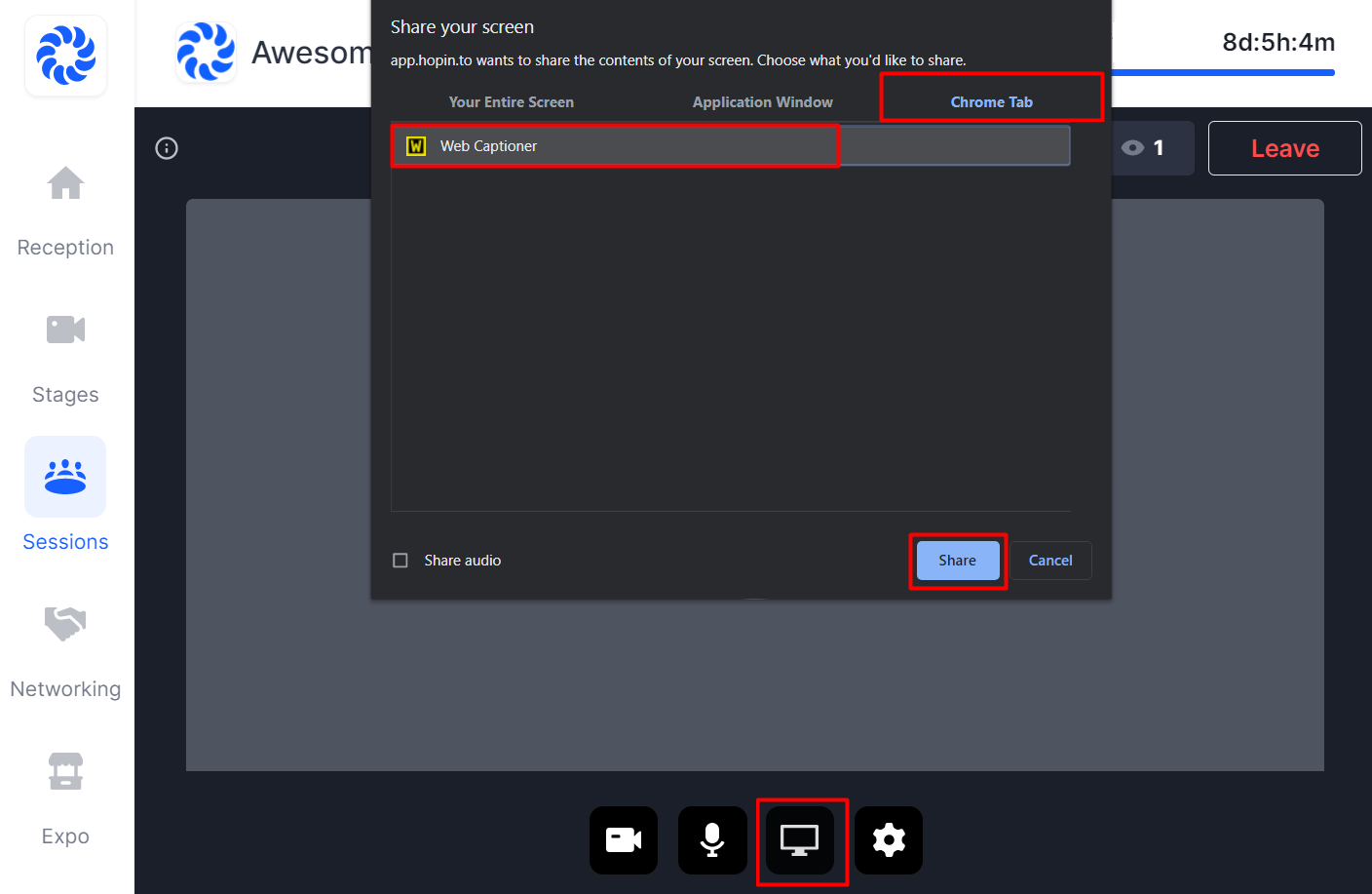 2. Open the Web Captioner page and click Start Captioning button at the bottom right corner of the page.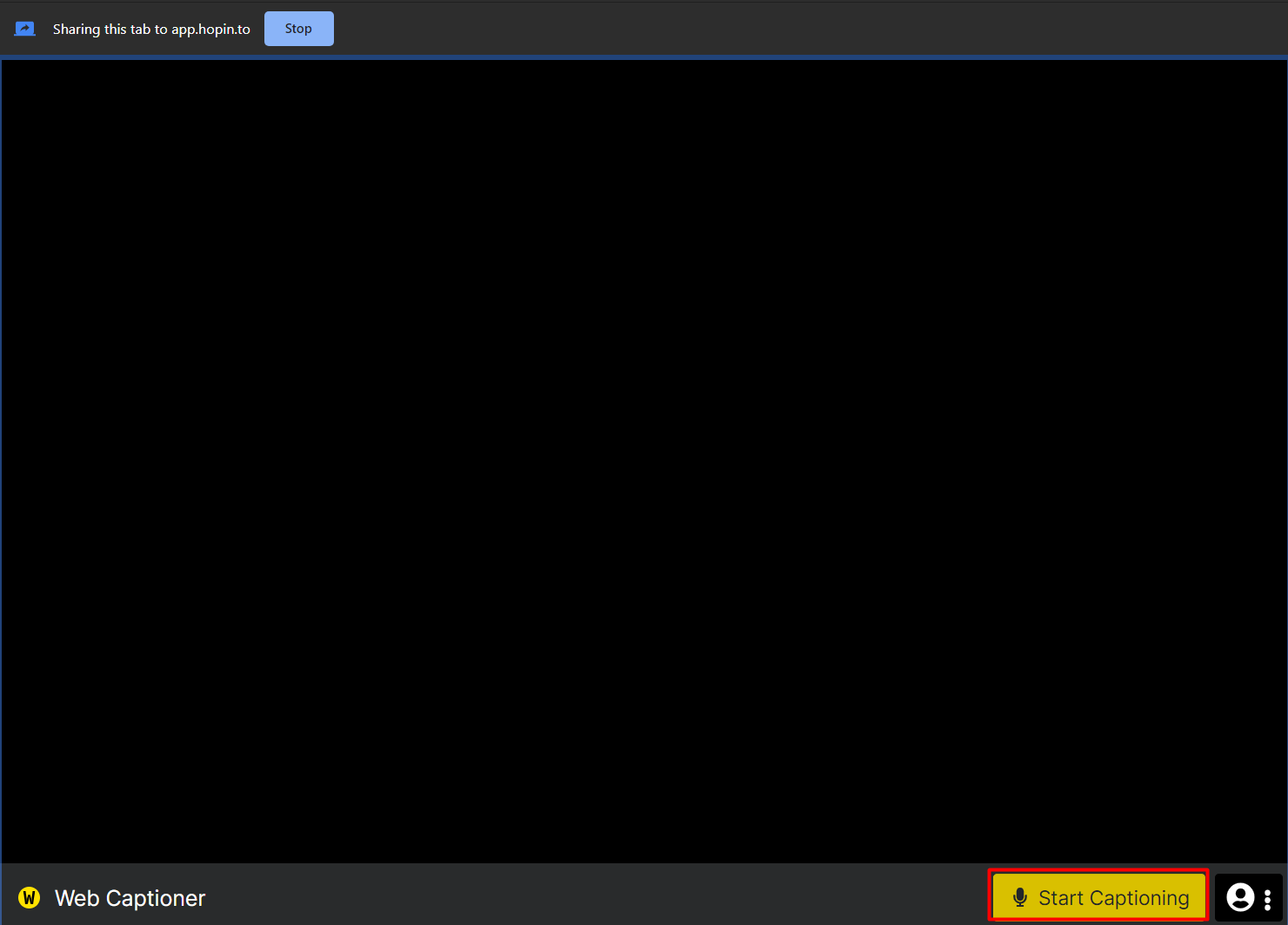 3. Return to the Session or Backstage of your event and start talking as you normally would. The captions will automatically appear on screen.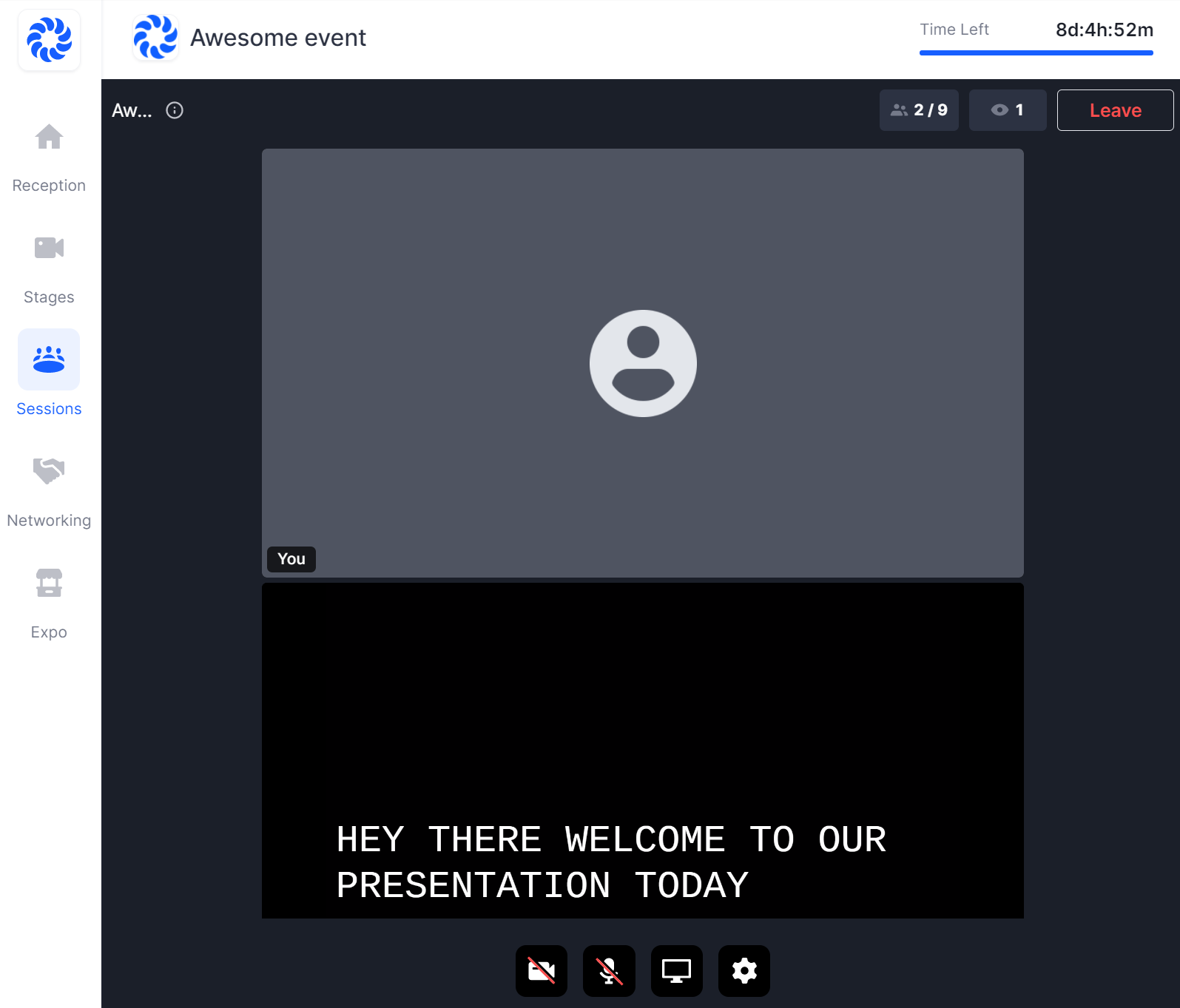 Captions for speakers over RTMP
Hopin's inbuilt captions are not available when streaming via RTMP to Sessions, so you may want to use these solutions to provide captions.
While streaming via RTMP in OBS, the Web Captioner tool can be overlayed on top of the streaming area.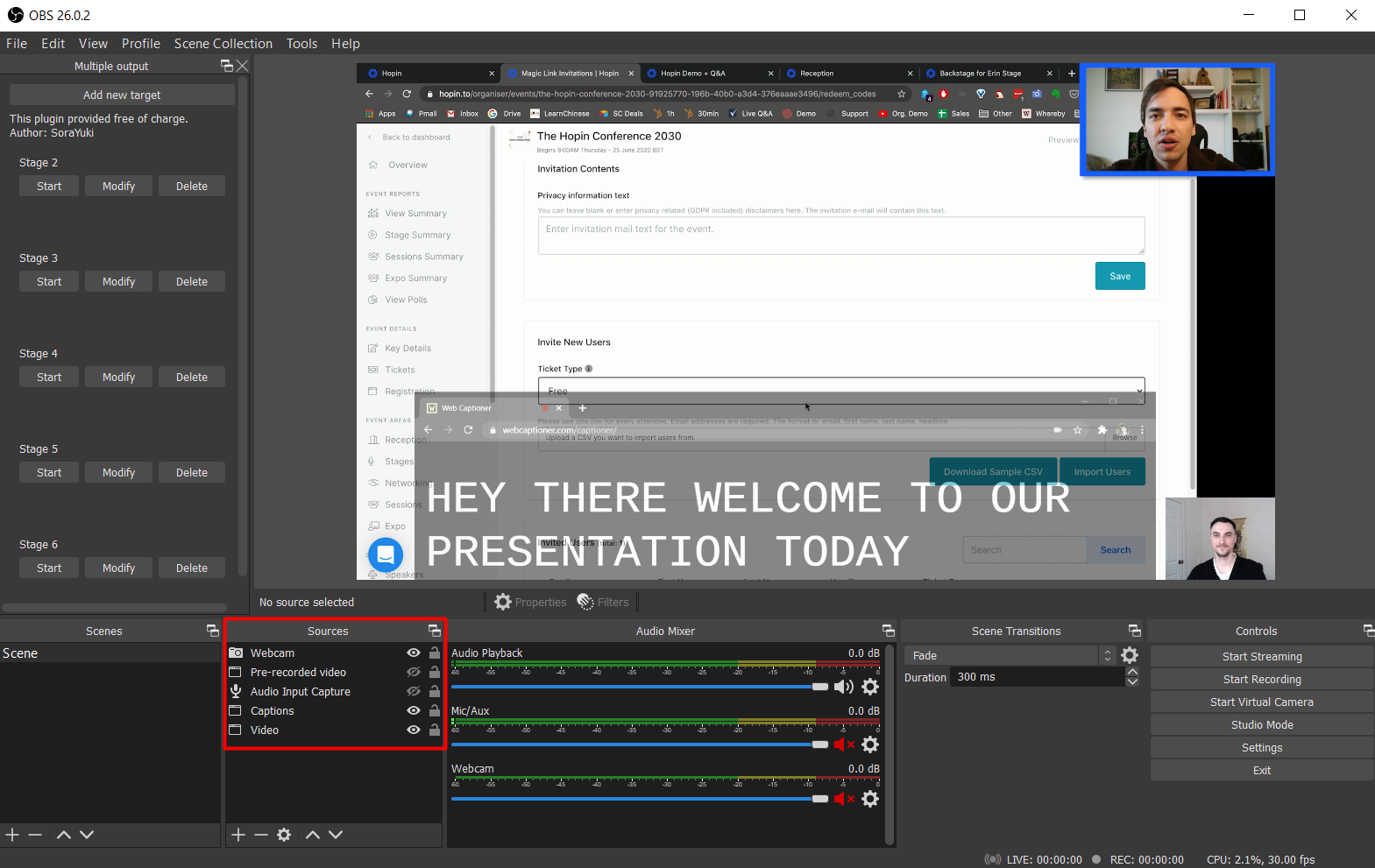 On the Sources menu at the bottom of the OBS app click the + icon and choose Window Capture option from the list.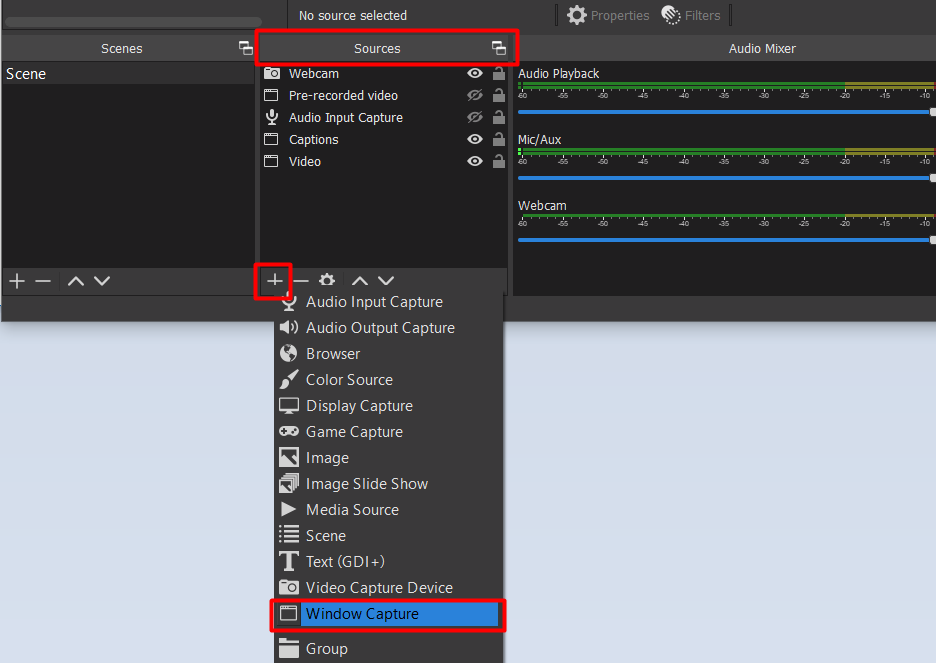 Set the Window Capture a descriptive name (e.g. Captions) and choose the browser tab with Web Captioner on.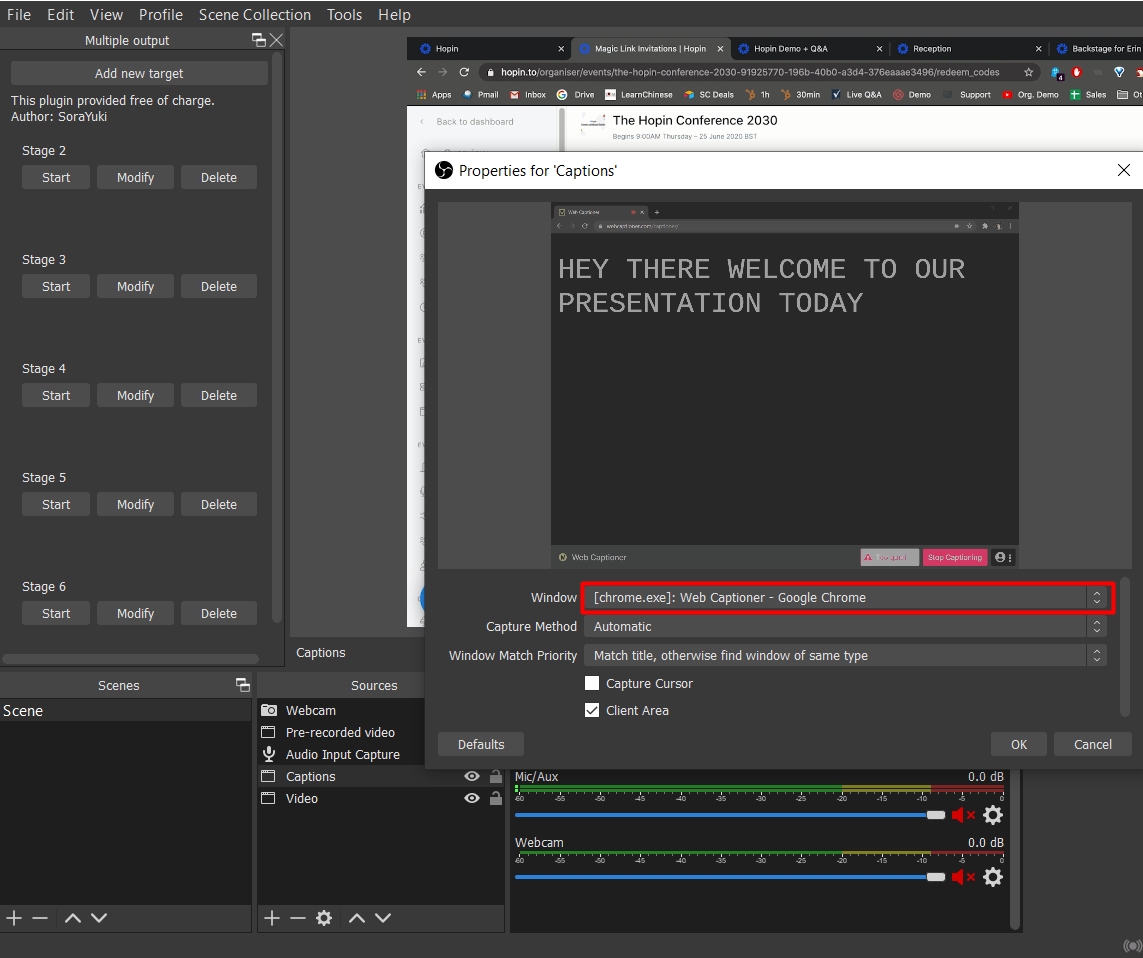 That's it, your captions are now on RTMP and you can start streaming whenever you are ready.
Captions with Google Chrome
See this guide on how to use Live Captions for media you play in Google Chrome.
Captions for Speakers with Google Slides
While presenting the Google Slides, Speakers can enable the captions feature inside Slides.
See our full guide on how to use captions with Google Slides.
Captions for multiple Speakers
With multiple speakers talking at the same time, Hopin's closed captioning may not be able to distinguish who is saying what. In these cases, we recommend creating the captions using Google Meet or Zoom and then live stream the video meeting into Hopin over RTMP via OBS.
Live captions
There are third-party companies out there that can help you create captions generated by human captioners for both recorded and live content. One such company is AI Media.
The workflow is as follows:
1. Customer send the stream to AI Media via RTMP, so they will use some streaming software to do that (OBS, vMix, or any other RTMP compatible streaming software)
2. AI media sends the stream with captions back to the customer's Hopin Stage via RTMP (customer provides the Hopin Stage RTMP key and URL to AI Media)
There will be a 4/5 seconds delay from live stream to stream with captions.
Another example is Syncwords which can be directly integrated into Hopin. Check out the guide here.
Translations to different languages
Captions only allow attendees to follow the Speakers live. For interpretation of the event Stage keynote we recommend the following workaround:
One Stage - unlimited Sessions
In case you have in-house interpreters for your event, all you need is to create Sessions at the event dashboard page and invite your interpreters to the language-related session.
Tips:
Make sure to add a descriptive name (e.g. [Spanish] Keynote presentation) to each session that will be live in a different language.
Set the interpreter as the only person who can come on screen in a session to avoid attendees jumping on screen.
Have a dry run with interpreters to make sure they will come on screen and on time during the event.

Third-party apps for simultaneous interpretation
For interpretations, Hopin Business and Enterprise customers have often been successful using platforms like Kudo that can be integrated directly into the Hopin events side panel.
Contact our sales team to discuss our Hopin Business and Enterprise plans.