Congrats! You're a speaker at an event.
Here's what you need to do to make sure everything goes seamlessly.
Get set up
Create a new Hopin account or sign in to an existing one
The Event Organizer will provide you with a link to register or register you for the event and provide you with further instructions.
Ask the Organizer to send you the link to a Backstage if you are a speaker on the Stage
Confirm that your Audio and Video devices are connected and ready to use. The Organizer may also provide you with a link for tech rehearsals.
StreamYard Backstage
You can access StreamYard Backstage using a link provided by the Organizer
If prompted, allow permissions for your mic and camera
You can stop/start your camera and mic and adjust your settings, display name, and set up a virtual background
Click Enter studio when you're ready to join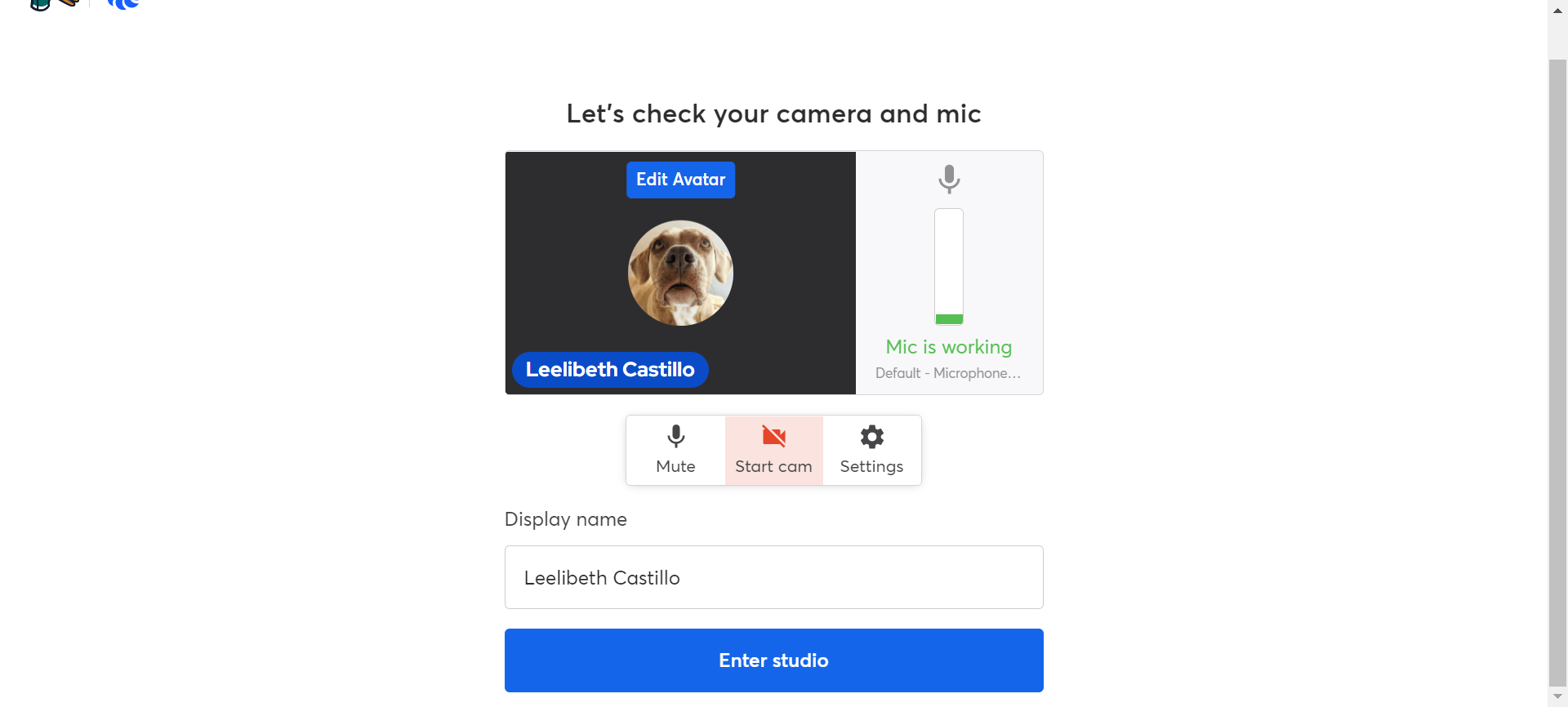 Only the host will be able to see you however you can use the chat to speak to other people that are Backstage
No one will be able to hear you until you are added to the stream, so there's no need to mute yourself to avoid you being muted when you join the screen
The host will add you to the stream when it is time, all you have to do is start your presentation!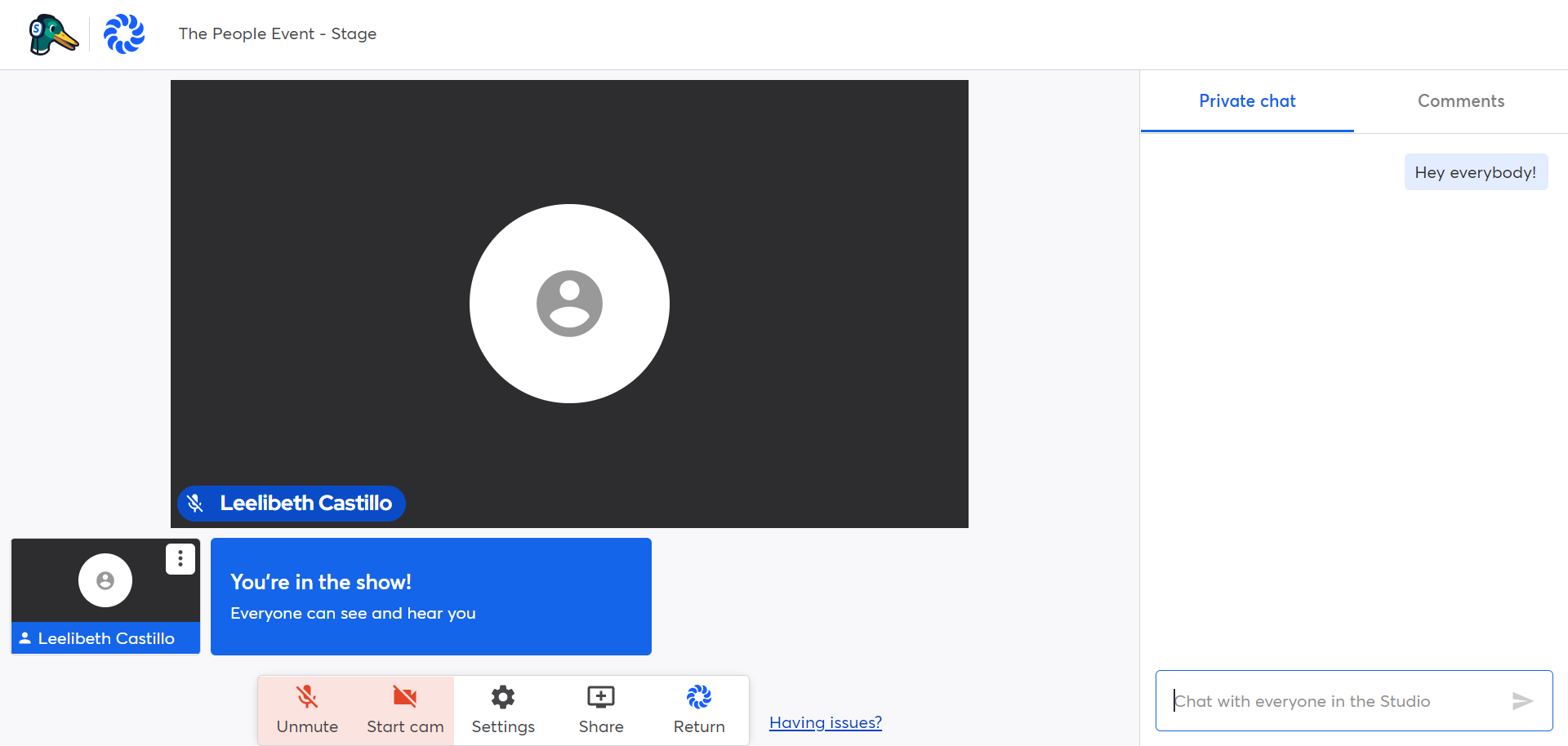 Sessions
Once you register for the event, let the Organizer know. Sessions can be:
Open (anyone can participate on screen)
Moderated (Moderators approve or reject requests from attendees to appear on screen)
Invite only (specified people can participate on screen)
Note: For Moderated or Invite-only sessions, you will need to be added as a Moderator by the Organizer so you can run your Session.
When the event is live and it's time for you to appear on a Session, head to the Sessions tab and find the Session you'll be speaking in
Click Share Audio and Video at center of the Session screen
If you haven't allowed access to your camera or mic in the event, you will be prompted to do so at this time. Check these guides for mac users and window users to learn how.
Once you see yourself on screen, you're live to your audience
If it is a Moderated session, you will see attendees asking to join at the bottom of the video in the Moderator Panel. You get to choose who comes up on screen with you there.
Check our Sessions tutorial for comprehensive information on Sessions.
Expo
When it's time for the event, head to the registration page five minutes before the event starts.
Click Expo on the left sidebar and find your booth. Click it to enter. If it's a pre-recorded video, then your job is easy. Just man the Booth chat.
In case it's a live session, click Ask to Share Audio and Video. Make sure you've given browser permissions for Hopin to use your camera and mic.
When people request to join a live Booth, you'll see their name pop up in the Moderation panel below. Click their profile image to allow them to join. They then select their AV devices and will be on camera shortly. Click the ••• three dots on their screen and then Remove to remove them.
Check our Expo tutorial to master the Expo during your event.
There you go! Now you know how to speak across Backstage, Sessions, and Expo.
Tips
Join from a desktop or laptop on the most up-to-date version of Chrome, Firefox, or Microsoft Edge for Windows 10 and up
Close all extra tabs and applications before joining
Be mindful of the approximate 10 second delay when broadcasting
Join the rehearsal from the same location, network, etc. as event day to replicate the circumstances you will have when joining from the real event.
Check your internet connection, and hardwire into your internet when possible. If they cannot hard wire, ensure no other people in the house will be pulling bandwidth at the same time.
Hardwired headsets/headphones are preferred over bluetooth, as they have a habit of disconnecting.
See our Quick Troubleshooting Reference Guide for other tips.