The best way to become a RingCentral expert is to deeply understand the attendee experience. In order for you to be a great host, you yourself need to master your way around RingCentral and see things from your guests' perspective knowing how to direct them.
Your first event on RingCentral
Once the attendees register for the event, they will see the Reception area. This is a customizable page that can include:
Organizer's welcome message (event description, useful links to bring even more value to the Attendees)
Sponsor logos (clickable logos that bring to Sponsors website)
Event Schedule (what's happening, when, and which segment to follow)
Speakers list (who is speaking at the event)
Expo Booths (expo exhibitors)
Activity Panel (chat, polls, and Q&A tabs for further engagement)
You can think of the Reception area as the information hub and a venue's lobby. Keep in mind that all the information above is only available when the event has started. 
If the event has not started yet the reception area will only display limited info such the countdown to the start time, the event name and banner, the Hosted By section with the organizer details, and the ability to type in the Event chat as well as seeing any existing polls, registered people, and Q&As in the right hand side panel. See below for a preview of what it looks like.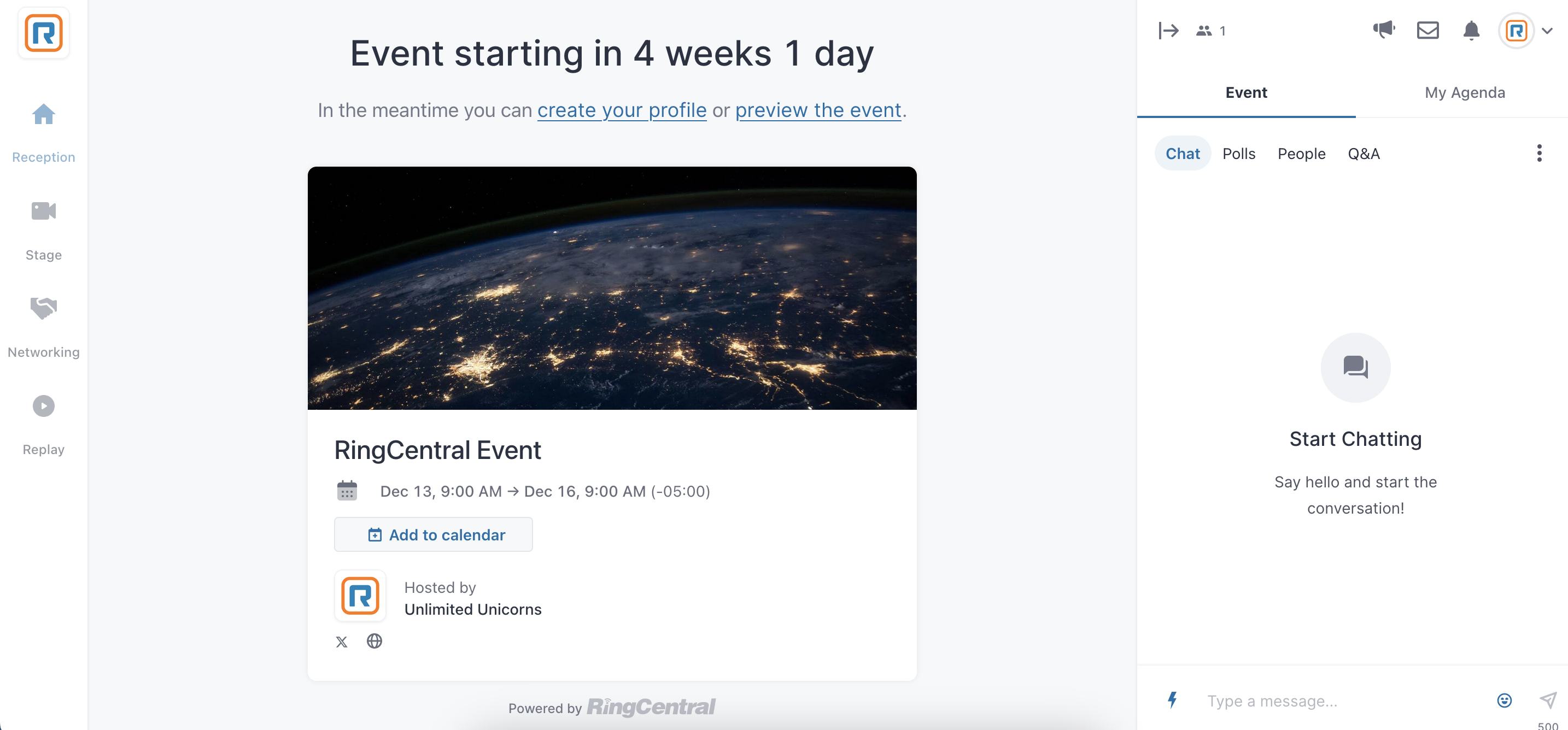 The other areas (segments) in the venue are on the left sidebar. These can include Stage, the People Area, Sessions, Expo, and Replay.
The Organizer can also enabled the Early Access to give attendees access to the Reception and People areas before the event starts. 
Which browsers work best?
We support all major browsers, including Chrome, Firefox, and Microsoft Edge, but we do not support Internet Explorer. 
Independent browsers that accept webRTC technology may be compatible. Also note that each browser has their own implementation of the technologies we use at RingCentral and some work better with them, worse, or not at all. This is why we recommend Chrome and Firefox but cannot currently guarantee other browsers will work as expected.
Mobile browsers: Safari on iOS/iPadOS and Google Chrome on Android. However, if you are viewing from a mobile device, we would recommend downloading our App to be able to fully enjoy your RingCentral event. You can also check out our guide about joining an event from a mobile device. 
For more information, check out our guide on browser compatibility.
The 6 areas of RingCentral
There are six areas at the event hosted on RingCentral. You can have all of them or one of them or two of them in your event — it's completely up to you and the experience you want to create for your attendees. Each area is flexible and provides live interaction for your attendees in different ways.
1. Reception
The Reception area is the welcome page or "lobby" of your event. Here you can quickly find out what's happening at the event currently: the organizer's welcome message, sponsors, the schedule, and speakers. The Reception area is best used for announcements, important links, sponsor messages, and event updates.
2. Stage
It's a one-to-many interaction area that supports up to 100,000 concurrent viewers. The Stage is great for your keynotes, presentations, panels, performances, and fireside chats.
The video content types supported on the Stage:
Built-in live video on the RingCentral Backstage powered by StreamYard. The most versatile interaction on the Stage that fits right in and requires the least of preparation. Up to 10 people can share video on stage and/or backstage at the same time.
Check our How to use the RingCentral Backstage powered by StreamYard guide for an in-depth walkthrough.
Pre-recorded content from YouTube, Vimeo, or Wistia. The good old webinar-style pre-recordings that are great for promo or intro videos widely used by hundreds of Organizers every day.
Live-streaming via YouTube. The easy-to-start YouTube live stream will get you covered with basic live video options in case you are tied to YouTube.
Live-streaming via RTMP. The most customizable experience that requires preparation, practice and knowledge of streaming capabilities. An awesome option for live concerts, live videos from multiple locations and any video layout you can imagine. OBS, WireCast, ManyCam, Ecamm, Switcher Studio, and more can be used with RingCentral to "hybridize" a physical event — you can pipe in live video from your in-person event onto the RingCentral Stage for your virtual attendees to view.
Check our Stage tutorial for more details on the Stage segment of the event.
3. Sessions
The Sessions segment of RingCentral delivers the best experience for group discussions, multi-track conferences, training workshops, hackathons, breakout rooms, webinars, and teams. In Sessions, you will see virtual roundtables for speakers and attendees to interact. This is often where attendees ask questions to the speakers on camera.
Imagine you have tens of Sessions during your multi-day event. RingCentral made sure to declutter the Sessions segment and in case the Sessions are tied to the Schedule, they will automatically appear five minutes before the time on Schedule and automatically hide once their time is up. Attendees can view the list of previous sessions by clicking Show past segments at the Reception area of the event.
Note: There is no limit to the number of concurrent sessions you can have during your event. Optionally, attendees can create any number of their own sessions during the live event.
Check our Sessions tutorial for more details on the Sessions segment of the event.
4. Networking
The people area is a dedicated area to promote 1:1 connections between attendees. Here, you can find the Networking feature, recommended connections as well as a search function to find other people at the event.
Networking
The Networking segment on RingCentral is pure engagement and is similar to one-on-one meetings on a FaceTime call. This segment is designed to recreate the "coffee-in-the-lobby" conversations or watercooler chats that are important at an in-person event. The Networking area automates the discovery of new connections. When an attendee participates in the Networking, they are matched with a random attendee and meet for a set time preset by the organizer.
Attendees can click the Connect button during a call to exchange contact information and after the event the newly made contacts will appear at the Connections page of their attendee dashboard.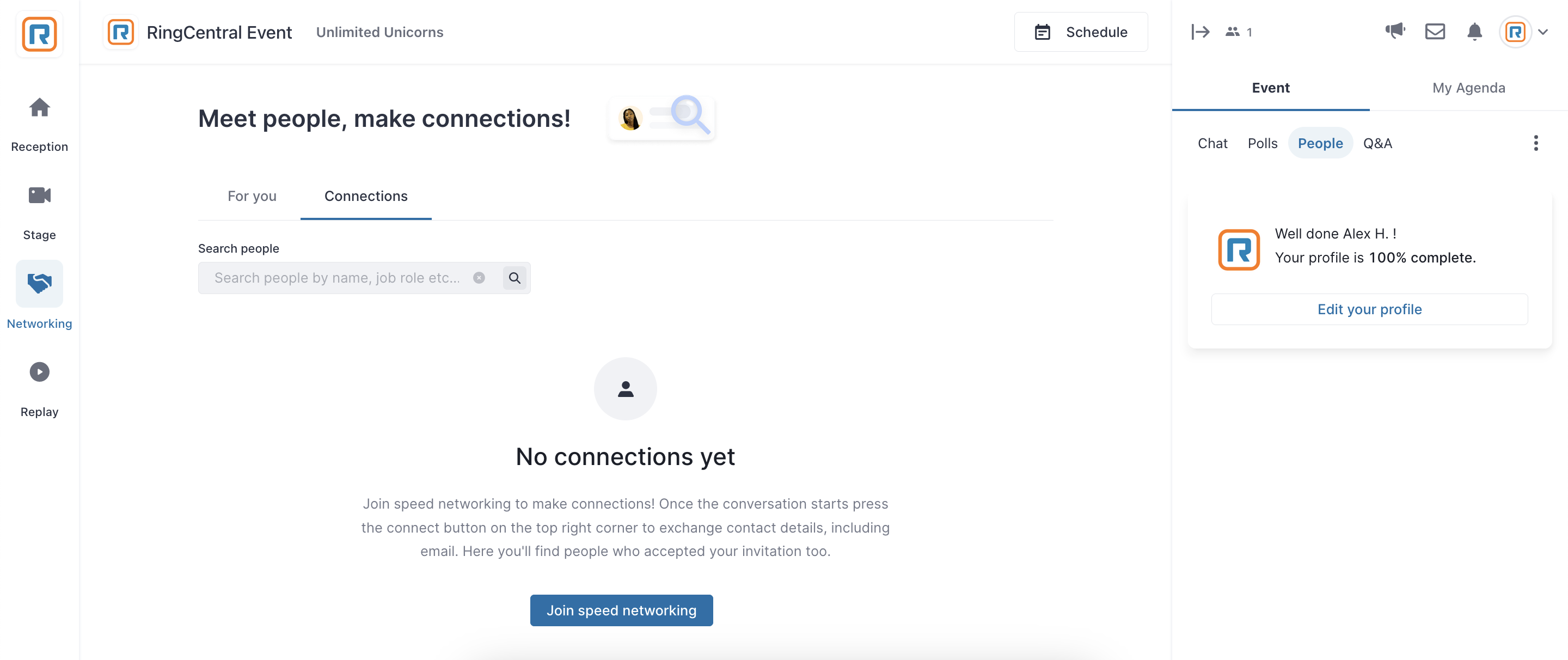 Networking stays randomized, but can be set to a specific ticket type to segment the matchmaking between groups of ticket holders: whether it's everyone meets everyone in a general networking experience, or targeted, such as at recruiting and job fairs, interviews, teachers and students, coaching, dating, pitching, and so on.
Check our Networking tutorial for more details on the Networking segment of the event.
5. Expo
The Expo area is the virtual exhibitor hall with vendor booths in your event. It's great for featuring a wide array of brands, products or services, just like a trade fair, job fair, or sponsor showcase.
Every booth can have either a pre-recorded video in it such as a YouTube, Vimeo, or Wistia clip, live stream via YouTube or a live video session with a vendor rep "manning" and moderating the booth. All embedded videos added to the Expo are played on demand, i.e. the attendee accessing the booth will have the ability to play/pause/skip the video.
Plus, every booth also has a customizable CTA button that can collect emails when set to Register interest or be a custom text linked to any valid external hyperlink.
RingCentral allows there to be unlimited booths that can be created in the Expo area.
Note: There is no limit to the number of concurrent booths you can have during your event.
Check our Expo tutorial for more details on the Expo segment of the event.
6. Replay
The Replay area serves as a dedicated space for attendees to access and catch up on presentations and discussions they might have missed during the live event.
Event Organizers have the capability to manually publish existing Session and Stage recordings into the Replay area. Additionally, the Replay area can be configured to remain accessible for attendees up to 12 months following the conclusion of the event.
For detailed information on setting up event recordings in the Replay area for attendee access during the event, refer to our comprehensive guide Replay: Making event recordings available to attendees during the event. 
How do people get around at the event that is hosted on RingCentral?
Similar to a physical event, the online event experience is self-directed but with wayfinding tools and signs to help people easily get around. Attendees ultimately choose where they want to go.
By default, all event segments on RingCentral are open during the entire event. However, Organizers can direct Attendees to the most relevant segment via signposting options:
Event Schedule. A Schedule shows the attendees what's happening, where they should be, when, and who's speaking.
My Agenda. Attendees can add scheduled items to their own personal agenda which will be shown in a dedicated tab in the activity panel.
Live and Now tags. When the Stage is live or Sessions, Networking and Expo happen now according to the Schedule, the red LIVE and NOW tags will appear on the left side panel, conquering the attention span of the event attendees.
What's happening now banners. When attendees first land in the Reception area, there's a large clickable button that hints at What's happening now for all attendees and will get to the specific event segment in one click.
Announcements. Organizers can send announcements to all attendees during an event by using the announcement feature within the event. This will be shown on the attendees' screens as a notification.
Highlighted chat messages sent by Organizers. Chat messages sent by the Organizer are always highlighted to get easily identified by the Attendees.
Pinned chat messages. Any extra information or useful links to related content can be pinned by Organizers to always be visible to Attendees on top of any Stage, Session or Expo chat.
Shortened URLs. This is a powerful tool for giving attendees one-click entrance into any part of an event on RingCentral. If you copy the URL of any area in RingCentral (i.e., a particular Session, a vendor Booth, the Stage, etc.) and paste it in any chat, RingCentral automatically shortens the URL to a clickable hashtag.
Chats for everyone
There are multiple chat channels in online event on the RingCentral platform. Each one serves a different purpose.
Event chat — global event chat where all participants can post messages.
Stage chat — chat with a Stage-related discussion all attendees have access to.
Session chat — each session in Sessions has dedicated chat rooms. Attendees who are off-camera can chat to interact with people on camera and vice-versa.
Booth chat — like Sessions, each booth has its own chat for group discussions and interaction.
Meeting chat — in Networking, a private 1:1 chat channel is available to the participants.
Backstage chat — the Backstage has its own chat for speakers and staff to communicate privately. It is only accessible through the Backstage link.
Direct messages — anyone can send messages to an individual at an event on RingCentral via DMs in the People tab. To send a DM, find the person you wish to chat with in the People tab, click their profile photo, and send a direct message to them.
Wrapping up
To help orient newcomers at your event, here are five key pointers:
Prepare the attendees before the event. Send over a personalized demo, or use one of ours to cut the learning curve before the event. This is especially important for your speakers. It's generally a good idea to do a rehearsal before your event starts. You should also ask them to do a pre-event check to ensure that they have the correct settings to have the best experience. 
Offer verbal instruction on Stage. In your welcome message, offer advice to the attendees on how to use RingCentral and get the most out of the event.
Write an informative Reception page. This can be helpful to folks upon first entering the event.
Direct the flow of your event in the Event chat. Use the Organizer messages to draw attention to what's happening around the event.
Work with a team. The more Organizers on your team, the more you can moderate and help attendees in different areas of the event.
Great job! Now, you are the master of Attendee experience and can apply your knowledge to your events.