Attendees should receive a confirmation email with the unique magic link to access the event. If they cannot find the email, there are several ways event organizers can help them access the event.
Resending the Magic Link
The order confirmation email or the magic link invite can be resent from the Event Dashboard > People > Registrants page. You will need to locate the attendee on the list, open the actions menu from the ••• and click Send Event Link. 

Note: The default Order Confirmation and the Magic Link Invite emails contain magic links. If you have customized your emails, make sure the liquid tags to generate unique magic links are still in place. This way, attendees will be able to sign in and access the event with a click. 
Copying the Magic Link
The magic link can be also copied and sent to the attendee manually. Go to the Event Dashboard > People > Registrants page, locate the attendee on the list and click Copy link in the Magic Link column. The link will be copied to your clipboard so you can paste it into your message or email. 

Tip.
This option is especially useful for cases when RingCentral Events emails are filtered out
by security layers and firewalls installed by the attendee's organization and they don't have time to reach out to their IT team to whitelist no-reply@events.ringcentral.com
.
Downloading Magic Links
Magic links are also included in the Registrants report. The report can be downloaded from the Event Dashboard > People > Registrants page by clicking Download. 

It can also be downloaded from the Event Dashboard > Analytics > Reports page.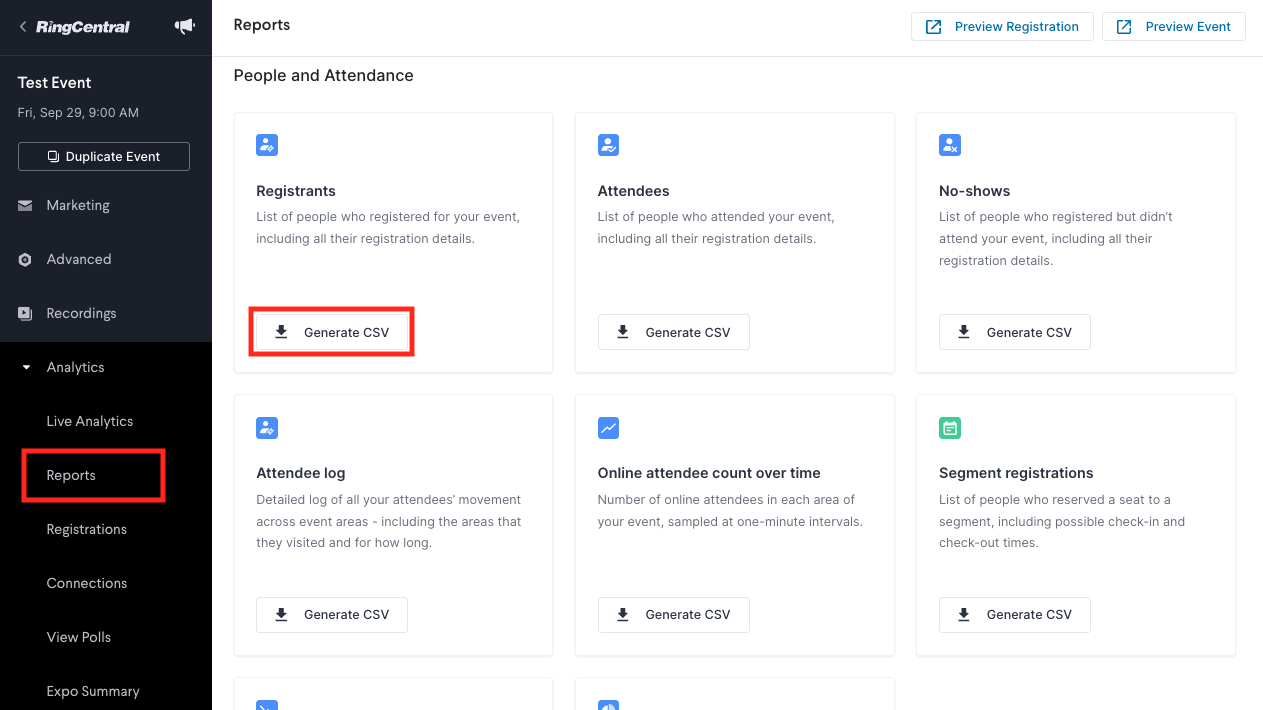 Security
It's important to keep in mind that each magic link is unique for each registrant and gives access to the specific event. 
Note:
Anyone with the link could impersonate its owner inside the event it is sent from. Their profile dashboard won't be available. If the user needs to change their email address or password, delete their user account, or access other events they have registered to, they will need to log in with an email and password at
https://hopin.com/sign_in
.  
Please proceed with extra care when sharing a magic link; never publish it on a public channel, social media site, or anyplace where third parties could use the link to impersonate your registrant. 
If you prefer not to have this feature for security reasons to prevent your team members from accessing magic links, please reach out to your Customer Success team or our Support team so we can disable it for your account.
RingCentral Events keeps an audit of who triggers this functionality. If you experience issues, please reach out to Support.